We only think failure is bad because of the cultural messages we receive about it.
Failure is often accompanied by judgment, shame, and intense stigma — and so as we mature, we learn that failure is negative. Many of us learn to cling to what's safe and comfortable, meanwhile deciding that to fail is one of the worst things we can do. If we remain "on course," our risk of failure lessens…or so we think.
We begin to attach a lot of untruthful significance to failure. Rather than failure meaning what it can mean (that something didn't work out), we may believe that failure says something about our who we are: that we're not good at what we do, that we're unworthy, that we're imposters. This further perpetuates the subconscious narrative many of us walk around with everyday.
But the truth is, no one succeeds without failing. It's a necessary ingredient in the recipe of success!
The key is to flip your perspective. Things don't work out all the time, and when they don't, it presents us with a beautiful opportunity.
This post will share why failure is so critical for success in your yoga business.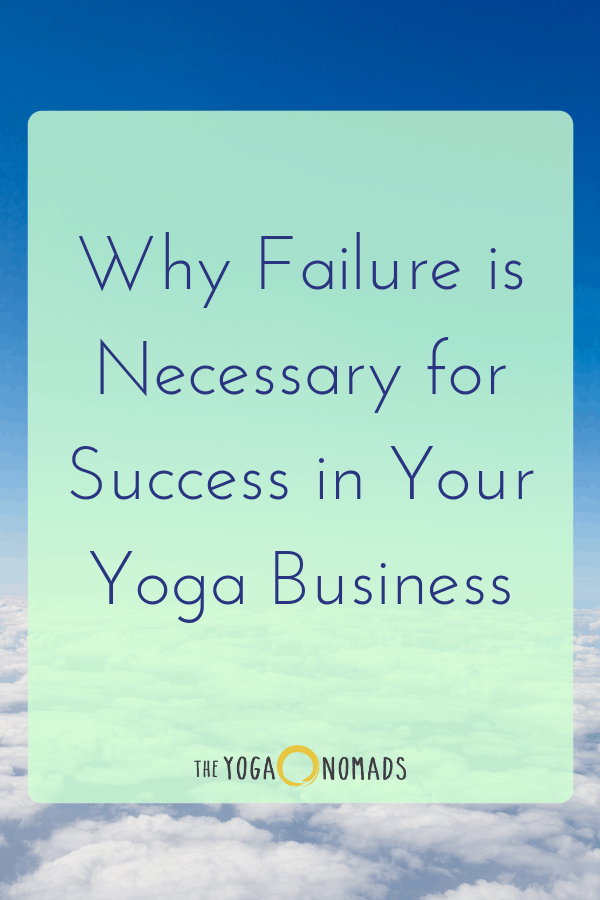 Pin me first? Then keep reading!
Why failure is important
Sara Blakely, the founder of Spanx, had a dad who encouraged her and her brother to fail. At the dinner table, he would ask them what they had failed at that week and if they said nothing, he would be disappointed.
You can listen to Sara tell this story on YouTube here.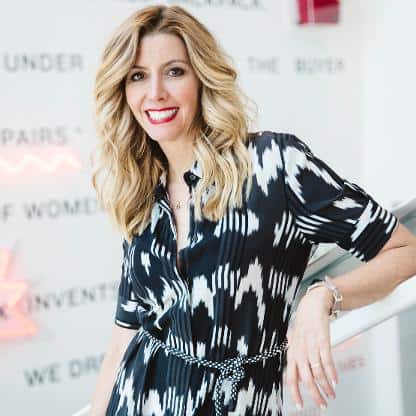 For Sara, failure became about not trying. She learned that was the only way to fail. And now, of course, she's a billionaire and the founder of a wildly successful company.
In the tarot, there's a beautiful lesson about this as well. There's a card called the Fool, who starts off the journey in the cards. The Fool teaches us to take the risk, to take the leap, even though we don't know how it will turn out. The Fool teaches us that we can never access all the magic our lives have to offer if we don't take the leap, risking failure.
So it is with life, so it is with business.
Sometimes we take the leap, and it doesn't work out. But here's the thing: failure facilitates your evolution. I think that there are actually 2 ways to fail: to not try, and to not learn from things that don't work out while trying.
We are constantly moving through the Life/Death/Life cycle, and failure is an important part of that.
When things die, when things must be shed, when things don't work out how we hoped, we get a beautiful opportunity to learn about ourselves and about how to evolve our yoga business.
How to learn from failure
I think there are a few important things to look at when something doesn't work out. Ask yourself the following questions to help you learn from failure:
1. Was this something that wasn't ever meant to be? Check in with your intuition. Think back to when you were starting this venture. Did you forget to connect with your intuition and ask is this really right for me? Or did you hear your intuition and push that voice down?
Remember: you're not alone. We all let our egos override our intuition sometimes. Besides, how will we ever learn unless we get off track every once in a while? It's not a problem in the short-term, but once you begin to strengthen your muscle of intuition, it won't happen as often.
That's also not to say that when we follow our intuition, things don't fail. That can certainly happen! But we want to check in and look at what's really going on in deep inside.
2. What kind of failure occurred? There are a few different kinds of failure. Ask yourself:
Was this a failure from experimentation (i.e. Taking the leap to try something without knowing it would work out)?

Was this a failure that resulted from not following through on something I know I need to do (i.e. Not following your sales process on a call to close a client)?
A failure from experimentation, from starting the Fool's journey that I mentioned above, is absolutely something to celebrate.
A failure that resulted from not following through on something you've put in place is simply a reminder that you created those systems and plans for a reason. Time to get back to them!
3. What are the lessons? Make a list of everything you learned from this experience about yourself, your long-term vision, your day-to-day work, your ideal client or customer, etc. No lesson is too small to write down, so list them all out.
4. What will you do going forward? Reflect on the list you wrote above. How will you take what you learned and change things? How will you use those lessons to make your business better and more in alignment?
Benefits of failure
Failure is always an opportunity to learn something. Therefore, we can consider it a learning experience. But what else is great about failure?
Well first of all, you get to face your fear. The thing that you were afraid of has happened!
And guess what? You're still alive. You've survived. It probably wasn't as bad as you thought it would be. That means that now, that fear doesn't have to control you.
That's a liberation, my friends.
Once you sneak passed that fear, you're equipped with more confidence to continue charging in the direction of your dreams.
Additionally, here are some other benefits of failure:
More clarity. When you focus and look, you can see more clearly than ever before about what works, what doesn't, and where to go from here.
More innovation. Nothing flexes your creative muscles like learning how to bounce back and pivot after failure.
Stripping down your ego. As yogis, it's so important for us to continue to develop awareness around our ego. When failure happens, we have to get humble and set our ego to the side.
Develop resilience. This is an incredible life skill. You learn how to deal with your pain and become stronger, while keeping your heart soft. This is everything!
Changing how we think about failure
Knowing the benefits of failure is great. But we still have to rewire how we think about failure. One of my favorite ways of doing this is studying the stories of people who failed before they succeeded.
Think of JK Rowling, who was a depressed single mother struggling to make ends meet before she published the first Harry Potter book. (Check out her awesome commencement speech where she talks about this here.)
Study Oprah, who was fired from her first job in television and is now, I would say, one of the most successful and most widely known women in the world.
Think of Dr. Usui, who declared bankruptcy and lost everything before he discovered the system of Reiki and shared this powerful healing modality with the world.
I love this list of 29 famous people who failed before they succeeded from Business Insider. It's an important reminder that you are not alone, and that failure is a critical part of getting to where you want to be.
Remember: failure just means that something didn't work out. The reason we struggle with it is that we attach more meaning to it.
Here are 2 questions to journal about that can help you unpack what failure means to you and rewire it into something more positive:
What did my parents teach me about failure as a child? Think about what you saw and heard when you, a sibling, your parents, or someone else failed.

When I fail, what do I tell myself about the situation and about myself? Do I drop into an old shame story? Do I judge myself?
Laying out this information and getting some clarity on how you really think and feel about failure can help you relate to failure more positively. Based on what you've written above, I recommend coming up with a few mantras that you can return to when you fail!
This will be personal for you, but two that I love are: I am brave, and I will not abandon myself.
Remember: failure is an inevitable part of living, of being in business, and of creating a life you love. Don't let it stop you from success, instead let it feed your success by learning from it and using it to evolve.
Want to learn more about creating a successful yoga business? Check out some of these other articles from The Yoga Nomads:
PS: Did you enjoy this article? Pin me! 🙂