Here at The Yoga Nomads, we have a strong desire to see yoga teachers succeed. We've dedicated our lives to teaching yoga instructors the business and marketing skills needed to build a fulfilling and profitable yoga career.
Over the years, we've discovered that a website is the crux of successful yoga businesses. While your website is the foundation of your yoga biz, it's not going to get you very far if you don't consistently invest time and energy into growing your community online.
How can I grow my community online?
By creating content (blog posts, videos, etc.) that help improve the lives of your students, readers, and ideal clients.
I know this can sound confusing, but what if I told you it doesn't have to be? What if all you have to do is share more about what you know and love?
What if sharing your thoughts will help grow your yoga business?
Well – you heard it here first. 🙂 Sharing your thoughts in the form of a blog post will allow you to reach new readers and build trust with your community leading to future clients.
Most "successful" yoga teachers have a blog as part of their website. It's a place to share more of their teachings and improve the lives of their readers.
Wait, wait – a blog is different than a website?!
Yep, your blog is just a section of your website. With all the website jargon out there, we'll refresh you on the difference.
Your website is the over-arching term to describe all your pages and blog posts that make up your site. Another way to approach this is your website is the static pages that live on your site. For example: your "Contact Me" page won't change very much. Compare that to your blog which will continually update as you continue to publish more articles.
Use your blog to collect your thoughts, share who you are, build your community by helping your readers, and grow your email list.
Read on to see why it's crucial you have a blog as part of your yoga website!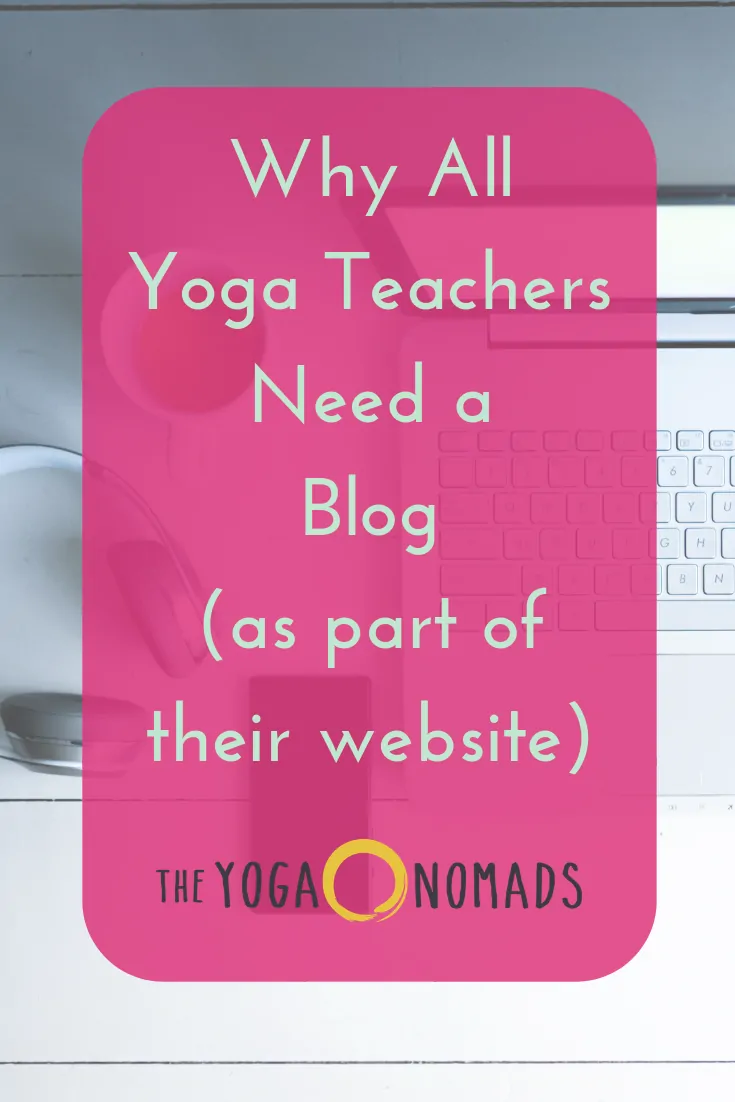 Now that you have your WordPress site up and running, it's time to take action! Your website won't do everything for you, you've got to do the work, too! But this is where the "fun work" comes into play.
I think one of the most enjoyable aspects of running a business is being able to share my unique voice. And that's exactly what blogging is ALL about! It's a safe space to share your loudest voice, your opinions, your heart. Consider it an extension of your dharma from the classes you lead. But all from the comfort of your own home (or favorite coffee shop)!
I've outlined a few important reasons why blogging is so important for your yoga website.
Share your unique voice on your blog
Many of us become teachers after training is over because we want to share our unique voices and gifts with the world!
And while teaching is a wonderful outlet to use, you usually just have 60-90 minutes to share your dharma. (Meanwhile, paying attention to your students and sequence you've created!)
Your blog can be the extension of that dharma. It can be anything you want it to be! (Okay, within reason… 🙂 You still have a business to run!) So long as you're writing about yoga or your niche related topics, your blog is the place to do what you want!
Your readers will connect with you more deeply, too, instilling more trust with each post.
Build community with your blog
Ah, community. One of my favorite words in Sanskrit: Sangha. Who are we without the strength of our community? It serves as a strong pillar supporting us as we move around this world.
As you contribute consistently to your blog (remember, consistency is king!), you're simultaneously building up your community. The more people you're able to reach with your words, the more widespread and strong your community will be. How beautiful is that?!
Your vibe attracts your tribe.
Being authentic in your words on your blog will attract that same authenticity back in those who follow you. What's not to love about hanging out (even if it's just online!) with your favorite OMies!? Don't be afraid to get interactive. Ask them questions, encourage them to comment and join the conversation. These interactions could develop into beautiful friendships and who knows… maybe even a business partnership or venture down the road.
Learn more! Check out our article about How to Build a Yoga Community
Great networking tool
Your blog can serve as an excellent tool to network within the global yoga community. This is done in a number of different ways.
When writing blog posts, it's important to have some links to outside content (other websites). If you link to another yoga teacher, studio, or yoga related business, let them know! Find their contact information and let them know you linked to their page. They may not respond, but if they do, they'll appreciate the link. Even better yet, they may share your content with their audience!
You can share your blog post on social media and tag them in your update as well. This makes it super easy for others to join in the conversation by commenting, liking and sharing.
Reach students from around the world
I often consider yoga to be an expansive practice. The moment I step onto my mat, I can feel it opening me up from the inside out.
So why not let this expansiveness carry into your blog?
Your blog has the ability to reach the masses! Thanks to the internet Gods for that one. 😉 The impact you could have on the world drastically increases with the use of a successfully run blog. Now of course time, patience and good marketing are a part of that equation as well… but just think of all the people you can reach!!
Yoga in-person yoga classes are limited in reach by your physical location. But your blog can reach anyone, anywhere, ANYTIME! Keep this in the back of your mind as the doubt creeps in, "but will anyone even read this?" Yes, yes they will. And the more readers you have, well…. you know what happens next, right? 😉
Blog posts improve SEO
I had to get a little technical on ya…! Thank me later. 🙂
SEO (search engine optimization) is so important in the land of blogging and websites. When you have strong SEO, your website will appear closer to the top when people Google search your topic. This comes with consistent blogging and writing about relevant searchable topics. A lot more can be said about this topic but starting there will get you into a good rhythm with increasing your SEO!
With better SEO, comes more readers. More readers comes more email subscribers. More email subscribers means more potential clients…! You get the drift. (See, now you can thank me).

Are you convinced but don't know where to start?
Whew. I think that's enough to convince you for now that you need to have a blog on your website.
Here are a couple tips to help you get started:
Write down a list of yoga related topics that genuinely excite you
Create a content calendar (we use Google Sheets – doesn't need to be anything fancy!)
Publish consistently (we recommend once a week)
Don't get too caught up in it being perfect. You can always change it later!
Enjoy the writing journey…!
Happy Blogging! As always, happy to support you wherever you need it the most. Drop me a line at [email protected] or leave a comment below.
Until next time,
Anne