Let's face it, buying gifts is never easy.
If you're buying for someone who loves yoga, you've come to the right place.
We're taking the guesswork out of getting that special yogi a special valentines day gift!
Alright, let's get on with the gift ideas…
22 Valentines gifts for yoga lovers!
How special is your someone? Gifts are separated into three sections based on price.
Just a little something (yoga gifts under $25)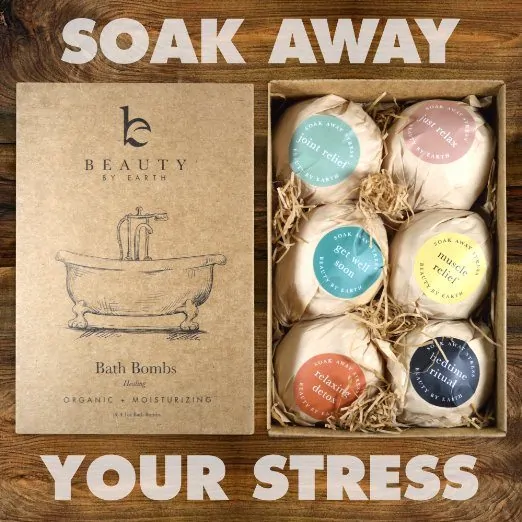 Treat your partner to a sensuous bath with a gift box of healing aromatherapy bombs. Each bath bomb gives gives off unique scents and healing properties such as Joint Relief, Relaxing Detox, Bedtime Ritual, etc. The bath bombs fill your tub with essential oils, flower petals, clays, butters, and fizz for enjoyment! 100% natural and organic. Check prices on Amazon
Turn your bath into a soothing, healing and moisturizing experience!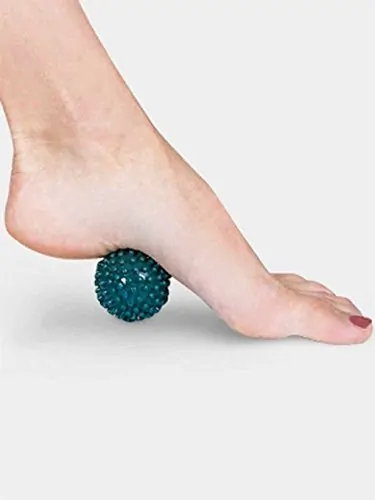 Nothing says valentines day like a feel good massage! Buy this massage ball once and provides years of relief through self care. Alignment starts with our feet (see reflexology) and yet we often neglect this crucial part of our wellness. Massage the bottom of each foot for a minute to release the fascia (connective tissue). Most people notice their ankles, knees, hips, and even neck feel better after two minutes! Check prices on Amazon
Easy to travel with and a MUST for anyone who wears closed toe shoes all day.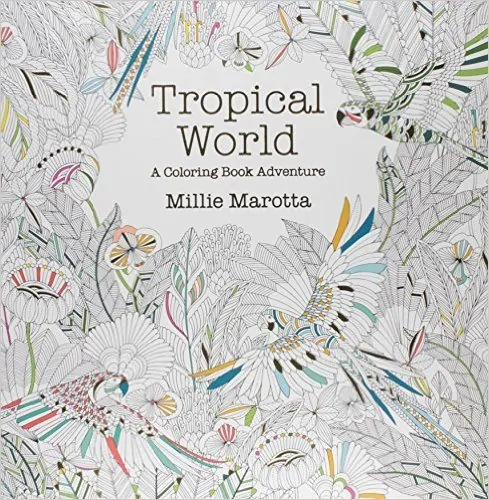 Adult coloring books are the #1 gift this year! Both fun and meditative, adult coloring books bring joy and well-being to everyone. This specific book is made by Millie Marotta who only uses thick, high quality paper that won't tear or bleed through. Check prices on Amazon
Make sure you have a set of colored pencils to go with it!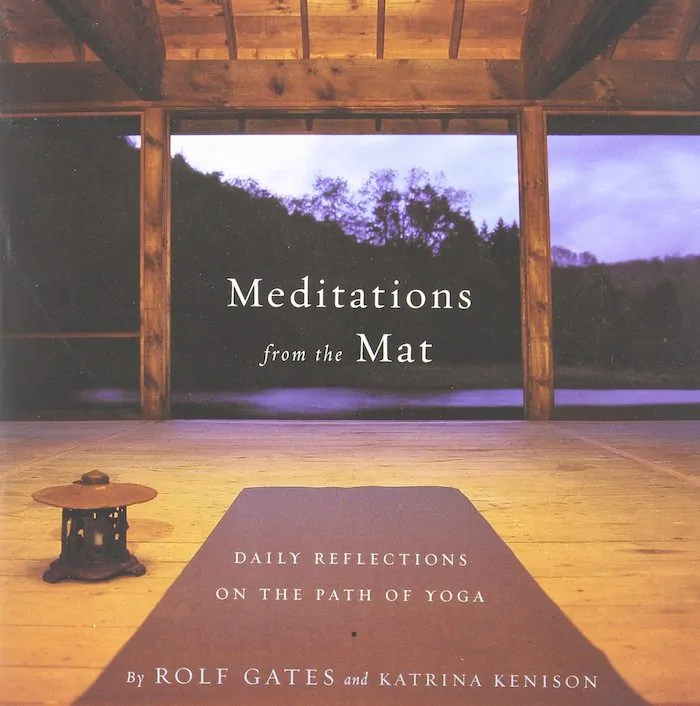 One of my favorite yoga books. Contains 365 short meditations integrating the lessons of yoga into daily life. The teachings are very practical and perfect for the modern yogi. Designed to read one meditation per day for a year. Check prices on Amazon
A perfect way to support someone's yoga journey!
Thoughtful gifts for a yogi ($25-$50)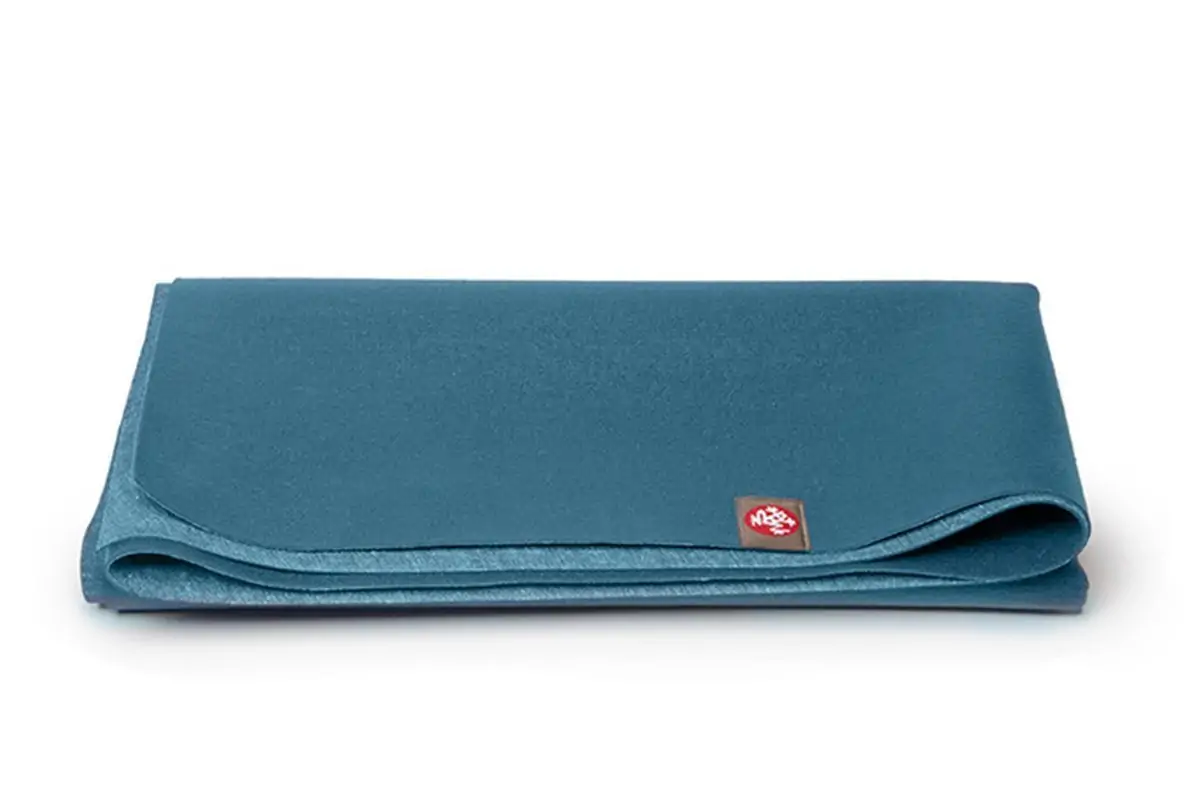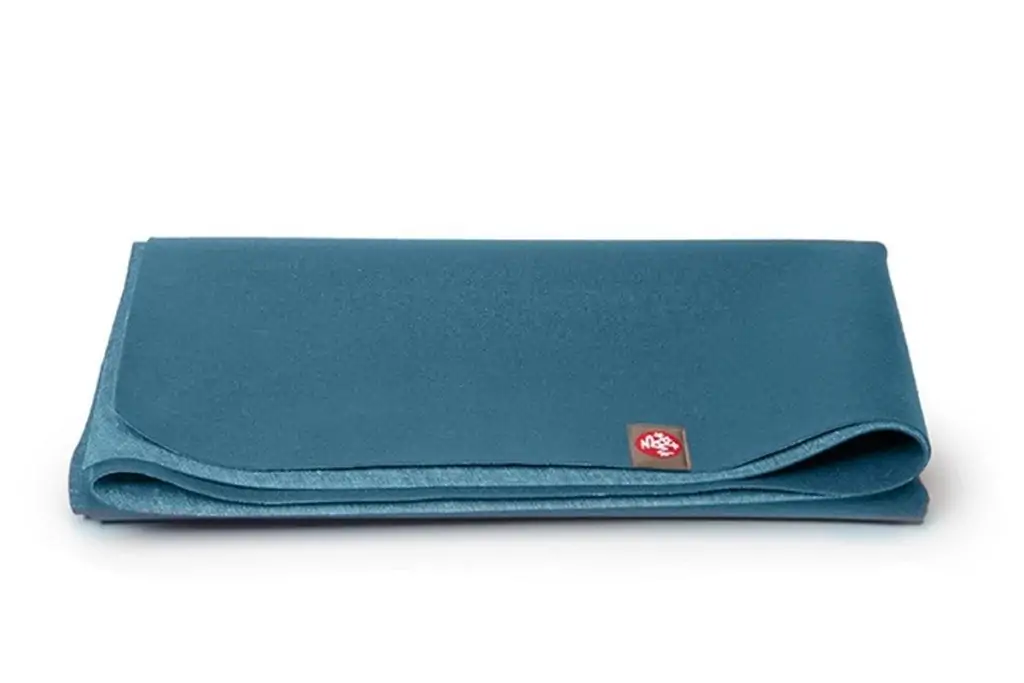 Does your special yoga have a trip coming up? Complete the packing list with a lightweight, portable, yoga mat for travel! I've used this specific mat for 2 years of almost constant travel. Pick out his/her favorite color. Check prices on Amazon
Can be rolled or folded to make packing easy!
Wait, what? Eating chocolates can be a mindfulness exercise? Next time you eat a chocolate, slow down and really savor the experience with all your senses. Open the package slowly. Smell the chocolate deeply. Examine it by touching every crevice. Gently place it on your tongue and try tasting all 300 flavors found in chocolate. Resist the urge to suck on it. Fully embrace the present moment. Check prices on Amazon.
Eat chocolate when you're eating chocolate. 🙂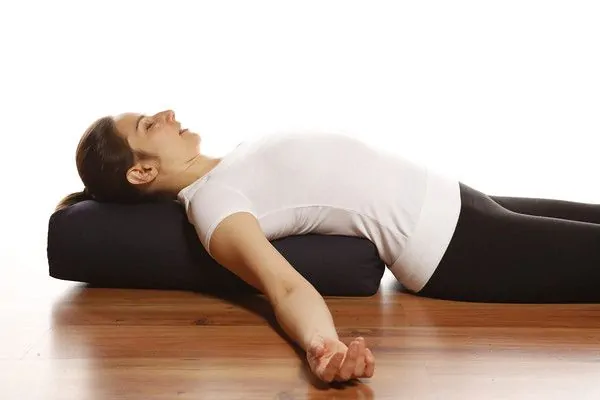 Support your favorite yogi on AND off the mat by getting him or her a bolster! This is my favorite yoga prop because it can be used for so many things! My favorites are supported forward folds, legs up the wall, and supported Savasana! The newest model from the Hugger Mugger line has an easy-clean cover. Check prices on Amazon.
A must have to get deep into your Yin Yoga practice.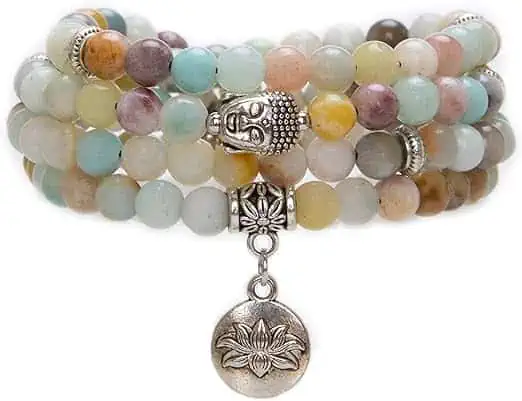 Mala beads are both elegant jewelry and a mindfulness tool – sounds like the perfect Valentine's Day gift for a yogi to me! They come in all shapes, sizes, and materials. Most necklaces come with 108 beads which follows both Hindu and Buddhist traditions from ancient times. Check prices on Amazon
Your special yogi will cherish this gift forever.
A very special someone (yoga gifts $50+)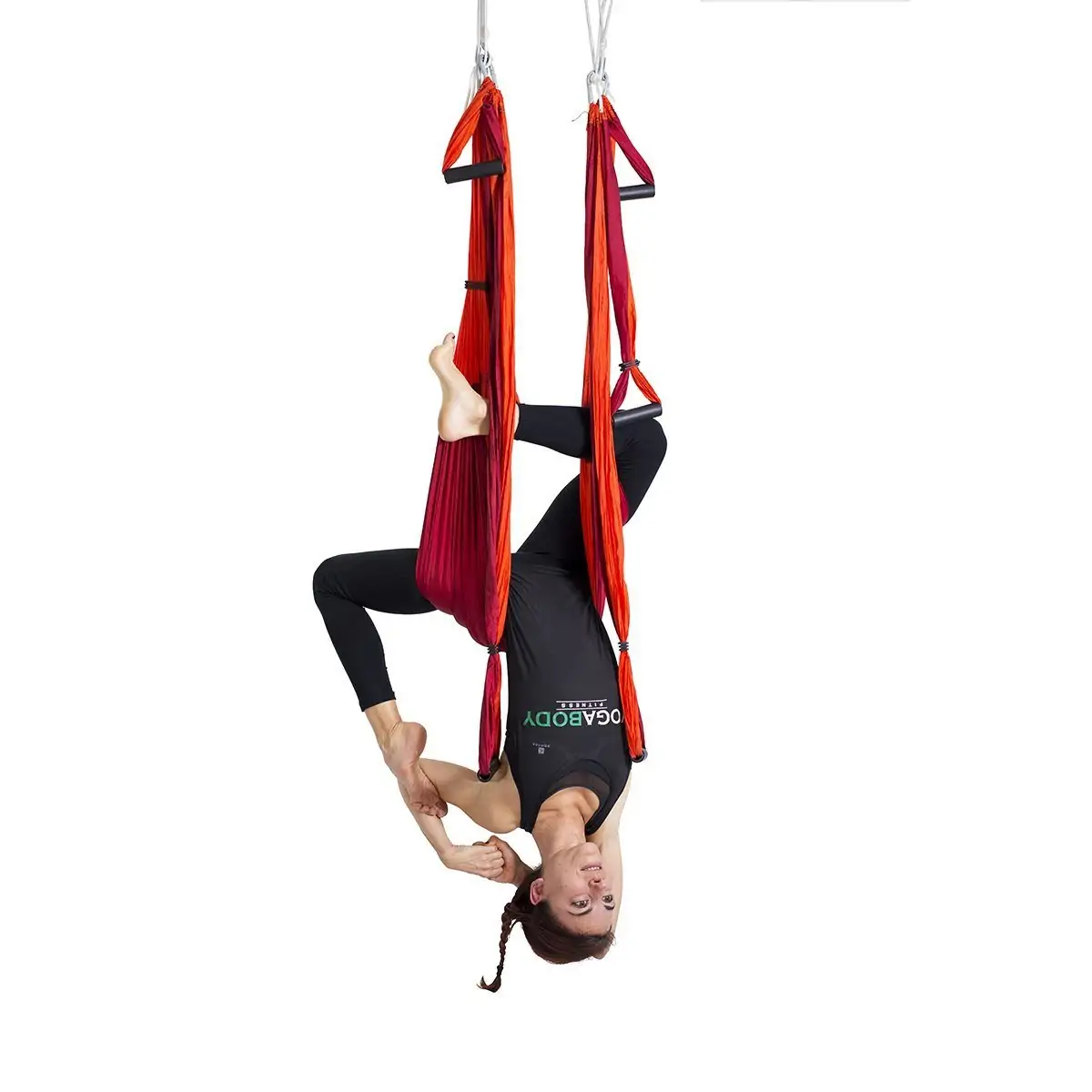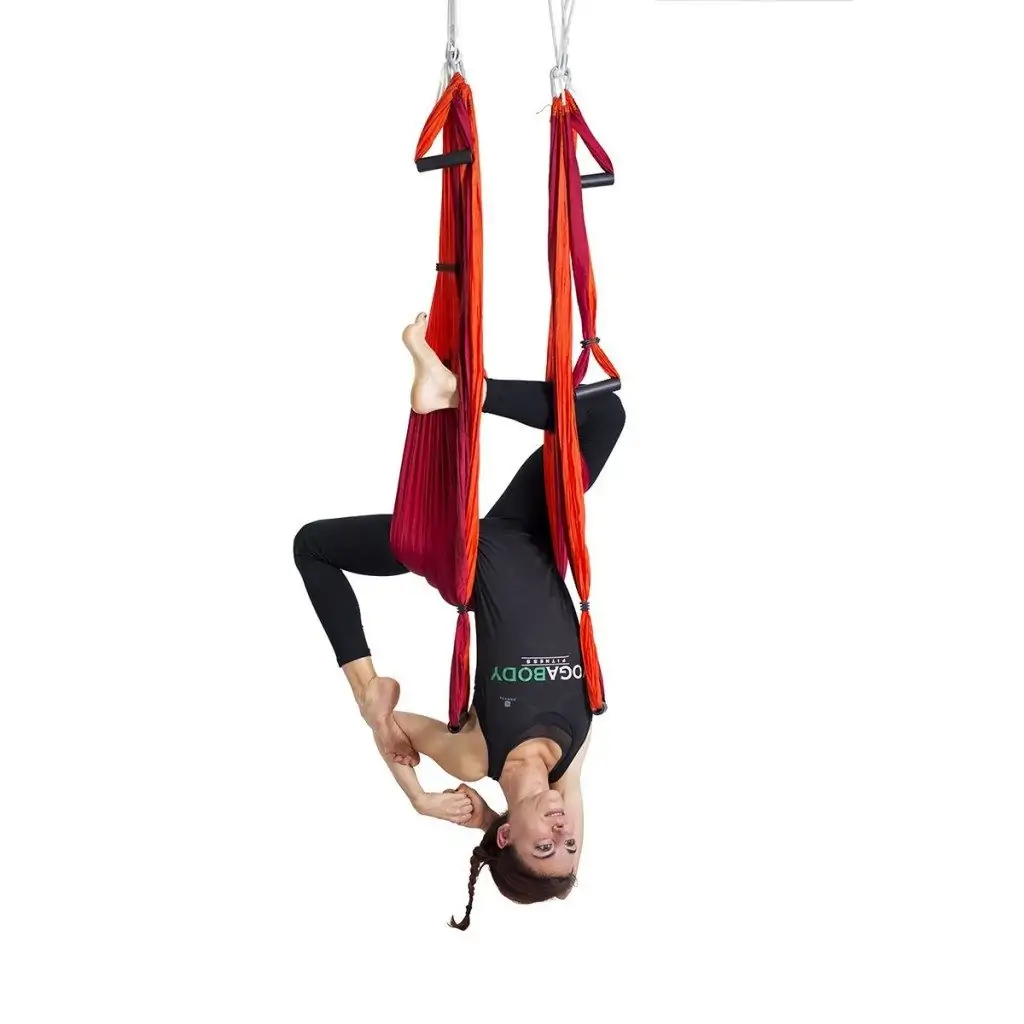 A yoga prop that is both fun and therapeutic! Mainly used to support your body while getting deeper into poses and to harness gravity for releasing tension as a form of therapy. I hang upside down from my pelvis almost daily to create space in my low back / sacrum. No more low back pain! Check prices on Amazon
Also, check out the best beginner yoga swing poses here
Can also be used as a fitness machine similar to TRX.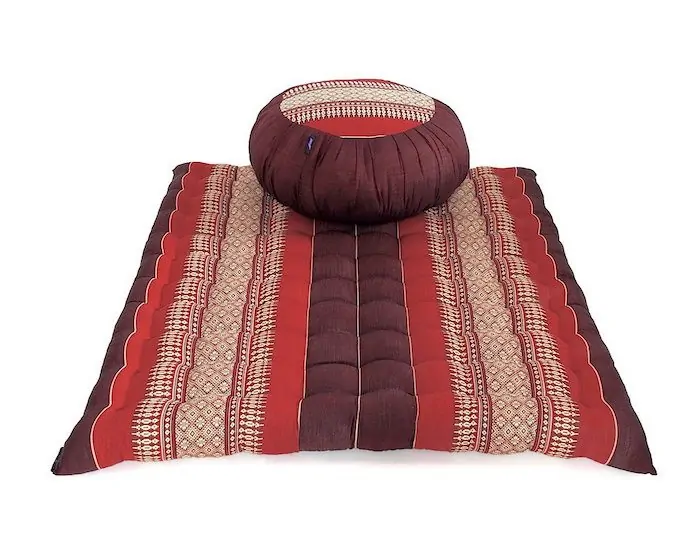 Upgrade your sacred space with a new meditation cushion and meditation mat. Filled with a plant material called Kapok which is filled to offer solid (and comfortable) support. It's easier to maintain a regular meditation practice if you have a cushion/mat you like. Check prices on Amazon
The gift that keeps on giving.
#11. Float tank session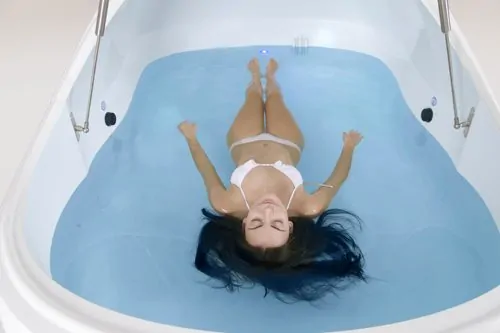 Provide your special yogi a floatation tank experience from your local wellness center! My favorite way to calm the mind and release tension in the body. The tank is filled with 900lbs of epsom salt which makes your body float in water so you can fully relax without the effects of gravity!
A unique gift that will always be remembered.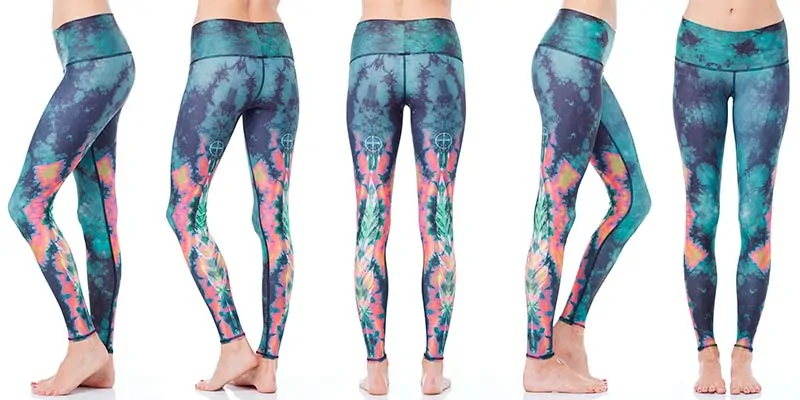 Yoga clothes with a conscience. Teeki produces all their products with either recycle or sustainable goods. Teeki makes uniquely patterned yoga clothes in a bohemian chic style. Check prices on Amazon
She can never have enough yoga pants. Especially when they look this good.
There you have it. Our top 12 valentines gift ideas for yoga lovers! But here's a few more for inspiration.
#13. An experience for two
Gifting experiences is one of my favorite things to do, especially as a yogi Valentine's Day gift! Try gifting concert tickets, a weekend away together, a couple's massage, a couple's spa day, or a yoga workshop you can do together! Check your local studio for upcoming workshops — many studios have specific couple's workshops (like learning Thai massage, or a couple's restorative yoga class) around this time of year.
Solo experiences make great gifts, too — like a 10-class pass at your yogi's favorite studio.
#14. Crystal jewelry
What yogi doesn't love crystals? Crystal jewelry is a beautiful compliment to any yogi's practice, making it the perfect yogi Valentine's Day gift. There's no need for crystals on your mat when you can just wear them on your body! Think about what the yogi in your life is trying to cultivate in their life — are they seeking more creative energy? A deeper connection to their intuition? More abundance? And choose a piece that fits those needs.
Some of my favorites from Zenned Out jewelry are this labradorite ring, the one-of-a-kind zodiac collection, the intention ring sets, and the point crystal necklaces (check out the gorgeous lavender jasper!).
#15. Deep Listening by Jillian Pransky
This book from world-renowned yoga teacher Jillian Pransky shares her journey to the healing practice of restorative yoga as well as her signature 10-step journey of self-exploration. The yogi in your life will be invited to "be here" and "do less" instead of "do more" and "push harder" — a welcome reprieve from the dominant cultural narrative. Click here to buy your copy.
#16. Mudra oracle cards
Mudras are hand gestures used in yoga practice to direct the flow of energy in the body. These two oracle decks, Mudras for Awakening the Energy Body and Mudras for Awakening the Five Elements, are my favorites. Each card includes instructions for the mudra along with an explanation of the specific benefits and a corresponding affirmation.
The elemental deck shares specific mudras to awaken and activate the energy of Earth, Water, Fire, Air, and Space. The energy awakening deck shares specific mudras to awaken your chakra system.
The decks work great together, so don't feel like you have to choose – get both for your yogi Valentine's Day gift!
#17. Essential Oil Diffuser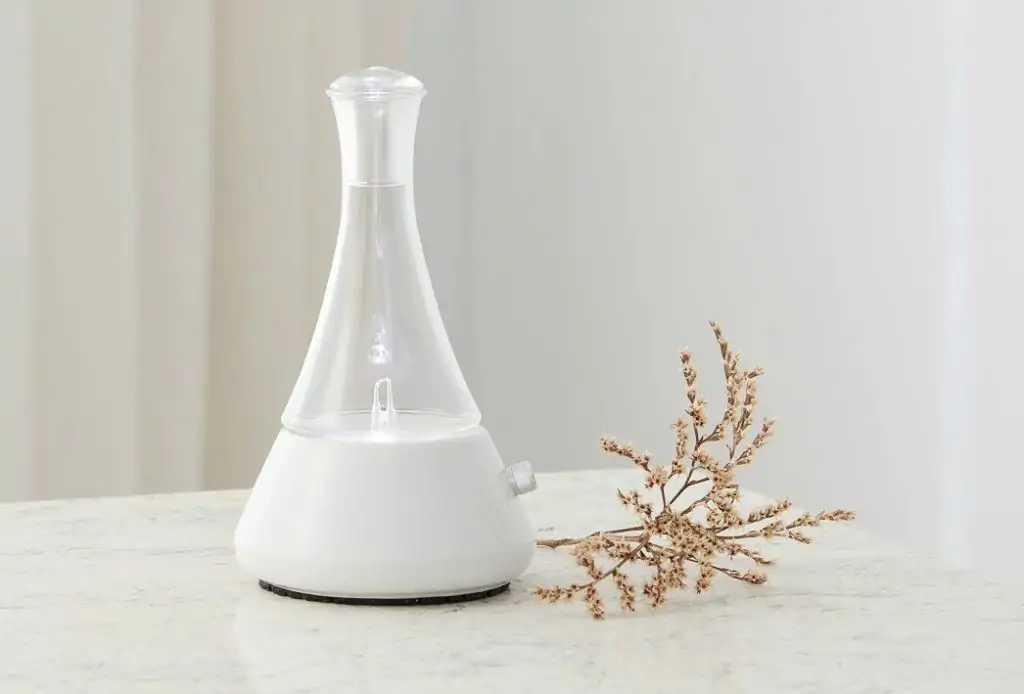 Aromatherapy is good for the body, mind, and spirit. Having a beautiful (and powerful) diffuser around is a perfect way to improve sleep, relaxation, and even some respiratory issues. Not to mention they make your home or office smell great!
We're a big fan of the Opulence Nebulizing Diffuser by Organic Aromas. We like this specific brand because they're both powerful and beautiful. They emit a strong aroma over a wide area in a relatively short period of time. We really appreciated the design quality they use: everything is made from either ceramic, pyrex glass, or solid hardwood. No plastic whatsoever.
Just remember to clean your diffuser to keep it in top shape!
#18. Printfresh journals
Journals are the perfect gift for the yogi who loves to write– you can never have too many! Printfresh journals are crafted with intention and are gorgeous. I love the Grey Abstract Daybreak Small Velvet Journal with crushed velvet and gold foil, and my favorite — the new Geode Dip-Dye Slim Velvet Journal. Shop the full selection of velvet journals here.
#19. Plants
There really is nothing like plants to spruce up a yogi's practice space or even bedroom. Head to your local plant shop and ask them which plants would work best given your partner's tastes and the light situation in their space.
If you know they are a plant lover but are shy about which plants to get, gift them a plant pot or a fun macrame plant hanger for their space!
#20. Rose quartz facial roller
Facial rollers are all the rage right now, and for good reason. Using one regularly can help improve skin elasticity, ease facial muscle tension, and reduce puffiness. Energetically, rose quartz is great for cultivating self-love, forgiveness, and compassion as well as easing stress and releasing negative energy. Shop the WITTY rose quartz facial roller here.
#21. Yoga props
A yogi is always in need of more props to support their practice! Getting them a travel mat (click here for our travel mat recommendations), a set of nice cork blocks or a high-quality yoga strap can really add to their yoga practice. If you're feeling really generous, an aerial yoga rig would make an amazing gift.
#22. Awakening Shakti book
Awakening Shakti: The Transformative Power of the Goddesses of Yoga by Sally Kempton feels like the perfect Valentine's Day read. This book is a practical guide for connecting with and activating the divine feminine (aka Shakti) in your life and is based in tantric yoga, a practice where we are reminded that life is our spiritual practice. Click here to order the book.
*We own (or have used) every gift we recommend.