Beautiful pictures on your yoga website can give life to your words and emotionally impact your readers.
When you start tugging on the heartstrings of your readers, you start to build trust and loyalty.
Choosing the right images can turn a simple, bare website into an attractive, powerful one. Besides making your site look good, the right images will also boost your "conversions" – meaning more people will signup for your email list (yay!).
All because of a photo!
Social media has proven to us that pictures are a vital ingredient to online content, as posting beautifully curated images to your social pages has risen in popularity in recent years.
While you're building your yoga presence on the world wide web, don't neglect the importance of using good, quality images for your personal brand and website.
But how do I find images? And why are quality images so important? Can't I just upload images from Google and my iPhone?
In this beginners guide to using images on your yoga website, we'll address these questions and then some. We will teach you about the importance of using quality images, where to find them, how to use them to your advantage, rookie mistakes to avoid, and SO much more. You'll also learn a step-by-step process to using images in a blog post.
As you create content for your yoga website, adding in images is often the missing ingredient that takes your site (or article) from boring to amazing!
The images you use on your site play a big role in establishing your brand and position in the marketplace. Take time to mindfully select images that reflect who you are and what your brand represent.
Where to get images for your yoga website
Generally, it's best to use your own images. This includes pictures that you have permission to use.
Using images of yourself is very important for the main pages of your site (home page, about me, etc). The goal of these main pages is to connect with your readers – having high quality pictures of yourself helps you do that.
It can be difficult to take new pictures for every blog post. In this case, using some stock images are fine. Just make sure the images match well with your article. 🙂
But wait, I don't have my own images! What do I do?
If you don't have a folder full of your own photos, own a decent camera, or just don't want to spend the effort taking great photos, here are a couple options…
Trading services with a friend

– Do you know someone who is into photography? Offer a trade of services; you teach them some private yoga and they take a few pictures of you.

Hiring a photographer

– Not the most economical option, but an option, nonetheless.

Use free photo editing sites

– Check out PicMonkey and Canva to edit your images, add text over them, etc. (aka turn your images into shareable content)
Best choice for images: Use your own pictures. They showcase you and your brand, and you own them which means there is no risk of penalty (i.e. copyright infringement). This includes pictures your friends took (or someone who gave you permission to use their photos).
Acceptable choice: Free stock images from one of the websites we list below. You can find great images but they are often generic and ANYONE can use them online so you will not set yourself apart with these images. That being said they are fast, safe to use, easy to find and quick to download.
Our go-to sites for stock images (tons of great, free to use, images):
But please, PLEASE, whatever you do:
NEVER use images from Google! As tempting as it is to snag a quick pic from your Google images search, please don't! This is incredibly risky and NOT worth it the consequences. For more info on using images legally, click here.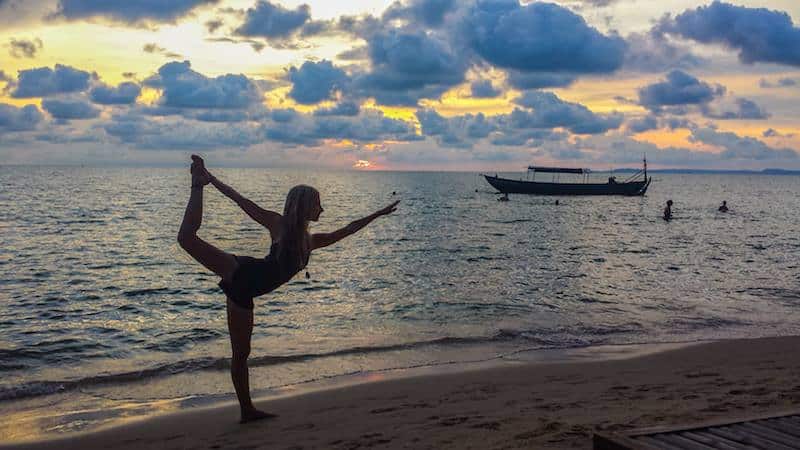 Step-by-Step Guide to Using Images in a Post
The following steps are designed to help you use images correctly on your WordPress site. If you use something other than WordPress, just know some the of details below might be different for you.
We use WordPress on all of our websites and recommend you do the same.
Step 1: Acquire image
As stated earlier, use your own images, that of a friend or professional, or find stock images online.
Step 2: Resize image
Resize it to roughly 700 pixels wide. You can do this using your computer's built-in photo editor, or PicMonkey. Use the same size images throughout every blog post if you can. Most WordPress themes have standard photo sizes. 640×320 is a common photo size.
Step 3: Rename image
Rename the image to reflect the subject of your blog post. For example, if you article is about "how to cure lower back pain with yoga" – you might name your image "fix-lower-back-pain-with-yoga." Bonus points for using keywords in the title of your images which increases your SEO.
*Keywords = word(s) used by search engines in its search for relevant webpages. Using keywords in your images titles helps Google learn what your website is all about (aka more organic search traffic to your site).
Step 4: Upload image to your site (WordPress)
After renaming and resizing, log into your website and upload your desired image. WordPress automatically stores all your images in your "media library." Before placing your images on your website, be sure to check that things look right under "attachment details." Aka select the right size and be sure to select "None" next to "Link To."
If you want to include an affiliate link, be sure your image links to the appropriate affiliate page.
Step 5: Ensure your photo looks good
Preview the post to see that your image matches the post and style appropriately. Do you need to align it in the the center of the page? Or maybe you want text on the left and your image on the right? Is the image the right size? How does the spacing look?
Helpful Tips: Adding Images to your Yoga Website
When using images on your website, it's important you're optimizing them to work for you not against you.
We lay out a few tips for you to consider once you're ready to use images on your website. Whether you use your own images or someone else's, these guidelines are important to follow:
Use 2-5 images per post. Images are important in a blog post because they break up the text and make the content easier to scan. Use no more than 5 images depending on word count, per post. Too many images can slow down the page loading time, causing your reader to lose interest.
Only use high quality images. Never use pixelated (blurry) images! Images become pixelated when you try to stretch a picture to be bigger than it originally was. To avoid this, use high quality, larger images and never try to stretch a picture bigger. Hint: if using your smartphone, always send and save using the largest file size.
Edit images before uploading. Consider editing the images before uploading them. A touch of color enhancement or cropping can go a long way. We use the pic editor on our Mac laptops in addition to LightRoom, but also suggest and recommend the free app PicMonkey for resizing and editing.
Don't forget your "ALT text." For additional SEO benefits, remember to also change the ALT tag. The ALT text is basically a text description of your photo. When you upload an image to WordPress, you'll see the field called "Alternative Text." Fill this in with "keywords" that match the subject of your article.
Avoid advanced posture photos. This alienates new and beginner students. (Caveat: your niche is, for example, acro-yoga). Have a variety of images showing who you are: headshot, you in accessible yoga poses, outdoor setting, etc.
Use unique images. Using stock photos can work well if done correctly. But because of the popularity in using stock pictures, many other sites in the same industry may be using the same image. Having access to your own images or even those of your friends or a photographer you hired, will help keep your site fresh and different from the rest.
Affiliate link your images. Readers eyes are drawn to the images within the text, so if you're promoting a product or service in your article, be sure the images link to the appropriate affiliate link. Often times, site owners forget this step and when a reader clicks on their image, they are taken to a separate page within the site where the upload is stored.
Use a Pinterest "plugin" to increase your Pins! If you want to make it easy for your readers to pin your content, download a plugin to make all your images "pin-able." We use and recommend jQuery Pin It Button for Images (free).
Save time by finding images in bulk. It can take a ton of time to always search for new images every time you upload a blog post to WordPress. If you typically write about a similar topic, find images in bulk and save a bunch to your desktop.
Let's wrap up
Your readers aren't just merely browsing your site, they want to fully experience it. Adding in relevant and beautiful images will help cultivate an experience they won't want to leave.
Also, don't let photos hold you back from creating your yoga website! You can always upgrade your photos later as you get more comfortable.
Don't forget to download this free report before you go!
Anne
PS: Did you enjoy this article? Pin me!