I recently read a blog post by Adventurous Kate titled Five Years of Travel: The Best Experiences. This post sent me into a manic state of nostalgia. Memories flooding my brain of places we explored, friendships made, and obstacles overcome.
I furiously jotted down all my favorite travel moments of the previous 18 months. It was as if by simply writing them down, I could in some way go BACK to those precious moments. Reminiscing seemed to keep my memories alive.
Brainstorming memories on paper turned into flipping through thousands of pictures. And by going through these pictures, I realized how many memories I had ALREADY FORGOTTEN.
Memories are a curious thing. If we don't actively use a part of our brain (ex: reminiscing travel memories) then our brains assume those neural pathways are non-pertinent and focuses our limited resources elsewhere. Thus we start to forget… As if our precious memories came from past lives, or like dreams they have slipped out of our grasp.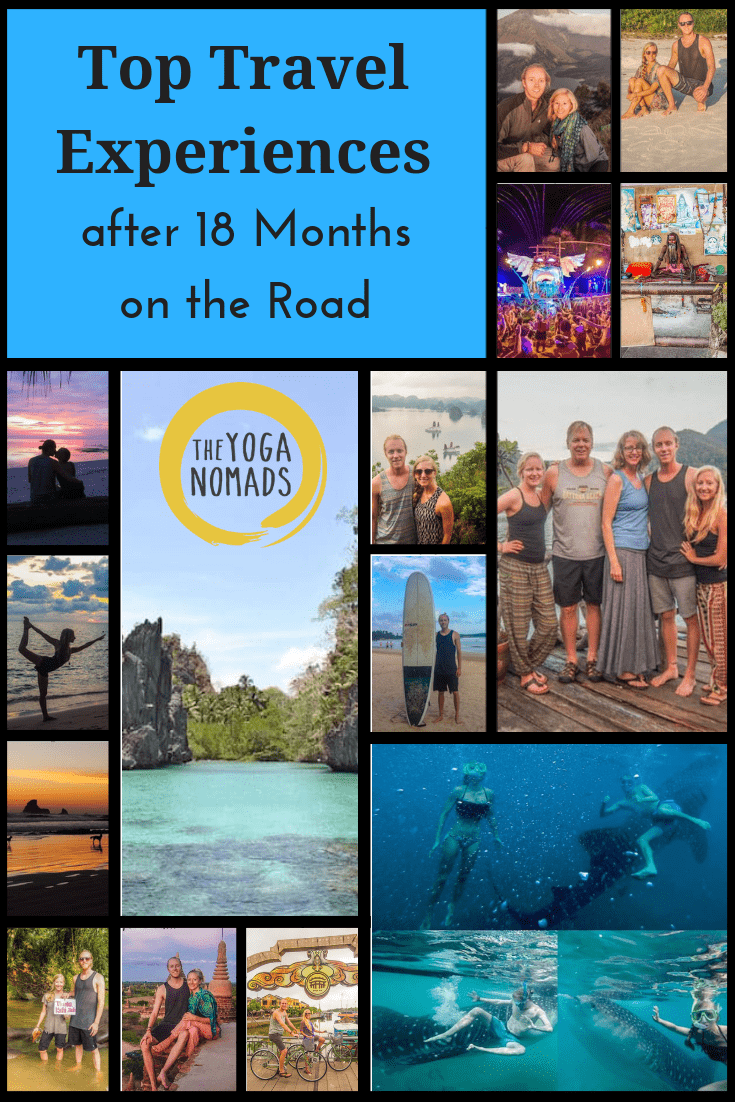 Pin me first? Then keep reading!
In an effort to keep these memories alive, here are our top 32 travel experiences after 18 months of travel!
PS: Keep YOUR memories alive by writing down your top travel experience from 2015 in the comment section below. Such a fun exercise and I cannot wait to read yours!
Bonus points: If someone was part of your memory – send them a "remember when……" reminder today! I promise it will brighten their day and yours!
1) Swimming with whale sharks in Dumaguete (Philippines)

I will never forget jumping off our little kayaks into an ocean filled with school bus sized fish. We felt so tiny. We were at the mercy of nature. Thankfully Whale Sharks don't eat people 🙂
2) Getting healthy in the healing capital of the world (Ubud)
Rented an apartment, got passes to The Yoga Barn, and enjoyed healthy and delicious food. If it wasn't for Anne getting hit by a motorbike, I'd say Ubud was a home run!
Ubud is a yogi's dream come true. Beautiful setting, yoga studios on every corner, healthy food, conscious people, and very inexpensive.
Ultimate guide for Ubud (yoga recommendations, where to stay/eat, what to do, etc)
3) Beach hopping near majestic El Nido (Palawan, Philippines)
On the Northeast corner of Palawan Island lies a little slice of heaven. El Nido is the jumping off point for some of the most beautiful beaches and islands in Asia. Although it's getting over-run by tourists, there is still gold to be mined. This picture is from one of our favorite days of beach hopping! Full of great snorkeling, fresh seafood lunch, and life long friendships! Shoutout to Tyler, Anthony, Sofia, Heidi, Katarina, and Bobby!
4) Climbing Mt Rinjani (Lombok, Indonesia)

Summiting Mt Rinjani was probably the hardest physical endeavor I've ever done. Yes, even harder than our 15-day Annapurna Circuit Trek in Nepal. Thankfully the sunrise from the summit made all our pain worth it. The volcano is located on Lombok which is a short boat ride from the popular (and over hyped) Bali.
Ultimate guide to trekking Mt Rinjani.
5) Learning to surf in Weligama (Sri Lanka)
I've always romanticized surfing and finally got a chance to learn. Luckily Weligama Beach in southern Sri Lanka was the perfect place to learn how to surf. Little did I know, surfing would become a serious obsession passion.
6) Grand Tetons backpacking trip (Wyoming, USA)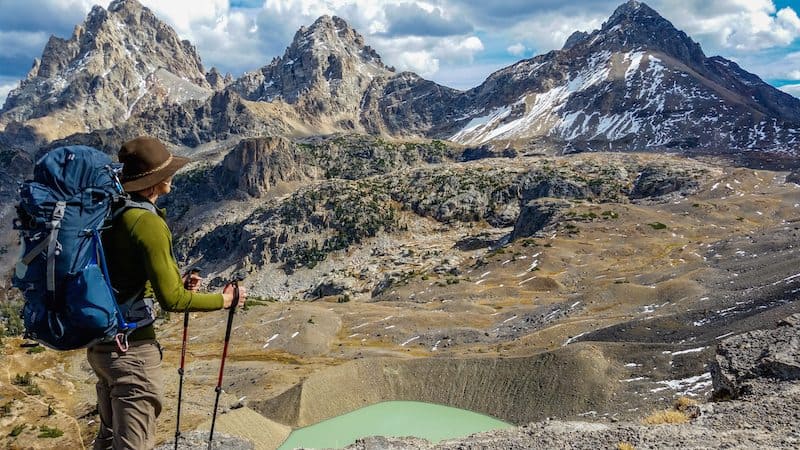 After spending a year in Asia, it was time to explore our own backyard. We trekked 38 miles over 5 days on the Teton Crest Trail. We were spoiled with amazing views, grizzly bear cubs, and pronghorn deer.
7) Renting a floating hotel with my family (Thailand)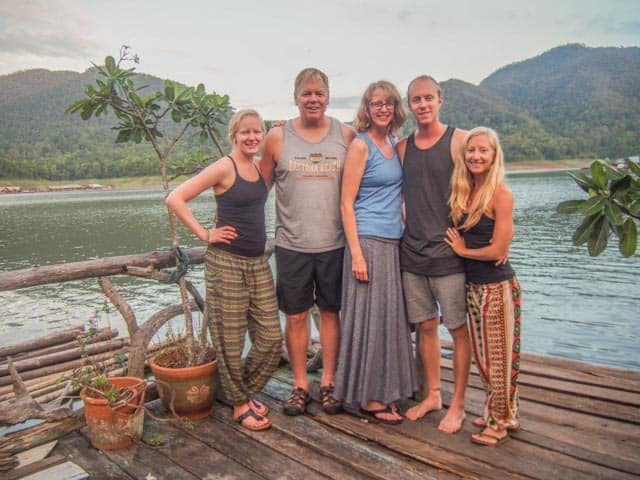 After 6 months on the road, our families meet us in Thailand for a month! We explored the islands by motorbike, rented a houseboat a the Mae Ngot Dam, swam with elephants in Pai, learned to cook Thai food in Chiang Mai, snorkeled with phosphorescent plankton, amount other things. Memories to cherish forever.
If you're ever in Chiang Mai, I highly recommend staying a night or two at the Mae Ngot Dam. You can rent a floating hotel room and have a lake day. Play some music, swim, jump off the diving platform, etc.
8) Trekking the Annapurna Circuit (Nepal)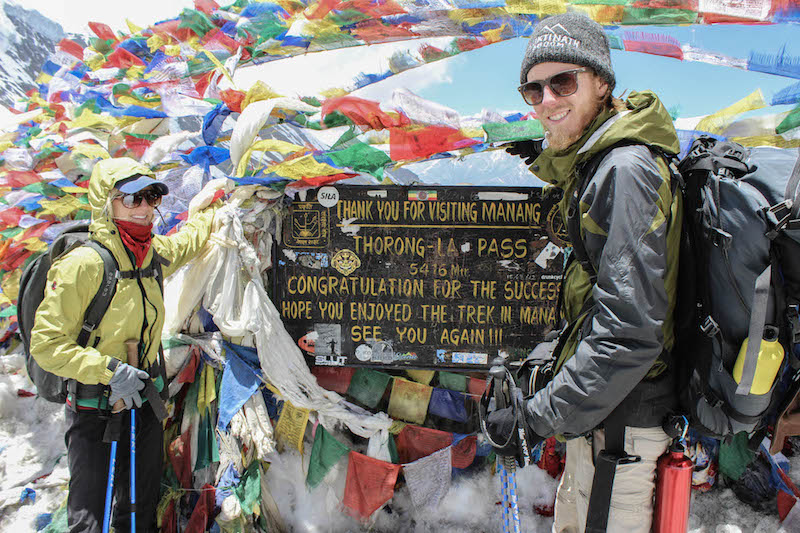 Quite possibly my favorite experience to date. We spent 15 days in the Himalayas trekking the Annapurna Circuit. Traversed every ecosystem and crossed Throng La Pass at 17,783 feet. So thankful that we shared the experience with our friends from Minnesota, Keith and Sarah.
9) Celebrating our anniversary on a houseboat in Kerala (India)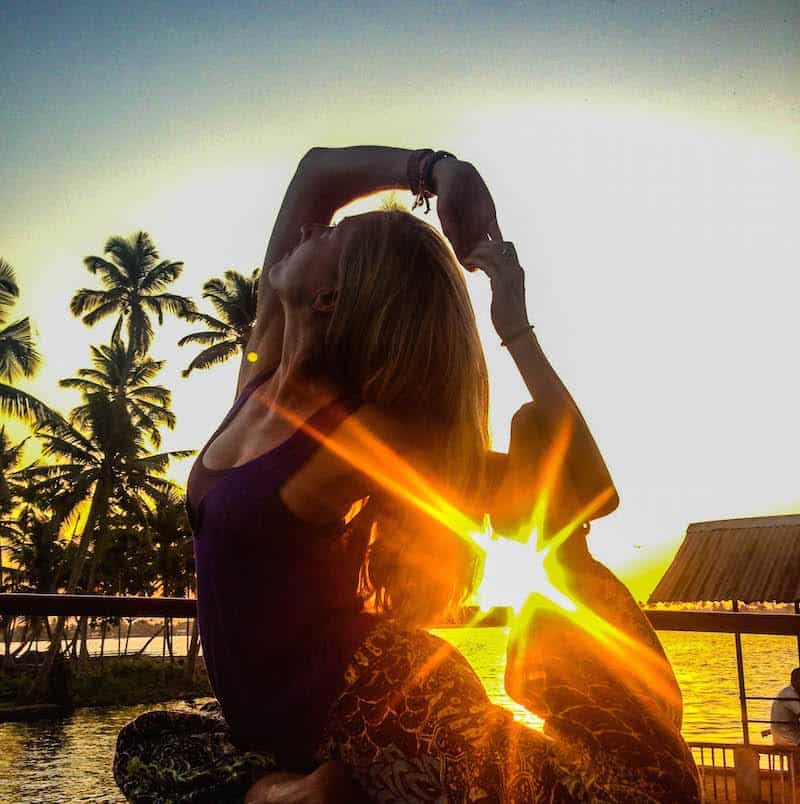 Anne and I spent our 3 year Anniversary exploring the backwaters of Kerala via our own private houseboat. Our crew taught us to fish with a bamboo rod, cooked amazing fresh fish meals and even surprised us with a cake! Thanks Dave and Sanjay from Alleppey 3 palms guesthouse.
10) Volunteering with orphan elephants in Sri Lanka
Elephants are special creatures. We're so fortunate to spend a day volunteering at the Elephant Freedom Project in Sri Lanka. We bathed, fed, and played games with 2 baby elephants. One of our supporters sponsored the activity for us. Thanks Zach and Kashi!
Elephant Freedom Project website.
11) Exploring Bagan's temples by horse & carriage (Myanmar)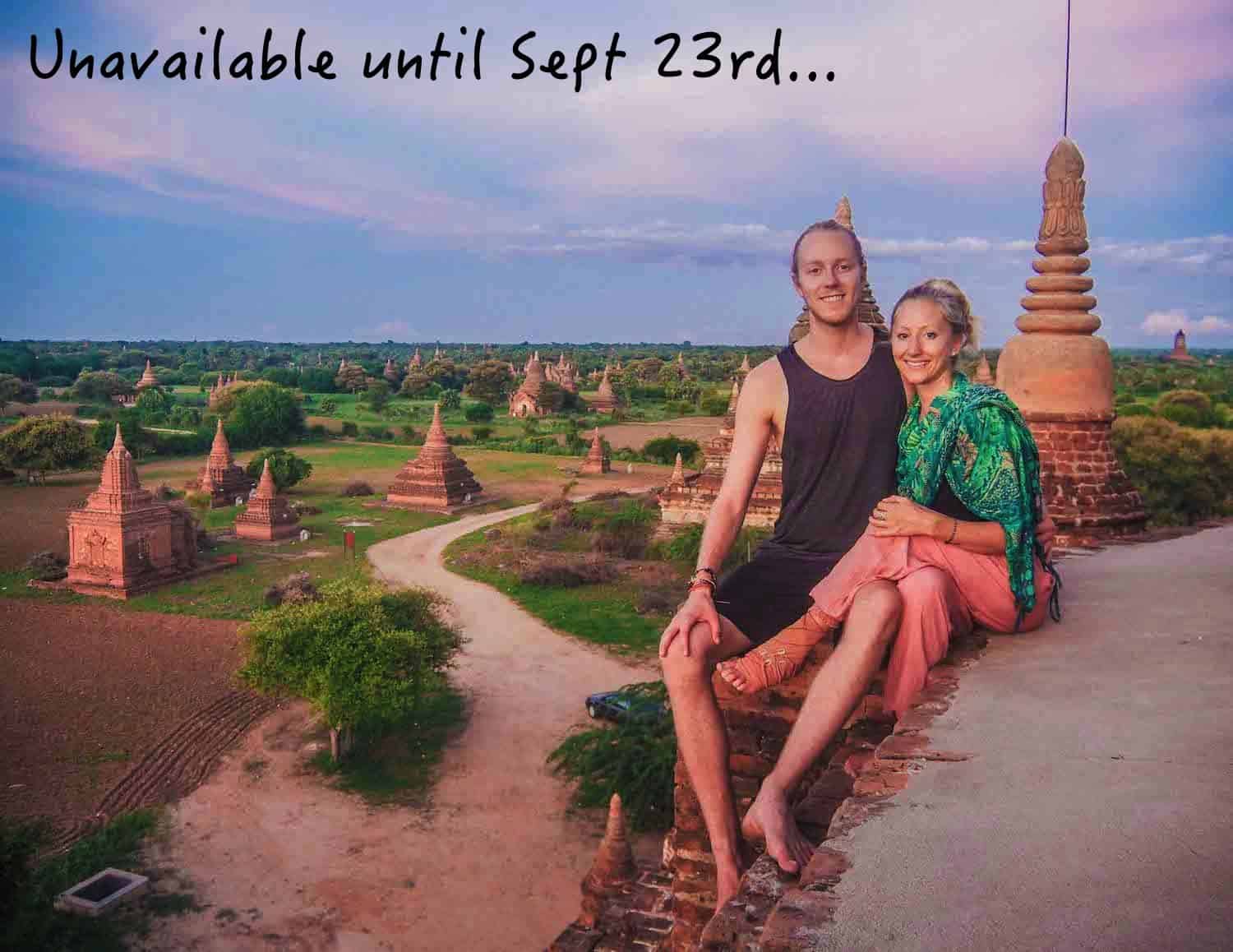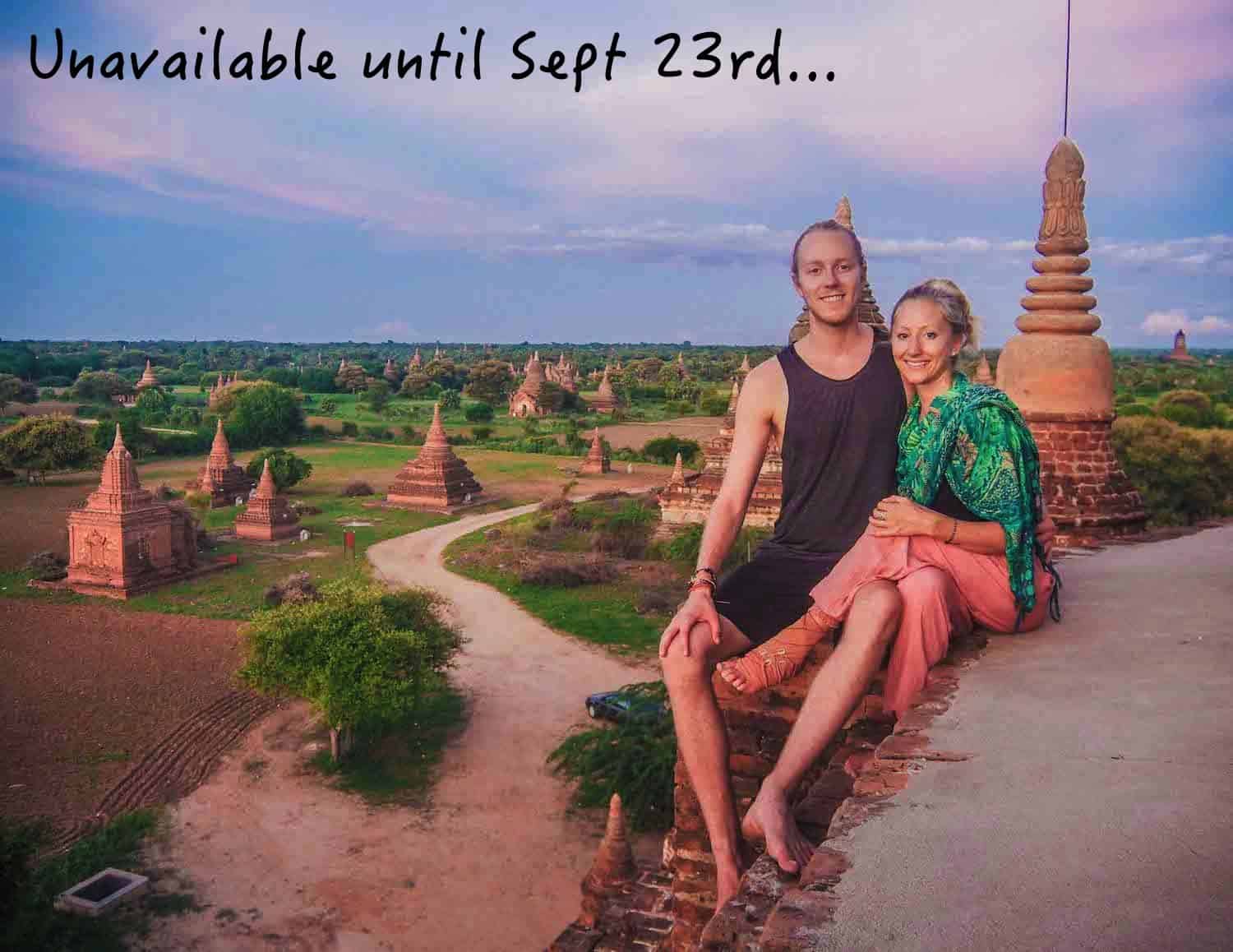 Anne and I generally hate visiting temples, monuments, etc. They seem to be underwhelming, over-priced, and rarely give us a feel for the country's culture. That being said, we had a great experience in Bagan. The temples were fascinating but the locals we met while climbing around is what really stuck with us. Go to Myanmar already!
12) Falling in love with the king of fruits (durian)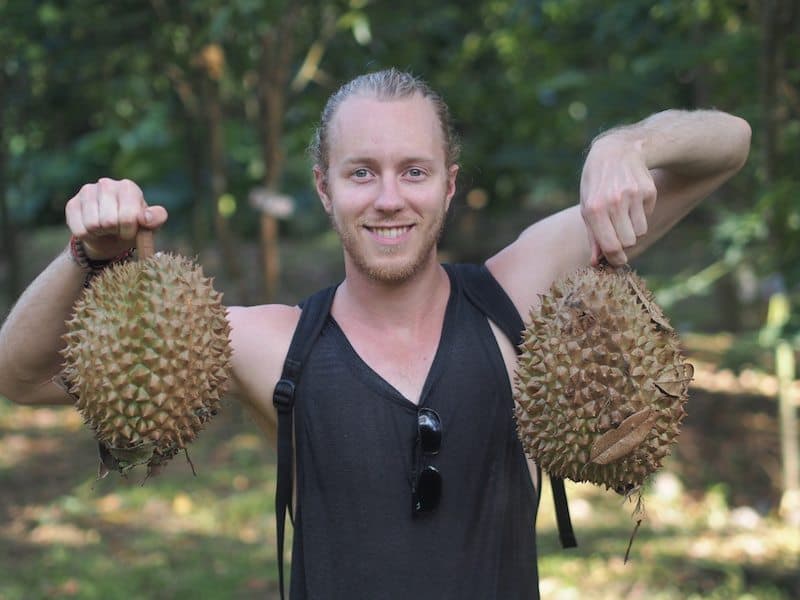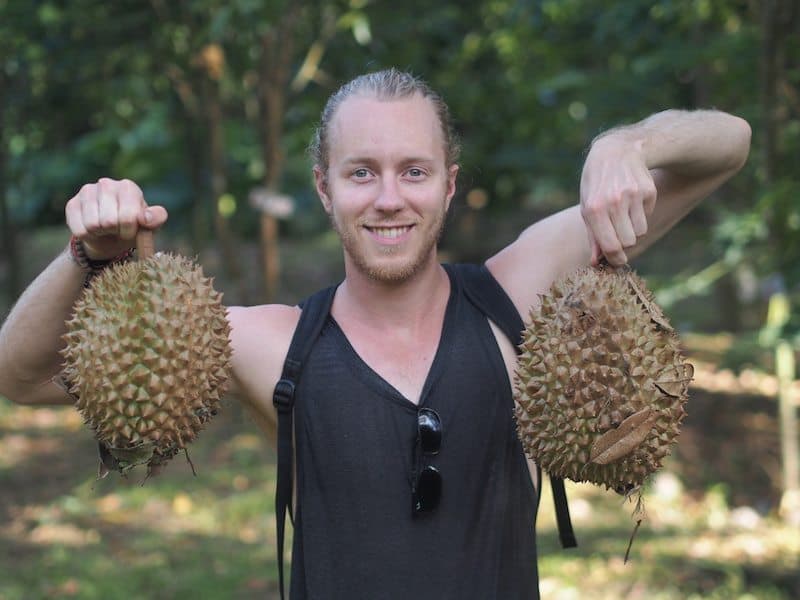 Durian is the king of fruits. Really, it is. It's so good, I once ate one Durian per day for 100 days straight. I really miss those days. The flavor and smell are truly unique, the buying process is fascinating, and it's good for you! To learn more about durian, check out our friends at Year of the Durian.
14) Ten day silent meditation retreat – Vipassana (Myanmar)
I never thought I would say "meditating 10.5 hours per day, eating 2 meals per day, and not talking for 10 days straight" would be enjoyable. Somehow this beautiful (and challenging) experience was deeply enjoyable. Days 3-9 were the most content I've felt in my entire life. Blog post coming soon…
Great article on Vipassana by Daniel at Uncornered Market.
15) Sunset jam sessions on the cliffs in Hampi (India)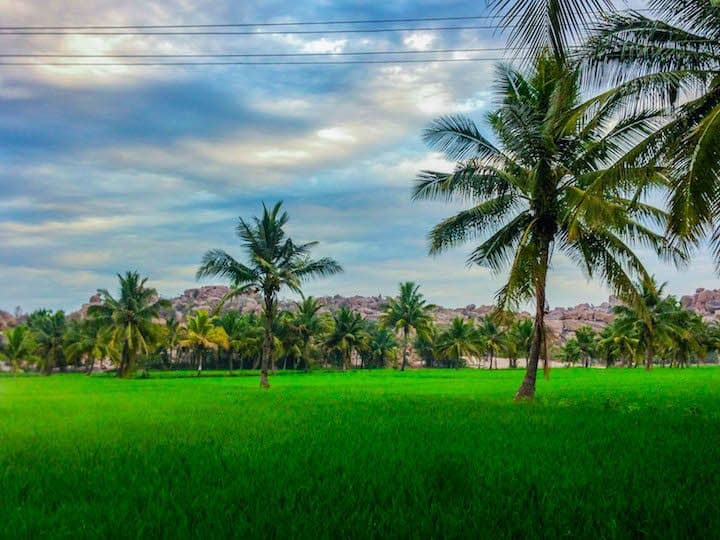 Hampi is a truly magical place. Bouldering mecca, ancient historical site, and hippie backpacker enclave. We explored the countryside by motorbike, soaked in the magical sunset jam sessions, and had a crazy day with the Rainbow Gathering.
16) Dancing all night in Costa Rican Jungle at Envision Festival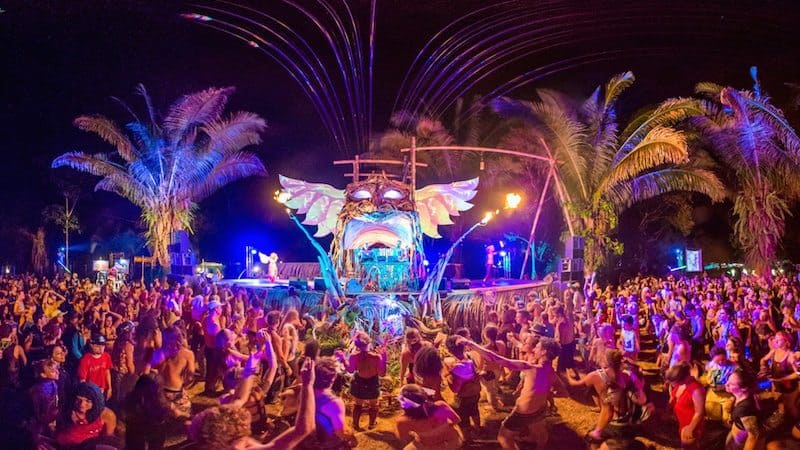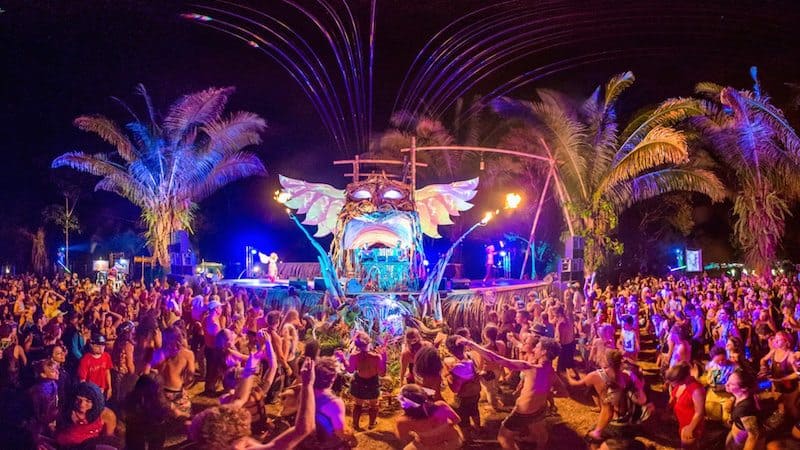 Envision is a magical place. A music festival like no other. Set on the beach in the lush Costa Rican Jungle. We met beautiful souls from all over the world, had great yoga classes, took part in a cacao ceremony, listened to informative/inspirational talks and workshops, savored sunsets on the beach, and danced all night. I left with an overwhelmingly positive feeling… for the first time ever, I truly believed our generation will change the world.
Envision 2017 tickets on sale.
17) Beach hopping in Kuta, lombok (Indonesia)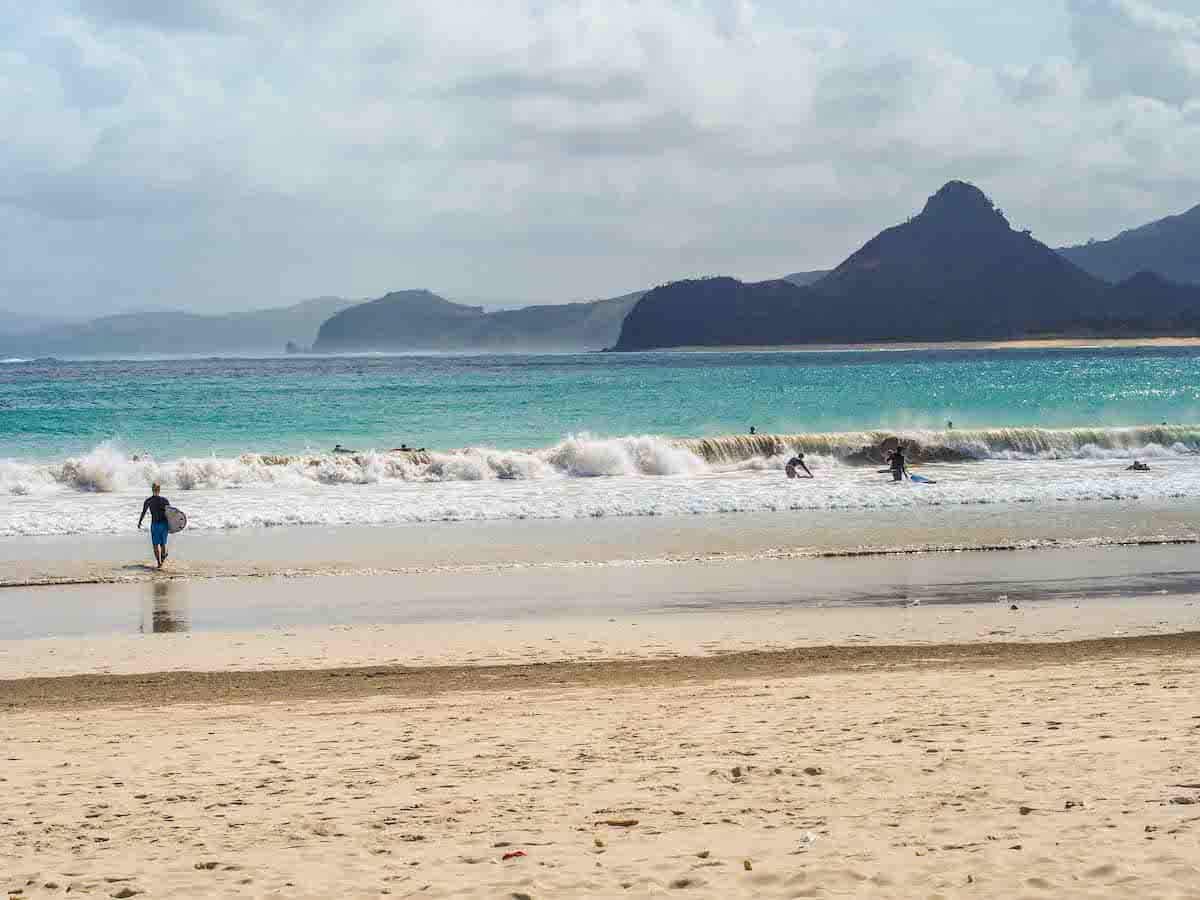 One of our favorite things to do is find hidden beaches by bicycle/motorbike. Kuta is an up and coming beach town in Southern Lombok. There is a 40 mile stretch of majestic beaches each with their own flare. The best part is you have the whole place to your self! Also, great surf.
18) Repelling down waterfalls in Dalat (Central Vietnam)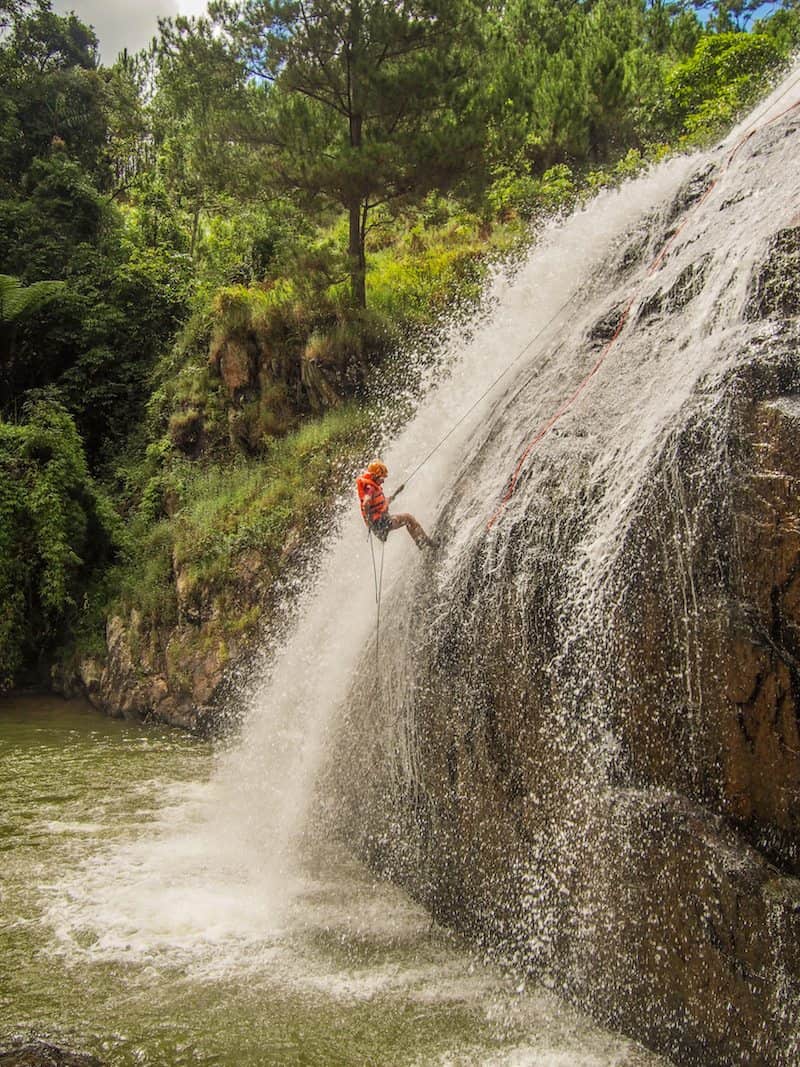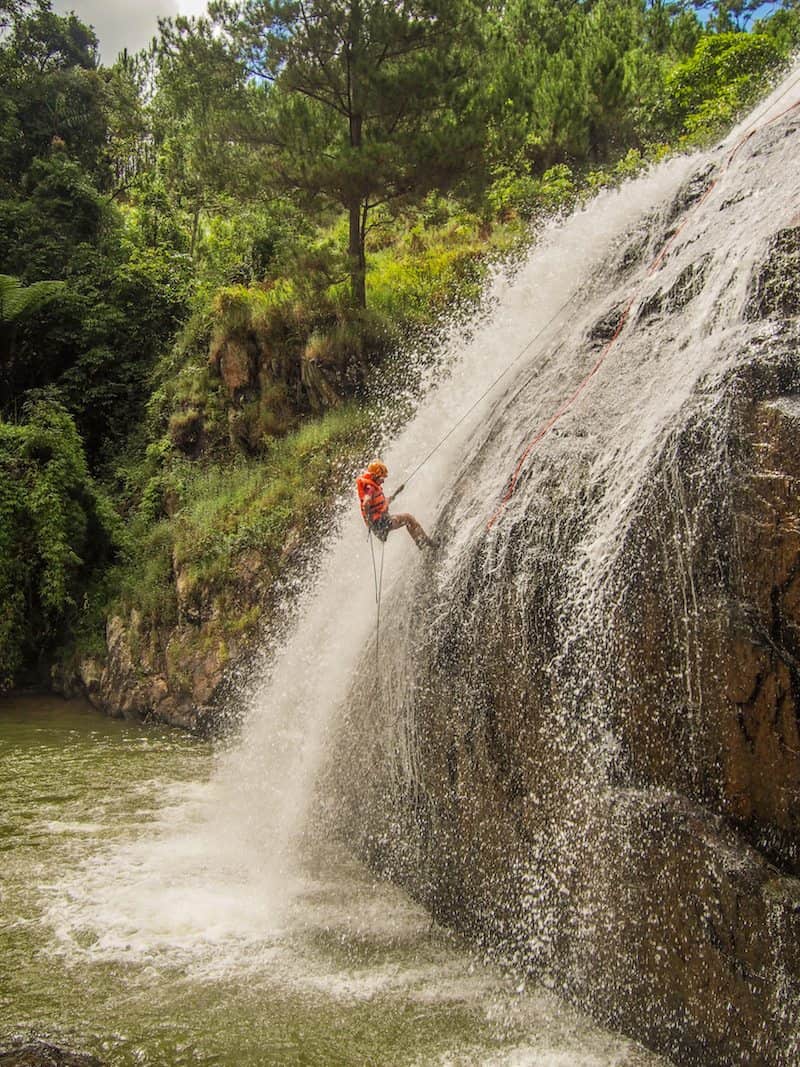 Equal parts terrifying and fun. After a short lesson, we were off to repel (abseil) down a river canyon in central Vietnam. Most people visit Dalat for the canyoning but we also loved exploring this small(ish) mountain town.
19) Getting seduced by Hoi An (Vietnam)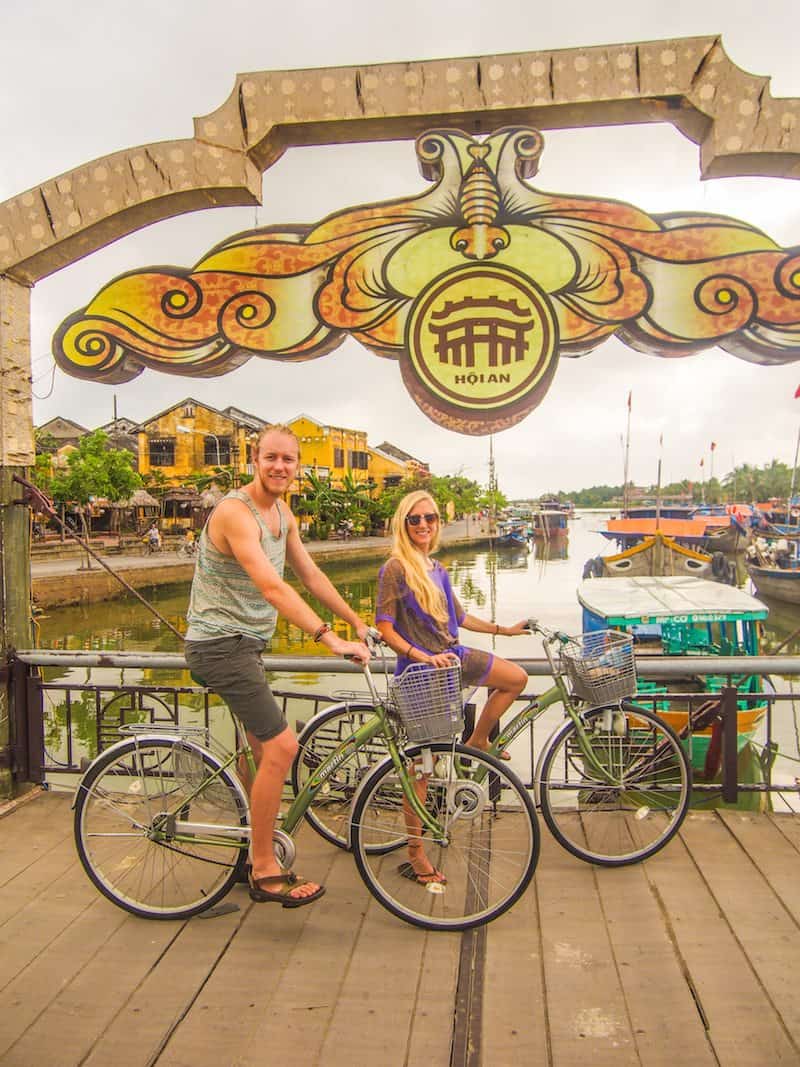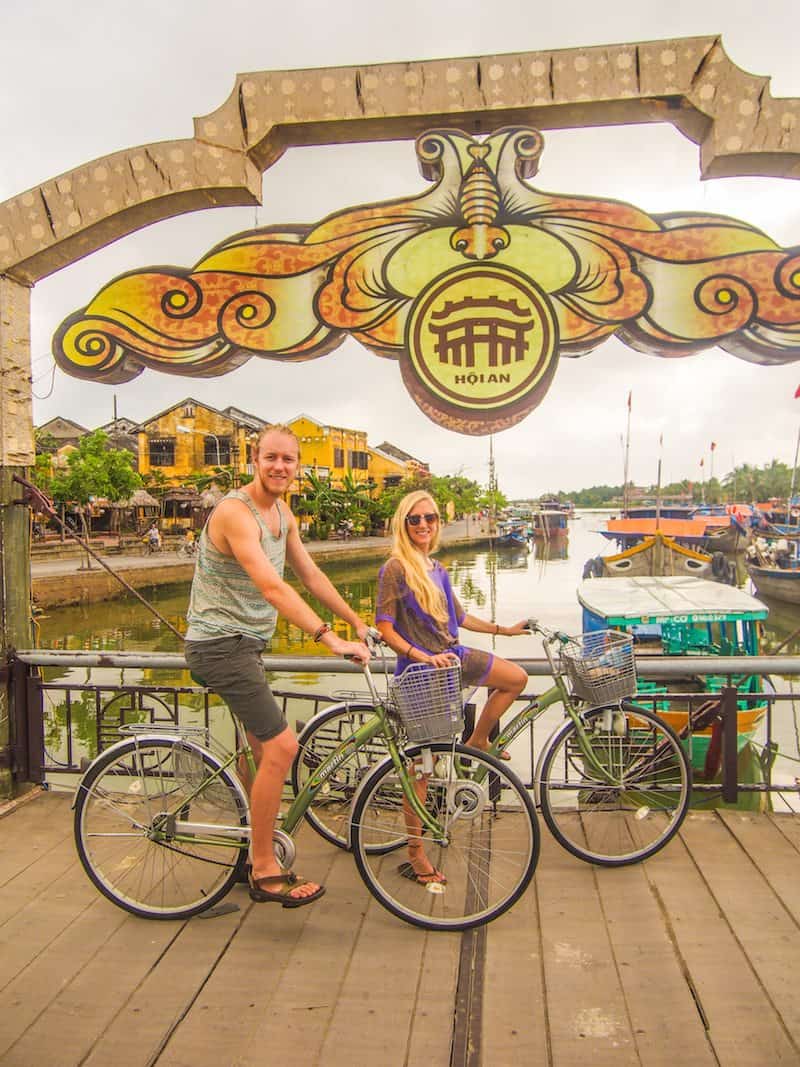 Hoi An is a very special place in Central Vietnam. We got "stuck" here for a week and could have easily spent 2 months. We fell into a great group of locals, led by a budding tour guide Ly. We ate special Vietnamese dishes every day, explored the countryside by bicycle, and surfed the nearby beaches.
20) Magical sunset on Sequijor island (Philippines)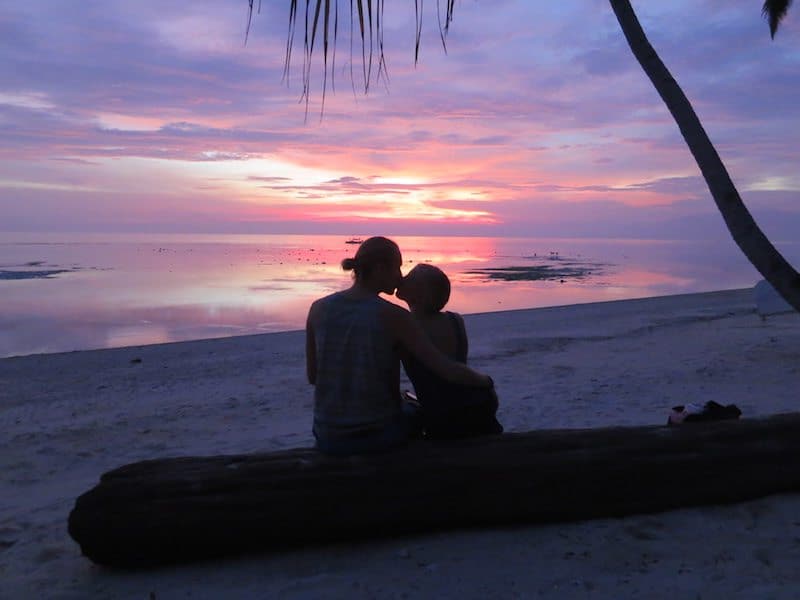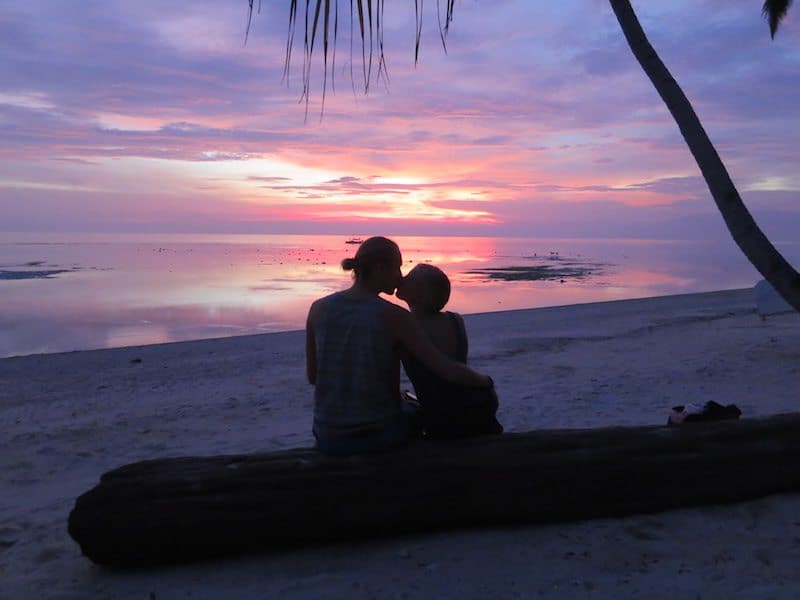 Also known as the witches Island, Sequijor is a little gem off the coast of Cebu. The Filipinos claim the island is haunted… maybe that's why no one was there! We never found a witch, but we did enjoy fantastic snorkeling, beautiful sunsets, lush waterfall filled jungles, and some epic cliff jumping. (Sunsets during "rainy" season are the best!)
21) Sunrise at the Taj Majal (India)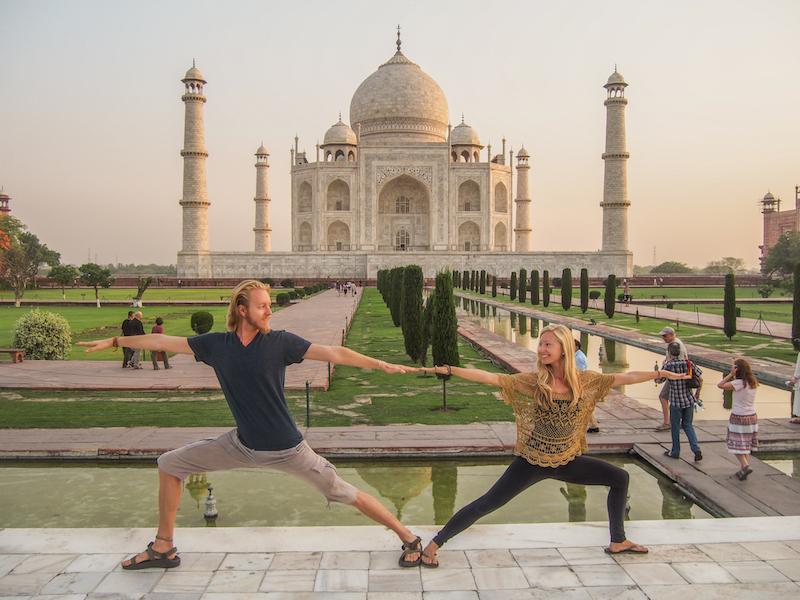 I know I said we hate temples, monuments, etc. But there are a FEW exceptions. The Taj Mahal is one of those. It's mind boggling and beautiful beyond words. Unfortunately, the Taj is located in the city of Agra – which might be the worst place in the world. So sad that most locals don't benefit from the massive tourism dollars spent in the area.
22) Forming life long friendships through Airbnb (India)
We started our 11month Asia tour in Mumbai, India. Might as well jump in the deep end?! We lucked out big-time with a soft landing into India – our Airbnb host, Mani. He was an upper middle class retired engineer with a big heart and some serious swagger. He took us around town, on a day trip to Lonavla, and we Skyped with each others families.
New to Airbnb? Sign up today and receive a free $20 credit!
23) Growing as a person (and a couple)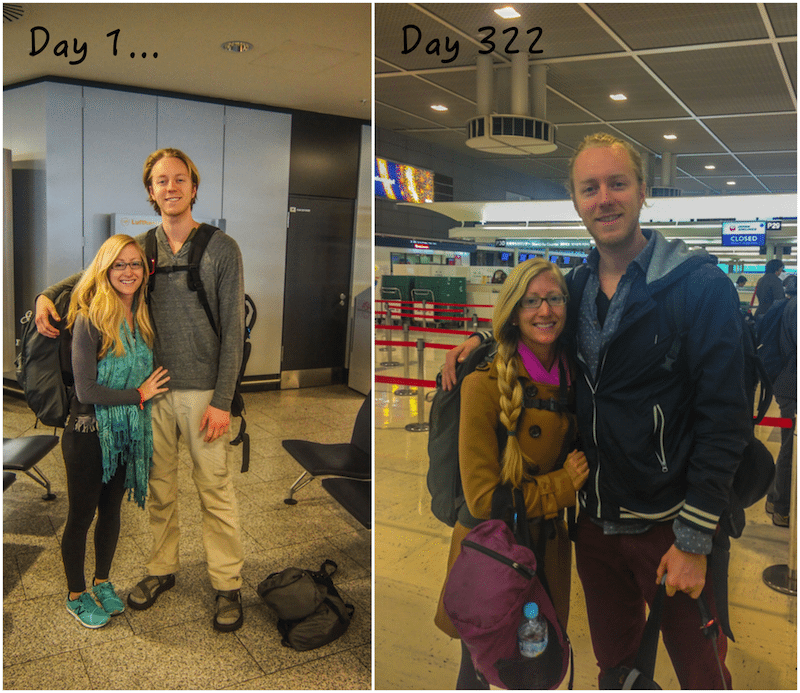 The best part of our travels was not the epic treks, beautiful beaches, etc. In fact it's nothing tangible. The best part of travel is the growth we experienced both individually and as a couple. Travel truly is a world-class education. I feel more compassionate, patient, open-minded, confident, and motivated to leave my mark on the world. And I feel closer to my partner!
24) Finding the perfect balance in Otres Beach, Cambodia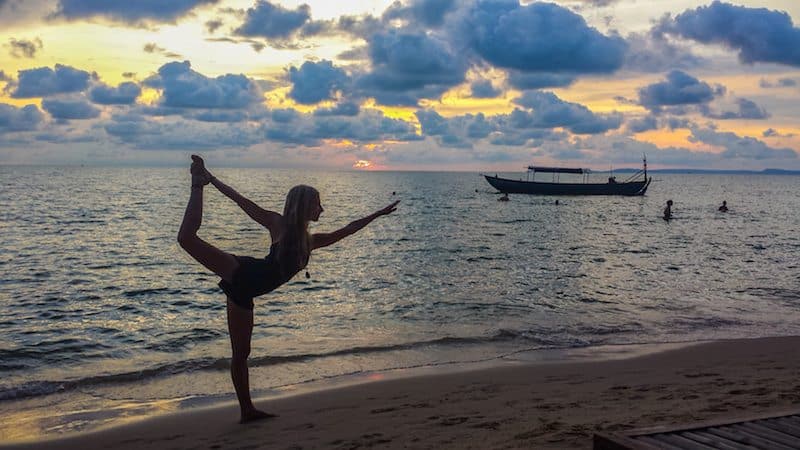 Sometimes all the little things work out and you fall in love with a place. Otres beach is the chilled out cousin of Sinhinukville, Cambodia. Beautiful sunsets, warm water, nice people, and a cool expat community make Otres a great place for digital nomads. (We even had a "movie" night with some of our friends – popcorn, our own private viewing 'theatre' and thousands of movies at our fingertips!).
25) Going "full on" India in Varanasi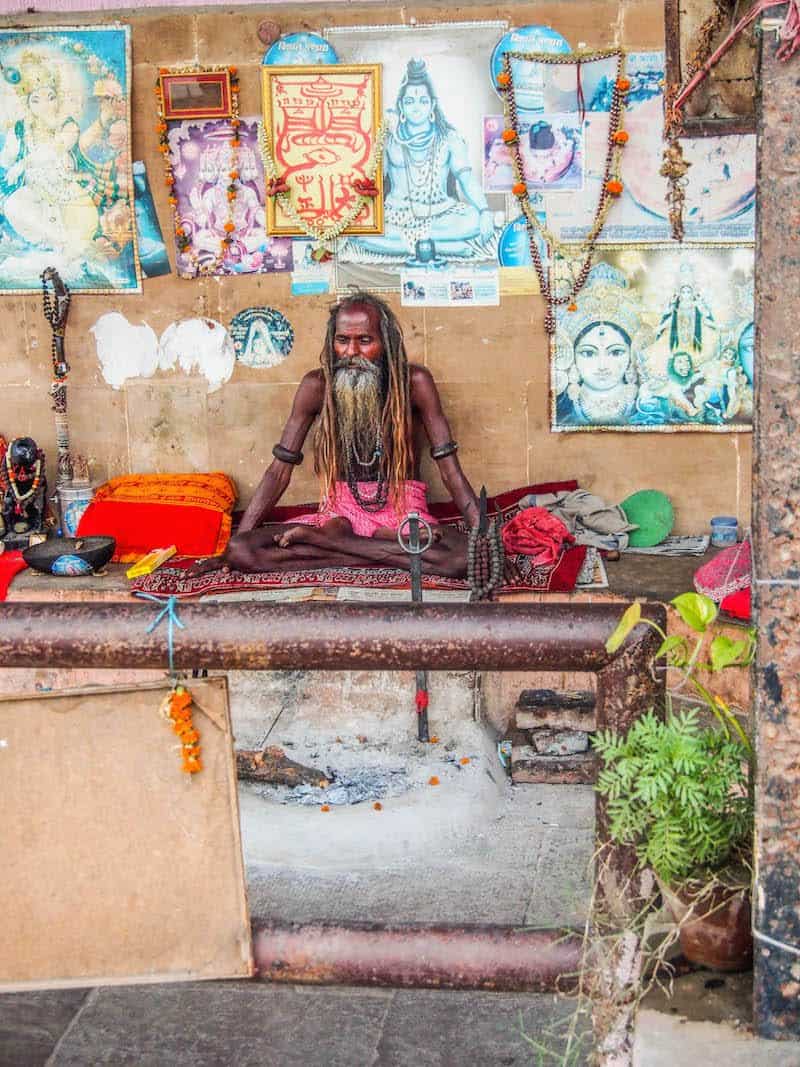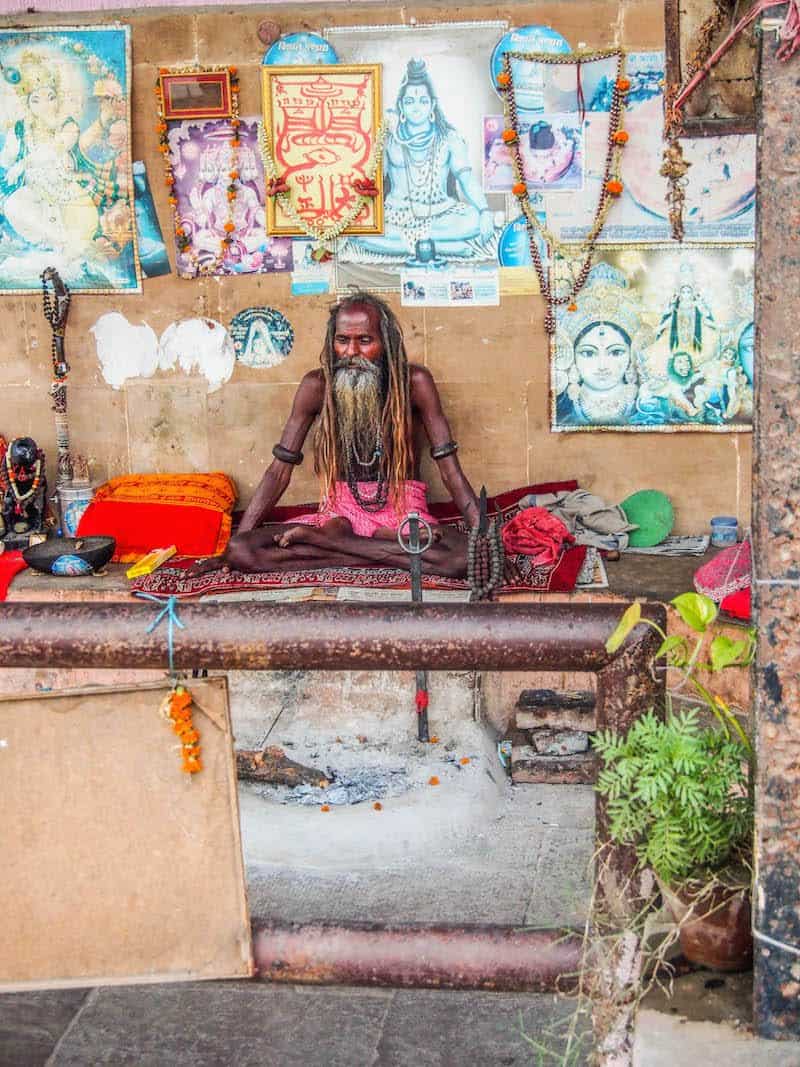 India is the most intense country we've visited and Varanasi is the center of the chaos. Right on the Ganges, Varanasi is the longest inhabited city in the entire world. 80+ people are cremated on the banks of the Ganges each day. To our surprise, you can just sit down and watch these processions. Of course Varanasi is much much more than the daily cremations. If you head to India, you cannot miss Varanasi!
26) Remedying our Backpacker Burnout in Varkala (India)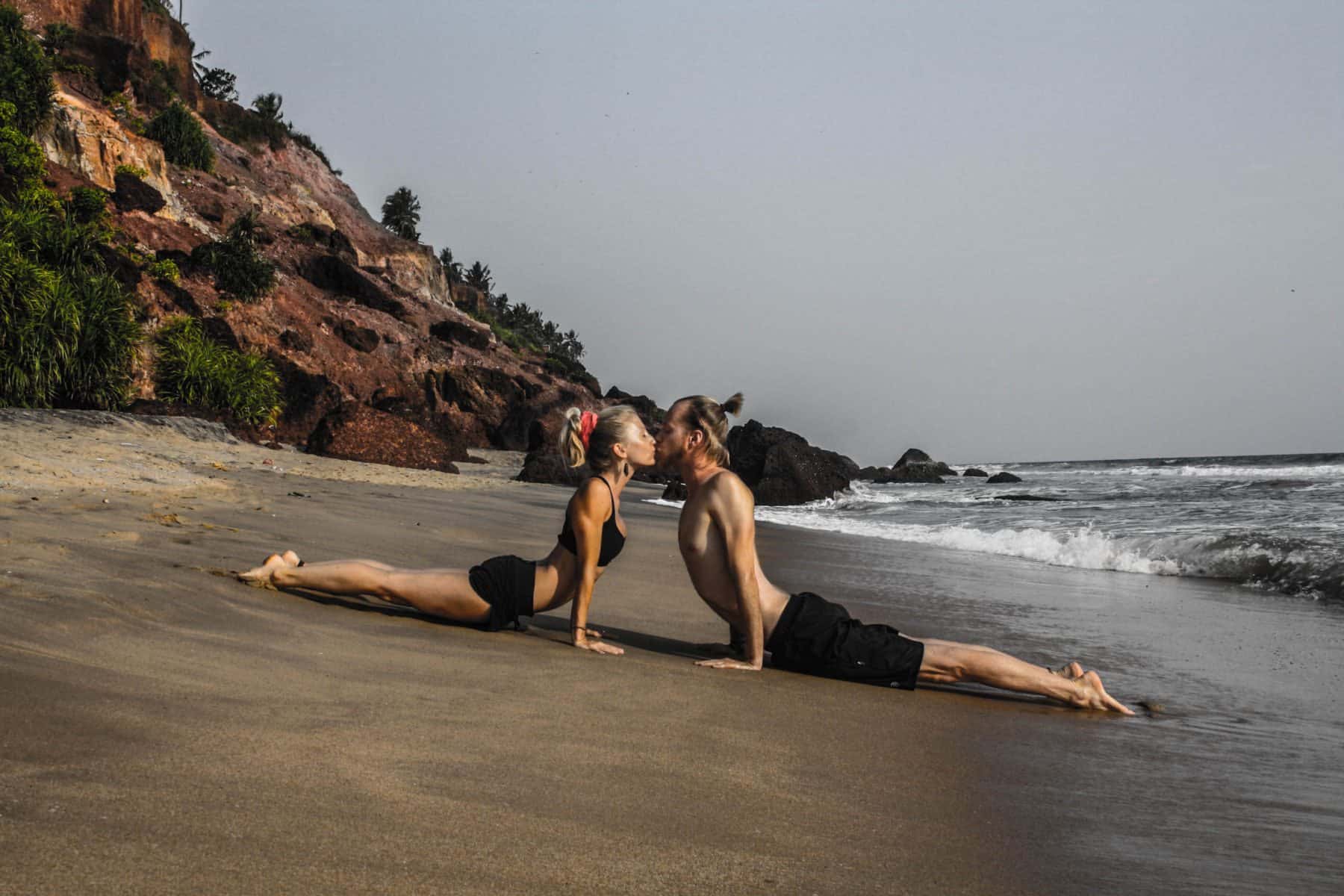 Sometimes during long-term travel you get burnt out and just need to chill. For us that happened 2 months into our time in India while in the state of Kerala. Luckily we stumbled upon a great group of friends in Varkala and really got our chill on. Found a nice routine of hanging at the beach, working from the Juice Shack (incredible fresh pressed juices!) on the cliff over looking the sea, and seafood dinners at night. Got some work done, recharged the batteries, and made lifelong friends. Special shout out to Ben, Lisa, Nils, and Michelle!
27) Renting a $300/month beach house in Puerto Viejo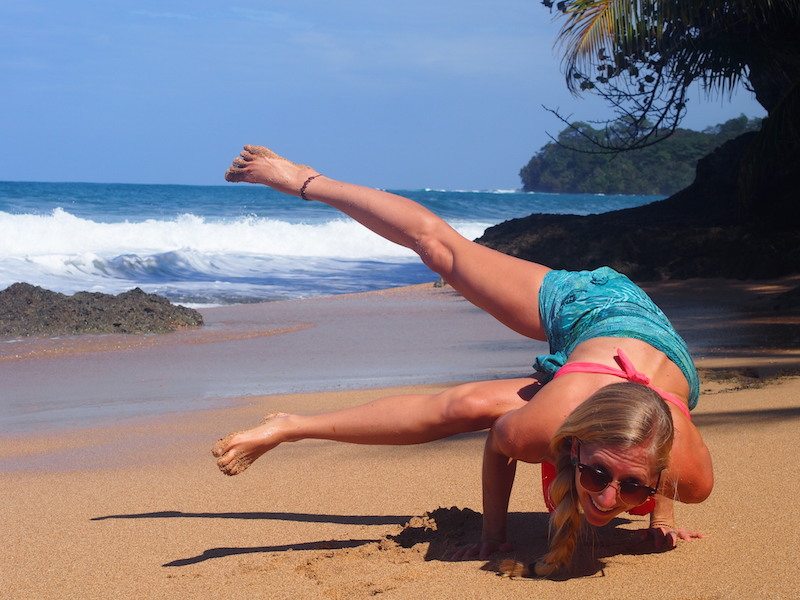 Puerto Viejo is a hippie enclave in a lush jungly region on the southern part of the Costa Rica's Gulf coast. Beautiful beaches, fascinating people, yoga, surfing, and seedy nightlife. We rented a "casita" near the beach for $300 USD per month. So many great friendships were made in PV!
Ultimate guide to traveling, living, and working in Puerto Viejo, Costa Rica
28) Devouring Vietnamese street food
Vietnamese food is one of our favorite cuisines in the world (only rivals are Indian, Thai, and Burmese food). We searched high and low for the best food in Vietnam and were rewarded with explosions of flavor.
Thanks for Mark at Migrationolgy and Jodi from Legal Nomads for their detailed Vietnamese food notes!
29) Long beach on Koh Rong (Cambodia)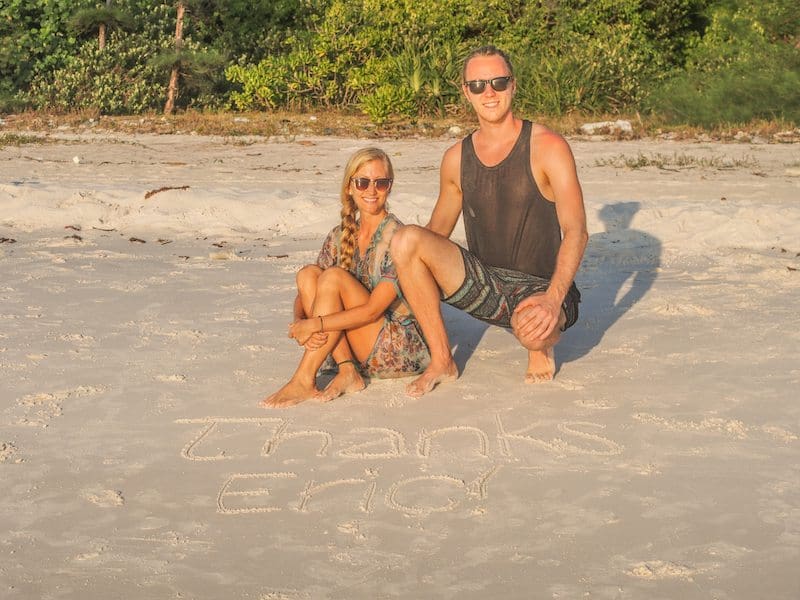 Tropical beach paradise by day and thumping party beats by night. We enjoyed the beach time more than the the parties, but there is no doubt Koh Rong has it going on.
30) Watching time stand still on Koh Lanta (Thailand)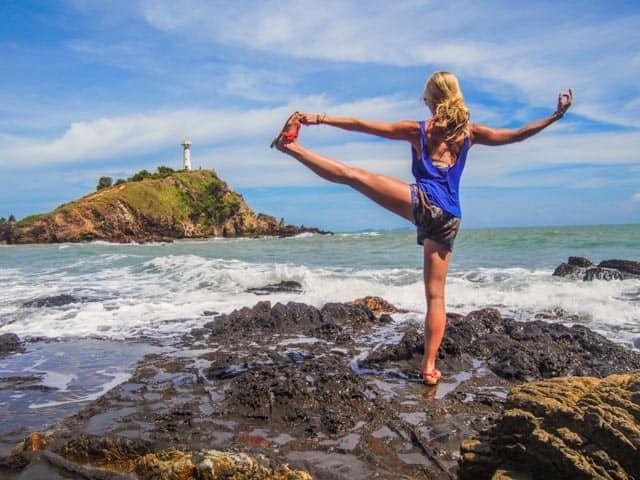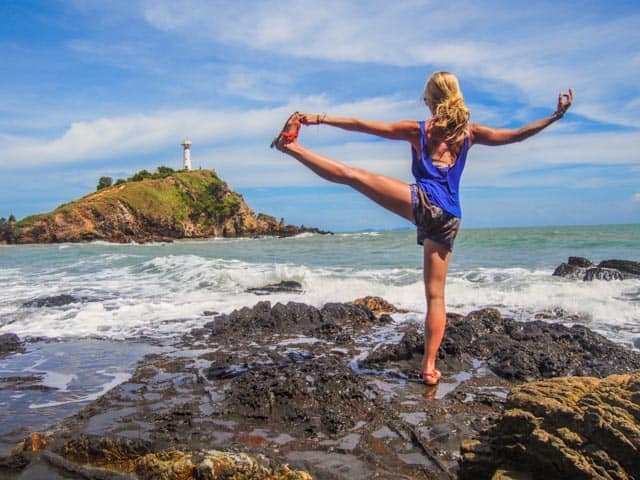 Hands down my favorite Thai Island is the sleepy Koh Lanta. The beaches are good, the vibe is great, and the Thai actually still like tourists! (story for another day). Don't miss eating at Kwan's Cookery (favorite Thai food in the world ) and exploring the national park on the southern tip of the island. Shoutout to Anne's dad (Craig) for a fun day exploring the national park by motorbike!
31) Leveling up my surfing in Playa Maderas (Nicaragua)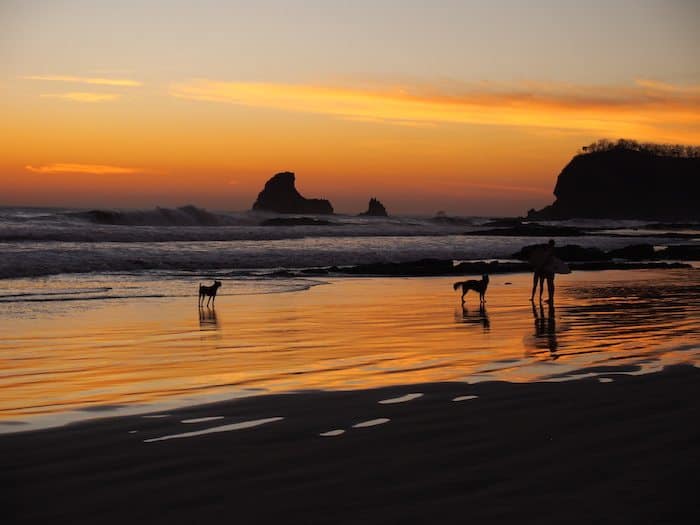 I was fiending for some surf every since learning in Sri Lanka. Luckily we found a great eco-hotel to work at, Hulakai, while surfing every day. Turns out 2 months of daily surf sessions makes a huge impact 🙂
Ultimate guide to Playa Maderas and SJDS (Nicaragua)
32) Overnight boat trip in Ha long Bay (Vietnam)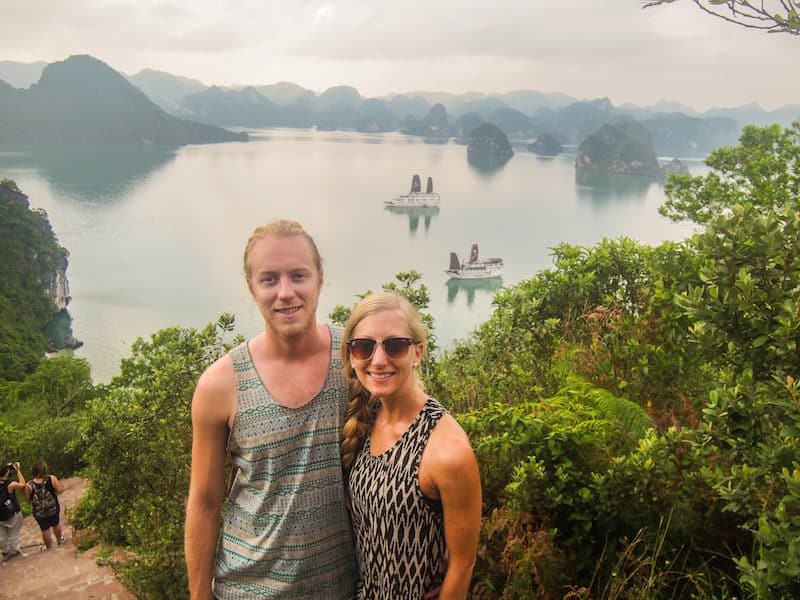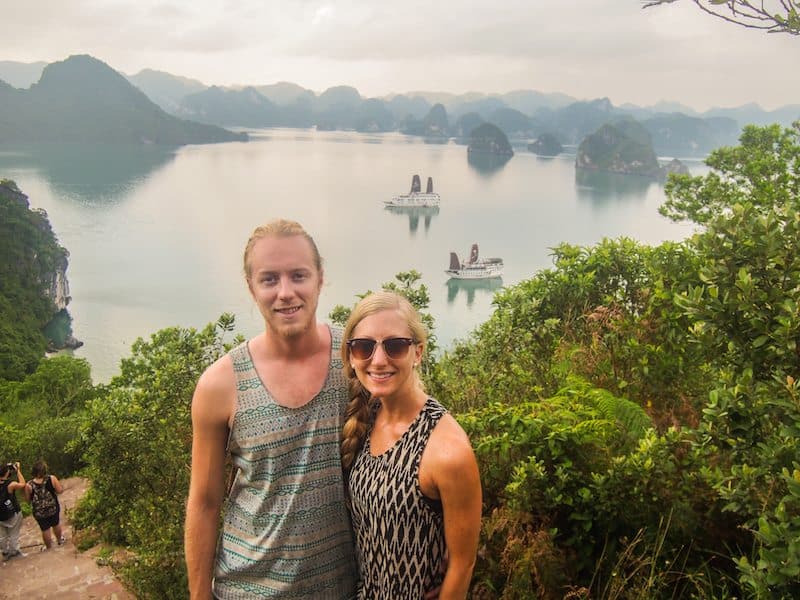 We had been looking forward to Ha Long Bay for a long time leading up to this day. Thankfully the anticipation was worth it. Although you it's overly touristic, Ha Long bay really is a special place. Recommend spending 1-2 nights on the boat instead of a day trip. Choose your boat wisely – some are party boats and some are luxury.
What camera did we lug around to get all these pictures?
We often get asked what cameras we use and what gear packed, so here we go!
Before leaving on our 18 month trip, we decided we would pack as light as possible. This meant each person can only bring a carry-on backpack + small daypack + travel yoga mat.
Since we had such limited space, we had to choose each item very carefully. We read countless packing list blog posts, read lots of amazon reviews, and eventually Brandon settled on this packing list and Anne settled on this packing list.
DLSR or Mirrorless Camera?
Gone are the days when travelers are required to carry around a separate suitcase for their bulky DLSR camera and lenses. Thankfully the camera industry responded to our need of a compact body camera that still takes professional quality images.
Introducing "mirrorless" body cameras. They much smaller, cheaper, and still take excellent pictures which makes them perfect for travelers.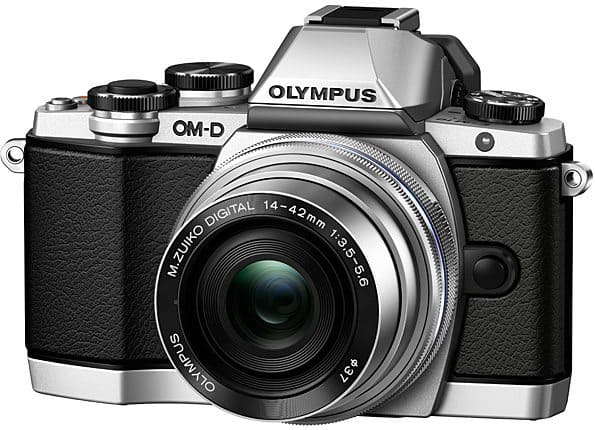 I've owned and used this camera for 2 years. Takes great pictures and is a blast to shoot! I purchased it for $1,000+ but Olympus released a new version (E-M5) which cut the E-M10 price in half!
16 MP Four Thirds CMOS sensor with 3-axis sensor shift image stabilization

1080/30 fps HD video (H.264/Motion JPEG)

Tiltable 3 inch touchscreen LCD with 1,037,000 dots

Electronic viewfinder with 100% coverage and 1,044,000 dots

Raw and Raw + JPEG shooting

Built-in Wi-Fi

$499 via Amazon [Comes with a 14-42mm Lens]
What other cameras did you pack?
Unlocked iPhone 5

– great camera, very compact [$313 via Amazon]

LifeProof case

for the iPhone 5 – waterproof/shockproof [$39 via Amazon]

GoPro Hero 4 Black

– snorkeling, surfing, motorbiking, etc [$440 via Amazon]
PS: Did you enjoy this article? Pin me!