Did you get a chance to read Brandon's top 5 live performances from Envision 2017?
Word for the wise: Obviously we cannot be in 2 places at once, so understand our experience might have been completely different from your own… and we wouldn't have it any other way 😉
—
Thousands of people from all over the world gathered for the 7th year of Envision Festival in Costa Rica. Attracted to the lush jungles and exotic beaches, Envisionaries come to discover their true human potential while co-existing in an environment conducive to that awakening.
We were ecstatic to return for our 3rd Envision. It's beautiful to observe how the festival continues to grow and evolve.
One thing we absolutely love about Envision is that there truly is something for everyone. You'll find travelers, entrepreneurs, hippie vagabonds, families, permaculturists, healers, and electronic music scenesters all enjoying the gathering for different reasons.
Below you'll find 9 of our favorite festival moments.
Check back soon for Envision 2018 tickets!
1) Embodiment of the 8 Pillars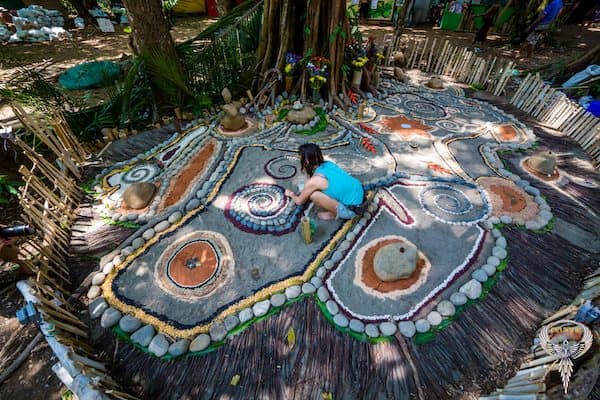 What most festival attendees don't realize, is that Envision is built upon 8 pillars: Permaculture, Spirituality, Movement, Art, Music, Community, Health, & EcoBuilding. These 8 pillars drive every decision made on the grounds from the build, to the food and the well-being of everyone.
With the rise in popularity of festivals all over the globe, deciding which to attend is often related to the lineup. But with Envision, it goes beyond just the artists. When you're not enjoying live music or practicing yoga with internationally renowned instructors, there is so much more to tickle your fancy and expand your mind! While we are initially drawn to the music and movement, we leave with a richer understanding of the interconnectedness of all the elements that lay the foundation for the festival.
Workshops on permaculture or herbal elixirs, discussions on spirituality and plant medicine, learning how to get involved in the local community by donating time or otherwise to plant trees, etc. are all available!
2) Quixotic's Sol Stage Performance
Quixotic is an artistic movement group that never ceases to amaze. It's a tantalizing full-on sensory experience that makes you feel as though you're right on stage with them. Live music, projection mapping, dance and acrobatics, and quite honestly, other things I can't even explain…! This was my 4th time seeing Quixotic perform – they blow my mind every time.
For most of the 60 minute performance, the crowd was standing still as we all stared in complete awe and amazement of what was in front of us. It's a journey to watch it all come together – and they make it seem effortless!
3) Random Rab Sunrise Set
I couldn't think of a more beautiful way to begin the day than to be serenaded by Random Rab during sunrise in the jungle. He certainly knows what he's doing as he mindfully selects songs to match the flowing energy of the festival.
Fun fact: Random Rab has played every single Envision since it's inception on the beaches of Dominical.
4) Herbal Clinic
Situated right next to the medical tent, the herbal clinic provides healing in a natural way. Herbal remedies are given to help provide solace and care for most ailments.
I attended the herbal clinic both last year and this year. The genuine concern and attention that each herbalist gave me when I needed help, was incredible.
Interesting to observe how busy the herbal clinic was and yet the "normal" clinic was empty all weekend. 🙂
They work long hours to keep all of us healthy and able to enjoy our experience.  They made me feel as if I was the only one in the (crowded!) room! I even ran into one of the herbalists later at night enjoying a show, and she remembered and asked how I was feeling. 🙂 That's love.
5) Pranassage with Yali
After very little sleep and endless dancing our bodies start to break down. Luckily, Pranassage is the missing piece to the grueling festival gauntlet. Think Thai body work + rejuvenating self care delivered in a 1×1 partner format.
Everyone takes turns as both the "giver" and the "receiver." The receivers only job is to relax fully, similar to an extended savasana. The giver systematically provides a full body massage to their partner. No experience was necessary as Yali demonstrated every step of the way.
We left the class feeling physically rejuvenated and with increased intimacy from the physical contact. We spent the rest of the weekend practicing what we learned on each other. What an incredible gift. As far as I'm concerned this should be offered at every festival!
6) Guanabana Popsicles
The jungle is hot and staying hydrated is imperative to a successful festival experience. Beyond water and cold coconuts, lie the ever-lasting and refreshing frozen popsicles. Yes, a popsicle. We channeled our inner child, and mustered up the $3 to satisfy our bodies desire for a cooling substance in the heat of the day…
At first, we opted for the popsicles made with coconut water. Delicious and nutritious indeed, but by Saturday night we found a "hidden spot" selling popsicles made with coconut milk! They were incredible. Especially the guanabana ones. 🙂
7) Clozee
Video shot and edited by our friend Remington W.
Clozee stole my heart at the festival. I was lucky enough to catch her last year as well and couldn't believe the sounds that she created during her set. 
(Brandon added Clozee's set to the Top 5 Best Sets at Envision 2017)
Seeing a powerful woman up there completely in her element was empowering in many ways! Her set gracefully transitioned into Random Rab's sunrise set Sunday morning. I don't think I've danced that hard in my life. Can't wait to see what's in store for her in the coming years.
8) Acro-Yoga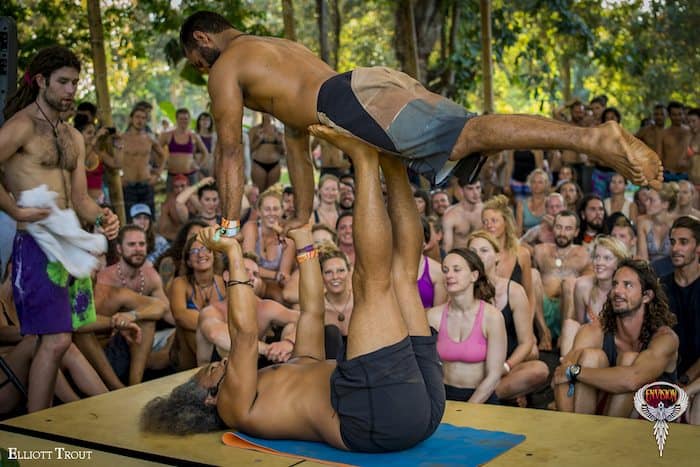 We were first introduced to Acro-Yoga last year in Costa Rica at Danyasa in Dominical. We fell in love with it immediately. Learning how to communicate, trust and be in a relationship are just 3 of the myriad of benefits that come from this challenging but fun practice.
Learning with Whaka at the festival confirmed our love for Acro! His energy is infectious and his presence is awesome. (And… THAT HAIR!). At the beginning of the workshop, we gathered in a massive circle and yelled out our name and where we are from in the world. That moment will forever be engrained in my memory. So many happy people from all over the world coming to practice and play together. Bliss!
9) Living Stage (Village Stage)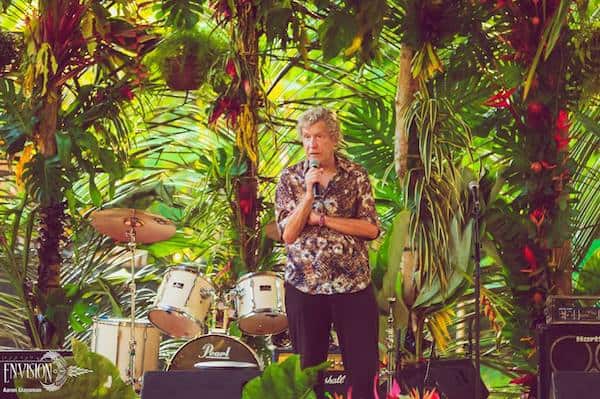 *Pictured here is John Perkins: Chief Economist, Activist, and Author
When I first set eyes on this stage I knew I was home. I've never seen such a beautifully adorned stage in my life. The Village Stage has now become a "living" stage as it's made up of lush jungle flowers and thick plants covering every inch around the artist. Envision plans to leave the structure in place year over year and continue to let it flourish and grow.
Bonus: they light up the stage at night making it come alive in a whole new way! 
Honorable mention:
Thanks to Tentsile Tents for making our festival experience that much more COMFORTABLE! Their set up in The Village was just the solace we needed after hours of dancing and walking around the festival.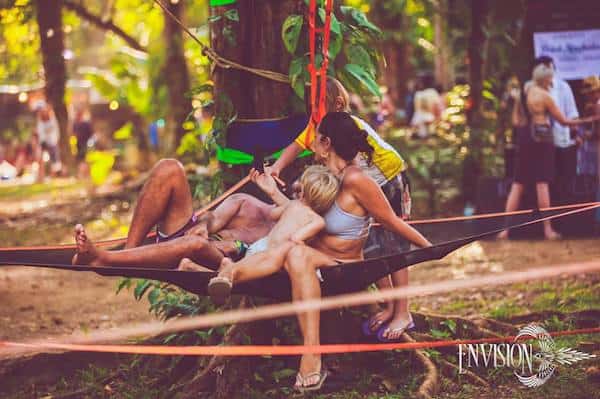 What was your favorite moment at Envision 2017?