By now, you've probably heard the phrase "take your yoga off the mat."
What that means for most of us, is taking what we learn in yoga class and applying it to our daily life.
But what if we took it a step further? How do we learn even more?
As more of our world is going online, education is becoming more and more accessible. And continually more affordable.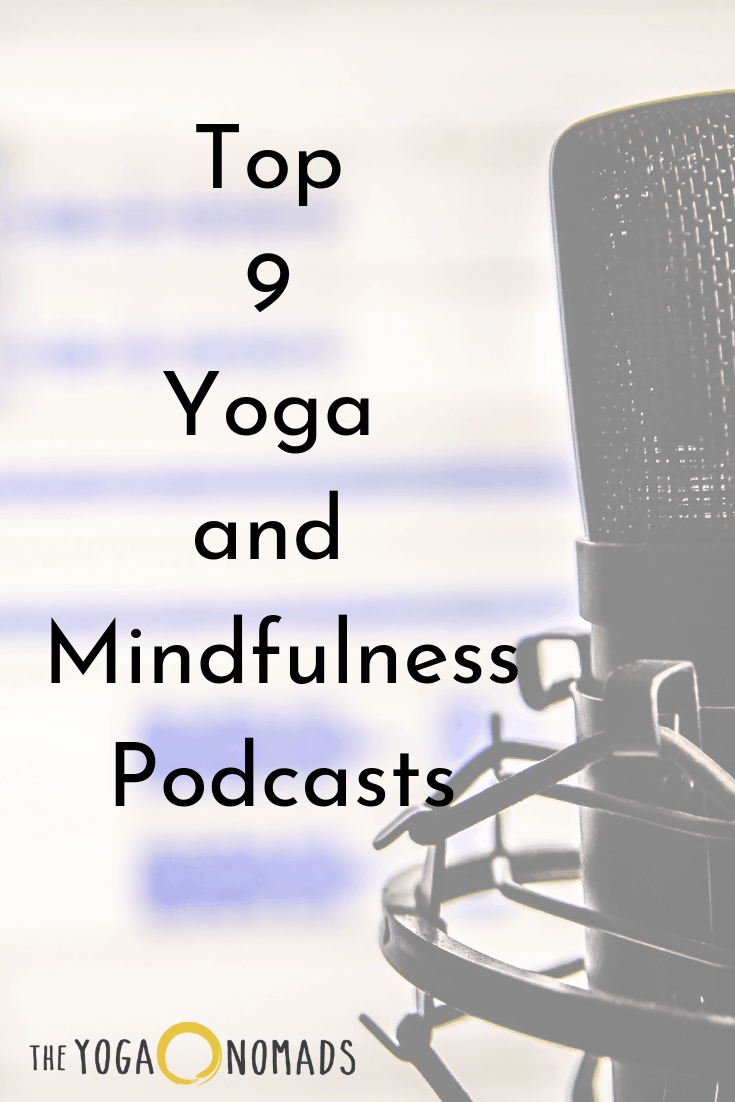 Pin me first? Then keep reading!
If you're a yoga teacher looking to understand more about teaching, philosophy or creating a yoga business, podcasts could be the missing piece!
Podcasts are an easy way to digest information and learn about something you're interested in. Yoga podcasts are all the rage right now and can help you take your yoga off the mat in addition to gaining valuable yoga business skills!
In an effort to encourage more learning and education as you build your yoga business, we've gathered the top 9 business of yoga and meditation podcasts.
Topics

: Business of Yoga, Yoga Philosophy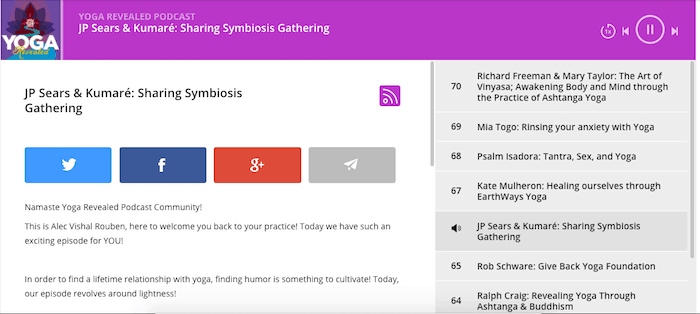 Just over a year since their inception, Andrew, Dean and Alec, the 3 guys who make up Yoga Revealed have interviewed some pretty amazing people. Sianna Sherman, Rod Stryker, Jonny Kest and MC Yogi are among 80 or so episodes you can catch on their podcast. Topics include but aren't limited to: business of yoga, healing through yoga, journey to India with yoga.
At random, I selected the episode with JP Sears and Kumare and was wildly impressed with their interviewing tact and how effortlessly they extracted information from JP. Keep up the great work, guys!
Episode with JP Sears & Kumare: Sharing Symbiosis Gathering
Topics:

Business of Yoga, Traveling Yogis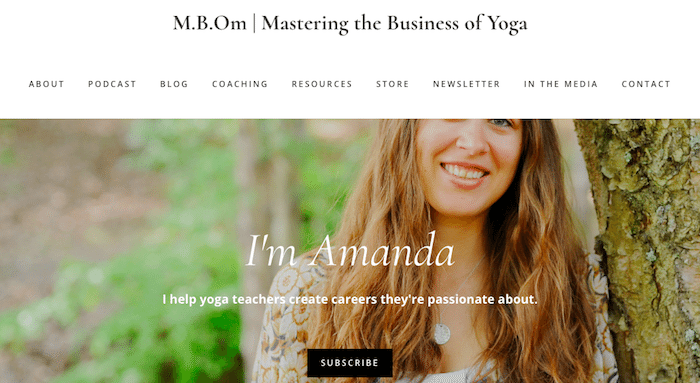 Amanda has not only become a dear (internet) friend, but also someone we admire in the online yoga space. We were invited to speak on her podcast back in 2016, and were so excited to share a piece of her internet world alongside other popular international yogis.
MBOm provides listeners with podcasts that inform, educate and entertain about all things yoga. The topics are helpful for those who are looking to build a business based on yoga. On her 3rd season and not stopping anytime soon, you're bound to find several podcasts that will keep you busy for hours!
Besides the episode where she interviews us ;), I really enjoyed this one:
Developing Your Yoga Brand with Danielle Joseph
Topics:

Business of Yoga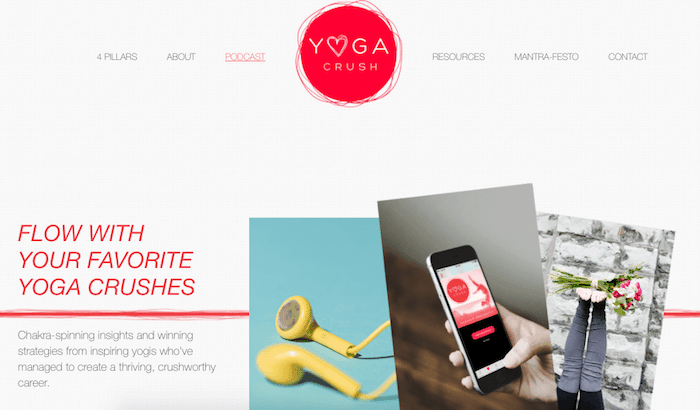 We adore Susanne. Not only because her life path of quitting her 9-5 and following her passion for all things yoga parallels our lives so similarly, but because of the awesome content she consistently provides on Yoga Crush. She is living proof of following her yoga dreams and making it wildly successful.
Her podcasts are stacked with relevant yoga information that will help yoga entrepreneurs build thriving businesses.
I loved this episode with Elena Brower:
Aligning the Spiritual & Entrepreneurial Paths

Topics:

Teaching Yoga, Yoga in Daily Life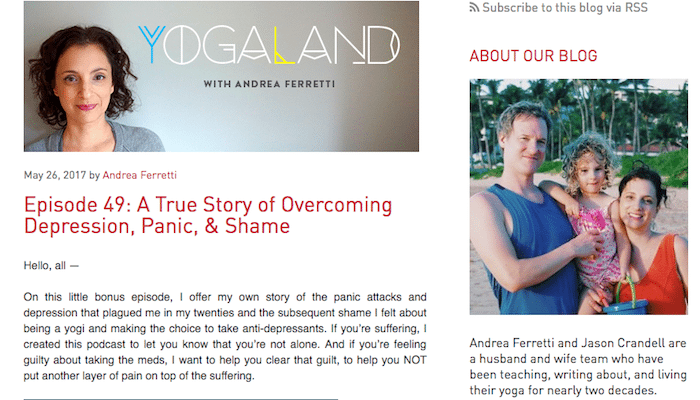 Jason Crandell and Andrea Ferretti make a fierce yoga business partnership. (Woo hoo for more couples in business together!) Jason is an internationally recognized yoga teacher and his wife, Andrea, is a writer and producer whose work has been published on Yoga Journal among other major publications.
They work together to manage and run Jason Crandell Yoga Method. Andrea leads and manages the podcast episodes. The podcast hosts guests who range from popular yoga teachers to everyday yogis like you and I. Discussions cover topics that help yoga teachers, yoga practitioners and anyone who uses yoga as a tool in their everyday life.
One of my favorite episodes:
A True Story of Overcoming Depression, Panic & Shame
Topics:

Yoga Philosophy, Yoga in Daily Life
J. Brown is a yoga teacher, studio owner and author who first discovered yoga as a way to deal with grief. His approach to yoga is one concentrated on the breath. He "seeks to change the dialogue, and direction, of yoga practice in the west."
His podcast episodes reflect this approach. Based in yoga but move beyond, you'll find something that peaks your interest, no doubt. I was excited to stumble upon a fellow, local Minneapolis yogi, Dylan Galos, as a guest on his podcast.
Check out his episode here:
Dylan Galos: "Clydesdale Yogi"
Topics:

Teaching Yoga, Yoga Philosophy, Yoga in Daily Life
Kelly Sunrose is the host of the weekly podcast Yoked. A yoga practitioner for over 2 decades and a teacher for over half that time, Kelly has immersed herself into world of meditation and yoga from a young age.
Yoked was created in an effort to share how the teachings of yoga can be applicable to everyday life. Kelly interviews everyday yogis who share their lessons, understandings and stories to help others. I appreciate the realness of the conversations and the effortless flow they embody.
Aside from this manifesto on her site, one of my favorite episodes is:
Renee Sills, Illuminations on Practice
Topics:

Teaching Yoga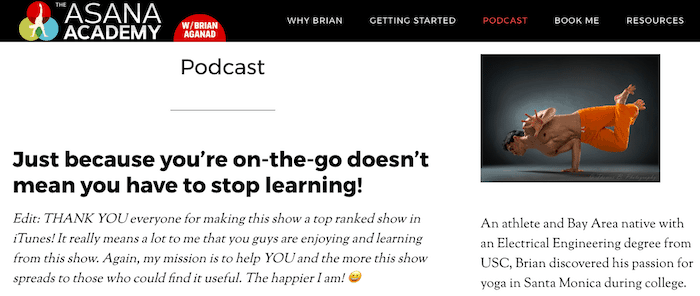 "Just because you're on-the-go doesn't mean you have to stop learning!"
Truth…! Podcasts are a great way to continue your yoga education, so-to-speak. Brian Aganad educates with grace on his podcast, The Asana Academy. His sincere passion for yoga shows through on each episode with his topics and tips about all things yoga. Beneficial for yoga practitioners and teachers alike, there's something for everyone to learn and take away from this podcast.
His dedication to helping people become simply better humans, caught my attention and kept it.
One of my favorite episodes is:
Alignment Truth & Lies, Perfectionism, & The Power of Thinking Twice and asking "Why"
Topics:

Meditation
10% Happier is a book (and now podcast) written by Dan Harris soon after he had a panic attack on the nationally televised show Good Morning America. After stumbling upon meditation as a practice to help work with his mind and it's incessant voices, he realized he wanted to share his learnings. Still a correspondent for ABC news and co-anchor for the weekend edition of Good Morning America, Dan's podcast 10% Happier is a passion project.
In addition to the podcast, he offers courses (free and paid) alongside Joseph Goldstein on meditation through his website, 10% Happier.
One of my favorite episodes is:
Episosde #78, Londro Rinzler, Meditation for the Heartbroken
Topics: Meditation, Healing
Tara Brach's teachings have helped me get through very dark times in my own life. Her work is powerful and potent; her podcasts are helpful to anyone willing to receive the teachings. A healer by nature, Tara has spent much of her waking life as a psychologist and Buddhist meditation guide. Her voice alone is enough to soothe the most anxious of minds.
She hosts workshops and retreats all year round, and has a website that houses plentiful resources to pull you out of your head and into the present moment.
Some of her podcasts are guided meditations. The others touch on universal struggles.
So many favorites but among them:

Tell me – what are some of your favorite yoga podcasts?
XO,
Anne
PS: Did you enjoy this article? Pin me! 🙂