photo credit: rolled up via photopin (license)
—
Looking to take your yoga practice on the road?
Luckily, we're not the only people who want to travel with a yoga mat so there are several decent options for the nomadic yogis among us.
Like usual, I spent way too much time evaluating which travel yoga mat would make the packing list (here's Anne's packing list for the ladies). We've been traveling nearly full-time for the last 3.5 years and counting. Without a travel yoga mat, we might have gone insane 😉
What I was looking for in a travel yoga mat?
Lightweight and packable
Durable
Sticky enough
This guide was designed to make choosing the right yoga mat a breeze! (or at least give you a starting point)
At the end, I will share which mat we chose. However depending on your specific needs, all of these mats would work great.
Let's start with…
The Yoga Mat Comparison
Alright lets move on to the individual reviews…
Manduka makes great yoga mats and the eKO SuperLite is no exception. Weighs 2lbs, only 1/16" (about 1.5mm) thick and 68" long making it a great travel companion. The "orange peel" surface is extremely sticky even when it gets a little wet. Made from non-Amazon eco-friendly biodegradable tree rubber which won't flake or fade. Closed cell design will not absorb bacteria This mat can be easily folded or rolled to fit into your bag. Many colors to choose from.
Potential downside:
Too sticky? Transitioning from Crescent Lunge to Warrior 2 can cause the mat to bunch up
Too thin? Very minimal mat here(1/16″). Add a towel for extra support
Smells like rubber – Not horrible and goes away with time
Additional reviews: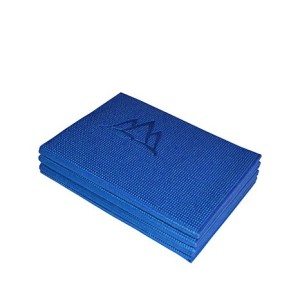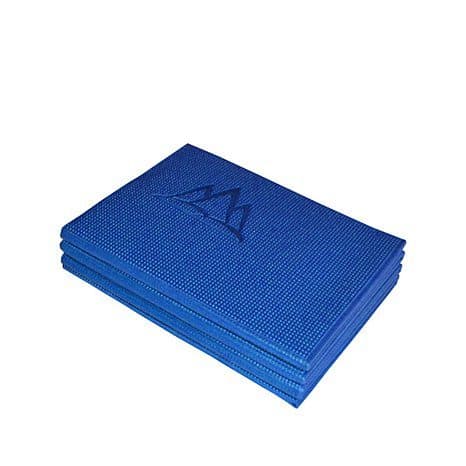 Khataland's YoFoMat is a newcomer to the market and has been getting great reviews. The 68" version weighs 2.7lbs which makes it the 2nd heaviest mat reviewed, that being said it's not THAT heavy. Can be folded or rolled, bonus: there are folding lines to make folding it easier. This is the thickest mat at 1/6" which means more padding, more comfort but also more bulk. Priced at $33 USD which is towards the cheaper end. This eco friendly mat also comes with a eco friendly case.
Potential downside:
Too heavy? As a stickler for lightweight travel, 2.7lbs is starting to get too heavy
Too bulky? 1/6" thick is more than twice as thick as the Manduka and Lululemon
Additional reviews: Victoria Gigante from the Examiner
The lightest (1.6lbs) and the cheapest ($23) but also the least capable. One side is a microfiber towel surface, the other a somewhat sticky natural rubber surface. Not recommended to serious yoga students or fans of hot yoga. Can be rolled or folded. Not very durable.
Potential downside:
Too Slippery. Expect to slide around when practicing
Lacks durability. Hot yoga and regular use will wear it down fast
Additional reviews: Trail and Travel Gear blog
Jade makes excellent yoga mats. Their travel mat scores really high in comfort, durability, and grip… however it is too heavy for my taste (3.5lbs). Roughly double the weight of the others. This is the 2nd most expensive mat reviewed ($45) and has a high quality feel to it. The mat cannot be folded, only rolled. Measuring at 1/8" thick it provides better support than the Lululemon or the Manduka. Eco friendly and comes in many colors.
Potential downside:
Too heavy! 3.5lbs is too heavy for a "travel mat"
Collects dust. Some say the open cell design collects dust too easily
Additional reviews: Evolving Wellness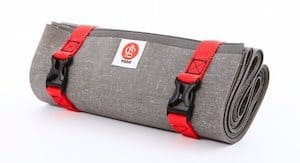 YOGO is the newest mat on the block but they've quickly won us over. The YOGO hands down our favorite yoga mat for travel! It's by far the stickiest travel mat on the market. We love how it folds up nicely which makes traveling a breeze. Although it's super thin, it still has great support (more than the Manduka). Bonus points for YOGO planting a tree every time one is purchased.
Potential downside:
Too Expensive? Most expensive mat reviewed here (but well worth it)
Too thin? At 1/16″ it's a pretty compact mat. More padding than the Manduka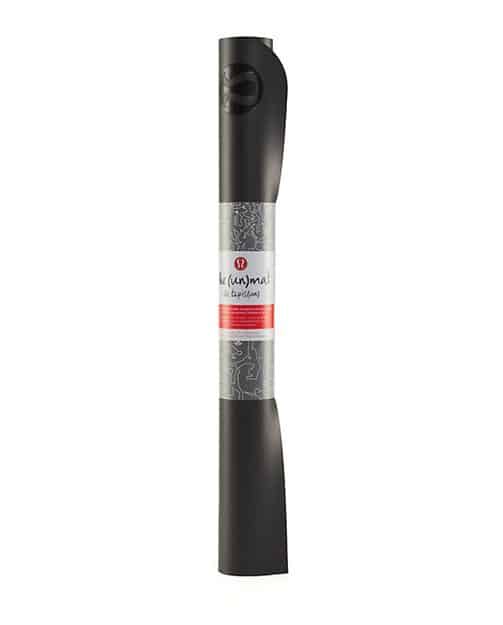 Lululemon doesn't only sell yoga apparel – they also dabble in accessories. They created the Un Mat to compete in the portable yoga mat market. The Un Mat is comparable in size to the Manduka… super thin (1/16") and super light weight (2lbs). Comes with a different texture on each side allowing you to choose your preferred grip. Can be rolled or folded. Made with polyurethane and natural rubber.
Potential downside:
Not enough padding? 1/16″ may not be enough cushion (same as Manduka)
Too Expensive? 2nd most expensive mat reviewed
Yoga socks, paws, and wraps… do they work? 
I've never tried them, nor do I have plans to. Some people swear by these two options…
What do The Yoga Nomads use?
We just started traveling with the YOGO Ultralight Travel Mat and are head over heals with it! It's by far the stickiest travel mat we reviewed and love the "origami" folding design. Although it's super thin, it feels like it has more padding than the Manduka.
We used to travel with the Manduka eKO SuperLite which is an excellent travel mat! It traveled with us for 20+ months with almost daily use and it held up perfectly, it's still super sticky, and as always it's very packable! Disclaimer: there is one downside, it is very thin and kneeling for a long time does start to hurt.
*Now that you have your travel yoga mat… time to check out the best carry-on sized backpacks for travel
Personal Bias… I LOVE Manduka (and use most of their gear)
 Additional Resources
We're offering this free download so yoga teachers like yourself can understand what it takes to create a website of your own! 100% free. Join 100s of other yoga teachers who already downloaded the guide!
Cheers!
Brandon
PS: If you're looking to create a fulfilling yoga career, creating a website you love is a crucial step. Be sure to nab the Free Beginners Guide: to Creating a Yoga Website you Love.