Spain is renowned for numerous different options that are available for tourists from all around the world. This includes visiting places that are simply incredible for relaxation, yoga and a whole lot more. You can easily get a luxury yacht charter at Vyra.com and visit some of the beaches we recommend below.
Maybe you prefer sunset yoga like Brandon, or you're more of an early riser and prefer sunrise yoga like Anne does. Either way, these beaches will blow your mind!
Before you head out for your beach vacation, make sure you review our packing list to make sure you don't forget anything!
The entire Mediterranean region is wonderful but if you want to experience sunshine in Spain, here are some beaches that you need to know.
1) Playa de Aiguablava – Catalonia
The word "aiguablava" means "blue water", which is exactly what this beach offers. Costa Brava's jewel is simply tremendous for a family vacation. This beach moves into water that is shallow at a gentle rate and you will always find ice cream at shops and restaurants. You can always mix things up with a trip to La Piscina Natural Es Cau. This saltwater swimming pool was actually carved right out of the rock, making it quite rare.
pro-tip: This would be a great beach to visit if you're going to spend some time in Barcelona as it's nearby.
2) Playa Cala Salada – Ibiza
Cala Salada is where you want to go after a night of partying since it is a perfect place to recover from a hangover and that sound of the bass that is still in your ears. Water here is calm, just like in a lagoon, with the entire cove being secluded. You will be away from tourists so loud noises will not bother you.
Here, you can enjoy anything you want to do, like some yoga in cool blue water. If you want to take things to a whole new level, cliff jumping is possible. Seafood paella can be enjoyed at the local beach café.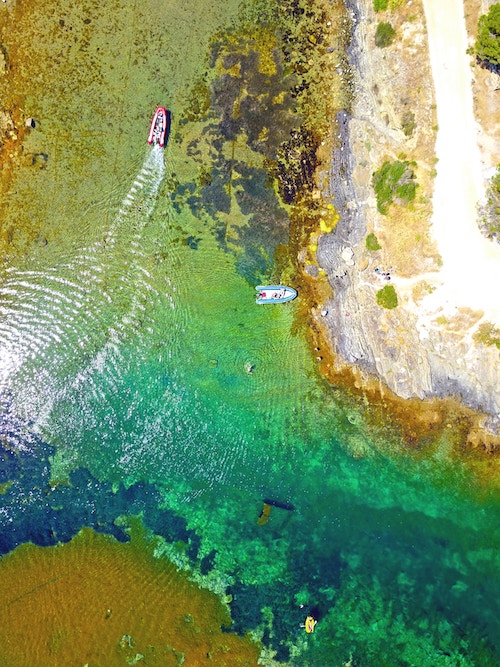 3) Cala Mondrago
This is practically a dune-backed cove. It is located to the southeast of Mallorca. You want to visit for everything that is around it, not just the beach. The location is synonymous with Mondrago national Park, which offers a wonderful experience for all people interested in sunbathing. If your wish is to experience something more special, coastal hikes are great. Just keep your eyes up as you can see some peregrine falcons from time to time. Be sure to take your snorkeling gear with you but remember that during peak seasons, this beach is not secluded and can be backed. Tourists and locals know it so you
can escape a crowd.
Anne studied abroad in nearby Seville which was a very transformative experience in her life.
4) Playa del Silencio – Asturias
On Spain's north coast you can find this bay with a dramatic rocky cliffs! It's name is translated into "beach of silence" and recommended by Lonely Planet.
You will surely enjoy silvery stones and sand that sweep right around the cliff face, all backed by meadows that are verdant. The water has high visibility and it's really calm, allowing wonderful snorkeling. Just be sure that you are careful since the ground underfoot is rocky.
5) Playa de Las Catedrales – Galicia
During high tide, there is a true wonder here from a geological point of view. You will be impressed even if this is not your cup of tea. As the sea is receding, rock arches are revealed. They can be as high as ninety feet, featuring numerous eerie sea caves that are eroded right inside the hillside. The beach features incredible natural wonders.
Let's wrap up
There you have it! Our top 5 beaches in Spain 🙂
Have you ever been to Spain? What was your favorite beach?