This is part 3 of our 5 part series enabling "Yoga Nomads" to teach and practice yoga while traveling!
Part 1: Finding yoga on the road
Part 2: How to find a yoga teaching job abroad
Part 4: Tips For Choosing a Yoga Retreat

—
You're sitting at your day job, working hard dreaming about a far away land. A place that makes your soul sing. A place that inspires you to take over the world. Sounds like it's time for a vacation!
To be clear, I'm not interested in "normal vacations" where you get sunburned (and drunk) on your resorts own private beach.
Let's talk about a different type of vacation, an experience where you surround yourself with like-minded people, get healthier, and come back to the "real world" rejuvenated and more creative than when you left.
I'm talking about a "yoga vacation." Maybe it's an intensive retreat, a yoga teacher training, or just an independently organized trip with a focus on yoga. They all have their place.
But where do you go for this yoga vacation?
Great question… Here are the top 5 countries for a yoga vacation!
PS don't forget your traveling yoga mat!
1) India
No yoga list would be complete without including the birthplace of yoga. When traveling to India, you will find a culturally rich country with a deep respect for spirituality. You can find all types of yoga, plenty of ashrams, and Vipassana retreats scattered throughout Incredible India.
If you practice Ashtanga, you already know about Mysore – the hub of Ashtanga. Other popular yoga destinations include Goa, Dharamsala, Pune, and Rishikesh.
*Photo essay: 25 yoga poses around India
Be cautious when selecting a yoga school/teacher/training. India has many "fake" teachers promising "enlightenment" after taking their wildly expensive retreat. As with everything in India, do your homework before committing and trust your gut.
Yoga Studio Recommendations in India:
Where to stay in India:
Pros: Culturally rich travel, all types of yoga, and easy on the budget
Cons: Most of India is dirty and chaotic, and lots of yoga studios only care about money (so, do your homework!)
2) Nepal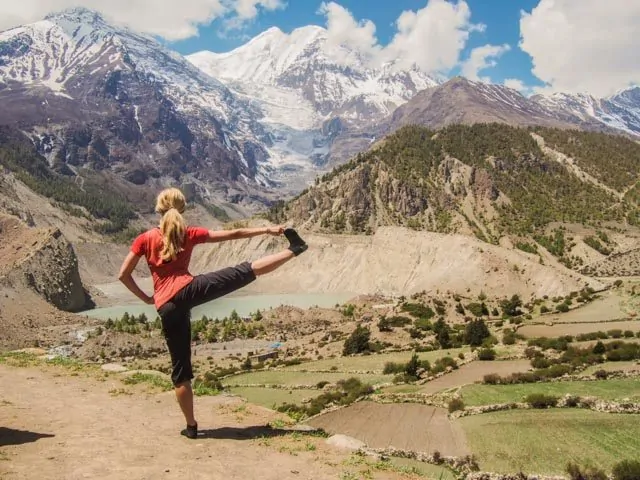 Nepal is a perfect place for yoga nomads and one of Brandon's favorite places in Asia. Not only is it one of the most beautiful countries I've ever seen, but it also has some of the nicest locals in the world. Aim for a studio/retreat center with a view of the mighty Himalayans in the background.
*26 tips for trekking the Annapurna Circuit
For outdoorsy people, you can even do a combined trekking/yoga retreat. Imagine waking up for a sunrise hike up the perfect mountain peak, then practicing yoga while staring at the Himalayan mountains. Fun fact: Nepal is home to the highest percentage of Hindus per country in the world (over 80%).
Yoga Studio Recommendations in Nepal:
Where to stay in Nepal:
Pros: The Himalayans are stunning, nice locals, very inexpensive
Cons: No beaches in Nepal and the transportation is not comfortable nor reliable
3) Thailand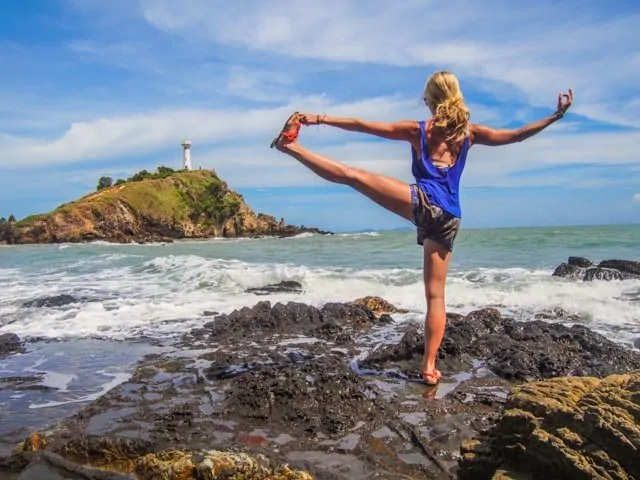 Thailand is famous for beautiful beaches and is a mecca for young people to party. However, don't let that fool you, there is a thriving yoga community as well. You can find yoga for any budget – from chilled out hippie enclaves to 5 star resorts.
If you're heading to Thailand – check out Pai if you're looking for a cool climate in the mountains or Koh Tao if you're trying to soak in some sun.
Yoga Studio Recommendations in Thailand:
Where to Stay in Thailand:
Pros: Thai food is amazing, luscious landscapes, nice beaches
Cons: Overdeveloped, no longer as inexpensive as it once was
4) Costa Rica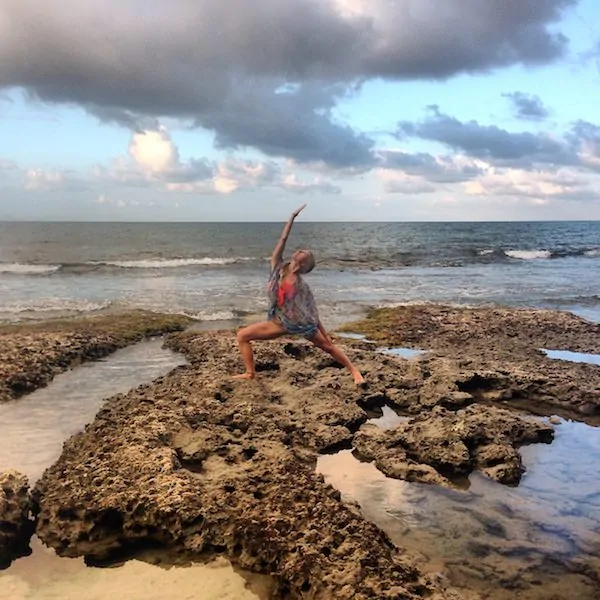 Home to 5% of the world's biodiversity, Costa Rica is a nature lovers dream come true. Think luscious jungles, coffee plantations, sloths, howler monkeys, and permaculture farms on very corner. Great place to combine adventure tourism, ecotourism, and surfing with your yoga practice. Many famous yoga teachers from the United States run pop-up retreats in Costa Rica.
*Yoga Nomads guide to Puerto Viejo, Costa Rica
Popular yoga destinations include Puerto Viejo, Domincal, and Santa Teresa. Costa Rica is home to Envision Music and Yoga festival which attracts movers and shakers from around the globe for 4 days of yoga, music, art, and workshops.
Yoga Studio Recommendations in Costa Rica
Where to stay in Costa Rica:
Pros: Safest country in Central America, abundant nature, beautiful beaches, good surf and full of activities
Cons: Overpriced compared to neighboring Nicaragua, local food is uninspiring
5) Indonesia (Bali)

After spending a month practicing yoga in Ubud we decided it's the perfect place for a yoga nomad. More than 5 amazing yoga studios and over 20 delicious healthy food restaurants within walking distance from the city center. Inexpensive, beautiful landscapes, and tons of like-minded people. Ubud is home to the Bali Spirit festival which attracts seekers of all kinds to Bali's yoga mecca.
*Guide to trekking the neighboring Mt Rinjani
Ubud has the perfect climate as it's a little higher elevation than the famous Balinese coastline. Surfers – don't sweat it, you're only an hour away from world class breaks. There is also a great entrepreneurship community in Ubud.
Studio Recommendations:
Where to Stay in Bali:
Pros: Amazing yogi community, great surf, incredibly cheap health foods, world class yoga studios
Cons: Long way from USA/Canada, Ubud can feel a little too "eat, pray, lovey" at times
Honorable mention yoga destinations:
Mexico

– Great community in Tuluum, nice beaches, and ancient ruins

Guatemala

– Beautiful nature, ancient ruins, great yoga community near Lake Atilian
Resources for yoga vacations:
Are you a yoga teacher?
Download our FREE Beginners Guide to Creating a Yoga Website you Love!

This guide shows our proven step-by-step system for creating a yoga website you love. If you're a yoga teacher, snag this guide for FREE.
Cheers!
Brandon