Striving for perfection can put a major halt on your yoga business. While you're busy thinking you need to perfect your technical skills before building a website, your business remains at a stand still.
Not producing anything. Not engaging with clients. Not creating meaningful connections.
You will not progress your business if you strive for perfection. And in the process of attempting to be perfect, you'll compromise your happiness. Is that worth it to you?
Progress, not perfection, is what will contribute to your happiness in the end.
I'm here to debunk the myth that you need to be technically savvy to create your own yoga website. Let go of the idea that you need to know how to code and understand all the jargon that makes up our digital world. Because you don't need to know anything before you get started.
Your time is precious and most likely spread thin. Teaching classes and workshops, commuting to all the studios, and making time for your own practice are all important to the health of your yoga business. No need to add more stress to your plate.
Building a website does not have to be a thorn in your foot. Today, you are more ready than ever before to create your yoga website.
I'm here to debunk the myths around needing to be tech savvy to build a website and give you 3 simple steps to get started today – no tech skills required!
4 Tech Skill Myths Debunked
I need to know how to code! Nope! With the rise in popularity of personal and business websites, platforms like WordPress have made it super simple for even the least tech savvy person to build one. We use and recommend WordPress – which is easy to use and great for blogging too.
I need to be a designer to have a beautiful website! Absolutely not…! Design is made easy with website themes. You can choose free themes or premium themes that cost between $30-100. Your chosen theme helps the overall design look good on your website. From there, filling it in is easy! We recommend all of our clients to use Divi, a WordPress theme by Elegant Themes.
I need to be an amazing writer and photographer! Creating a blog post can be as easy as writing an email. Put your heart into solving a problem for your readers, and you'll have content creation down in no time! Adding images is like attaching a picture to an email. Easy peasy.
It's too overwhelming! While I understand we all respond to new projects differently, the overwhelm can be eased by utilizing all the free resources to which you have access. In fact, we created a free resource for you…
Download our Beginners Guide to Creating a Yoga Website you LOVE (in 7 steps) below:
Where Do I Begin? (no tech skills needed)
Starting anything new for the first time can be overwhelming. Regardless of how easy anyone proclaims it to be, its still going to require some time and patience as you learn. Be gentle with yourself as you start the process and find your rhythm. It will become easier in time. But remember, progress is better than perfection.
Follow these steps to ensure you are starting off on the right foot. No tech skills required!
1) Get Clear on Who You Serve
Knowing your target audience is the center of everything you do in your yoga business. Without this understanding, your website will not cater to and resonate with the appropriate people for your offerings.
Commonly known as your niche, you will attract clients who will get the most out of your services when your website speaks to them directly.
2) Gather Examples of other Websites you Like
Check out other yoga teachers websites that serve the same or similar niche as you. Consider this market research. Make it fun! See how they layout their content, what images they use, how it makes you feel when looking around. You can gather ideas for how you want your own site to look and feel. Let this practice inspire you! (To note – it's also a good idea to continue to do this from time to time once you have your website up and running. You want to evolve and change with the market).
Even if you're serving a similar audience, your website will be unique to you. It will radiate your own flavor and style!
3) Prepare Your Content
Before you jump to conclusions, I am not asking you to write a million blog posts and have all your images ready to go. Start with the basics. Write your About Me page and a couple blog posts solving problems for your niche. Find a couple high quality images of yourself to place on your website. Ensure these images reflect who you are.
Now that you're ready to get started, here's a quick checklist for DIY website creation…
DIY Website Checklist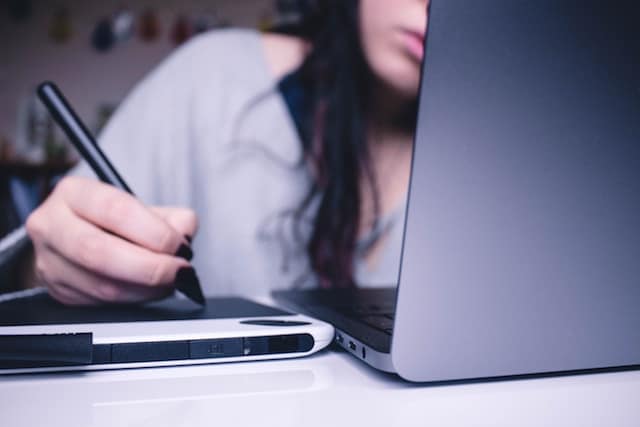 Here are a few things you will do when creating your website. Even if it sounds scary right now, just know that you (and anyone) can do it! Also, we cover all of this in our Beginners Guide to creating a website.
Website Hosting – we recommend and also use Bluehost. We appreciate their customer support and low prices.
Domain Name – consider using your name as your domain. JennyJohnson.com for example. If you get your hosting from Bluehost.com, you also get a free domain name.
Website Building Software – we recommend and also use WordPress. Its flexible and easy to use allowing you to create a website that looks however you want!
Website (WordPress) Theme – this will give you the look and feel of your website. Think design. We recommend DIVI By Elegant Themes for your theme.
Logo – we recommend using Canva, a free graphic design tool, when you're first starting out.
High Quality Images – if you don't have these already, you can get free images from Pixabay.com or Unsplash.com
Business Email Address – you get a free email address through Bluehost and you can always set up a free account on Gmail.
Let's Wrap Up
Having a website for your yoga business is a no-brainer, but we know the process can seem overwhelming to start.
Keep in mind the end goal as you make your way through the Beginners Guide to Creating a Yoga Website you Love. You will increase your visibility in the market which will attract more students and potentially future clients. You get to share more of who you are while providing content to an audience that resonates with you.
Tell me, what part are you stuck on? Drop a comment below.
Until next time,
Anne