We recently made an appearance on Twin Cities Podcast and were honored for the opportunity to chat with a fellow Minnesota native about our travel experiences. The host, Mike, dug deep into our history as a couple, what fueled our desire and decision to travel, and had us both laughing and tearing up throughout the interview. (Okay, only my eyes got misty…).
It was our first chance to publicly reveal what lies behind The Yoga Nomads website and social media. His gentle tenacity got us to reveal private travel stories, the significance behind "bootcamp for your mind," and even what we include in our daily smoothies.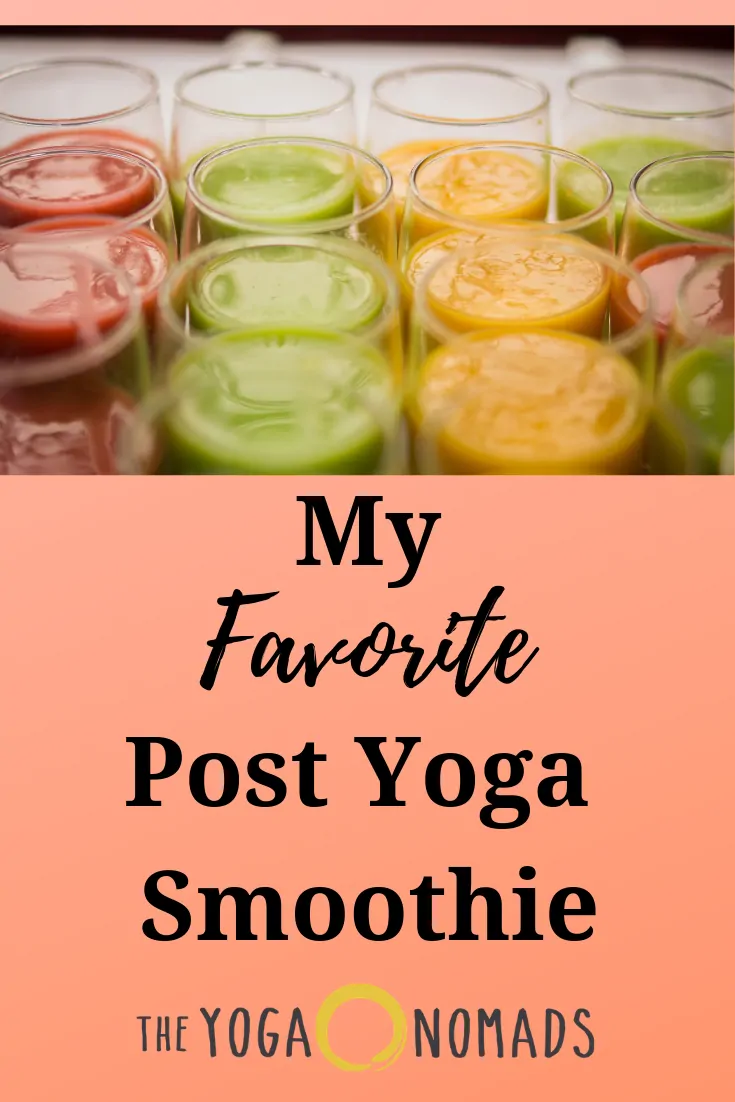 Pin me first? Then keep reading!
When you listen to the podcast, you'll begin to see that food and smoothies are a common theme…
Throughout our extensive international travels, food was always the hot topic of conversation and at times dictated what our next destination would be. Being avid smoothie drinkers at home, smoothies were often top of mind but finding a good one was seemingly difficult. (Until we got to Ubud, Bali…)
So believe it or not, one major part of the equation that keeps us going strong (literally and figuratively) at The Yoga Nomads is diet. We are both firm believers that what you eat will have a profound impact on all areas of your life.
We're here to elaborate on that podcast question and share what goes into our post yoga smoothies and why, in hopes of inspiring health and wellness in your daily routine!
Post Yoga Smoothie: Required Ingredients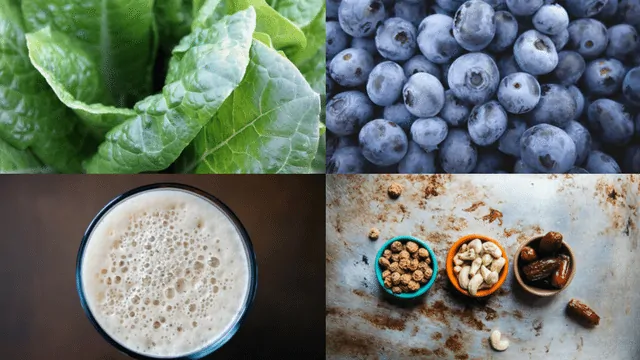 Greens:

kale, spinach, and of course an avocado

Frozen Fruit:

berries (we love blueberries), bananas, mangos, peaches (any combination!)

Non-dairy Milk:

nut or coconut milk

Nuts:

raw almonds or raw cashews taste best (have you tried sprouting? Sprouting nuts and beans can help you digest them easier).
1/2 an avocado is a MUST for creaminess. We usually have a healthy serving of greens – whatever we have on hand. Typically we use about 1 cup of non-dairy milk and use spring water to fill the rest up so it blends well. Nuts add additional protein and can give the smoothie more density. As for frozen fruit, super ripe bananas are almost non-negotiable for us, as they help add an incredibly smooth and thick consistency. Blueberries are packed full with antioxidants so we find ourselves adding those in most often.
Superfood Additives
Raw Cacao Powder: The cacao plant is where chocolate comes from! Cacao in it's raw form is known for it's high levels antioxidant and magnesium, among many other benefits. We love the chocolately taste and natural energy boost we get from it. (contains theobromine)
Chia Seeds: An incredible source of Omega-3 fatty-acids, these little guys pack a powerful punch. If you find yourself traveling throughout Central America, stock up! They are super cheap there as they grow native in that part of the world.
Coconut Oil or Coconut Butter: By now you've heard the coconut oil craze and all of it's benefits, but we don't go a day without it! Whether in our smoothies, in our tea, cooking, baking, moisturizing our skin or oil pulling, it's one thing we can't live without. Only recently did we start using the butter – which uses the meat of the coconut; the flavor it adds is amazing! We always welcome more healthy fats to our diet!
Cinnamon: One of the tastiest and healthiest spices on the planet, ceylon cinnamon is the one to look for. It is packed with antioxidants, is anti-inflammatory and naturally anti-bacterial! (Can also be used in all natural raw honey face masks!)
Superfoods are all the rage right now and these are just a sampling of our favorites to use in smoothies. Feel free to get creative here and add in whatever your body is craving! Goji berries, MCT oil, Spirulina, beetroot power, coconut flakes are also common in our household!
The Yoga Nomads Preferred Supplements
L-Glutamine: Glutamine is an essential amino acid that's found naturally in the body. It's made in the muscles and carried by your blood to the organs that need it. Amino acids are the building blocks of protein so it's crucial to maintain healthy amounts! L-Glutamine has a whole host of benefits and we use it to target gut health, reduce inflammation, and help our bodies recover from athletics.
Vitamineral Greens: You can never have enough greens! After trying many greens supplements, this one takes the lead! It is 100% vegan, gluten free, and raw. The blend of greens is extremely therapeutic, assisting our bodies in restoring, renewing and recovering!
Collagen: Collagen is the most abundant protein found in our bodies. Think of it as the "glue" that keeps our body in tact. It's found in muscles, bones, tendons and skin. It helps maintain elasticity in our skin and keeps the wrinkles away! It is full of amino acids and helps replenish your body of these when it's under stress. We use it specifically for gut health and metabolism.
Daily Nutritional Support: This is the ultimate smoothie addition, brought to you by our favorite trusted nutritional supplement company, Equilibrium Nutrition. Each serving contains 15g of vegan protein and all your essential daily vitamins and minerals. Talk about bang for your buck!
"Green foods are perhaps the most healing foods on the planet, and the single most important addition to a diet you can make. They are foundational. For nearly three decades, I have deeply and passionately immersed myself full time into providing the best possible foundation. My deepest passion is for the Earth and all of its inhabitants to be healed on a core level. Mother Nature gave us the substances we need for healing. It is my life path duty and my great honor to assemble them for you.

Dr. Jameth Sheridan — Doctor of Holistic Medicine (D.H.M.), Naturopath, and Hard-Core Herbal Medicine Researcher
How To?
We highly recommend using a high-powered blender such as a Vitamix or Blendtec blender. We use a Vitamix daily and couldn't imagine our lives without it.
Some resources recommend you layer the ingredients in a specific order to help them blend better, but with a high-powered blender such as a Vitamix, this isn't necessary.
You will need to, however, use enough liquid to make it easier to blend.
Here are two podcasts by Dr. Stephen Cabral that share the importance of drinking a smoothie a day!
What liquid to add to smoothies?
In all reality, you can use pretty much any liquid. Just make sure you use enough that your blender can do it's job! Play around with adding more or less liquid depending on how thick you want your smoothie to be. Sometimes we like to keep it really thick and dense and eat it with a spoon! Smoothie bowl, anyone?!
We prefer: either almond milk, coconut milk, coconut water or our favorite… Chaga mushroom tea!
Chaga tastes earthy, chocolatey, cinnamon-y… and it's incredible healthy for you!
Best Vitamix for Green smoothies?
We use both the Vitamix 1732 TurboBlend VS (10 Speed) and the Vitamix 1782 TurboBlend (2 Speed)
We find that both options make great green smoothies. The 10 speed is more versatile and really shines when you're making hummus, salsa, soups, etc.
VS
My Favorite Post Yoga Smoothie Recipe:
2 cups frozen blueberries
1/2 frozen banana
1 handful of greens (I love kale + spinach)
1/2 avocado
2 "thumbs" of fresh ginger
1 teaspoon ground cinnamon
1/2 cup vanilla unsweetened almond milk
1 scoop of the Daily Nutritional Support
1 teaspoon Vitaminerals Greens powder
1 tablespoon L-Glutamine powder
2 tablespoons of Collagen (or I use homemade bone broth if I have it)
1 cup raw cacao powder
1 cup unsweetened coconut flakes
2 tablespoons of coconut manna
1 handful raw sprouted almonds
Cover the ingredients in spring water or coconut water and blend!
Do you have any favorite smoothie recipes?
Please share in the comments below! I'd love to hear from you.
Green smoothies forever,
Anne
PS: Did you enjoy this article? Pin me!