Simon & Erin have been leading a location independent lifestyle for 6 years. After spending a year traveling the world, they found it difficult to settle back into a routine and lifestyle that didn't resonate with them anymore. They decided to continue their nomadic lifestyle while working online to support themselves financially.
They run a very popular travel blog, Never Ending Voyage, build iOS apps, and Erin just published a book called the Carry-on Traveler: The Ultimate Guide to Packing Light.
Read on to learn how they find more out of life with less…
—
What's one profound observation you can give us from all of your worldly travels?
Travel has made us realize how little we really need. Everything we own fits into a carry-on backpack each, and we don't miss owning more stuff. It's liberating being able to pack up our belongings in ten minutes and head off on our next adventure without the burden of bulky luggage.
Travel has made us realize how little we really need.
We've found that we no longer have any interest in buying things and actually dislike shopping. Spending less on unnecessary "stuff" has meant that we don't need to earn as much to live a really good life. We'd rather spend our money on experiences rather than things.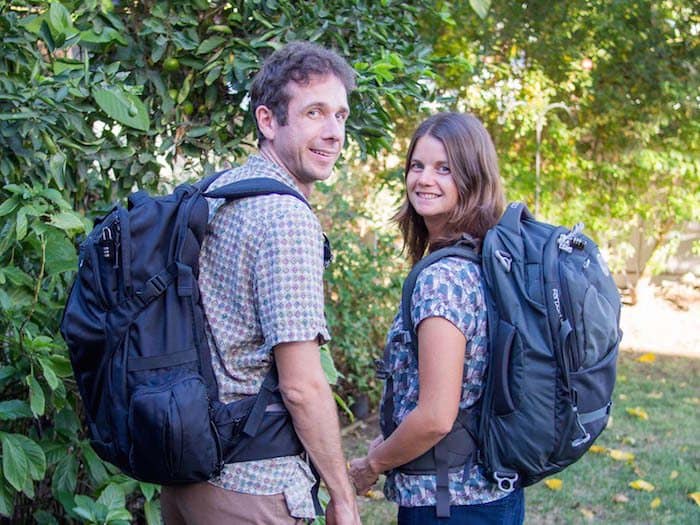 Do you ever question your decision to leave your previous lifestyle?
Not at all, it's the best decision we ever made. We love having the freedom to travel where we want, when we want to, and to work on projects we love.
What do you struggle with the most, being a nomad?
We've found running a business the most difficult thing. We didn't have any business experience before we left, and a lot of the time we've felt like we don't know what we're doing. Self-doubt is the worst thing. You have so many decisions to make when you work for yourself, and you can never be sure that you are doing the right thing.
Over the years we've become more confident in following our own path…
It does get easier with time. Over the years we've become more confident in following our own path and doing things that we enjoy, even if they don't make the most money.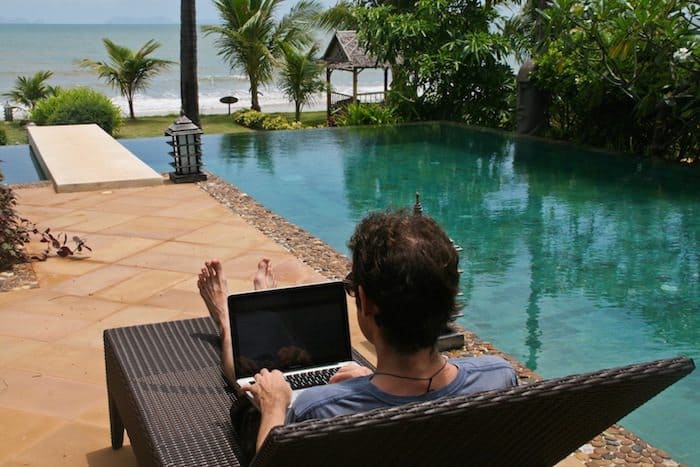 What are some healthy routines you integrate throughout your day?
I start my day with a run or yoga. We try to finish work by late afternoon and go for a walk—at sunset if we're by the beach. We find this is a good way to relax at the end of the work day, and we try to stay off our laptops in the evening (except for Netflix!).
Simon bought an Apple Watch last year, and he now takes exercise seriously for the first time. It keeps track of all your activity and you can set goals for calories burned, etc. He finds it really motivating and now does lots of walking every day. It also reminds him to stand up once an hour during the day.
How do you find yoga on the road?
I started doing yoga while we were living in Chiang Mai, Thailand for a few months. I found it hugely beneficial both physically and mentally, and since then I've tried to find yoga classes wherever we travel. Sometimes this is easy—Ubud in Bali and San Marcos La Laguna in Guatemala both have a range of affordable classes to offer—and sometimes I have to practice on my own. I am currently using the Yoga Studio app, but I find it more difficult to motivate myself to practice alone. It doesn't help that I choose not to travel with a yoga mat, as I want to keep my luggage weight down.
What do you do to financially support yourselves?
We run the travel blog Never Ending Voyage, which makes money from affiliate sales, advertising, and sponsorships. I also occasionally do some freelance writing. Simon makes iPhone apps. Our main app is Trail Wallet, an easy travel expense tracker.
Connect with Erin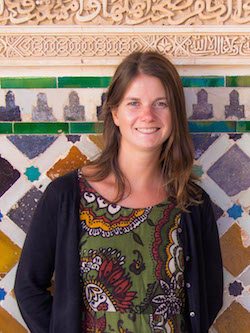 Erin McNeaney sold everything she owned and left the UK in 2010 to travel the world with her partner, Simon. Since then she has travelled to over 30 countries with just a carry-on backpack—her book, The Carry-On Traveller, shares her tips for packing light. Erin runs the popular travel blog, Never Ending Voyage, where she writes about slow travel, hunting down the best vegetarian eats, and the ups and downs of digital nomad life.