This is part 16 of our traveling yoga teacher interview series. Each week we will release a new interview of a different traveling yoga teacher. If you know someone who would be a good candidate – email us at [email protected].
—
Natalie embodies the elements of nature in her practice as a yogi, surfer and environmental activist. After moving to the coast at 21 and catching her first wave, her mission in this world was made very clear and she's now out in the world living it to the fullest. Read on to learn more about her adventures that have taken her all over the world and how she remains balanced through it all.
Reminder: Comment below with additional questions for Natalie!
It seems as though you have found your calling. What advice can you give to those who are a bit lost in finding theirs?
I would say that life and a career path is continually unfolding; it is great to set goals and work towards them, but at the same time be open to what arises.
I studied media production at University but couldn't face moving to London to work in the city. Instead, having never surfed before in my life, I moved to Cornwall and set about trying to learn. I loved it. 3 years later, after many fails and falls, I became an instructor. 2 years after that I moved to London to pursue media, and left after 3 miserable weeks having had a fortuitous crossing of paths with my former yoga teacher on the tube. A year later I became a yoga instructor.
The bits that I "planned" didn't work out and the bits that I loved unfolded to become a greater force, allowing more abundance in the form of growth, freedom, finance, friends, travel and experiences to enter my life. The doubts and the worries were there, but love and desire always seemed stronger than fear to me. The fear of wasting my life doing something that was not fulfilling to me became my primary motivation.
The doubts and the worries were there, but love and desire always seemed stronger than fear to me.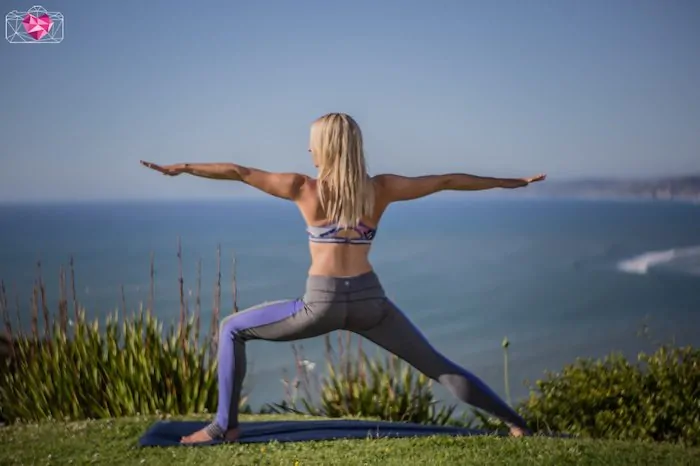 Why the marriage of permaculture, yoga and surf?
For me surfing came first, and supported the deep connection I felt to the ocean. It was not so much being able to do it, but the presence that I experienced whilst riding the waves, frequently being humbled by natures power and learning valuable lessons. Yoga held the same qualities but also allowed me to get to know myself, to understand and appreciate my breath and body, to care for and cultivate it. Studying the roots of yoga changed everything, I suddenly had something greater than myself to follow which had so much depth and possibility, and held guidance and support in times of confusion.
Surfing and yoga led me to environmentalism and campaigns with Surfers for Cetaceans and Sea Shepherd Conservation Society – a synchronicity of events that began with my first protest at the International Whaling Commission meeting in Agadir, Morocco (opposing the proposal to lift the ban on commercial whaling). I discovered that campaigning left me drained and I needed to find more balance and stability in my life. I asked – How can I make a difference in the world, how can once person change for the better and live life to their highest potential. Permaculture held the key!
Now even embarking on social enterprises I consider the permaculture principles, it really is a framework for embracing the flow of natures energy. The 3 pillars – earth care, people care and fair share – have become the foundation of what I believe can be a happy and fulfilling life, on a personal as well as universal level.
What has been the most humbling thing about starting your own business?
The people that have come forward with help, advice and guidance who are also on the same path. I took a course with a coaching friend of mine 2 years ago, and distinctly remember not feeling ready. I was in a full time job, not even teaching yoga, but we covered so many great lessons, where I planted the seeds of being a freelance yoga teacher. In this time I was able to learn patience, refine my skills, visualize a niche, embrace the creation process and really feel into the direction I wanted to go… it allowed time for some barriers to be broken and some of my beliefs to be recognized and – if they were holding me back – shift those beliefs through EFT.
It has essentially been about learning to trust that everything works out when its meant to.
Less than 2 years later I am setting up and branding my own business. Back then it felt like it would never happen and I most certainly did not feel ready for it to happen. Perhaps being "ready" is actually a myth, it's just a disguise for resistance or it is simply not the time. When you're in the flow you don't even question if you are ready or not, you just go with it. It has essentially been about learning to trust that everything works out when its meant to.
What is the most important piece of advice you can give aspiring yoga teachers?
Practice what you preach!
And no matter what, you always have something to give and something to share – even if you can't hold a handstand for 5 minutes or don't have an Instagram account with 10k followers! A good teacher can let their essence and message flow within each class because it is not about their experience – it is about the students and serving them. The message is not about how good the teacher is at yoga – it is about facilitating a safe and supported space for yoga to flow! If the teacher's essence is ego based, the students will leave feeling slightly cheated.
A good teacher will learn from every student and grow with every teaching experience. Remember what it is like to be a student and expand your skills to reach people in different ways, then bring it back in, consider your uniqueness and embrace it. If you feel out of your depth, go back to the roots of yoga, why you practice, why you teach, keep your feet firmly grounded and breathe!
How do you market yourself online in a saturated world of yoga teachers and blogs?
I now have a website called EcoYogaSurf filled with beautiful photos thanks to Ilona Henne, Robbie Dark and other amazing artists I have met on my journey. I love to write so I house my blog and musings there – I don't care if anyone reads them, it's really for the love of writing I love creating so that comes under the whole branding of my business, collaborating with people who have amazing skills (Graphic designer Hanna Mathilde) and in the end putting out a visual product that is being as true to myself, my style, my ethos, my soul as possible.
I prefer to let my classes speak for themselves and connect with people in person. I have learned a lot about building people up from their online persona and have had to laugh at myself in the process. If you put people on a pedestal, it gives them further space to fall. We're all human, right? In which case I really try to just be professional yet real. I'm an introvert; I don't enjoy posting too much personal stuff online and the vastness of cyberspace kind of freaks me out. But I'm also a Leo and love having my picture taken! I think social media requires a lot of checking in – being aware of what I put out to the world and why, and also honoring myself whenever I feel that little niggle of "I'm not enough." I am enough. We're all enough 🙂
Learn how to start your own website!
Clue us in on one or two positive habits in your daily routine.
I will try to surf, meditate, do yoga or go for a SUP every day if possible. A great day is when I get to do all 4! Spending time in the ocean resets me; spending time in stillness, with my breath gets me in touch with something deeper – it grounds and centers me. When I don't practice these I feel the difference and I can feel myself becoming more influenced by my thoughts or emotions. When I do, I generally feel happier, grateful and more aware. Every time I catch a wave I say thank you to the ocean seven times, with seven strokes paddling back out. I don't know where it came from but it's now become a ritual. If I forget it I make sure I say it 14 times!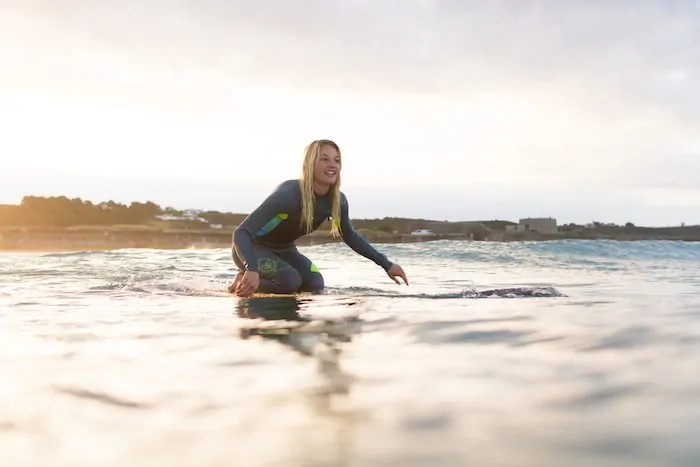 How do you want to leave your legacy?
All I really want is for people to remember me and say, 'wow, she really loved.'
A long life lived in a permaculture property that is home to an amazing partnership, kids, animals, family, friends, creative freedom and love. Living a life creatively and joyfully, that inspires and teaches others to do the same. I'd really love to work more in environmental conservation and sustainability, but on a personal level its really just about loving as much as possible. I was thinking about this the other day, and all I really want is for people to remember me and say "wow, she really loved."
Where is your favorite place on Earth to practice yoga?
Home… wherever that is! I'm still looking for it: somewhere of natural beauty, a mild sunny climate, not too much wind, close to mountains and overlooking a point break. Until I find that place I'll be a nomad and home is where my mat is 😉
Connect with Natalie
Natalie Fox is a roving surf and yoga instructor committed to living an environmentally conscious life. A Roxy ambassador, Surfers Against Sewage rep and cofounder of Women for Whales she has taught yoga in the Costa Rican jungle, travelled to Antarctica with Sea Shepherd to save whales and set up a womens surf/yoga club in Jersey, Channel Islands. You can currently find her in Sri Lanka, working for Soul and Surf retreats and freelancing at the sustainable masterpiece Tri Lanka. She is on the search for the perfect spot to put down some roots and create an EcoYogaSurf experience, until then you can keep up to date on her adventures via www.ecoyogasurf.com. You can join her in Jersey, Channel Islands on a Drift Retreat (www.driftretreat.co.uk) for surfing, yoga, meditation and nature walks, in the newly renovated Kempt tower overlooking St Ouens Bay.
Connect with her on Instagram, Facebook and her Website