What is Matcha tea?
Matcha is a finely ground specialty green tea. Considered the highest quality green tea and the centerpiece of Japanese tea ceremonies. It's insanely healthy, tastes earthy and mild, and provides a mild stimulant affect. A perfect remedy for the afternoon blues commonly associated with the coffee crash.
I quit coffee cold turkey 1.5 years ago and still going strong 🙂
The Basics
Where is the tea from?
Aichi and Kagoshima, Japan
Cost
$24.97 for a sealed 1 ounce canister. Price is  fair since there are quite a few servings in an ounce. (1 tablespoon per cup)
Appearance
After opening the canister, I found the matcha to be an almost impossible shade of green. Even the cat wanted some!
Packaging
I personally love the sleek little 1 ounce canister. Feels good in your hard and very easy to travel with.
Taste
Creamy and smooth with a subtle earthy/alkaline finish. Very enjoyable. After giving it a good mix, the tea would turn a beautiful frothy green.
Nutrition
Midori Spring Organic Matcha tea is very healthy! Check out the nutrition facts…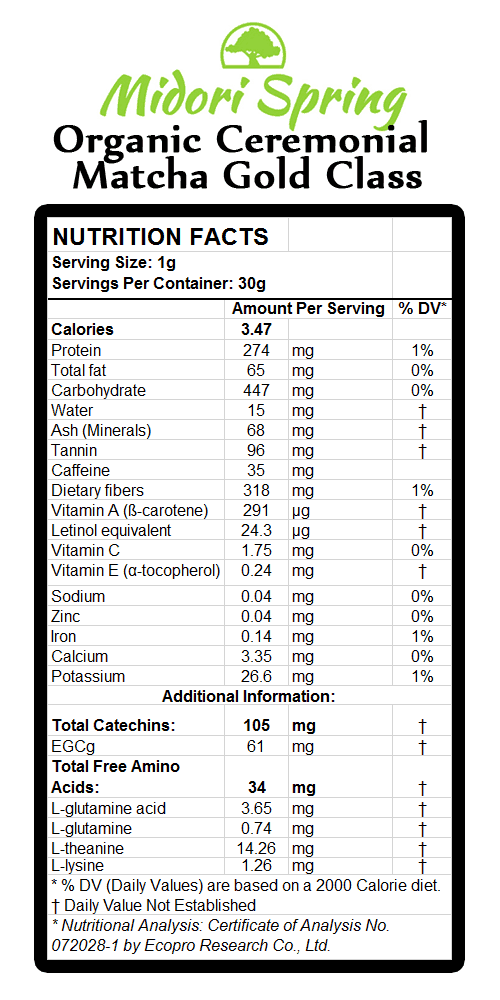 My Experience
I usually enjoy one cup of this delicious and healthy tea each day. I start my morning with a strong pu-erh tea and then after a few hours of work I head back into the kitchen for a cup of matcha.
I also really enjoyed the combined effects of both matcha and pu-erh. They contain slightly different chemical stimulants which compliment each other nicely.
Pros:
• Very tasty
• Incredible nutrition profile
• Can be used for tea, baking, smoothies, etc
• Mild caffeine content provides a calm and focused affect
Cons:
• Harder to prepare than I hoped. You really need to use a wisk in order to break up all the small clumps
• Expensive compared to consumer grade tea (Midori Spring is ceremonial grade)
Final Thoughts
If you're looking for a high quality matcha, (and can stomach $30/ounce) I think Midori Spring is a great choice. Very healthy, great taste, sleek packages, easy to travel with.
You can buy Midori Spring Organic Matcha here
Our tea was provided by Midori Spring, however as always our opinions are our own 🙂
I'm getting pretty deep in the tea game and would LOVE some recommendations??