This is part 14 of our traveling yoga teacher interview series. Each Wednesday we will release a new interview of a different traveling yoga teacher. If you know someone who would be a good candidate – email us at TheYogaNomads@gmail.com. 
—
Megan is a former corporate 9-5er who left her routine and lifestyle in the Bay area to travel the world and teach yoga. She's been inspiring, learning and growing along the way. Learn more about her journey to this nomadic way of life and how she led her first retreat!
Reminder: Comment below with additional questions for Megan!
What does living your yoga mean to you?
My definition of yoga is living my truth. Surprising as it may come, during my time in India I was taught that being selfish is okay. Most people don't understand this. It's not meant to hurt others, it is meant to help you remember to live your life the way you want it and to the best of your ability. Yoga has taught me to make sure I check in with myself for anything I am doing and making sure it aligns with the person I am. Yoga is so much more than just physical postures, it is a way of life. It is respecting yourself and everyone else. Yoga represents unity—unity of yourself, of your surroundings, and overall life. Living my yoga is a reminder that we are all one. Every person I meet is simply a reflection of myself. Time is everything and I don't believe in my wasting my energy on things that don't lift me up. It is okay to be selfish and surround yourself with who and what will make you better.
My definition of yoga is living my truth…Yoga is so much more than just physical postures, it is a way of life.
What are your biggest take-a-ways from yoga teacher training?
It is similar to what I had said in the previous question, but it is the realization that being selfish is not a bad thing. In fact, it is extremely necessary if you want to live the life of your dreams. Prana is our vital energy source, it is our breath. One of the biggest challenges in yoga is connecting your breath to your movements. During my YTT I was able to tap into this on a deeper level. The goal of yoga is to move your breath throughout your body. I have always loved yoga, however, once I learned how to move my breath with my body and have proper alignment I experienced a new yoga high. It took my practice to a new level. Most people go to yoga expecting to have this intense, strenuous workout. Myself and other Yogis in training had learned that yoga is not a work out, but a "work in". Yes, you do sweat and work your body in a way that can be considered a workout, but the end goal of yoga is to go within and connect to yourself through beautiful asanas.
Where is your home base and ideally, how much time would you spend there vs. traveling?
I was born and raised in Northern California (Bay Area). I consider my home base San Francisco, it will always have my heart but I feel I was born to travel the world. At the moment, I am a nomad because it is so expensive to live in San Francisco and I'm not ready to go back to a 9-5 desk job. My work/travel balance has always been a few months traveling then coming back to the same job and routine. This past November, I completely quit my job and moved my stuff to my parents' house so that I could make traveling my full time reality. For the first time in my life, I don't have a return flight home. I'm already 4 months in and I'm not sure if I will ever quit this lifestyle. I love life abroad. Each day feels like a rush of adventure and I'm more aware of everything that goes on around me. Yes, I do miss having a routine at times, but then I remember, that if I had that I would get bored of it quickly and wish I was doing what I am now. I am grateful for this time in my life where I can travel open ended and spread my passions worldwide.
What is your vision for your life as a yoga instructor? What do you see yourself doing in the next 5-10 years?
It hard for me to plan for the next 5-10 years, however, I would like to get my 300-hour teaching certification in the next year or so. I feel like I have only just touched the tip of the iceberg. There is still so much to learn with yoga and I am happy to forever be a student of the practice. I don't know what the future holds, but I know that I trust it. My never ending bucket list has always been a big driver of my life and I want to continue to make checks on it. Basically living my life to the fullest and waking up every day satisfied that I am writing my own life instead of having it written for me.
I want to be an example that all things are possible.
I envision myself continuing to travel and finding a healthy life balance while traveling. I see myself continuing to spread love & mindfulness, and teaching yoga wherever I can. I want to lead international wellness retreats and am working to make it happen. It is the best feeling to hear from people I have taught, finding out how yoga has become part of their lives and their gratitude towards me for opening that door. I want to continue to inspire others around me to live their dreams and I want to be an example that all things are possible. As my yoga goal as well as my life goal, I want to help inspire acceptance and non-judgment for all beings. We live in a world with such hatred and judgment, that I want to inspire people to remove barriers and love everyone for who they are.
Through my practice I want to channel to everyone that they are capable of living out their wildest dreams. I want to break the mold of what society puts forth of what we are supposed to do versus what we want to do. I don't want to live to work, I want to work to live. Learning that you are capable of living the life of your dreams and to learning who you are. So as a yoga instructor, I not only want to help people find a body-mind balance, but I want to help inspire people to live the life they want.
If you had to choose one place in the world to live and practice/teach yoga, where would it be?
That's a very tough question because I have been so many beautiful places with beautiful people. However, at the moment I would have to say, it would be Salento, Colombia. I recently visited there in December and fell in love with the beauty. I want everyone to experience this place once in their lives. The wax palm trees made me feel so alive and it would be a dream to be able to roll out my mat and practice next to them. Colombia, in general, is one of the most beautiful countries I've been to. I would love to one day get a place there and host retreats. Stay tuned on my site for retreats to come.
Learn how you can find a teaching job abroad!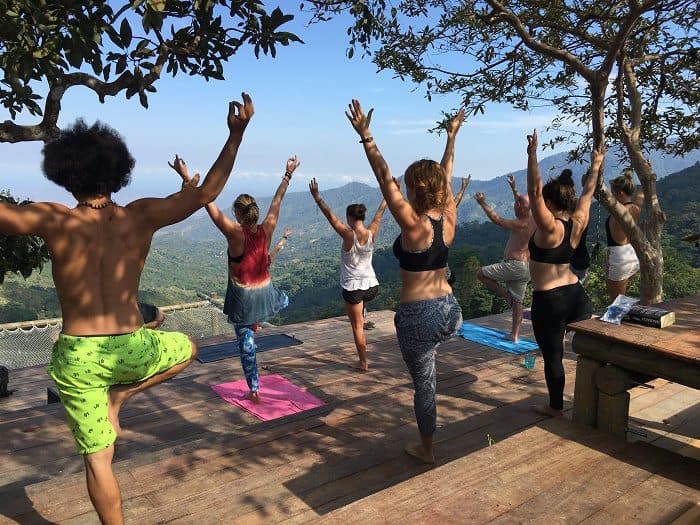 What's next on your yoga travel destination list that you're most excited about and why?
I'm currently in the Philippines and I've been searching on www.workaway.info for yoga opportunities within the country. I found one in Palawan and I'm pretty excited to go there for a bit and be in a yogic community. I guess you could say, I'm excited for anywhere I go and finding yoga communities where I can grow. The one place I yearn to go back to is India. That country touched my heart in ways no other place has. It's hard to explain until you go to India, but it is a country of heart and you can feel its magic. I am planning to return to India for my 300-hour teaching certification in the next year.
See what countries The Yoga Nomads think are the best for your next yoga vacation!
Tell us about your experience co-leading a wellness retreat with Maggie Kay. How did you find the venue, get attendees, etc.?
Maggie Kay and I put our goal of leading a wellness retreat out in the in universe on New Year's Eve 2015 and after that everything seemed to come into place. I am big believer that we are capable of manifesting what we want. If we put our intention into the universe, then the universe will listen and everything seems to unfold as it should. Not long after New Year's, Maggie called me to explain that her friend from LA had a house in Mammoth and offered it to Maggie for a wellness retreat. Once we had the location and house in place, we used our resources to get everything sorted. Maggie had friends who were chefs in LA and we got one of them involved and excited by the retreat we wanted to put forward. Getting attendees was more challenging than we thought and we worked to promote through all forms of social media. The retreat included people from all over the US, 12 in total, and it didn't fill up completely until the week of.
Letting go of our ego and the outcome of our first wellness retreat was one thing Maggie and I succeeded doing because our goal wasn't to make money, it was to spread mindfulness, love, yoga, and the power of our being. By accepting any outcome, the retreat unfolded organically. In the end, the perfect mixture of people attended and we were reminded once again how powerful it is to put what you want out into the universe. I couldn't have dreamed of a better retreat group. All of the attendees hold a special place in my heart and continue to be sources of inspiration to me. Check out the retreat video here. After the retreat ended, the yoga high I felt was off the charts. I've never felt more sure about something I wanted to do.
We are capable of manifesting what we want.
What are you most curious about learning aside from yoga?
Traveling and yoga combined have been a new experience. When you're stationed in one place, it is easy to fall into a routine that meets all your needs in life. Adding traveling to the equation creates distractions from your everyday life. Finding a proper life balance and fully accepting my journey as it is today is something I want to find. On my mat, it is easy to accept where I am because I come to a state of full connection with myself. However, off the mat I feel slightly disconnected to myself. With traveling you want to see the beautiful places, eat the good foods, celebrate new friendships in new areas, and sometimes tend to over indulge. I have found that in my travels weight gain is an area I really struggle with. I accept myself as I am while I practice but I am curious on how to continue that acceptance when I am not on the mat. I've never been able to travel long periods of time without gaining weight, so I am curious to find a way to feel like my normal self while I travel.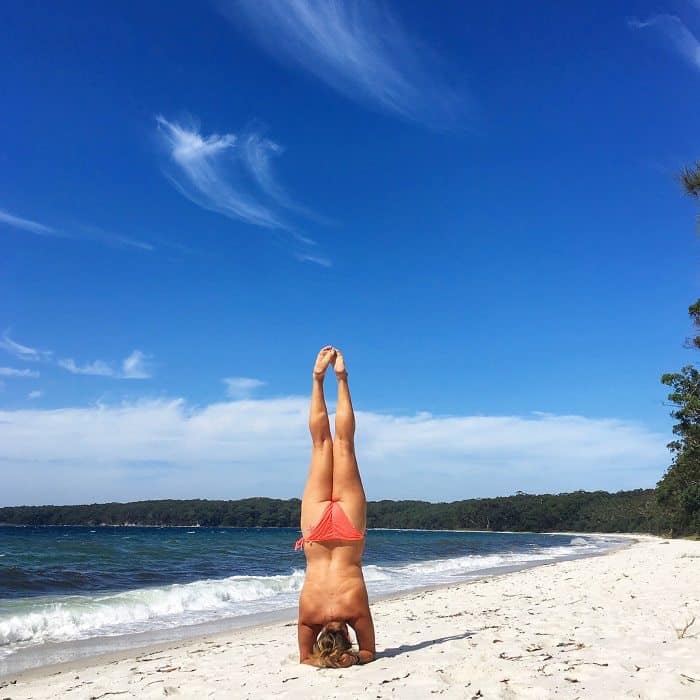 What song could you listen to on repeat for 24 hours?
This is tough for me because I love music but my three go-to are always: 1) Help Me Lose My Mind – Disclosure (I always include this song on my yoga playlist) 2) Fast Car – Tracy Chapman 3) Jubel – Klingande – I can never help but smile everytime this song comes on. It will never fail to put me in a good mood.
Connect with Megan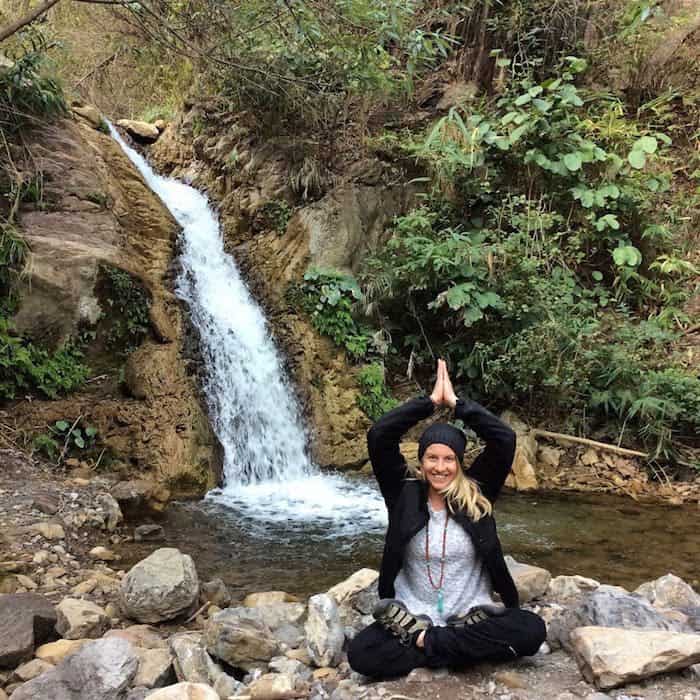 Megan Snyder, 28 years old from Northern California received her 200-hour Hatha Yoga Teacher Certification in Rishikesh, India in 2015. She took two months off of work for the course and after returning back to the Corporate world came to the realization a change was needed. She worked the rest of year with a plan to save money and spend the following traveling the world unplanned living her truth. Megan quit her job and bought a one-way ticket to Colombia. She now spends her time traveling various cultures, volunteering & living at Ashrams, teaching yoga and blogging about it to inspire others. Her dream is to lead international wellness retreats and she is in the process of planning one for 2017. Follow her website to learn more.
Connect with Megan on Instagram and her Website