This is part 10 of our traveling yoga teacher interview series. Each Wednesday we will release a new interview of a different traveling yoga teacher. If you know someone who would be a good candidate – email us at [email protected].
—
Yoga and traveling changed Jeanette's life for the better. A busy journalist based in Austria carrying two PR jobs, one day she packed up her bags (or, trolley as they say in German), to take an around the world trip. After exploring the world, she chose a Yoga Teacher Training in Bali that continued to change her life. Once she returned home she was able to quit her jobs and live the life of her dreams. She hasn't looked back since. Read on to learn more about how she marries her 3 passions in life: traveling, writing and yoga.
Reminder: comment below with additional questions for Jeanette!
What does living "your yoga" mean to you?
I have done yoga for about 15 years. I started because I was curious, because I loved to move my body, and because I needed something which to keep me grounded. Over the years I learned yoga is so much more than just "moving your body." I still love powerful vinyasa flows, but my yoga is now more calm and I meditate on a regularly basis. After many years of practicing yoga (or let's say, doing the mind-body-workout on the mat), I have a better understanding of what yoga really is. Yoga starts the moment you step off your mat. I think yoga has made me a better person. Patience, compassion, self-care…yoga taught me all of that.
Yoga starts the moment you step off your mat.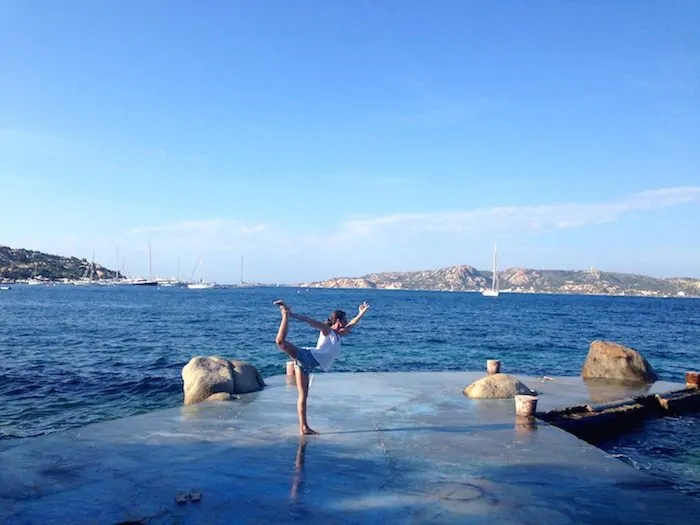 Tell us what you're passionate about and why
I consider myself a multi-talented and creative person, so it was never easy for me to focus on just one thing. "Doing nothing" is the hardest job I can think of. I often feel overwhelmed as I'm interested in so many things and I have always tons of ideas in my head. So once I tried to define what I'm passionate about with just 3 words. Those were: writing, traveling and yoga. Since then I feel a bit more organized – inside and outside. 🙂
What words do you live by?
"You can't stop the waves, but you can learn to surf" – Jon Kabat-Zin
Jan Kabat-Zin is the author of Wherever You Go, There You Are and Mindfulness for Beginners.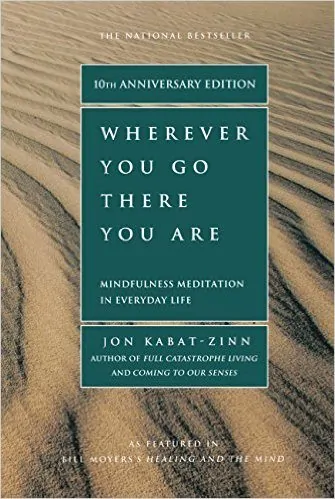 In what ways does yoga differ around the world?
Yoga means "union." I have practiced yoga in India, in Australia, in Mexico… By the sea, up the mountains, indoors & outdoors… With famous teachers and all by myself. I've tried Anusara, Ashtanga, Vinyasa, Iyengar, Yin and Yang…you name it. Yoga can be everything and nothing. Yoga can be completely new and it can be all the same. Everybody can do yoga – men and women, old and young people, handicapped people. And this is one of the most beautiful insights you'll have probably on your yoga mat someday: There is NO difference. We are all one.
There is NO difference. We are all one.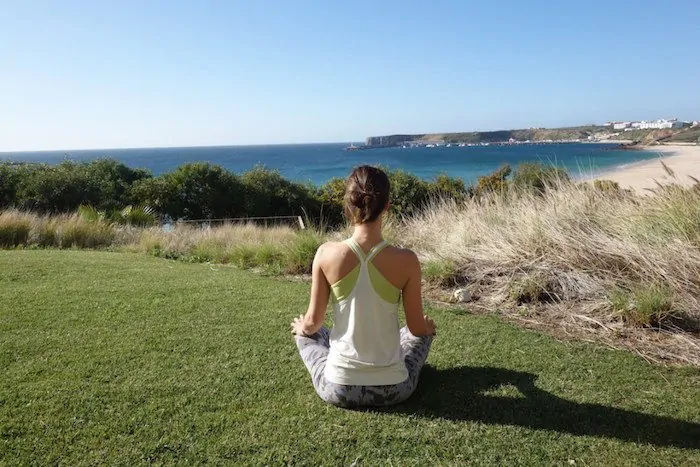 What drew you to the practice initially? What keeps you coming back?
From the beginning yoga just made me feel good. And when you feel good, you'll come back to your mat as often you can.
How do you find opportunities to teach and lead workshops, retreats, etc. abroad?
With two dear friends, Antje & Maryam, I created "yoga with friends." The simple name of our retreat concept says it all: nice people do yoga, eat good food and have a good time. We always choose beautiful locations close to nature and the ocean, but far away from noise, stress and everyday life. This year we'll go to the Algarve for the 3rd time! We simply love Portugal and we found our favorite retreat location there, which turned out to be the perfect place to make our vision a reality. I'm also part of the team at Yoga Delight which offers premium yoga retreats around the globe. I'm looking forward to teaching a mini-retreat in Leogang, a scenic spot in the middle of the Austrian alps in September.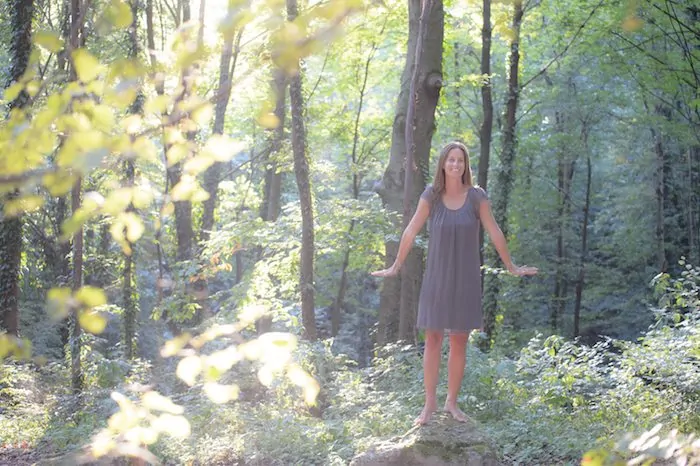 What challenges do you face upon returning to a place you once called home?
I always immediately miss the sun and the ocean when I come home. On the hand, I'm lucky enough to actually have a place I can call home. Some travelers are spreading quotes like "don't collect things, collect memories." Hey, one doesn't exclude the other, right? I definitely need a safe anchor somewhere. In my home in Salzburg you'll find all those beautiful souvenirs from my journeys. It's probably the only beach house styled flat you'll find in the alps 😉
What pose do you like after a long travel day to help unwind?
A down dog is always a good choice! Since I'm also a big fan of yin yoga, I love the "caterpillar" (the yin-variation of paschimottanasana) for about 10 minutes. After that I always feel completely recharged. It's also great for your nervous system when you put your legs straight up a wall after a long flight. For just a few minutes or forever 😉
Where is your favorite place to practice? Why?
Outdoors and by the sea! For me the ocean is the perfect place for yoga – inhaling the salty air and feeling the sand between your toes and fingers!
How much time do you dedicate per week to blogging? How long have your sites been live?
There is no schedule, just chaos. 😉 My travel blog went live in 2008. Back then I thought I was the only German-speaking travel blogger in the world. Instagram and Facebook weren't even born and Twitter was a baby. Since 2008, my blog Follow Your Trolley went through a lot of transformations. The latest one was the creation of a seahorse-unicorn, the new logo of Follow your Trolley. Besides Facebook, Instagram has become my favorite social media channels.
Connect with Jeanette Fuchs
I'm a journalist, blogger and yoga teacher based in Salzburg, Austria. In 2008 I quit one of my PR jobs and went on a world trip (with a suitcase instead of a backpack; in German you use the word "trolley" for suitcase), hence the start of Follow Your Trolley. When I went to Bali for yoga teacher training in 2011, it changed my life entirely. I started teaching in Salzburg and quit my other PR job. I've been living my dream & doing what I love ever since: traveling, writing & yoga.
It's amazing how those 3 things interact: I always travel with my yoga mat – as I love practicing yoga outdoors and by the sea. I practice and teach yoga at the most inspiring & beautiful places in Europe & around the globe. As a journalist I write mostly about yoga and traveling. And whenever I meet clients who engage me as a writer for different projects, sooner or later we find ourselves talking about yoga and they'll come to my classes or retreats. Always!
Connect with Jeanette on her Website, Instagram, and Facebook