5 years ago I walked into my first yoga class. 20 minutes in, I rolled up my mat and walked out.
It wasn't until a year and a half ago that I returned to my mat.
I didn't have an instant connection with yoga. It took time for me to understand what the "mumbo jumbo" during class was really all about. It took even more time for me to understand it's truly about the journey inward – rather than how you look in a pose.
Yoga was very intimidating to me before I started a consistent practice. It seemed as though every yogi should be an incense burning, OM chanting, overly flexible vegan. The truth is, ANYONE can DO yoga. Part of the journey is discovering what style of yoga suits you, and a space in which you feel most comfortable. I recommend starting slow and going in with an open mind.
And yes, yoga is more than just a stretching class. And no, you don't have to be flexible to practice yoga.
Initially, I was drawn to the physical practice of yoga, like many other Westerners. The many styles of yoga will absolutely help you build strength and flexibility in your body, but its many benefits far exceed the physical. After about a month of practicing consistently, I started realizing yoga was also creating flexibility and calmness in my mind while teaching me how to stay present. Learning to live in the moment and focusing on being here now, has had a huge impact on my life.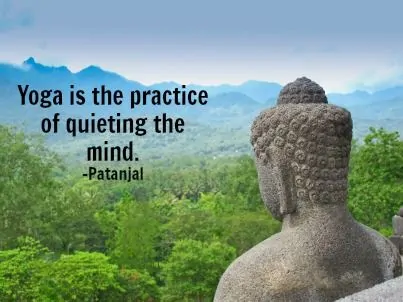 I began realizing yoga is the practice of many things; not just the postures. It's become even more of a mental practice, than a physical practice for me. Everything that I've practiced on my mat, I've been able to take off my mat which in turn has led me to make drastic life changes. Most recently I've been practicing non-attachment to specific outcomes, letting go and staying present.
Yoga is everywhere. It's in everything I do and everyone I see. Through my yoga practice, I've experienced a transformation like no other as it's helped me peel back the endless layers of my existence to discover what I'm really made of within. It's helped me face my fears and take charge of my life.
Yoga can be an extremely powerful tool in your overall well being and happiness.
Give it a shot. Who knows, maybe you'll end up like me and teach it someday.
Tell me, what were your first reactions to yoga?