Personal story time: the past year has been a wonderful time of growth for me. I've made many connections, was offered wonderful yoga teaching positions, and grew my professional network. But that's not the whole story…
A few months ago, I was working 40 hours/week, teaching 4 classes/week, building a website, trying to gain potential clients, blogging (here!), going on weekend trips, and attempting to take a yoga class here and there.
I was so busy that when I had a free moment, I felt like I was wasting time.
I kept asking myself, "Isn't there something I should be doing right now? I have 20 minutes, I need to use them" and so on.
One day, I broke down (I am forever grateful for my boyfriend and his support in this said breakdown). I realized I actually couldn't do it all. I was burning out and my health was taking a toll. I hardly saw my friends anymore. I didn't know the last time I saw my sister, who lives 15 minutes away.
I barely even had time to take yoga classes, which is my absolute favorite thing to do.
My boyfriend's response was perfect. He told me I have to stop saying "yes" all the time, cut down my schedule, and try to breathe a little.
I did exactly that. I put in my two-week notice for one of the studios where I teach. I hit the 'pause' button on my personal site (since I didn't have time to take on a client anyway). My schedule was reduced to my 40 hour workweek, teaching 1 class a week, and blogging 2x a month.
What happened? Pure bliss! Just kidding – but it really has been wonderful. I've made time to see my friends and sister. I got back into my personal yoga practice. I can read a book or watch TV without feeling guilty.
Learn from my mistakes. Trying to do it all and constantly saying "yes" will result in burnout!
Figure out what matters most to you. Then make strategic decisions to prevent burnout while optimizing your time & talents to find success in all you do.
5 Tips to Prevent Burnout: While working full-time + teaching yoga + your side hustle!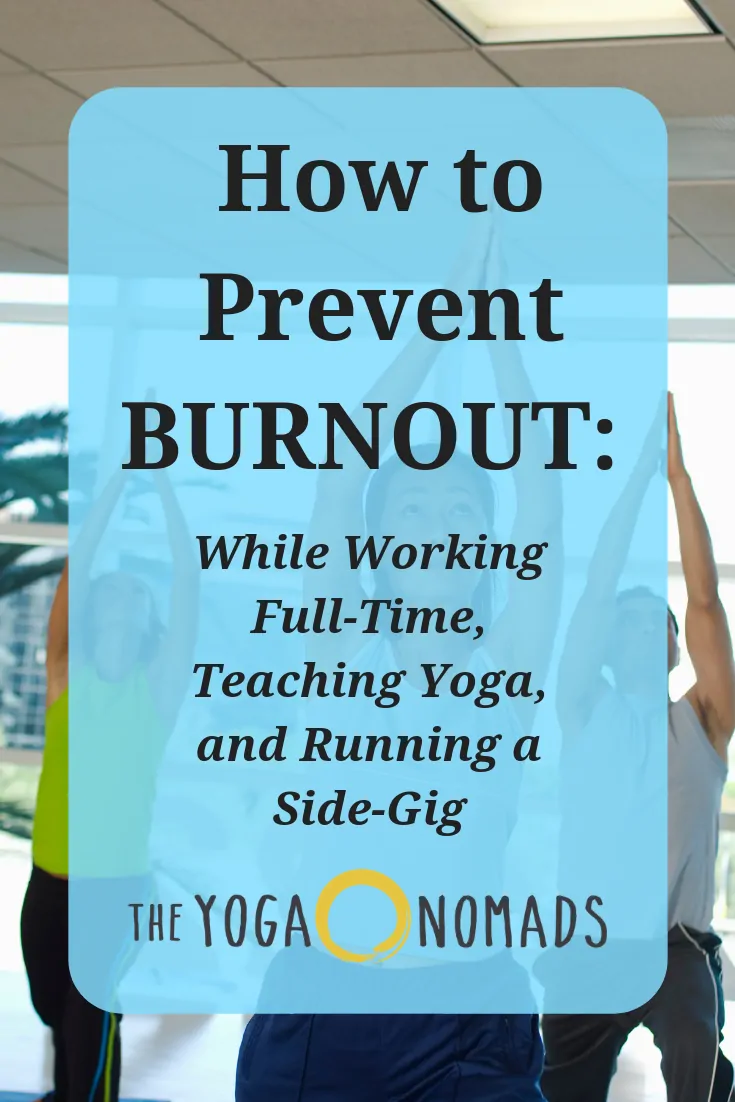 Pin me first? Then keep reading!
Although you might want to commit to every opportunity that comes your way, try not to stretch yourself too thin. I learned this the hard way this year by saying "yes" to every amazing offer – which left me with no space to take on the BIG things!
In short: decide what is most important to you, and commit to that.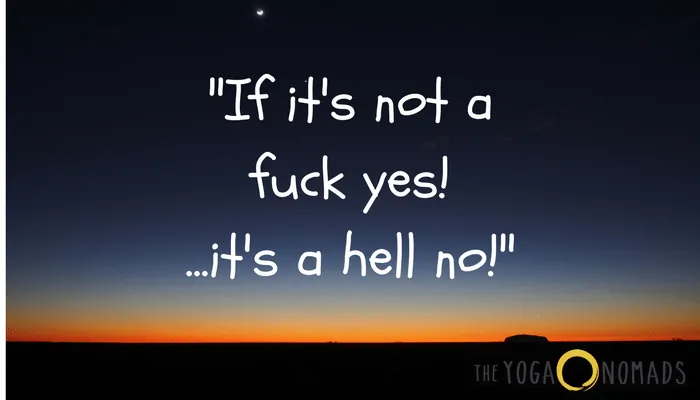 #2 Ruthlessly prioritize your time and efforts.
If you work full time, have a side business or teach, want to take yoga classes and see your family and friends, you will need to prioritize.
Here's how:
Day job. Your job is making you money, so regardless if you love it or not, it needs to be somewhat of a priority. Explore the 80/20 rule in your day job. What activities that take up 20% of your time result in 80% of the results? Prioritize the high impact tasks first. It's not uncommon to get noticed by your boss which could lead to a future raise!
Social life. Your family/significant other/friends are your source for relief, love, support, and more. Make sure they are a priority. Make plans 2-4 times a month to see your core group of friends. Try and see your siblings or talk on the phone to your parents each week. Trust me, your "people" will keep you going in the hardest of times (and make sure you are there for them during hard times, too).
Health. Your personal health always needs to be on your radar. This means mental, physical, emotional, and spiritual health. From personal experience, I can tell you that cooking healthy meals (hello, Sunday meal prep!), drinking plenty of water, sleeping 7-8 hours a night, and hitting my mat 3-5 times a week keeps me going. Find your formula for optimized health, and don't compromise!
Side hustle. That leaves your side business or yoga teaching career. While I just told you to prioritize your job, relationships, and personal health, there is still (a little) time for your side gig. Important tip: pick only 1-2 side gigs. For me, that's teaching yoga and blogging a little here and there. I spend 3-5 hours a week on my "side hustle" – that's all!
#3 Organize and schedule your time.
Tune into your "Type A traits" for this one. I'm a huge advocate for to-do lists, weekly schedules, and updating my calendar. Don't let this scare you away just yet.
Here's what I recommend: every Sunday night, make a weekly schedule. Write out what you're doing Monday, Tuesday, Wednesday, etc. Include work, your workouts, any to-do's, and more.
Protip: use your phone's calendar to schedule appointments.
Here's what a few of my days might look like.
Tuesday:
Work 8:30 – 5:00

Teach yoga 5:30 – 7:00

Eat dinner

Work on blog

Answer emails

Free time

Bed 10:30
Monday:
Work 7:30 – 4:00

Yoga 4:30 – 5:30

Shower

Eat dinner

Plan tomorrow's yoga class

Work on blog

Bed 10:30
#4 Narrow your efforts with your side business
Regardless if you're teaching yoga, writing a blog, or starting a new business, you need a plan. Start with one tactic at a time. Maybe that's mastering Pinterest. Maybe it's spending one hour each week preparing classes. Or perhaps it's finding a couple more private yoga clients.
Focus in on one important task, get really good at it, and analyze your results.
#5 Give yourself one "free day" each week.
As much as you might want to cross off those to-do's on a Sunday, don't! Believe me, it's crucial to have an off day.
Make plans with your significant other, best friend, or sibling. Go out for brunch or take your favorite yoga class. Take a bath and light a candle. Whatever you want to do, do it, and enjoy it!
Take it from someone who tried to do it all and (almost) crumbled…
Prioritize your time, organize your to-do's, focus in on smaller goals, see your family and friends, and say "no" more! Figure out what's most important to you, find gratitude for your opportunities, and be happy.
—
Do you know someone who's going through an "I can do everything" phase? Share this with them (out of love, of course).
Have any tips or feedback on how you manage your time? I'd love to hear your thoughts – comment below!
Love + light,
Kim
PS: Did you enjoy this article? Pin me!