A free download, often called a "freebie," is an important part of growing your email list.
It's essentially a value exchange, where people give you their email address in exchange for a hopefully stellar piece of content.
Wondering how to create a great freebie to grow your email list and your yoga business? Keep scrolling to find out!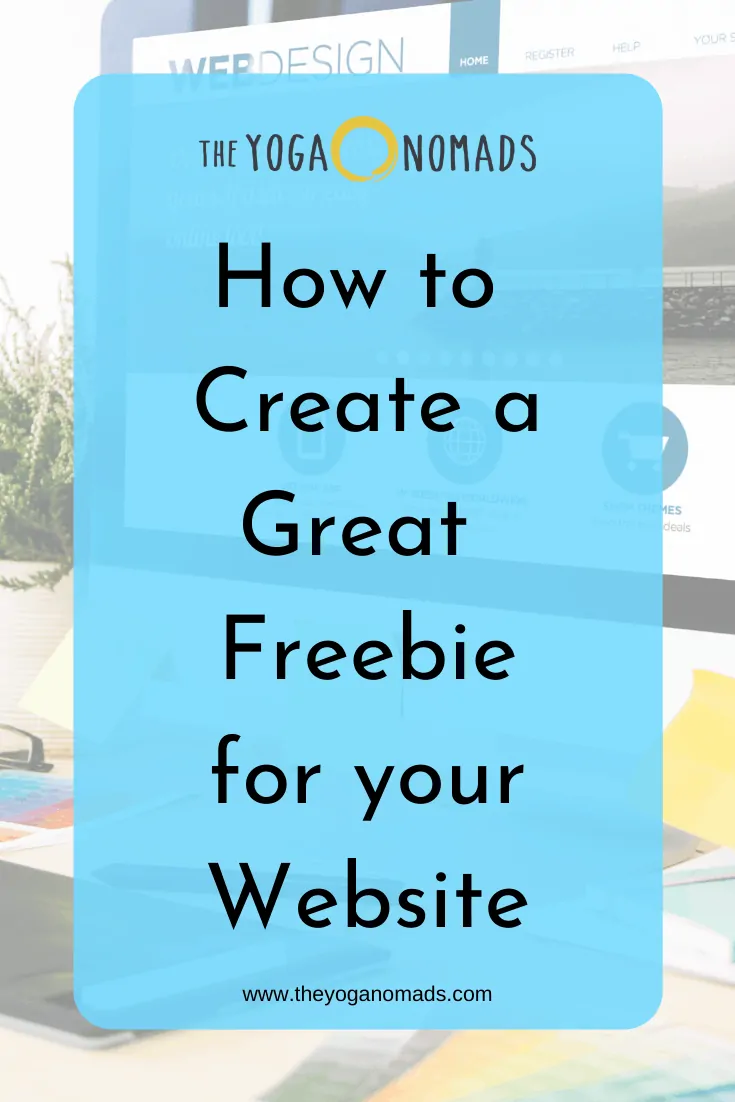 Pin me first? Then keep reading!
How to Create a Great Freebie: Start with the Topic
When choosing a topic, there are a couple things to consider. Most importantly though, you want your freebie to be relevant to your target audience. For example, if your audience are yoga teachers, you probably don't want your freebie to be a video on "Easy Yoga Poses for Beginners."
Here's what you need to think about:
What questions and problems does my audience have? Are people constantly asking me about something?

When I think about my ideal customer or client, what do they want to know?

What freebie can you create that will naturally segue into the paid products and/or services that you offer?
I'll use the freebie I offer on my own website as an example.
Among other things, I facilitate breathwork – offering private sessions as well as group workshops and circles. So a natural freebie for me is the one that I currently use: a free 8-minute breathwork meditation for your daily spiritual practice.
This is for two reasons, relevant to the questions above:
People are often unfamiliar with the style of breathwork that I do and want to try it out to see if it works for them.

The people who will download it are interested in doing breathwork and bigger picture spiritual development — aka, my paid offerings are relevant to them, too.
A bonus with this particular freebie is that I also make sure to share it with clients who do work with me one-on-one or in groups, because I want them to be able to access the breathwork for themselves daily if they'd like to!
[Related: How to Know What Your Online Community Is Interested In]
Next, decide on your format
Remember, you want this to be helpful and useful regardless of if people ever buy from you. So make it high-quality!
Ask yourself:
What format is best suited to the content I'm delivering? A PDF, an audio file, a series of emails, a video? Options are endless.

How does my audience like to consume content? Do your meditations always get listened to on YouTube but your vlogs don't? Do people click through from Instagram to watch your videos on YouTube but not read your blog posts? Check out your analytics and dive into how your audience really likes to hear from you.
Last But Not Least: Promote It!
Now that you have your amazing freebie, you want people to know about it! You can start to weave promoting your freebie into your marketing strategy:
Add it as a pop-up on your website

Add it as a promotional banner on your website

Add it to your posting rotation on Facebook, Instagram, Pinterest, and any other platforms you use

If you use YouTube or have a podcast, promote it in your videos and episodes

Share it in relevant Facebook groups
Want to learn more about growing your yoga business and your email list? Explore these articles from the Yoga Nomads:
PS: Did you enjoy this article? Pin me!