Mumbai is known to be one of the most expensive cities in all of India. After spending some time in India's largest city we found out it doesn't have to break the bank. We stayed in a private room with AC, ate at restaurants half the time, took a day trip to Lonavla, did a Slum Tour of Dharavi and still only spent $19 USD per person.
In this cost breakdown you will find:
Detailed breakdown of our expenses (with tables and a pie chart)
Free actives in Mumbai (worth your while)
Our budget mistakes & budget victories (learn from them)
Valuable money saving tips (remember these)
See how we graded ourselves (school house grading.. A through F)
**Our budget is based on 2 people and in USD.
Our style of Travel
We try to keep expenses low but prefer to eat healthy and stay in private rooms whenever possible (we love AirBnb). We consider walking around our destinations enjoyable so we rarely spend money on organized tours/activities (with some exceptions). We enjoy traveling by public transportation when possible – and can live without using A/C (so far).
How do we keep track of our budget?
We manage our expenses by using Shannon from a little adrift's travel budget spreadsheet which is user friendly and all the equations are prebuilt. We have heard great things about the iphone budgeting app Trail Wallet created by Simon from Never Ending Voyage and may try it out in the future.
Notes on Mumbai:
Organized accommodation through AirBNB – which meant we paid a little bit more than we needed to ($12/night) but were rewarded with comfort, insider tips (which cut down on transport costs), and a lifelong friend. Took a mix of cabs and public transport, restaurants and street food. Averaged about 1 cab per day with the rest being public transport, and 1 restaurant and 1 street food meal per day, light breakfast, ate some granola bars and fruit from the market.
Protip: Before heading into the chaos, find out if Mumbai is for you…
Summary (for 2 people)
| City | Total Spent | Days in city | Cost per day |
| --- | --- | --- | --- |
| Mumbai | $190 USD | 5 | $38 USD |
Daily Breakdown by Category (for 2 people)
| City | Lodging | Food | Entertainment | Transport | Misc | Total per day |
| --- | --- | --- | --- | --- | --- | --- |
| Mumbai | $11.29 | $9.65 | $5.32 | $7.26 | $4.48 | $38 |
Total Cost Breakdown by %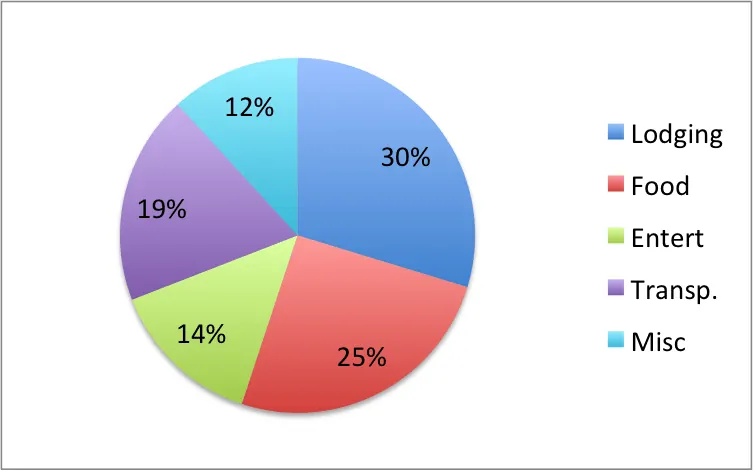 Most expensive items:
Dharavi slum tour with Slumgods ($10/person) – worth every rupee

Lunch at Leopold's

– ($16 USD) – decent food but overpriced. Due to one of our favorite books (Shantaram) we HAD to eat here.
Budget mistakes:
Lunch at Leopold's
This was our first full day in India and got carried away. Since there is no way we were skipping this stop – we should have done it differently. Either eat locally before we go and just get a snack/dessert/drink or order less/cheaper food.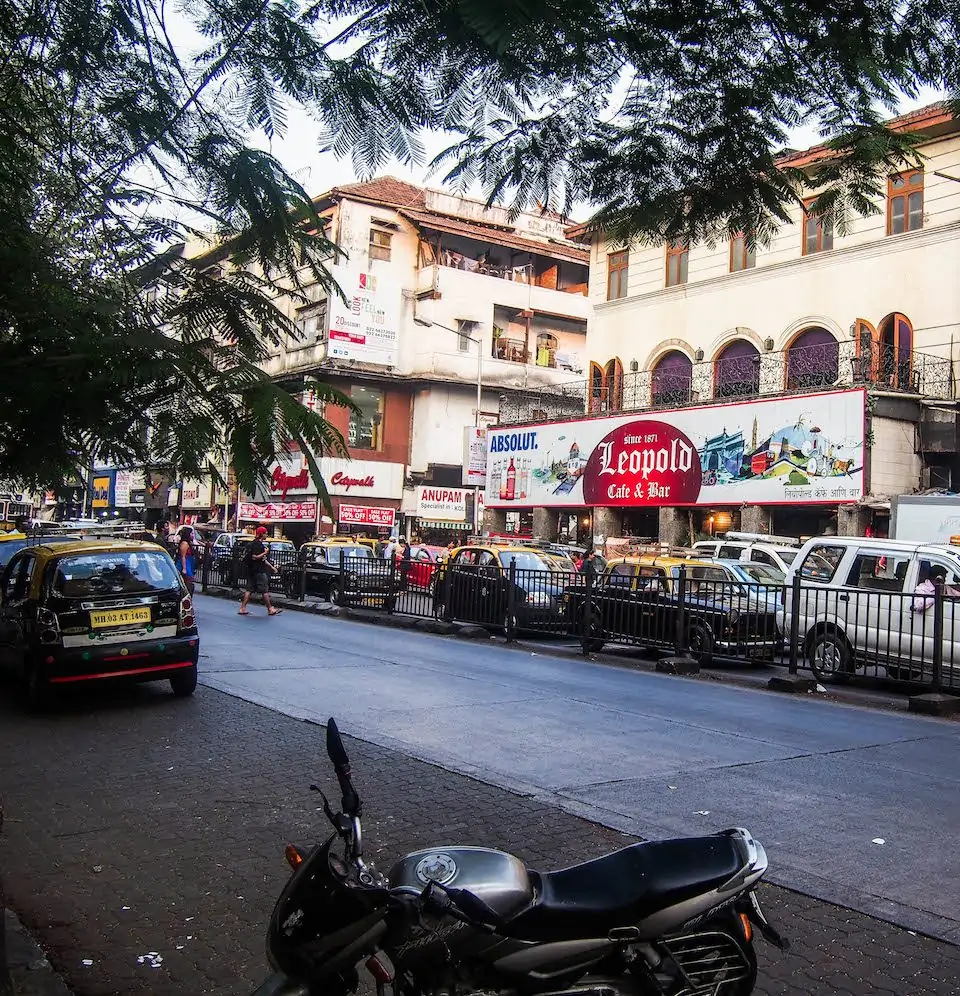 Budget victories:
Staying with Mani from AirBnB:
At face value, $15 USD/person is higher than necessary in Mumbai. After our stay we realized that with all the benefits we received it was actually a wise budget move.
During our stay we received:
free chai every morning (and evening if we wanted)
free advice which made public transport easy (so we didn't buy cabs)
1 free breakfast and 1 free dinner (thanks Mani!)
free hot water, wi-fi, laundry
Learned how to use the city bus (and other forms of public transport):
Due to Mani's guidance and some patience we learned how to travel by city bus – saving us loads of money. Typical cab ride would cost ($3.60 USD) where taking the bus the same distance would cost (30 cents USD)
Cost saving tips:
Skip cabs, take public transport
Book months in advance for dirt cheap rooms ($3/night) Red Shield Salvation Army Guesthouse in Colaba
Eat delicious street food – plan for less than $1 USD for every meal
Buy bottled water from local corner shops for 18 rupee vs 30 rupee at low end restaurant. (29 cents vs 45 cents USD)
Skip activities and simply walk around the city
Bargain for everything

Fruit from market – for snacks and breakfast

Stay at Mani's house via AirBNB
Free activities:
We loved Mumbai and hardly purchased anything outside of essential items (accommodation, food, water, transport)
Stroll through Colaba district – touristy but well worth an afternoon, pair with Gateway of India and Taj Hotel.
Drink chai on the street and watch India go by (5 rupee is pretty much free)
Sneak into the Taj hotel, get a taste of Luxury (next to Gateway of India)
Stroll through Kamala Nehru park – Mumbai's version of Beverly hills. Large expensive homes on the hill overlooking the ocean. It's peaceful and a nice break from the hustle. Super curious and friendly locals.
Relax on Chowpatty beach – worth an hour walk, prepare to ignore vendors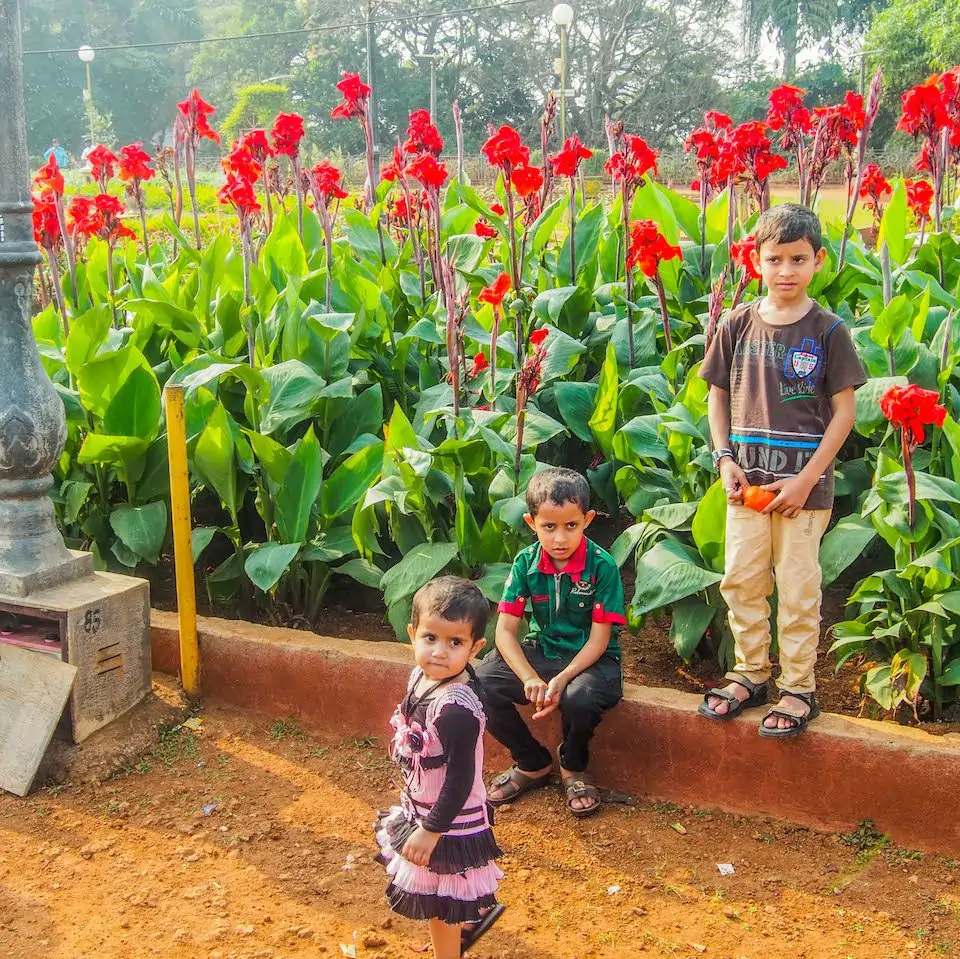 Activities that will drain the budget:
Nightlife
Taking cabs often
Expensive accommodation
Eating at restaurants
Western food
Overall Score:
Both Anne and I independently submitted our scores for budgeting in Mumbai and the funny enough.. we both selected B+
Mumbai was our first stop in India and after hearing how expensive and crazy it is, we were worried we would go way over budget. Luckily we only spent $19/person per day beating our estimated budget of $25/person per day. We did everything we wanted to do in Mumbai other than watch a Bollywood film. However after Dan from This World Rocks explained his experience at a Bollywood movie we can rest easy 🙂
Area for improvement:
Next time we would limit eating in restaurants (ie: Leopold's) because they cost 3-5x the price and often don't compete with the taste of good street food. Also the communal feel of eating dinner on the street in Mumbai is something special.
What was your daily budget in Mumbai?