After experiencing the magic of Envision in 2015, we're happy to announce we'll be heading back to the jungle for the 2016 event. There are so many gems on the lineup. Some Envision veterans (Rachel Brathen, Random Rab, etc) and plenty of new artists to explore. Here is a survival guide to Envision 2016, make sure you're prepared!
I mean come on, dancing all night in the jungle to your favorite artists being played on a Funktion One sound system?
Before I cause a fuss, let me be clear. This is a biased list. These are MY most anticipated acts. There are many talented artists on the lineup but I couldn't fit everyone on the list! My musical tastes lean towards downtempo, dub, glitch, psy-bass, liquid, or just simply "bass music." I also like the dark and strange. Apologies for the petty sub genres.
After spending countless hours dissecting the lineup, here is my Envision festival 2016 Artist Preview. You can listen/follow my Envision 2016 playlist on Soundcloud here.
1) AtYyA (deep dub/future trap)
AtYyA fits in with the Envision crowd so well that you'll probably walk right passed him and you won't even notice. Third Eye Pinecone and all. "AtYyA's niche sound is a fusion of Deep Dub & futuristic Trap sewn together by squishy psychedelic soundscapes." He played the 4:45AM time slot last year at Envision and I imagine he'll play late night again.
2) Spoonbill (glitch/IDM)
Born from the same alien starship as my main man, Dave Tipper. Get ready for some tasty glitch music. This might be my most anticipated set of the weekend.
3) Dimond Saints (bass/trap)
West coast bass moguls influenced by trap (the good kind) and future bass. The dance floor will be going bonkers during Dimond Saints! They played a late night set in 2015.
4) Beats Antique (world music fusion)
After the moon comes up, Envision can get a little weird. Beats Antique has been pushing the boundaries of the strange for years. Get ready for a flawless fusion of bass and world music. Don't miss Beats Antique member's side projects Sidecar Tommy and Dirtwire – who also have sets at Envision 2016. This is the first time Beats Antique's has played Envision since 2012!
5) Grouch (psy-dub/psy-trance)
Hailing from New Zealand is Oscar Allison – a multi genre prodigy whose project is called Grouch. He is known to play sets ranging from Dub, Psy Trance, Downtempo, Drum and Bass, and the list goes on. I imagine his set time will guide his decision on genre. Are we getting a late night psytrance set? Or a early evening dub heavy chillout? One thing is for sure, don't miss the Grouch set.
6) Cloudchord (live instrumental)
Never heard of Cloudchord? I bet you've heard of his Former Alias "DVS" (aka Derek VanScote). Derek fuses live guitar over a blend of deep house, disco, and downtempo.
7) Rachel Brathen (yoga)
an Rachel is an Envision veteran and she's guaranteed to bring a crowd of smiling faces. This year she's teaching a "down and dirty flow" – expect to get your hands dirty and who knows maybe form a deeper connection with mother earth. Get a small discount on Envision 2016 tickets through her website.
8) David Wolfe (speaker)
A master of harnessing the potential of the human body through nutrition. He has been living his teaching for decades and has written many books on superfoods, chaga mushrooms, etc. "Your health is your wealth."
Don't miss his 3 day post Envision Event, SHAMANIK YOGA & LONGEVITY NOW. For the entire list of post-envision events, check here.
9) Lee Reynolds (tech/house)
Looking for your tech/house fill? A co-host of the exploding Desert Hearts scene, Lee Reynolds will get you grooving. This year Envision is creating a "house stage" which will probably be last year's lotus stage.
10) Pyrodanza (Performance art)
Last but certainly not least is the performance art group Pyrodanza! As the name indicates, they are an international collective of fire dancers. They will perform on stage during several shows during the weekend and be sure to check the schedule so you don't miss their solo performances. Emphasis on booking groups like Pyrodanza is one of the Envision stands out in the festival scene.

Envision 2016 Lineup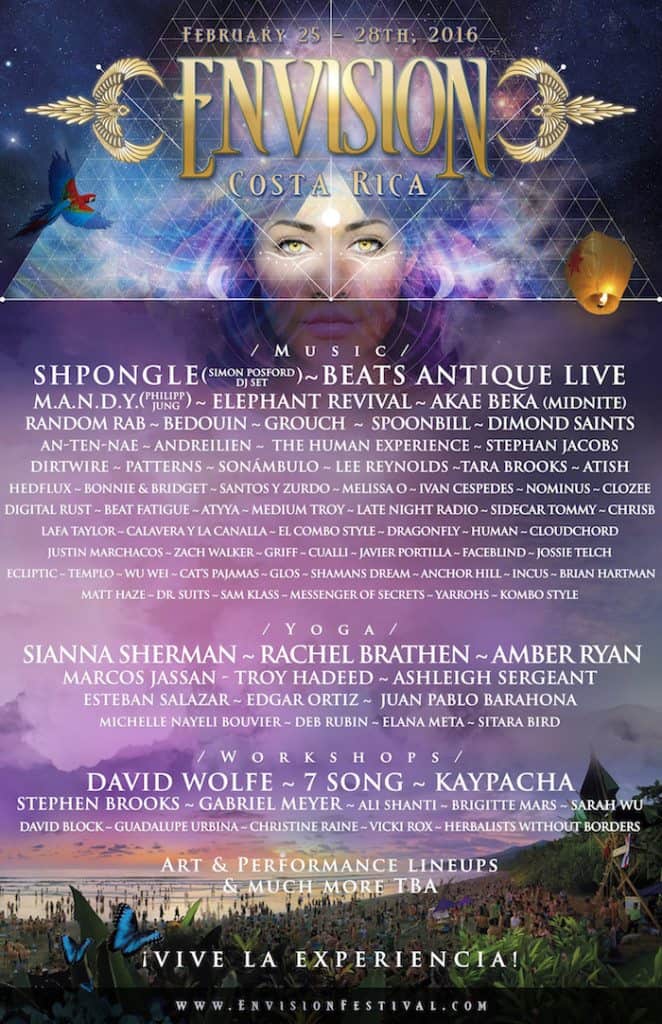 Your turn, who are you most excited to see at Envision 2016?
Cover photo credit: Jessica Bernstein. Find more of her photos of Envision 2015 here, and connect with her on Facebook.