Gearing up for a trip? Obsessing over your packing list? I've been there.
We've been to 20+ countries while traveling nearly full time for the last 2+ years. In that time we've been in most climates and have only traveled with carry-on luggage.
A couple things to consider about my digital nomad packing list
We work online as we travel so our electronics bag will be larger than most
We travel light (carry-on) but not ultralight (day pack only) like some crazy people.
This packing list is for men, check Anne's if you need a packing list for women.
We practice yoga while traveling, skip the yoga mat if it doesn't apply to you.
Here's another reference for travel-friendly yoga clothing.
Although my packing list changes slightly based on the destinations we'll be in – one thing does not change – we always get Travel Insurance. We used World Nomads and we've been reimbursed both times we've made claims.
I had surgery to repair a tendon in my hand in Vietnam and Anne got hit by a motorbike in Bali – World Nomads reimbursed us for everything (over $3,500 USD).
Alright, on to the gear! Below is my general yoga kit which will work 90% of the time.
Best carry on backpack for long term travel
Rule #1 for packing light is to bring a small bag. Whatever size bag you buy will magically get filled up with stuff.
We travel exclusively with carry-on sized backpacks ranging between 38L – 46L. After several years on the road, I could not imagine carrying around a larger bag. Carry-on luggage saves money by avoiding airline baggage fees. $25 per flight can add up pretty quickly. Another benefit is our backpacks fit under the seat on buses and trains.
2017 Update: I now travel with the Tortuga Outbreaker 45L
Pin me first? Then keep reading!
Best Daypack for long-term travel
I also travel with a smaller backpack called a "daypack." They usually range between 15L – 25L and should be the most versatile bag in your arsenal. Daypacks should effortlessly take you from a day on the beach, to the cafe to work on your laptop, and end the night looking stylish in a big city.
I reviewed my top 5 daypacks for travel and ultimately selected the Datsusara BPM.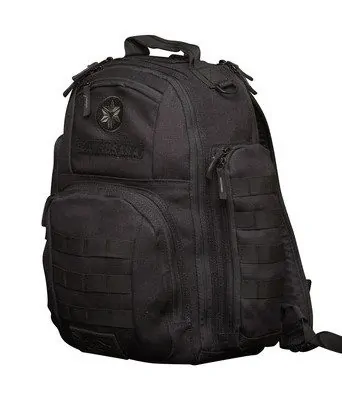 Best men's clothing for travel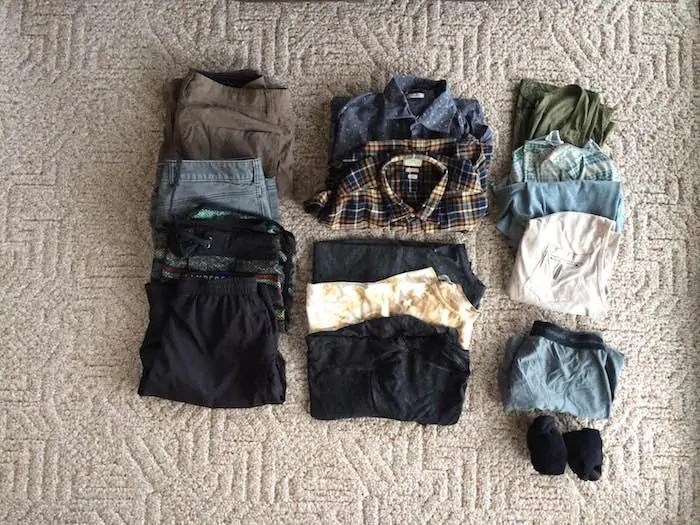 This packing list represents a good spread of clothes for a warm climate. We will modify this list if our travel plans include different climates. If we don't have a convenient way to swap out clothes, we end up buying new clothes and tossing the old stuff. Surprisingly, this doesn't cost very much.
We hiked the Annapurna Circuit in 2014 but didn't have any gear. We decided to rent/buy gear in Pokhara before starting our trek. All in cost on gear (some bought, some rented) was less than $100 USD. I'd gladly spend $100 dollars if it meant I didn't have to travel with another backpack full of cold weather trekking gear!
1) prAna Brion Pants – Made with technical material but don't look like ugly trekking pants. I wear these in airports, rock climbing, trekking, and anytime mosquitos are an issue. They have a light stretch making them super comfy.
2) Button down shirts x2 – I usually only travel with one, however we're planning to spend 2-3 months in Medellin where I'll need some decent clothes. Perfect for airports, travel days, cooler climates, or on the off chance I need to look "good" for something.
3) Tank tops x4 – My staple in beach destinations. Nothings special about my choices.
4) Ex-officio Give-N-Go boxer briefs x7 – hands down the best travel underwear. Your life will change when you say goodbye to cotton underwear. Retail price is $26 but I often find them on Amazon for $15-20 which is well worth it. They don't smell, easy to wash, super comfy. [2017 update: I now travel with 7 pairs… up from 5 in years past]
5) Low cut black socks x2 – I prefer black socks and they don't show dirt, stains, etc.
6) T-shirts x3 – you know the drill
7) Shorts x3 – one casual shorts, one board shorts, and one yoga shorts by MPG
Best travel shoes for men
Shoe choice greatly depends on the climate and environment you will be traveling in. These shoes work great for me in warm climates and when I'm rock climbing. Not pictured here is a pair of Onitsuka Tiger shoes that work well for almost any situation.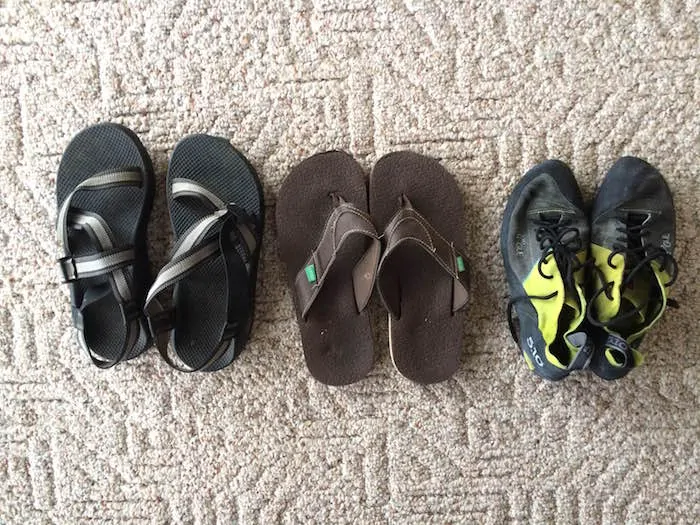 1) Chaco sandals – Not the best looking footwear ever made, but they are my favorite. Sturdy enough for wilderness backpacking and easy to slip on like flip flops. Great arch support and my feet never feel sore after a full day on my feet. I've climbed volcanos, canoe portaged, and repelled down a waterfall filled canyon in my Chacos.
2) Flip flops – Some cheap pair I bought from a Costa Rican grocery store in Puerto Viejo.
3) 5.10 Rogue Rock climbing shoes – This is a new addition to my packing list. I've recently gotten hooked on rock climbing and plan to climb all over the Americas. They are great shoes for beginner/intermediate climbers.
Best Electronics for Digital Nomads
Everything besides laptop fits in a dry bag which ensures my electronics will never get wet. Because we work online while traveling – we bring more electronics than is needed for the average person. If you don't work online, you can easily cut out the laptop, external HD + case, and bluetooth mouse.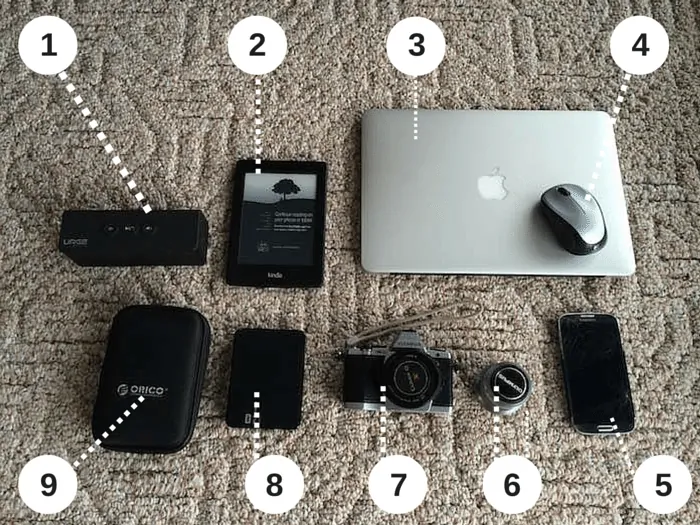 1) Bluetooth speaker – I used to think this was extra weight, but now I'm 100% convinced it's a MUST HAVE for traveling. It converts any hostel/apartment into a home. It's great for yoga, a day at the beach, and for having some drinks at night. This tiny guy packs a punch!
2) Kindle Paperwhite – I used to drag my feet saying "I want to hold a real book" blah blah blah. After finally converting to the dark side, I'm glad I did. Benefits of the Kindle for me = 1,000 books in the palm of my hand, I can read in the dark because it's backlit, and it weighs less than a paperback. Best of all, I READ MORE. Anything to promote reading more is a win in my book.
3) Macbook Air 13″ – My favorite computer I've ever owned. Great battery life, very slim and lightweight, and super fast! Perfect for working on the road. The one drawback is the HD isn't very big so I always carry an External HD for movies, pictures, etc.
4) Bluetooth mouse – Saves the hands while working long days. I like Logitech mice.
5) Samsung Galaxy S5 unlocked – I buy local sim cards if I need local service or a data plan. Nice to use the Google maps GPS feature (works without service). You know, in case Anne gets us lost 😉
6) Portrait Lens: Olympus M. Zuiko 45mm f1.8 – My favorite camera lens I've ever used. Only works with MFT style cameras. Takes beautiful portrait shots, beauuutiful bokeh.
7) Camera: Olympus OM-D EM-5 – a great value camera that I love. Takes high quality images and is very compact making it perfect for traveling. The new version just came out which makes this camera (which is still amazing) a STEAL on Amazon right now. Pictured with my Pansonic G Lumix 14-42mm lens which is an alright multi purpose lens if you're only planning to bring one lens. However it performs just OK in every category.
8) External HD: Western Digital My Passport 2T – Be careful buying an External HD – for some reason, some of them don't allow you to use connect with both MAC and PC. *this one does*
9) Ext HD Case: Orico 2.5″ – fits my Western Digital My Passport external HD perfectly. Was unbelievably hard to find one that fits my WD HD well. Helps with shock protection and adds a water resistance layer. Super cheap on Amazon.
GoPro Hero 4 – Although I don't take very good videos, I can safely say it's not the GoPro's fault. Really nice when water is involved (surfing, snorkeling, waterfalls, cliff jumping, etc). I hate to say it, but I highly recommend a GoPro selfie stick.
Klipsch S4 headphones – Anne and I have been using these for years and really like them. Good balanced sound but provide crunchy bass which I require. It's all about the fit, make sure you test out the different sized ear buds to see what works for you. They come with 3-4 sized ear buds.
Headphone splitter – perfect for watching movies with another person
Electricity Converter – depending on where you will be traveling. Most people use a Universal Converter but I haven't tried one yet.
Mini Surge Protector – Nice to turn that single outlet in your guesthouse into 3+ outlets. This alone has saved Anne and I from multiple fights over who gets to charge first 😀
Note: I didn't list my cords. I travel with 3 cords: camera battery charger, Macbook Air charger, and a micro USB (charges my bluetooth speaker, kindle, and Galaxy s5).
Helpful Accessories for Long Term Travel
My accessories are not mandatory for every traveler, but they make my life on the road a little better. I didn't take a picture of everything I pack, but I list everything below.
1) Journal & Pen – Journaling, like meditation and getting good sleep, pay off huge dividends in my life.
2) YOGO travel mat – hands down the best travel mat on the market. It's compact, can be folded, and its SO sticky. Both Anne and I both travel with this same mat. If you're not sold on this one, check out our other recommendations here.
3) Toothbrush and dental floss
4) Nail Clippers
5) Outlet expander
6) Cologne samples – Maybe I make a Macy's run before traveling to grab samples.. so what 😉
7) Deodorant
8) Lightweight pocket knife – I use this for slicing fruit, cooking in guesthouses, and hopefully I'll never need it for protection. I use this same knife when camping / wilderness backpacking.
9) Dr Bronners soap – The best travel soap ever made. It's so dense, just a few drops will do. Organic and no animal testing. I usually travel with a couple 2oz bottles. Get the size and flavor that suites you. At home I buy the big bottle which lasts months.
10) Sunscreen – My pitch white nordic skin needs lots and lots of sunscreen.
Sleep mask – Getting good sleep is a "force multiplier" – good sleep makes everything you do in life better. I couldn't recommend this mask more. Although it doesn't look "cool" it will improve your sleep dramatically. Who needs to look cool while sleeping, anyways?
Ear plugs – Gotta have them. Bring a few extra as they always seem to disappear.
Sunglasses – Ask Anne how many sunglasses I go through each year… it's double digits, damnit. Now I use the cheapest pair of polarized sunglasses I can find.
Head lamp – Although I don't use this often, it's great for trekking, power outages, festivals, late night walks home from the beach, etc.
Lacrosse Ball – The most versatile body work tool around. Great for getting into the hips, back, shoulders, and feet. It double as a toy. And boys love to toss around balls.
Travel documents – I never travel without paper copies of my passport, visas, travel insurance and credit cards. Another one of those things you don't need until you NEED it. If you lose your passport, or are in a country that has passport checkpoints this will be huge. Some countries require you to show proof of insurance before performing medical care.
Hydroflask water bottle – My new favorite water bottle. Keeps water cold for 24 hours, yes please. I find having my own water bottle (that I like) gets me to drink more water. More water = a happy, healthy, Brandon. We have 32oz bottles but the 21oz or 24oz would be good too. Thanks to Bobby and Ily for the recommendation!
Stuff Sacks & Packing Cubes – Anne uses packing cubes and I prefer stuff sacks. They both do the job of organizing your clothes/items inside your backpack. Some are waterproof which are perfect for electronics. I usually bring 3… one for my shirts, one for pants/shorts, and one for electronics.
Dirty Laundry Bag – I use one made by the same company that makes my carry on backpack, Datsusara. It's essentially a smell proof bag that works to separate your dirty clothes form the rest of your stuff. Takes up no space and works great.
Travel pillow by NEMO – I love this thing. Perfect for sleeping on planes and trains. Works to support my low back when sitting too much. Also goes with me when camping. It's not the smallest or cheapest travel pillow but it's so comfy and well worth the price. Bonus points for having a mini storage pocket that's perfect for my ear plugs and face mask.
Credit Cards for RTW Travel
There are 3 main categories you need in order to successfully bank abroad. Here is a super high level overview, if you're serious about this stuff (which you should be), here is a full article we wrote explaining the best credit cards and bank accounts for travel.
1 – Credit Card with no foreign transaction fees: Capital One Venture – for booking hotels and flights online.
2 – ATM Card with no fees: Charles Schwab Investor Checking – for ATM withdrawals which are the cheapest way to access money abroad. *Sadly only for Americans*
3 – High interest saving account: Capital One 360 – earn up to 1% interest in a checking account. Perfect to house your hard earned savings. Easy to transfer to Charles Schwab.
**None of these credit card links are affiliates & I use and recommend every account mentioned.
Toiletries for Long Term Travel
This is one section that can really start to add weight if you're not careful. Pack the smallest version of each whenever possible. It's very easy to find these things on the road. Make sure you get a small container/dopp kit/whatever you call it. If your container is small, you will be forced to pack light.
Here is my standard kit, customize to fit your needs.
Ibuprofen – I bring 10 pills @ 200mg or so. I try not to consume ANY pills, antibiotics, etc. unless I really have to. If needed, I can buy these on the road as they are readily available and often much cheaper than in my home country, the US.
Tooth paste without Fluoride – We use Jason's brand Vanilla Mint toothpaste which both taste great and is good for you. Fluoride is bad.
Dr Bronners soap – The best travel soap ever made. It's so dense, just a few drops will do. Works to wash clothes as well. Also organic and free from any harm to animals. I recommend the 4 pack of mini bottles for traveling.
Shampoo
Conditioner
Deodorant
Nail clippers
Dental Floss
Chapstick
Hair ties
Supplements for Long Term Travel
This section changes depending on what's going on in my life and what health supplements I have been taking. Some things always pack it in the pack – black tea, Maca root, Turmeric, and Coconut Oil.
Black Tea – I quit coffee over 2 years ago but still drink black tea. My favorites include Puerh, Earl Grey, and Ceylon. I pack pretty light in most cases however my tea selection is not light. Sue me. Now if only I could find a travel sized french press!?
Maca – The root of a Peruivan plant. Tastes mild and little nutty. Great for many things – Anemia, well-being in the body, fatigue, balancing hormonal, etc. I use it to help my adrenals recover from excess caffeine and the stresses of a fast paced life.
Creatine – Pound for pound the best supplement you can find. Great for building muscle and improving brain function. Always consume extra water when consuming Creatine and take it in cycles.
Turmeric – The almighty inflammation destroyer. I try to consume as much turmeric as possible. Great in curries, smoothies, and I take turmeric in my tea every morning (with coconut oil and maca)
Coconut Oil – Another must have in the travel kit. So versatile. Cooking, oil pulling, skin care, and even eating it by the spoon full to ensure I'm getting enough healthy fats. Thankfully it's becoming easier to find all over the world.
Chewable Melatonin – Mandatory when changing time zones and when my sleep schedule is off. Best way to beat jet leg.
Travel Apps I love and Recommend
Travel apps are one of the many ways to decrease your "travel drag." This list is by no means exhaustive, but these are the essentials that I think everyone should use. Should I write an exhaustive list of travel apps?
Uber – The easiest way to get around town and cheaper than taxis. If you haven't tried out Uber yet, here is a link giving you your first ride free.
Evernote – I put my travel planning notes, addresses, phone numbers, everything.
Twilight – A simple app that allows you to adjust the amount of "blue light" your phone emits. Not allowing your body to being exposed to blue sleep before bed is crucial to getting good sleep. It's free and easy to use.
Airbnb – We prefer renting Airbnb apartments instead of hostels/hotels. We often find great deals by renting a place for a week or more. We also enjoy cooking and Airbnbs often have a kitchen.
Google Maps – The GPS feature on google maps works even if you don't have service. I enjoy getting lost as it usually leads to opportunity but sometimes it's nice to know where I am and where I need to go.
Spotify – The best way to listen to music while traveling. Get premium for $9/month and you can download any songs/albums you want and listen to them even when you're not connected.
Items I don't pack that others swear by
First Aid Kit – Maybe I'm a testosterone filled male who doesn't perceive risks appropriately, but I don't carry a first aid kit. After 2+ years on the road, I can't recall any situations where I have needed one. I do often carry some band-aids and pills for travelers diarrhea. Even when I tore ligaments in my hand in Vietnam, I didn't need anything besides a napkin to stop the bleeding (then went to the hospital).
Rain Jacket – If it's pouring outside, I will find shelter. If it's a light sprinkle, then who needs a rain jacket. Either way, no need for a rain jacket! Exceptions include: rain ponchos for a music festival & trekking.
Any gear you recommend? I'm always trying to optimize my packing list!
PS: Did you enjoy this article? Pin me!