This is part 7 of our traveling yoga teacher interview series. Each Wednesday we will release a new interview of a different traveling yoga teacher. If you know someone who would be a good candidate – email us at [email protected].
—
Daniel Scott was a treat to interview. His real talk and mustache had us at hello. We'll let him give his introduction.
Reminder: comment below with additional questions for Daniel Scott 🙂
Who are you…?
Before my life as a traveling yoga teacher began, the goal was to do everything I thought necessary to do to get what I want. Needs, at the time, were pretty much limited to ENOUGH MONEY, COMFORTABLE HOME, FUN FREE TIME, and GOOD GIRLFRIEND. The resume grew into a colorful ladder illustrating varying levels of mid- to high-level marketing and/or project management for a selection of desirable companies.
Everything looked pretty great on paper, and I felt empty as fuck. Push came to shove in the form of a pretty epic break up (translation: my girlfriend left me). I realized a few things in rapid succession: my now half-empty home was extremely uncomfortable, my free time was just a distraction from the deep fear of personal doubt, and no amount of money would fill that ever-widening hole.
Blah blah blah. The truth was that despite having a good job and comfortable life, I was deeply unhappy because I wasn't doing what I wanted to do. To further compound that first-world problem, the walls I built to protect myself from having to deal with that sadness came tumbling down because someone I loved no longer loved me back the way I wanted them to.
Did I have a lot of money before I started to travel? Nope.
Did I have a lot of money before I started to travel? Nope. Just enough for a few months of spendthrift exploration across cheap countries. While traveling India, I found a yoga studio in Goa (Brahmani) led by an amazing teacher named Julie Martin. One perfectly timed savasana was all it took, and I dropped all travels in favor of her teacher training.
Studying yoga became the day to day, and my escape was teaching AcroYoga. Once again, that escape became the journey. It was an international community, and people seemed to vibe with what I was sharing. Whenever an intentional invitation to come visit someone's home studio was offered, I graciously accepted.
Thus began my life as a travel teacher. In the beginning, it was all about the adventure. It soon became clear that a tiny bit of organization and follow-through could nurture that into a viable lifestyle. Turns out all of that work building a colorful resume-ladder came in handy after all!
What is your top diet/lifestyle tip?
Everything in moderation, including moderation.
What city outside of the U.S. would you live in?
I'm loving Berlin and Copenhagen these days. If New Zealand were a city, I'd live there in a heartbeat.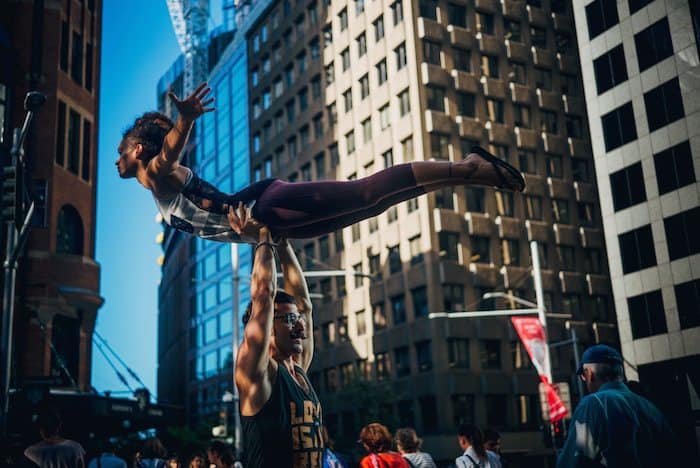 What do you practice daily besides yoga?
Running, cycling, Acroyoga, and functional strength training help keep me in my body. Writing, making art, and fixing random objects keep my mind fresh. Mindfully making and consuming coffee keeps me spiritually grounded when meditation isn't possible.
How do you make your nomadic lifestyle work?
Flexibility is paramount to a traveler's lifestyle, so obviously Yoga helps. It's also important to have a place to come back to. My home base nowadays is Los Angeles.
Consistency, in general, is essential in maintaining sanity. I always travel with some sort of workout toy (TRX, resistance bands, sandbell, rings) so I can stay strong. My Aeropress supports a viable coffee practice.
In all honesty, this shit ain't easy.
In all honesty, this shit ain't easy. It's often a solitary lifestyle in which one lives in the good graces of host students and communities. You start a lot of fires without getting to see them burn. You'll meet extraordinary people and create deep connections with them, only to move on towards another city and (hopefully) do it all over again. It all adds up. It's great work if you can get it, but it's definitely not without it's fair share of challenge.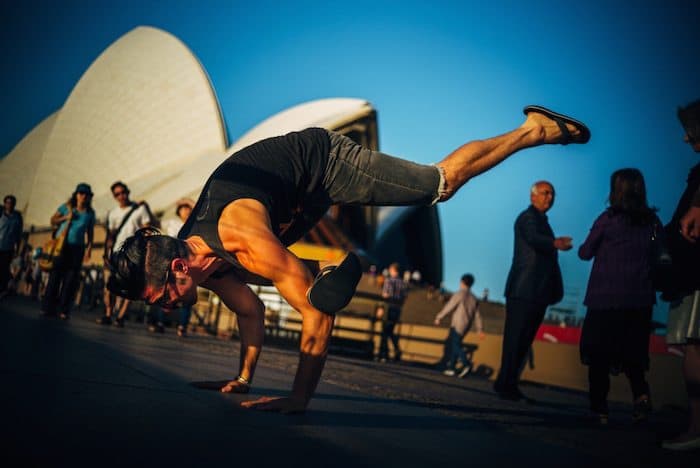 What are your honest thoughts on Ashtanga?
Garbage in, garbage out. It's a great practice if it works for your body, and an absolutely terrible one if it does not. While that's ultimately up to the student to figure that out, it often comes down to the teacher to understand their student's unique challenges and needs.
What's your advice for people considering teacher training?
Why do you want to become a teacher?
Are you just looking to deepen your understanding of the practice, or truly wish to help others deepen theirs?
Do you really believe the teacher leading the training– not just their personality inside the class, but in everyday life?
Are you looking to read a script or share your truth?
We all want to know – have you ever yodeled in class before?
Absolutely.
Okay, one last question, how long have you had that 'stache?
He's 6 years old.
Connect with Daniel Scott
Not all yogis are created equal.
Daniel
Scott is one of them. A yogi provocateur offering a fresh alternative to the traditional "yoga voice", his classes are a lively mix of balance, improv, strength and flexibility.
Daniel
focuses on moving into postures, not through them. A globally renowned ashtanga-vinyasa teacher and Certified Level 2 AcroYoga instructor, he enjoys barefoot running, street art, good coffee, large quantities, and great qualities.