I am always on the search for new music – especially for my yoga classes. I constantly update my yoga music playlist when I come across a new artist. Does anyone else spend hours clicking through related artists on Spotify?!
Proud to present my favorite yoga playlist to date!
Vinyasa yoga music playlist at a glance…
Yoga music playlist – 60 minute vinyasa flow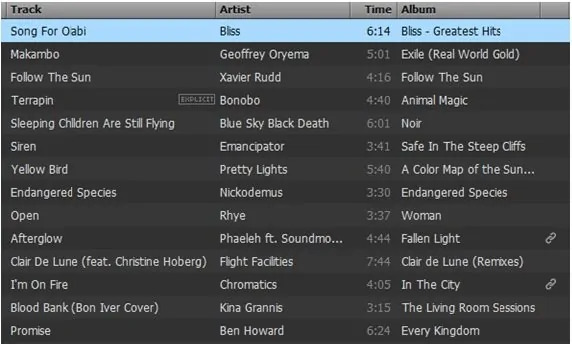 Song Breakdown: Vinyasa Class (60 minutes)
Songs are available to purchase via Amazon & stream through Spotify.
Bliss – Song for Oabi | Amazon | Spotify
Geoffrey Oryema – Makambo | Amazon | Spotify
Xavier Rudd – Follow The Sun | Amazon | Spotify
Bonobo – Terrapin | Amazon | Spotify
Blue Sky Black Death – Sleeping Children Are Still Flying | Amazon | Spotify
Emancipator – Siren | Amazon | Spotify
Pretty Lights – Yellow Bird | Amazon | Spotify
Nickodemus – Endangered Species | Amazon | Spotify
Rhye – Open | Amazon | Spotify
Phaeleh – Afterglow | Amazon | Spotify
Flight Facilities – Clair De Lune | Amazon | Spotify
Chromatics – I'm On Fire | Amazon | Spotify
Kina Grannis – Blood Bank (Bon Iver cover) | Amazon | Spotify
Ben Howard – Promise | Amazon | Spotify
This playlist is 1 hour and 8 minutes long. I like to have music playing just a few minutes before class begins, and let the savasana song go until after class is over. I tend to gravitate towards more instrumental than lyrical music for yoga, but usually do some combination of both. You'll rarely ever see a playlist of mine without Emancipator or Bonobo mixed in somewhere. Two of my all time favorite artists!

If you enjoy this type of music you would LOVE Envision Music Festival in Costa Rica!


How do I play music during yoga classes on the road?
While traveling, I play music on a lightweight portable bluetooth speaker. The speaker doubles as our every day music player. Great for tunes at the beach, staying focused while working, or to turn our room into party mode!
I also use my headphones often. I don't know if I could travel with out them! Perfect for long bus/train/plane rides, working on my laptop, or when I'm homesick! I've been using the same pair since 2011 and consider them the best pair of portable headphones under $100.
*For my full packing list, click here.
I'd love to hear your recommendations or suggestions for yoga music! Share below!
PS: here is my most up to date yoga playlist (January 2016)