Yoga teachers and business don't seem to mix at first glance. But if the mixture is in perfect balance, it can be the ultimate recipe for success.
If you are trying to make a living as a yoga instructor, or transitioning from a well paying job to teaching yoga… we feel your pain. It's not easy to create a sustainable business as a solo-preneur. And so often, yoga teachers don't have the necessary business acumen to even understand what's important to create their own brand and name in a saturated market.
Thankfully, here at The Yoga Nomads we are in the business of just that – closing the gap between yoga teachers and business. We allow the two to come together in a manageable way, so yoga teachers can create sustainable businesses.
So often, yoga teachers miss what they need to be doing the most, to get the most out of their careers and making an impact. In personal experience and working 1:1 with yoga teachers in our business, we've learned what they've done and haven't done, to reach their goals.
In this article, we will reveal what top mistakes new yoga teachers are making that get in the way of their success, so that you don't do the same.
1) Thinking Technology Is Scary (so you don't build a website)
It feels like the internet is ruling our lives. If you're not using the latest application, online tool, or aren't a part of social media, you can quickly feel isolated in this digital world. Yoga teachers who want to create sustainable businesses need to be online. But it can be overwhelming. Learning to understand how technology can help make your life easier, will help you get over fear. This comes with education and frankly, time. Start here
2) Not Thinking Like An Entrepreneur
Make no mistakes about it, if you teach yoga, you're an entrepreneur.
Although you may be an "employee" at a yoga studio… you're still an entrepreneur. You're responsible for marketing your classes, creating a positive experience for your students, keeping track of your expenses, marketing your services, building your own website, etc.
Now that we're clear on that…
Let's talk about the mindset differences between an "employee" and an "entrepreneur"
Employees get bored and feel stuck…. Entrepreneurs are constantly learning and evolving
Employees do as they're told… Entrepreneurs create their own destiny
Employees earn an income from a single source (yoga studio)…. Entrepreneurs diversify their income (privates, retreats, coaching, online, etc)
Employees complain about external circumstances… entrepreneurs realize THEY have power to change the outcome
Employees react… Entrepreneurs create plans for success
3) Forgetting To Identify Your Niche
Over 15,000 new yoga teachers become certified in the US alone. Discovering your niche is crucial to ensure you stand out from the crowd. Discovering what you're passionate about and who you're meant to serve will help you become a better teacher!
It can take some time to figure this one out, so be patient with yourself.
4) Not Being Authentically YOU!

This one hits home so hard. Being 100% authentically YOU is probably the #1 piece of "yoga teaching advice" I've ever received. And quite honestly, probably the best advice for just being a citizen of this world. If you're not you, who will be? Being yourself should come easy, but in a world where society tells you who to be, it can be easy to get lost in the clutter and distraction. Teacher training helps peel back the layers to reveal who has been there all along. It's an interesting process of self discovery and will look and feel different for everyone. Whatever it is you discover underneath it all, allow it to come to the surface and be seen. Use that as your differentiator when you learn your niche and start teaching. It can be so easy to mimic your favorite teachers at first, but slowly begin to shed their jargon and use your own. THAT will be the part of your style that will have your students returning time and time again.
5) Not Teaching Enough
Almost anyone can become a certified yoga teacher – you only need a mere 200-hours of training. With this "low barrier to entry" the market is full of a bunch of mediocre instructors. Those who teach frequent and consistently stand out and become great teachers. Practice pays off and every time you're up there guiding students through a yoga experience, you are practicing and learning too. The moment I transitioned from teaching 1 class per week to 4 classes per week, my confidence exploded and my teaching got so much better! The fear of teaching seemed to melt away. Don't have any regular classes? Start emailing yoga studios, companies, gyms, groups, hospitals, schools, etc. Even if you have to teach your spouse, brother, or friends… keep it up! It will pay off.
***Just getting started? Check out How To Prepare For An Audition!
6) Neglecting your Personal Practice
If there is one piece of advice that helps my teaching the most, it's maintaining my own personal practice. The weeks where I don't practice as much, my teaching suffers! Remaining a student and maintaining that beginner's mind is much easier when you can carve out time to explore the practice on your mat. Being guided by someone else helps keep you inspired and you can get ideas for postures, themes and even music. Exploring your personal practice at home can also be extremely beneficial. When you aren't listening to someone else's words, you're more easily able to tune into your body and how postures feel. Being able to teach from that understanding is so much more potent.
7) Not Marketing Yourself Enough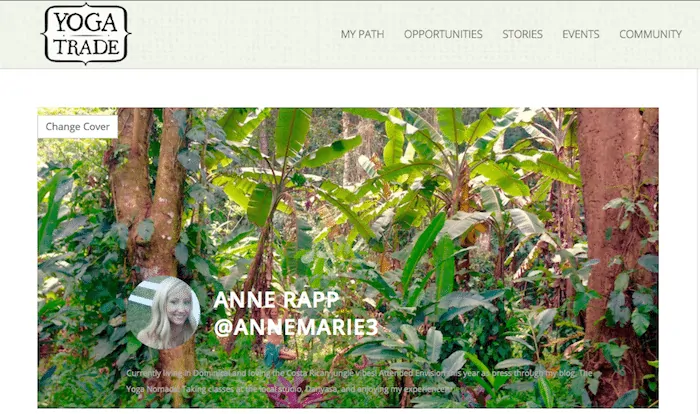 Marketing. Just one more thing to do when you begin teaching. It can seem like a daunting task, but self promotion and marketing is imperative to becoming a successful yoga teacher. If you don't take the time to market yourself, how will anyone know about you?
So now that you have overcome the technology hump and you understand how useful social media can be 🙂 it's time to start marketing yourself.
Quick and easy yoga marketing ideas:
Put together a beautiful yoga teacher resume
Interact with yogis on Instagram and Facebook (and build real relationships)
Create a workshop around your niche and offer it to your favorite studio
Build social media pages for your "business"
Join "yoga teaching jobs" social media groups and search for openings
Join YogaTrade.com – a great resource for finding yoga jobs abroad
Attend community events and network
8) Not Having a Yoga Business Plan
Okay, okay, we hear you. Not everything in life goes "as planned" and it's most often the most beautiful moments are the one's that are "unplanned." But we're not talking about your life plan, we're talking about your yoga business plan.
Failing to have a plan in place for your yoga business, will distract you from your end goal; whatever it is you're looking to ultimately create.
As entrepreneurs, we may constantly have new ideas and ways of doing things. Having a plan in place will help keep you focused, so that you can create a sustainable business while doing what you love.
Until next time,
Anne