I had the incredible opportunity to immerse myself in a 28-day, 200-hour yoga teacher training in Dominical, Costa Rica with Sofiah Thom and Serra Lynn Smick. It was an experience that transformed me from the inside out and what I've learned I will carry with me indefinitely.
I've been a practitioner for about 7 years, and 3 years ago I went through my first 200-hour training. During my first training, I experienced a major internal shift. So much so that it changed the trajectory of my life indefinitely. This experience of continual self-inquiry over the past several years has led me down a path of discovering my own truth and making big changes to reflect that discernment.
I've quit Corporate America and the life that society had deemed successful. I've gotten out of the box I never fit in to begin with and followed my gut while pursuing what brings life to my dreams. I have experienced some incredible highs and the inevitable lows, but this training furthermore solidified that I am exactly where I need to be. It gave me the tools to walk my path with confidence and I've never felt so empowered to do so, as I do now.
Below is a snapshot of what Body Wisdom Yoga School entails.
What is it?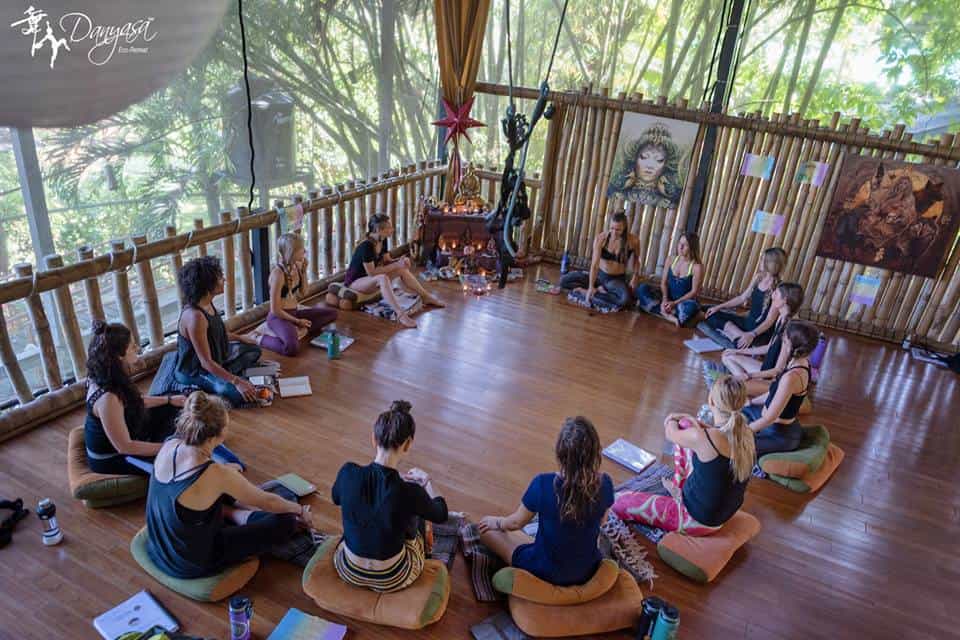 Body Wisdom Yoga School is a 200-hour yoga teacher training held at the beautiful Eco-Retreat center, Danyasa in Dominical, Costa Rica. For 28 days, women from all over the world gather together to learn about the ancient wisdom found not only in the practice of yoga, but of the physical body and many other related teachings.
Upon completion of the training, participants become "certified 200-hour yoga teachers" through the Yoga Alliance.
What makes it unique?
This training is for women only. In addition to teaching asanas based in Anusara, Hatha and Tantric yoga, there were also practices embedded in Shamanism, Goddess Embodiment, and free-form fluid movement woven throughout the course.
Sacred ceremonies and rituals were held multiple times per week which really enriched my experience.
General Daily Flow
28 days | 3 days off | 8a – 5p most days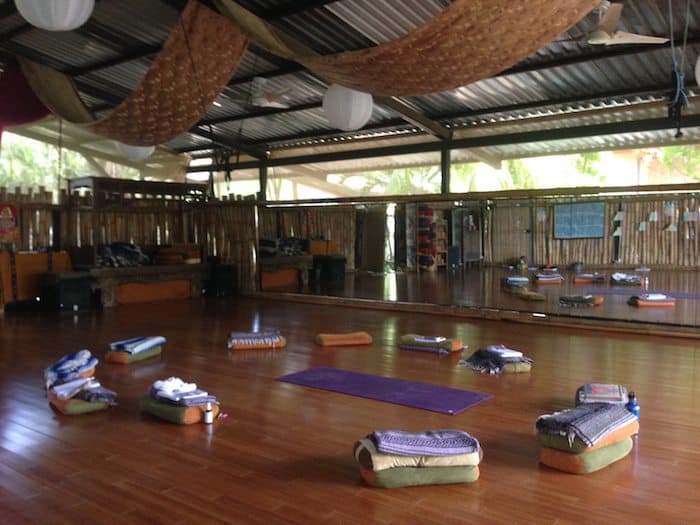 8:00-8:30a: 30 minute guided meditation
8:30-10:30a: Lecture and/or free form movement
10:30-12:00p: 90 minute asana practice
12:00-1:30p: Vegan lunch and free time
1:30-5/6:00p: Posture breakdown, practicum and lecture
*Evening ceremonies and sacred rituals included things like: Cacao Ceremony, Right of the Womb, Full Moon Ceremony, 5Rhythms Dance
My Experience
Week #1 (Integration)
9 women from all over the world came together to integrate personalities, stories and unique gifts as we began the intense journey of yoga teacher training. Wide-eyed and eager to learn, little did we know the awakening that lie ahead of us.
The first night, we were brought together to share a light meal as we got to know one another. Immediately following dinner we sat together for our first ceremony. We were guided to enter the dimly lit bamboo studio enclosed by screens in the jungle. Upon arrival, we sat in a circle and were drenched in smoke from sage.
One of our teachers, Serra, performed a Peruvian ritual with Mapacho, a sacred tobacco used extensively in healing practices and is considered a medicine. We found our first moments of unity throughout this opening ceremony and during our meditation and chanting that followed.
The days that filled that first week were full of yoga and the essence of it's all encompassing practice. We wasted no time and started learning how to teach within days of arriving. We engaged in lots of free form movement and dance between yoga class to help get us out of our minds and into our bodies. We integrated ourselves into the general flow that the training would take over the course of the next few weeks. And after just 6 days, it felt as if I had known these women my entire life…
Week #2 (Sun Salutations)
By the second week, our hearts were overflowing with gratitude for the experience and we were saluting our sisters for simply showing up. We had already started practice teaching in small groups with one another and were learning so much from lectures and posture breakdowns.
Fully immersed in our new daily routine, we were just beginning to crack open our body's wisdom and explore the layers of our minds through rigorous sun salutations and constant reflection. It didn't take long before we felt completely in sync in more ways than one. Naturally, as we flowed through the motions together, fatigue began to set in and the intensity of the schedule started taking a toll.
We took advantage of the little free time we had outside of the schedule and spent it together going to dinner, enjoying a beach sunset, or practice teaching. A few nights a week we would have a short reading or writing assignment. The readings were incredibly relevant and always flowed right into meditation or lecture beautifully.
Week #3 (Twists)
By week 3 the intensity was beginning to expand in ways we weren't anticipating. The experience was continually asking us to reflect, refine and dig deeper. It caused serious mental and physical exhaustion, in addition to some resistance among the group as we twisted our way inward uncovering the stagnant layers of our existence.
Uncomfortable stuff surfaced and being vulnerable and feeling exposed was the only way out. The sisterhood connection we created through these moments of vulnerability was invaluable. We continued to move through unexpected twists and turns together as we further intertwined our roots and hearts.
The end was in sight and we all were having mixed emotions leaving one another and re-entering the world with a new lens. We were enjoying the training and the incredible experience together thoroughly… we would continually say "can't this just be real life?"
Week #4 (Cool down)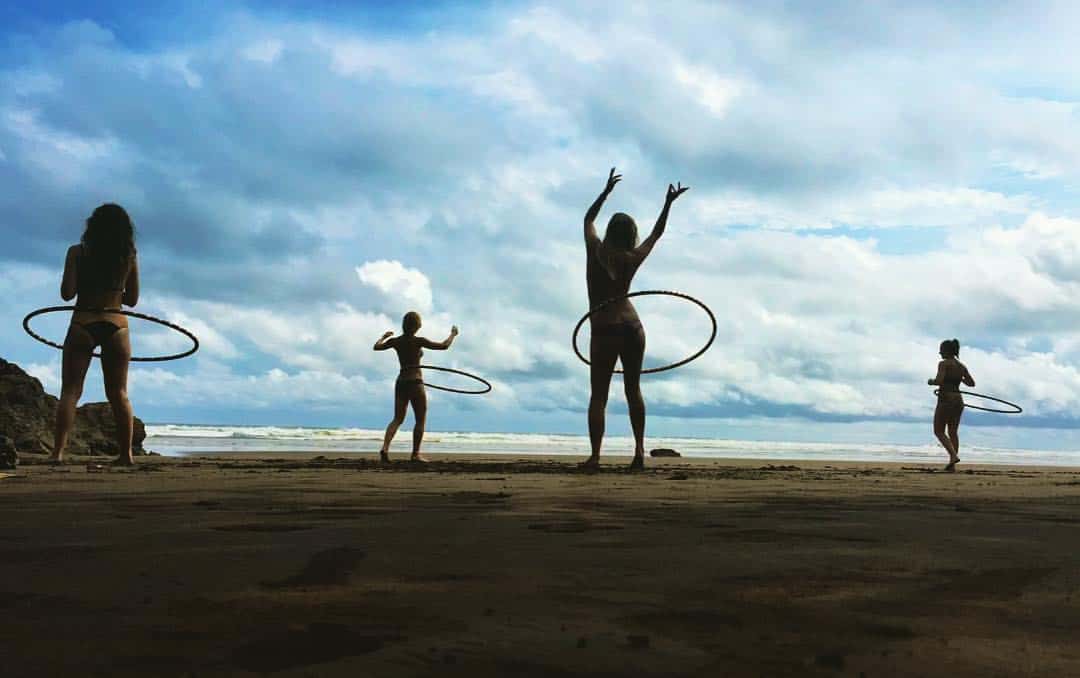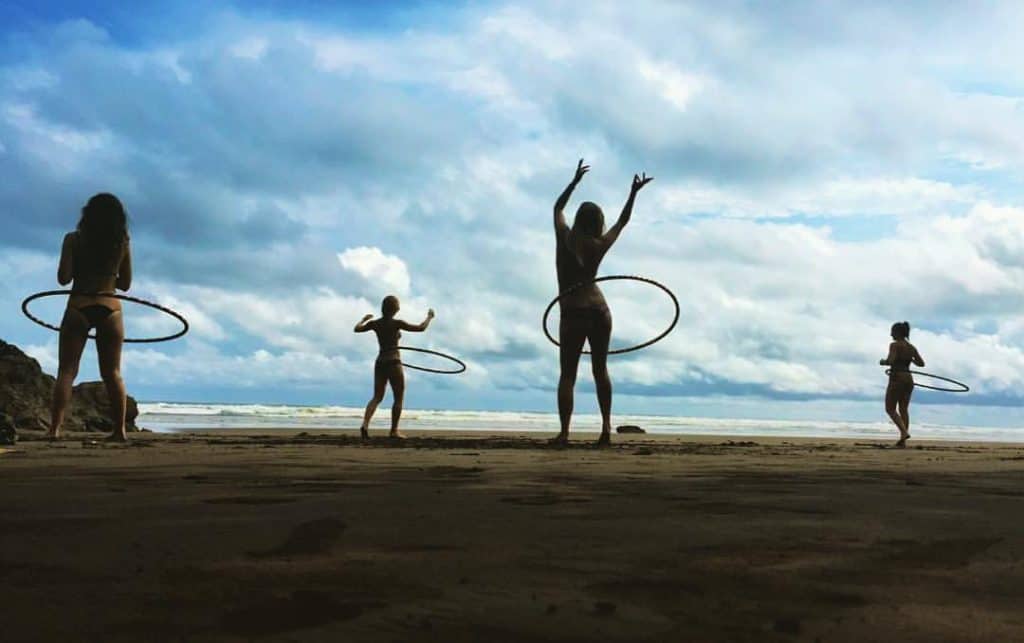 We got a few extra hours here and there during our last week to play in the sun and waves. The time away from classes was so welcomed. In a state of constant reflection and self inquiry, we needed space to sit with what we were discovering about ourselves, and figure out how to integrate it all into our daily lives. The intensity of the experience was still strong, yet as the end neared, the vibe felt a bit more relaxed.
We were given our final teaching practicum assignments and used up some of our free time to meet in our groups to organize our classes. Watching my fellow teacher trainers lead classes was one of the most fulfilling parts of the journey for me.
It was all coming together.
The last day of training we took part in a beautiful closing ceremony where we all dressed in white. We eye-gazed, participated in a receiving circle, sang, and danced. The jungle came fully alive in that moment as the rains came down strongly. Our time together was ending and it was so bittersweet!
After Training is complete (Savasana)
Training has ended but the journey has just begun. Walking away from such a profound, life-changing experience with new tools to walk confidently in the direction of my dreams is invaluable. I've never felt more empowered and accepting of the path I'm on in my entire life. I will continue to draw on these experiences throughout the course of my life, wherever it takes me, on and off the mat.
Embracing The Elements
What makes this teacher training unique is that it takes place quite literally IN the jungle. Luckily, it's only a short walk to the ocean too. The vitality of the jungle was very apparent in the day-to-day schedule because everything took place in the outdoor bamboo constructed studio that was enveloped in plants and trees of all kinds. Screens that hung loosely around the studio were all that separated us from the life outside.
The sounds of the insects and wildlife made up the soundtrack to the experience, but literally feeling them brought on an entirely different experience. We were consistently greeted by the mosquitoes and other critters which after a while, can really wear on a person's patience.
It's all part of the journey… is what we kept telling ourselves.
Being in an intensive teacher training is one thing. Add in a jungle in nearly 100% humidity during rainy (I mean, green) season, it's an entirely different story. Not to forget the traffic sounds from the street just outside the studio. Often times we'd pause our lectures because of the loud motorbikes or buses that would pass by outside.
But really, it's all part of the journey.
We learned a lot from the course work and lectures, rituals and ceremonies… but the moments between those landmark moments were also full of so many teachings. Whether it was practicing with Ruby (the studio cat) on your mat, constantly scratching your bug bites, walking through torrential downpours, or wondering when we could just get a blast of AC, embracing each element outside of the training was just as important as the training itself.
Favorite Moments
DANCING!
This experience was led by two yoga instructors who both have rich histories based in dance and free-form movement. Because a lot of the training was focused on uncovering and accessing the wisdom held in our physical bodies, dancing and movement was a large part of our experience. Most days we were dancing for at least an hour; whether we were embodying a Goddess, taking part in Ecstatic Dance, or moving through 5Rhythms, we were grooving and I loved it! It takes a lot of courage to get out of your mind and into your body, but we were given the confidence and tools to do it and I'm so thankful. Also, a hula hoop was an accessory we used often. 😉
CEREMONY
Cacao Ceremony, Full Moon Ceremony, Opening/Closing Ceremonies among others
Our training wouldn't have been complete without the ceremonies that took place. Sofiah and Serra did a tremendous job leading us into ceremony for various occasions. They are experts at holding space and the elements always seemed to fall into place beautifully. It enhanced the experience so much for me personally, as it added a touch to the magic that was already taking place.
SERRA'S VOICE
Serra has been singing in ceremonies (hence, her IG name, @serramony… get it?….) for 2 years. We were lucky enough to have her angelic voice melt us deeper into savasana every time she sang for us during yoga class. She also sang during some guided meditations and also ceremonies. It is something I will never forget!
EMBODYING GODDESSES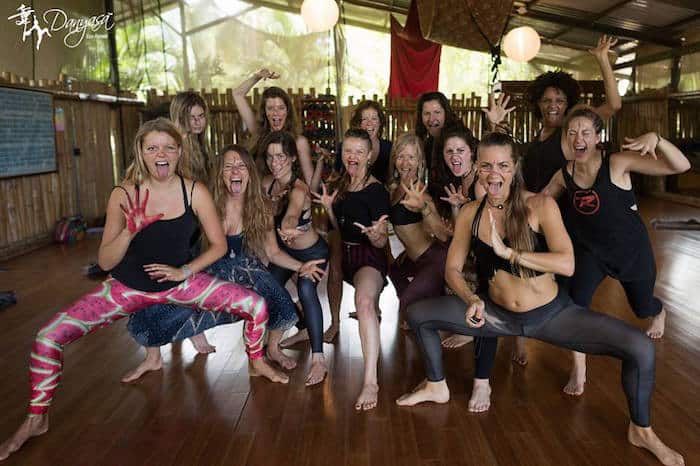 I mean, really…we embodied GODDESSES. You know, good old Lakshmi, Durga, Kali and the gang. 🙂 Sofiah led us through her "5 Fold Path to Embodying (these) Goddesses" and I've never experienced anything like it. We had meditations, dances, and activities all centered around the various Goddesses throughout the month.
It was an eye-opening experience that truly impacted me in ways I didn't think it would. We got out of our comfort zones and learned new ways of being in this world.
TREE PLANTING
As part of SEVA (service/karma) yoga, we planted trees with Community Carbon Trees. It was such a fun experience heading up the mountain to this incredible farm where we helped plant trees and learned all about other medicinal plants and herbs. It was a fun activity outside of yoga that got us to work together and give back to the community. We hope it helps offset our carbon footprint that we made to get to Costa Rica!
BRANDON'S LECTURE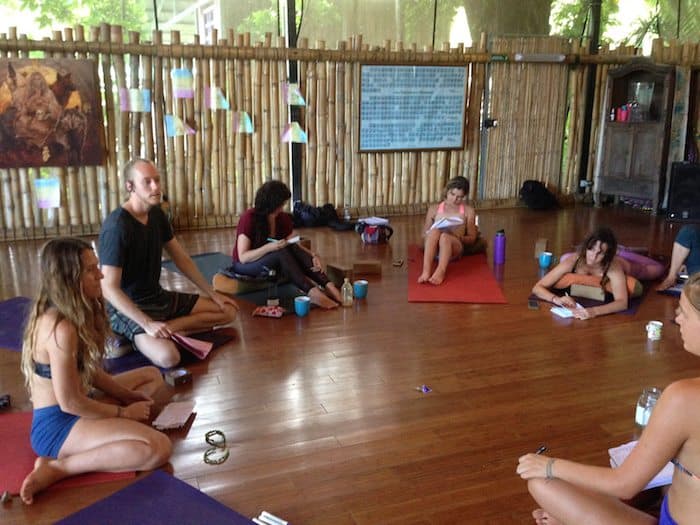 Our mission here at TheYogaNomads.com is to help yoga teachers transform their passion into a sustainable business.
My partner in life (and business), Brandon, ran a workshop on "The Business of Yoga" for our teacher training group. We learned how to succeed as yogi-entrepreneurs as well as some practical marketing strategies such as email marketing, social media, etc.
The workshop was well received by our group and it sparked a thoughtful discussion. After the workshop he emailed our group some free resources such as 5 Simple Online Marketing Strategies to Skyrocket Your Yoga Career and 100 yoga niche ideas.
HULA HOOPS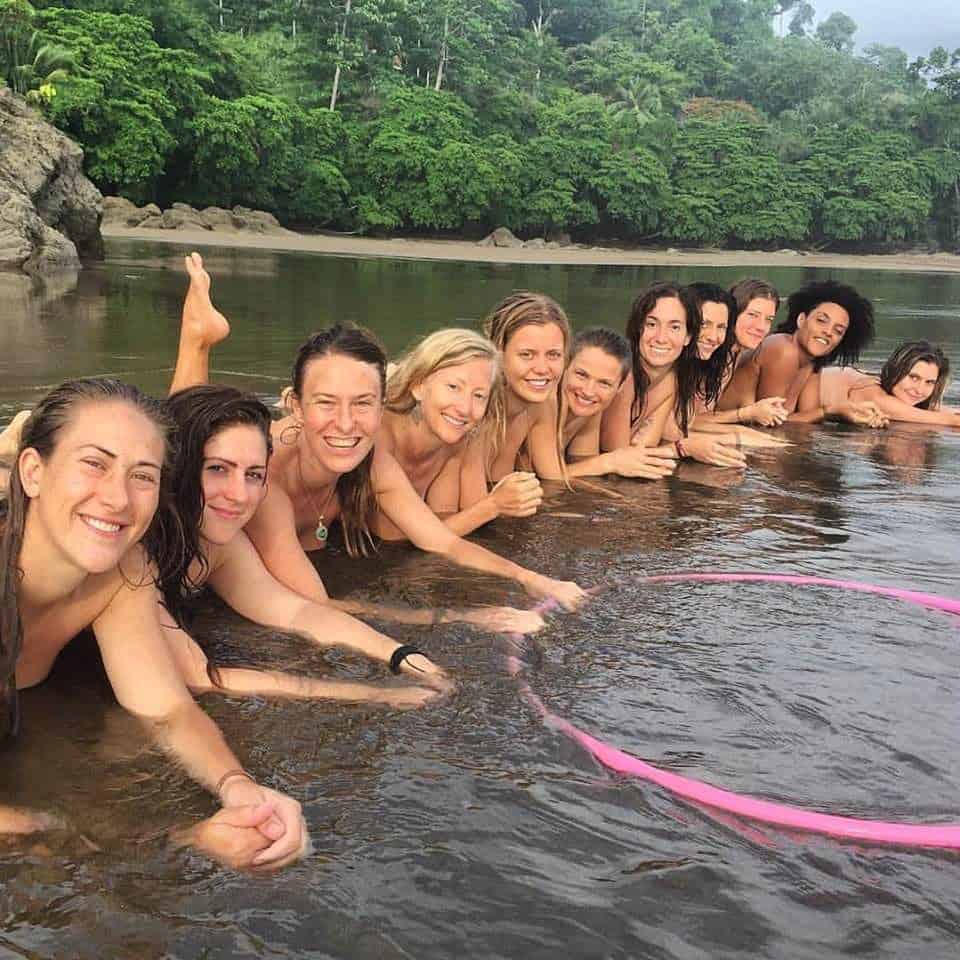 Okay the hoops weren't even part of training but it still contributed to my experience! I can't even begin to tell you how many mornings were spent free-styling with the hoops! Danyasa stashed a bunch of hula hoops in the bamboo studio and we all grabbed ahold of one and had so much fun with it. We took them to the beach and down the street, too. Many beautiful memories with a hoop in hand, or even as part of the classes we led.
Honorable Mention:
RUBY
The cat that hangs at Danyasa is named Ruby and she's quite friendly. So friendly in fact, she spent most of her days lounging on one of our mats or bolsters during lecture and/or class. And although she wasn't part of training either, she was definitely a part of our crew and made it known. It was great to have some snuggles every now and then. 🙂


Overall
It's difficult for me to find the words to explain this experience and everything I learned. This training was so much more than just learning how to become a yoga teacher. If you allow the practice to get inside the layers of your being, it can be utterly transformative in ways you can't even imagine. It has given me the tools to have the discernment to find and know my truth and feel confident in walking the path of my dreams.
If you are debating whether or not teacher training is for you, don't hesitate to sign up for this training. Both Sofiah and Serra are offering trainings and retreats this year and for years to come. Don't miss out!