I'm sure your inbox is getting blown up by black Friday specials just like ours is.
It's a good time to unsubscribe from the content that no longer serves us.
And it's also an opportunity to take advantage of some steep discounts on products/services that you want or need.
So, we decided to create a little "Cheat Sheet" listing only the discounts that relate specifically to yoga teachers and wellness professionals like you!
We personally use all the services listed below. Hopefully, you can take advantage of one or more of these deals 🙂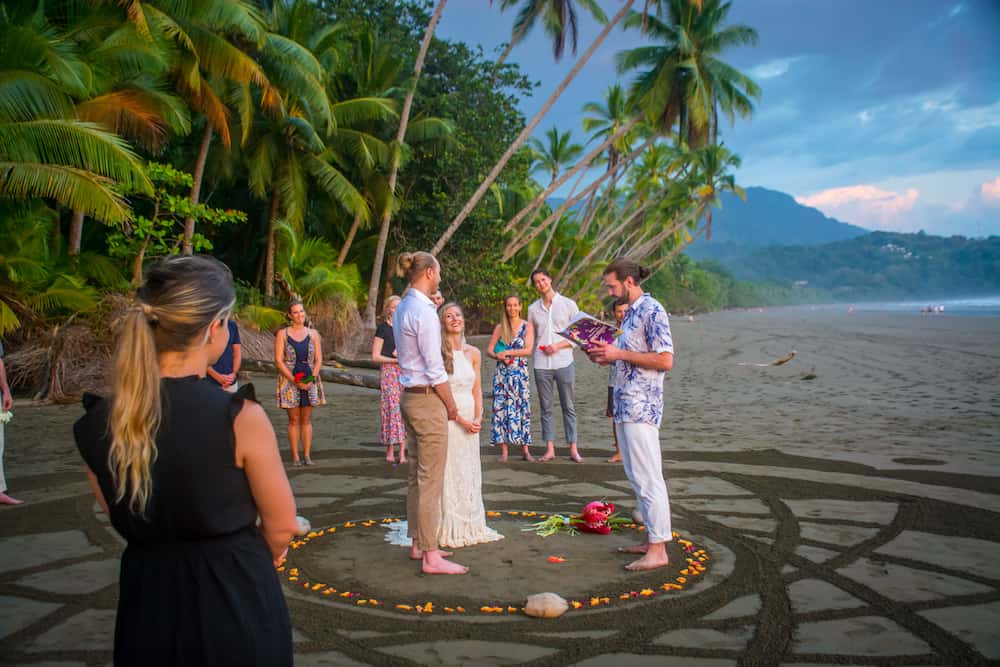 Photo: Anne and Brandon during their Costa Rica wedding ceremony, February 2020
1) Bluehost (Website Hosting) – 60% off
As a reminder, yoga teachers need their own website. Hosting is paying rent for your website on the internet. Luckily rent is cheap (around $5/month). We use and recommend Bluehost for anyone getting started with websites. They are easy to use, cost-effective, and their hosting comes with a FREE domain name (ie: www.YourWebsite.com).
The deal: This year they're offering an insane deal. 60% off hosting, domains, and more! This is their biggest sale of the year and if you're considering a website sometime in the next year, this is a no-brainer.
When: LIVE now and ends soon
Check out the Bluehost special here (60% off)
2) Elegant Themes (WordPress Theme) – 25% off
Our favorite WordPress theme is Divi by Elegant Themes. Divi is the tool that enables you to customize your website to look like pretty much anything. It's easy to use, makes beautiful websites, and it's very flexible to your needs. This is the same WordPress theme we teach inside our online course, Create Beautiful Yoga Websites.
The deal: They're offering 25% off new and existing memberships this weekend. They only offer sales like this during Black Friday weekend. This is their biggest sale of the year and if you're considering a website sometime in the next year, this is a no-brainer.
When: Technically November 27th, but they're offering a bunch of free giveaways leading up to that date. Recommend checking out their Black Friday sale page now to participate.
Check out the Elegant Themes (Divi) deal here (25% off)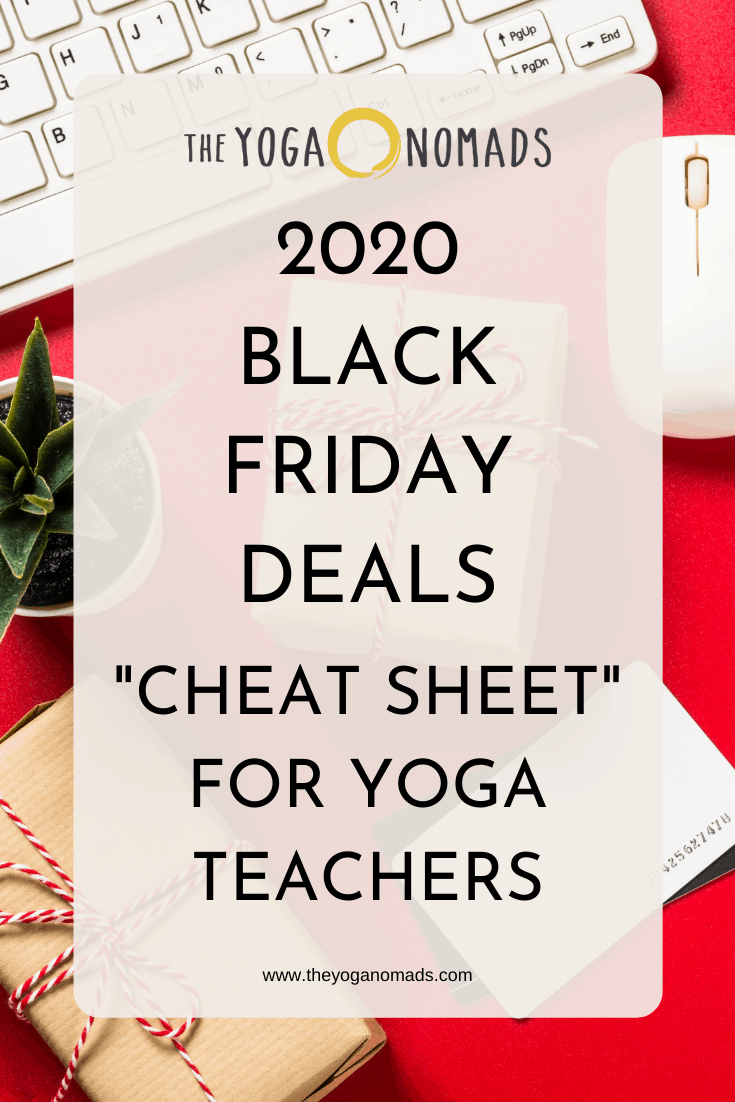 3) Create Beautiful Yoga Websites (Online Course) – 40% off
We're offering 40% off CBYW which is our online course helping yoga teachers build a website and learn online marketing specifically for the yoga/wellness industry. Black Friday is the only discount we offer on our signature course each year.
Pssst. We're also opening up x3 VIP mentorship spots to pair with the course. This means you get 1×1 access from Anne and Brandon for 3 months. We help you set up your business, website, and start marketing yourself! If this interests you, I recommend enrolling, they won't last long 🙂
The deal: Save 40% on our signature course (CBYW) during our only sale of the year
When: Starts Monday, November 25th and ends on Monday, December 2nd
Check out the Create Beautiful Yoga Websites deal here (40% off)
4) Protip: Save $425 if you picked up the "Yoga Entrepreneur" Bundle!
Alright so here's the deal. All three of these deals above go together. In fact, these 3 are ALL you need to get started with your new website! New site, new you 😉
The Bluehost deal (60% off) gets you a website domain name + hosting, the Elegant Themes (Divi) deal (25% off) gets you access to an amazing WordPress theme to ensure your site looks good, and our Create Beautiful Yoga Websites online course deal (40% off) teaches you how to set up your website and start marketing yourself 🙂
Normally this bundle would cost you about $900. However, if you get the bundle during the Black Friday sales it will only cost you about $475 for all 3 — this saves you about $425!
No pressure here, we just want you to understand how they all compliment each other and how much money you can save — shop smart!
5) Best Black Friday Deals on Amazon
Of course, we had to include some "Classic Black Friday" shopping deals. We scoured the interwebz for some things The Yoga Nomad community might like 🙂
Of course, there are tons of sales going on, but these are all products we LOVE and are on a huge discount.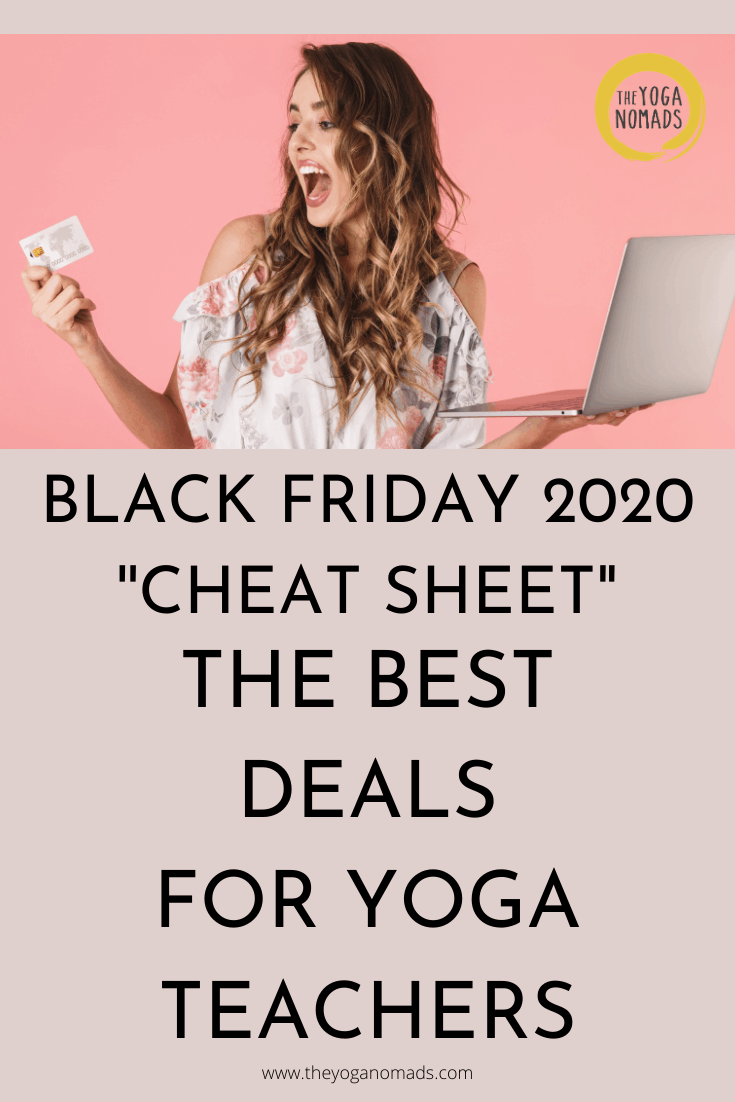 Lots of love,
Brandon + Anne
PS: If you're wondering if any of these deals are right for you, send us an email TheYogaNomads@gmail.com. We'll be available during Black Friday sales to answer any questions for you!