We love food. We really do. Adventurous eating has become one of our favorite aspects of long term travel. I'm really excited to share this food journey through Vietnam with you!
What's up with Vietnamese food?
Vietnamese dishes blew me away with how simple they were to create. Never using many ingredients or complex processes. And yet they are bursting with flavor and leave you feeling satisfied but not overly full.
Vietnamese food is central to daily life and always provides an adventure for the curious food traveler. The most interesting food was sold and consumed on the street at tiny "plastic chair restaurants." Patrons gather around the chef sitting on plastic chair no more than 12 inches off the ground. I frequently look like Shrek trying to sit on child's chair. A funny site with my knees poking up by my ears!
*We wrote a similar article on our favorite Sri Lankan Foods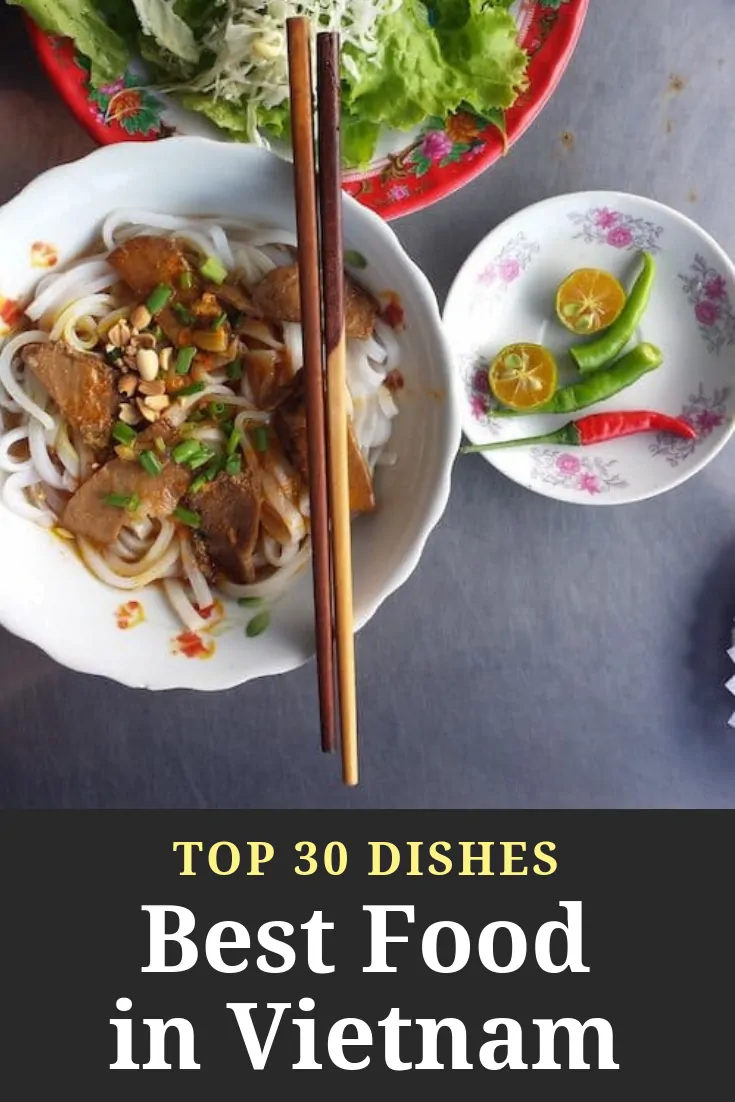 Pin me! 🙂
Our Vietnamese food journey
We would travel far and wide for the perfect Bun Cha Hanoi or the funkiest Bun Mam in Ho Chi Minh City (HCMC). We'd do research on our favorite food blogs: Migrationology and Legal Nomads before hitting the street. About half our meals were carefully selected gastronomic quests while the others were based on convenience.
We learned so much about Vietnamese culture through the lens of food. Locals were shocked to find us at their favorite spot to eat Com Ga and smile big when we told them we had Ban Beo for breakfast. For a culture that initially felt stern and nearly dishonest, food was our key to learning about the intricacies of Vietnamese life.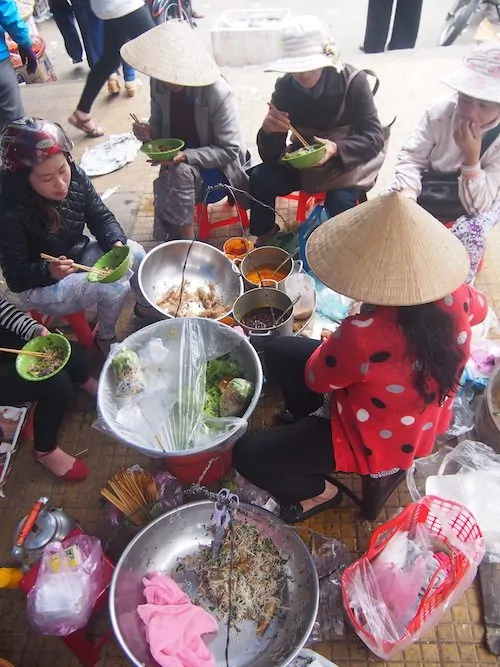 Below you will find a picture and description of 30 meals we ate in Vietnam.
we started our journey in Hanoi…
Day 1: Bún chả
Charcoal grilled meat patties, served with vermicelli rice noodles, spicy garlic fish sauce, and a heaping pile fresh herbs. The smokey meat oozes with flavor, locals say the correct charcoal grill is essential for the taste to be on point. However the combination of meat, noodles, fresh herbs, and fish sauce is what makes it so special. I had never heard of Bun Cha until coming to Vietnam. We were sick of the old city and wanted to get lost. So happy we did because we would have never found this Bun Cha sanctuary – there were more than 50 locals there eating a quick lunch at a sprawling fury of plastic tables and chairs, steaming hot meat, and fragrant herbs being shuttled around.
Day 2: Ca Phe Hanoi (Vietnamese coffee)
It's no secret the Vietnamese love coffee. After a few days in Hanoi (or Saigon) you could feel the coffee culture at every street corner. Vietnamese typically drink a very strong iced coffee with sweetened condensed milk. The coffee flavor is very strong and yet balanced and sweet due to the milk.
Day 3: Pho Bo (beef noodle soup)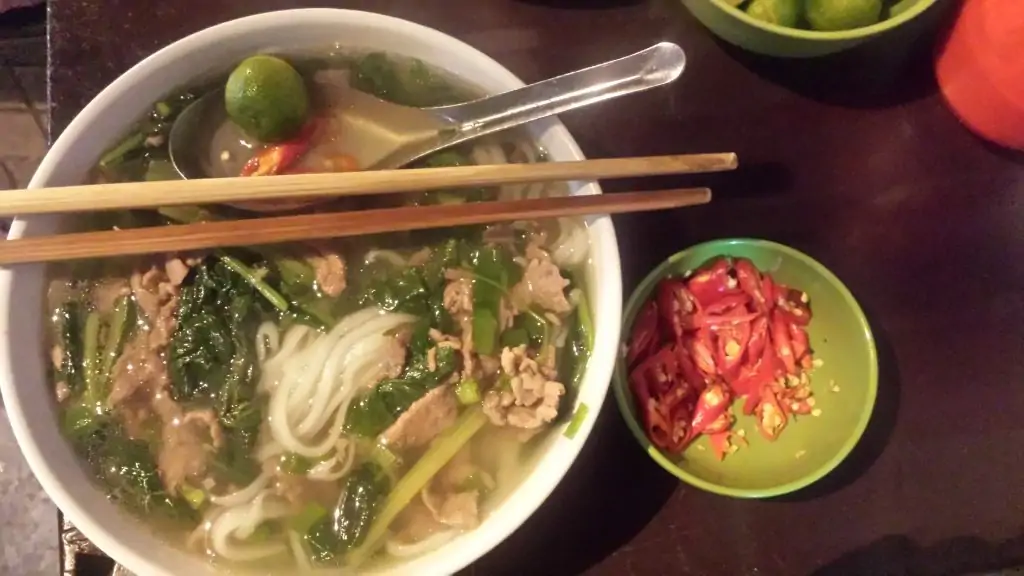 Of course we had to try the signature dish of Vietnam, Pho Bo. There is quite a controversy over who makes the best bowl of beef noodle soup. Although I enjoyed this bowl of Pho, I cannot say it deserves it's international recognition. Pho is good, but other Vietnamese soups are better. There I said it.
Day 4: Bun Rieu Cua (Tomato Crab soup)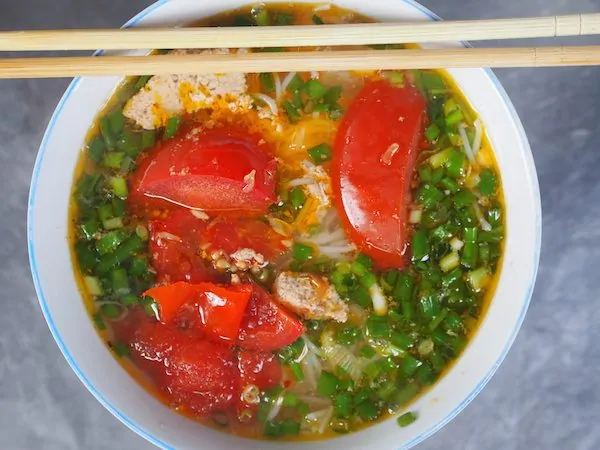 A light brothy noodle soup cooked with tomatoes, onions, and herbs. The key flavor is the hint of sweetness coming from the bits of crab floating around. Although not my favorite dish, I'm willing to try another in Saigon after hearing Mark Weins proclaim it's his favorite soup.
Day 5: Bánh cuốn (Summer rolls)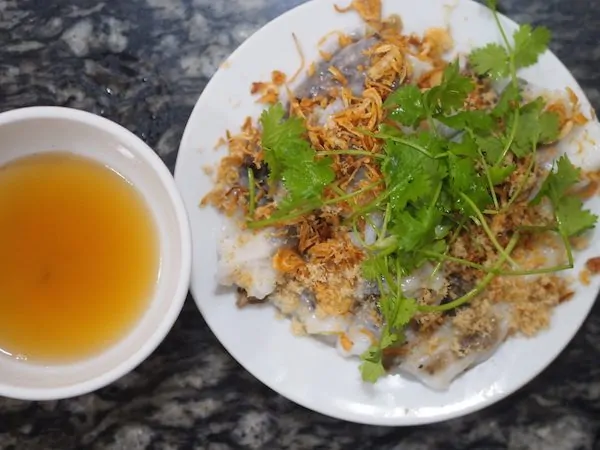 Famous in Hanoi, these summer rolls are made by starting with a batter resembling pancake batter. After being cooked on a hot grittle, you're served a very soft sloppy mess on your plate which you dip into a sweet fish sauce. Not easy for chopstick rookies like us! Taste and texture is very different than fresh spring rolls, fried egg rolls, etc. Our favorite flavor was pork and wood ear mushroom.
Enter your email address to receive our best content in your inbox. No spam, ever.

Day 6: BBQ pork ribs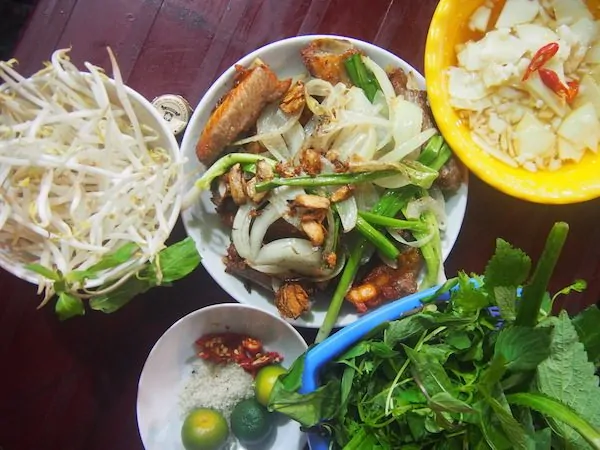 After smelling these grilled pork ribs on the street we felt compelled to sit down and give it a try. Like most Vietnamese dishes, the pork ribs are served with a side of herbs, bean sprouts, chili, lime, and a spicy fish sauce.
Then we spent a night aboard a ship in Ha Long Bay…
Day 7: Phở cuốn (Fresh Spring Rolls)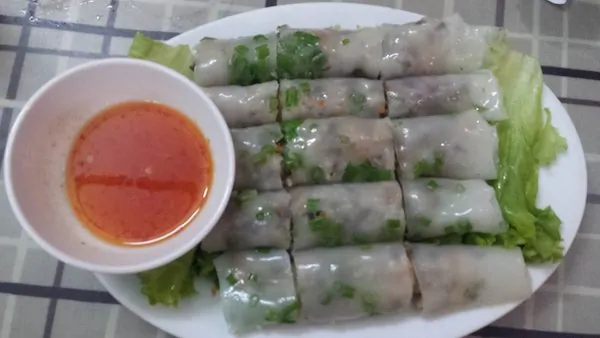 Aboard our Ha Long Bay cruise ship we took part in a brief cooking class where we learned how to make spring rolls. Very simple process and set of ingredients yet they are always delicious. Fresh herbs and a good dipping sauce are the key.
We arrived in Danang after a 12 hour train ride from Hanoi…
Day 8: Mì Quảng (Quang style noodles)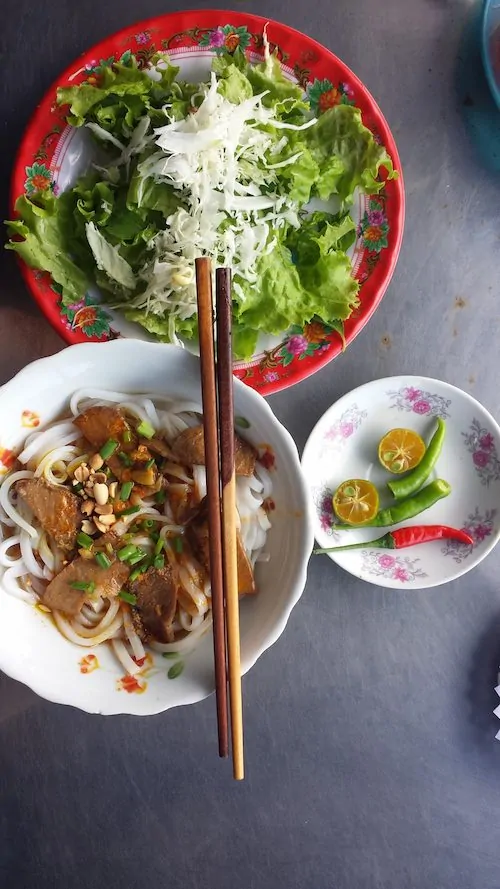 A shockingly elusive dish in Vietnam. Although it's originally from Central Vietnam it's now eaten all over the country in many different forms. It's served as a dry salad or served as a soup. Any type of protein, vegetables, and herbs are fair game. I enjoyed Mi Quang enough but the flavors didn't pop like several other noodle dishes (Bun Thi Nuong and Hun Bo Hue come to mind).
Day 9: Bánh Bèo (Water fern cake)
We enjoyed Ban Beo one morning for breakfast. A very simple Vietnamese dish that for some reason all the locals love. Steamed rice cakes topped with a savory tomato sauce.
Then we took a cab to the nearby Ancient city of Hoi An (one of the top 5 healthiest cities in Asia)
Day 10: Cau Lau
The quintessential dish in Hoi An. Noodles, sliced pork, local greens, and something crunchy. Locals call it a "mixing dish" because the staff brings you all the ingrediants and it's the customers job to mix everything together. The dish is unique because the special noodles are made from water taken out of secret well near town.
Day 11: Bánh căn
Fried crispy crunchy batter with a quail egg on top. Served with shaved young papaya, greens, sausage, and tons of fish sauce. These little street food snacks are delicious but clearly not good for you. Found all over central Vietnam.
Day 12: Com Ga (Chicken Rice)
A rare Vietnamese comfort food of shredded chicken served over a bed of rice, coriander, and a spicy sauce. Simple again, yet delicious. Although the Vietnamese have crafted their own version, most people agree this dish originated from Hainese China.
Day 13: Hột vịt lộn / Balut (Fertilized Duck Embryo)
It's fair to say eating 17-day old fertilized duck eggs is one weirdest things I've ever had. They're very popular in both Vietnam and in the Philippines. Typically enjoyed with spicy fish sauce and shaved green papaya. Nevermind the fact that you're eating beak, feathers, bones, and all. Ironically, Balut tastes somewhere between a chicken and an egg. We were lucky to meet Ly who is starting up a food tour business in Hoi An. If you're in Hoi An – don't hesitate to contact Ly – she's amazing!
Day 14: Bún Thịt nướng Hoi An (Grilled Meat noodle)
Found all over Vietnam, Bún Thịt nướng is a crowd pleaser. You buy meat by the skewer and it comes with wet rice noodle, dry rice paper, herbs, cucumber, and a spicy peanuty dipping sauce. It takes some skill to eat them properly – first rolling the meat in a wet rice noodle, then adding greens and cucumber before wrapping everything in a dry rice paper. Finally you dip your hand creation into some awesome sauce and enjoy.
After Hoi An, we took another train South to the beachside Nha Trang

Day 15: Local coconut ice cream dessert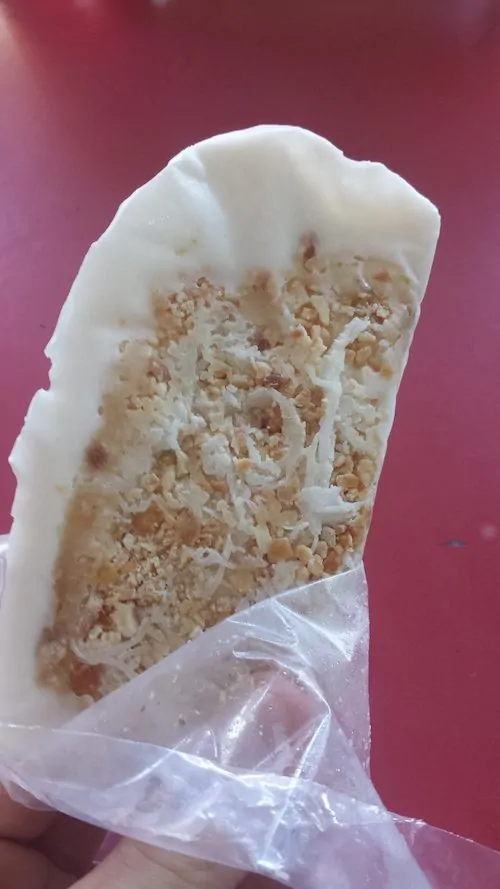 Hands down my favorite dessert in Vietnam. We ate this beauty at a tiny juice stand next to the main market. Fresh shaved coconut, peanuts, and homemade ice cream. So creamy, so good.
Day 16: Durian
Known as the king of fruits. Beneath the hard spiked exterior lies a gorgeous custard filling shaped like an oversized caterpillar. The smell can be quite pungent however a good durian often tasted like a sweet mix of caramel, butter, custard with a slightly funky/sour finish.
I've come to adore this stinky fruit. Anne might even say I'm obsessed with Durian, which is accurate. Durian is not as popular in Vietnam as it is in Thailand, Malaysia, or Singapore however it's still widely available during the growing season.
*For more Durian Goodness, check out The Year of Durian – a blog dedicated to the stinky king of fruits!
Day 17: Mangosteen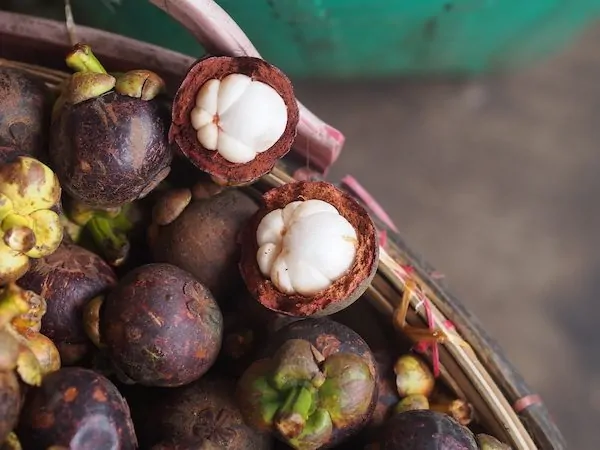 The Queen of fruits. Most similar to a kiwi in both texture and flavor. It's said they are great compliments to the mighty Durian.
After a few days in the sun, we were ready for cooler climates in Dalat…
Dalat is famous for Canyoning (repelling down waterfalls). We spent an action packed day canyoning as part of a sponsorship from one of our loyal readers.
Day 18: Gỏi Bắp Chuối (Banana flower Salad)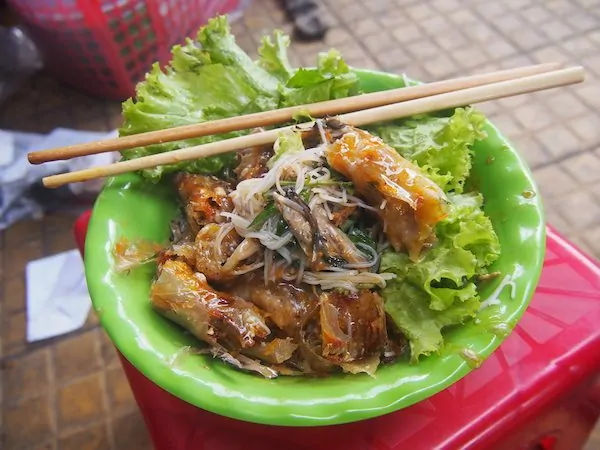 The big purple/white banana flower is carefully cooked and prepared in a salad with mixed greens, herbs, and various vegetables. The dish often contains fried spring rolls on top for a nice crunchy texture. When cooked, banana flower resembles oyster mushrooms in consistency and flavor which gives the salad a nice earthy taste which I LOVE.
"like" The Yoga Nomads on Facebook to stay connected!
Day 19: Fruit & shaved ice dessert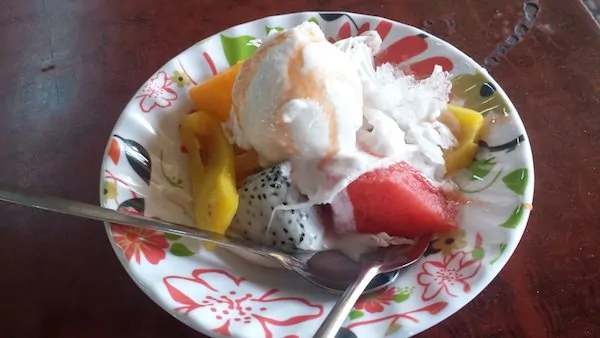 If you're looking for a light and delicious dessert this baby is perfect for you. Similar to Baobing in China, various fruits cut up and served with shaved ice and coconut ice cream. Not too sweet and relatively healthy as far as desserts are concerned.
After cooling off in Dalat, it was time to get deep in the food culture in Saigon…
Saigon is my favorite place in Vietnam to EAT. We spent 10 days there feel in love with the café culture, very progressive locals, beautiful parks, and roughly 197 billion motorbikes.
*If you're ever hungry in Saigon, check out Jodi from Legal Nomad's guide to Saigon Street Food. We took many of her recommendations and were blown away.
Day 20: Bun Thit Nuong Cha Gao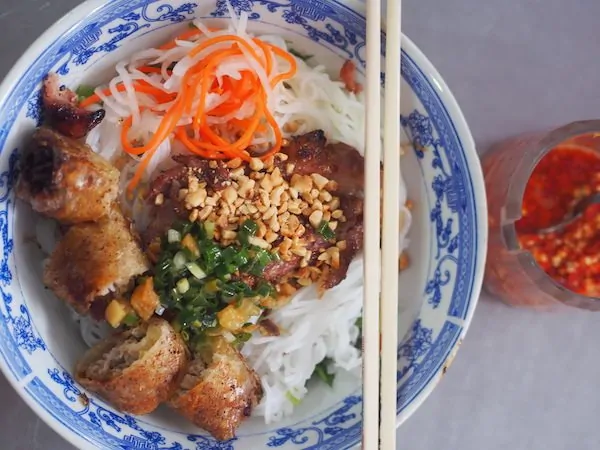 The holy grail of Vietnamese food. Grilled pork mixed into a vermicelli noodle salad with peanuts, shaved papaya, herbs, fish sauce and topped with lightly fried spring roll. We took Jodi from Legal nomads recommendation for Bun Thit Nuong Cha Gao at Chi Thong in District 1. Do not miss this if you're ever in Saigon.
Check out Mark Weins devouring Bun Thit Nuong during his recent trip to Saigon.
Day 21: Bun Mam
Mixed seafood in a fermented fish sauce soup. Before you start running from "fermented fish sauce", know the flavor is complex blend of sour and sweet with only a slight fishy taste. Another recommendation from Legal Nomads. Not very popular with tourists however I surprised the restaurant owner by finishing every last drop. Turns out this is my favorite soup of all time!
Day 22: Bun Bo Hue
Rich citrusy broth based noodle soup packed with sliced beef, onion, and of course a heaping pile of herbs. Seems like Vietnamese people much prefer Bun Bo Hue over the western favorite, Pho. Originally from Hue in central Vietnam – although now it's served almost everywhere. Like most dishes in Vietnam, the flavors very slightly by the region.
Day 23: Pho Bo (Beef noodle soup…. again)
Of course we had to try Pho Saigon! Seems like Pho in the south (HCMC) is a little sweeter compared to Pho in the North (Hanoi)
Day 24: Canh chua (sour soup)
The Vietnamese answer to Thailand's Tom Yum (Hot and sour) soup. This addicting sour soup, originally hails from the Mekong Delta region of southern Vietnam. Crunchy local vegetables mixed into a very light and crisp sour broth. We enjoyed this for lunch in a 4-story restaurant jam packed with locals. Not an English word was exchanged, however our soup bowls were bone dry by the time we left.
Day 25: Bitter Melon and beef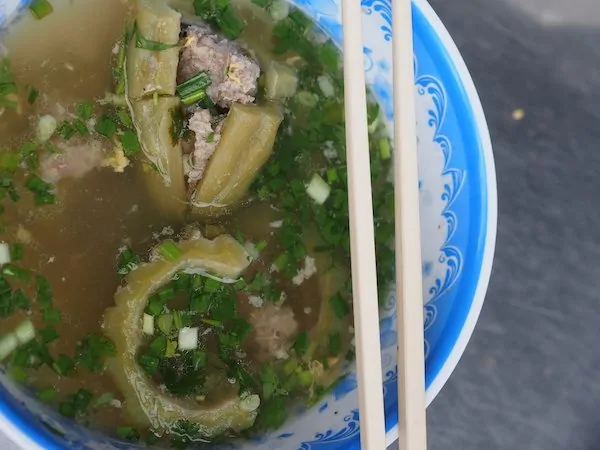 If by now you're wondering if I enjoy sour foods – you would be correct. This dish is focused on the extremely sour bitter melon stuffed with ground beef and cooked for an extended period of time. Due to the lengthy cooking process the bitter melon isn't as bitter as you might think. Not my favorite meal in Vietnam but worth the $1.50 USD spent.
Day 26: Bánh Tráng Trộn (Mixed Rice paper salad)

Probably the cheapest and most readily available street food in Saigon. Made of sliced rice paper and various veggies, sauces, and herbs. We saw locals eating this dish constantly however I didn't love it. Luckily it generally cost less than $.75 USD.
Day 27: Lemongrass Mussel soup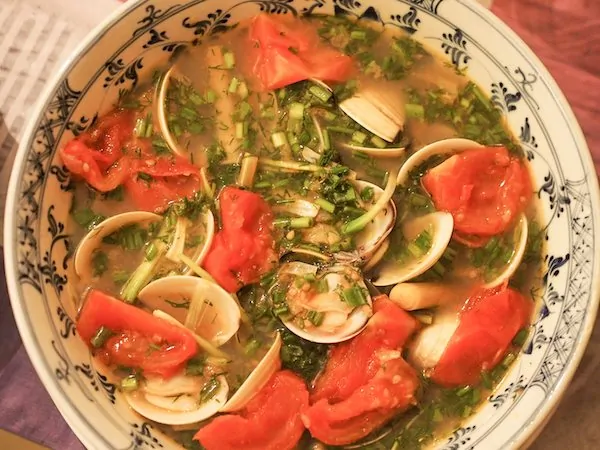 A light lemongrass broth filled with onion, tomato, herbs, and delicious mussels. Delicate flavors with a very crisp citrus finish. Some of my favorite mussels I've ever had.
Day 28: Sand worm patty with dill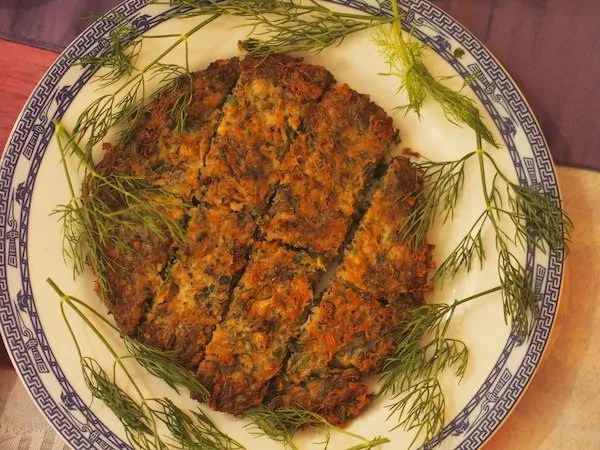 Don't let the sand worms scare you, this Vietnamese delicacy has a very agreeable flavor and consistency. The worms can only be harvested during a specific time period each year when the worms leave the mud at the bottom of the river and are easy to catch. We enjoyed these as part of a Withlocals meal cooked by the amazing chef Tuan who also owns Tuan Tu Restaurant in District 1.
Day 29: Dragon beans and beef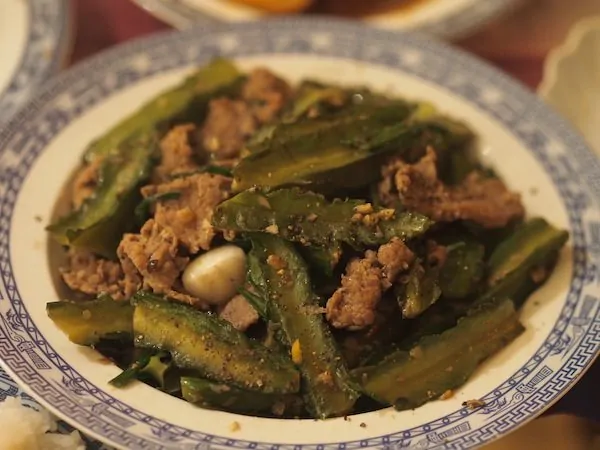 Tasty dish of soft spicy beef mixed in with the big crunchy beans. They're called dragon beans because it resembles the tail of a dragon.
Day 30: Cassava Salad
Zesty peanuty salad with Cassava (root vegetable), veggies, and mint. I enjoyed using the rice crackers and scooping vessels. Typical move for this guy.
Did you enjoy this article? Pin me! 🙂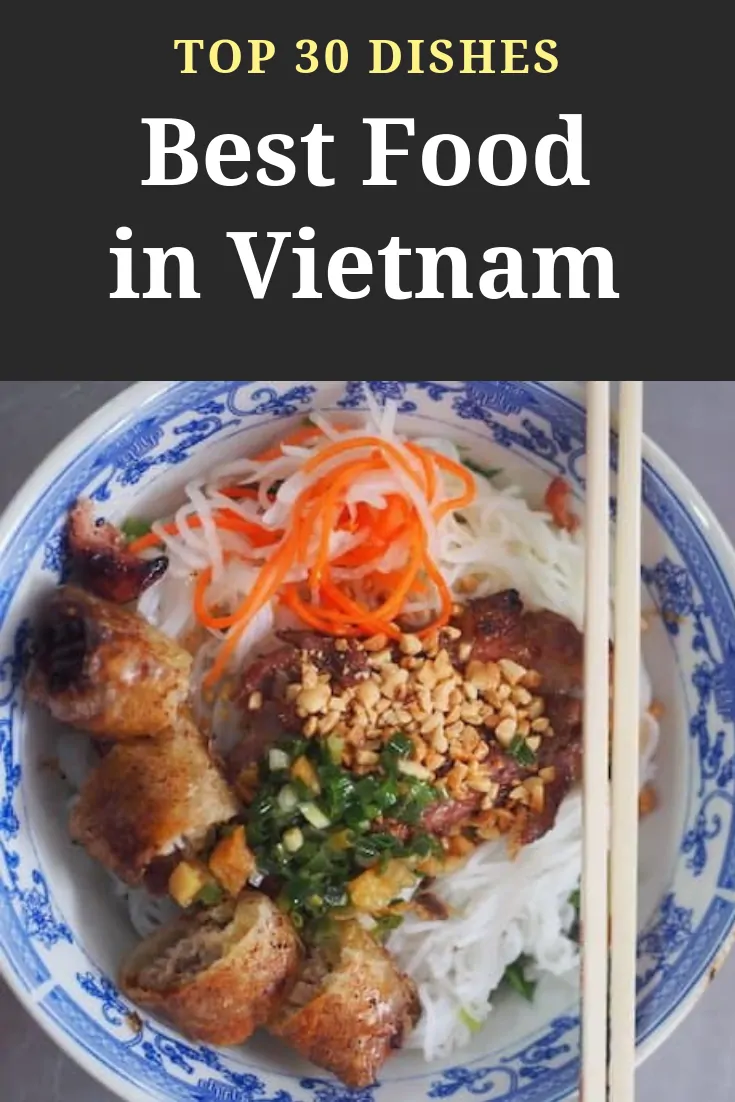 Your turn… tell me what's your favorite Vietnamese dish?