Think you need a business degree to be successful in the business of yoga? Think again.
It's so exciting to me that knowledge that was difficult to access even 20 years ago is now so freely available on the internet, including in incredible formats like podcasts.
This article is dedicated to sharing some of the best yoga podcasts to help you grow your yoga business. I absolutely love podcasts as a medium, so I'm excited to share this list with you!
There are lots of great resources on The Yoga Nomads site to help you grow your yoga business as well:
Scroll down to look through some of the best business of yoga podcasts out there.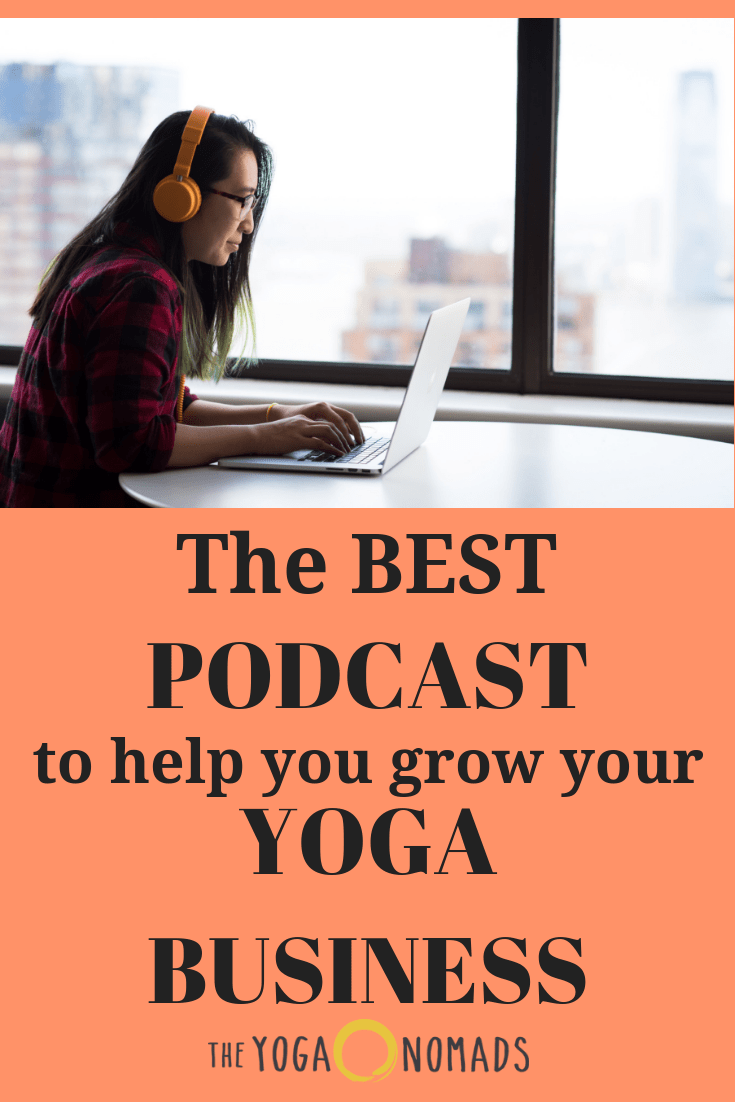 Pin me first? Then keep reading! 
M.B.Om Podcast | Mastering the Business of Yoga
This show hosted by yoga teacher Amanda Kingsmith is intended to help you create a successful career in yoga, especially if you're a new yoga teacher who doesn't know where to start.
Amanda interviews full time yoga teachers, studio owners, yogis who train teachers, teachers with online businesses, and more to share the business lessons they've learned throughout their careers.
Favorite episodes: Building Great Relationships with Yoga Teachers and Studio Owners (August 5th) and Mark Walsh on Marketing, Money, & Embodying Yoga (August 19th)
The Business of Yoga by Yoga Journal
The Business of Yoga podcast shares the best tips on business, marketing, leadership, motivation, and social media to help you build a thriving yoga business.
Hosts Justin and Karen cover key topics like defining your ideal client, how GDPR affects your yoga business, time management, branding, building community, and how to make more money.
Favorite episodes: How to: Make Money Outside of the Studio (May 31, 2015), Social Media with Sianna Sherman (January 19, 2018), and Heart-centered Sales with David Brownlee (April 26, 2018).
The Angie Lee Show
Okay, this isn't specifically for yoga businesses but it will definitely help you with your yoga business! Host Angie Lee covers a variety of topics from selling to upgrading your relationship with money.
Favorite episodes: Sales chat with the sales sisters, Angie + Rachel Luna (July 20th, 2018), How to build a loyal following on social media (July 21, 2018), and Monetizing YouTube, upgrading your money mindset, raising prices, feeling confident on sales calls (July 6th, 2018)
Love Teaching Yoga podcast
Love Teaching Yoga is the continuing education you didn't know you needed to help you maximize your talent and make a bigger impact in the world. Host Michelle offers actionable steps, reliable insight, and time-saving resources to help you refine your teaching skills and build a sustainable career in yoga.
Favorite episodes: 059: From YTT to Sold Out Retreat in 8 Months w/ Maite Issa, 033: 7 Ways to Earn More Money Teaching Yoga, 056: Creating Online Yoga Courses with Eileen McGurty, and 058: Philosophy, Business, & Money w/ Amy McDonald
Being Boss podcast
Okay, this isn't a yoga podcast– but it is a business podcast for creative entrepreneurs hosted by two incredibly smart entrepreneurs. In this show, Emily Thompson and Kathleen Shannon bring a little woo to business and cover topics including mindset, boundaries, values, collaboration, and more.
Favorite episodes: #96 – Tarot in Business with Brigit Esselmont of Biddy Tarot, #186 – Digital Boundaries, and Minisode — How to Consistently Pay Yourself (February 1st, 2018).
Abundant Yoga Teacher podcast
In the Abundant Yoga Teacher podcast, host Amy McDonald shares conversations for yoga teachers and holistic practitioners looking to create an abundant business without feeling fake, pushy, or 'salesy.'
Favorite episodes: Simple Joint Ventures for Attracting New Students (August 8, 2018), How to Maintain Motivation in Your Yoga Biz (July 18, 2018), and The Eight Elements to Grow Your Yoga Biz (June 27, 2018)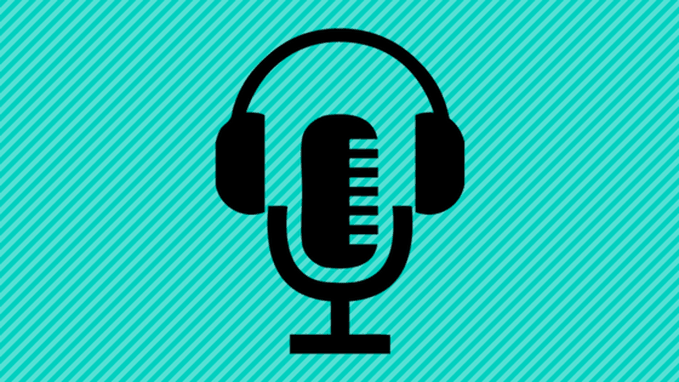 The Mentor Sessions | Support and Strategy
In this podcast, full-time yoga teacher and yoga teacher's mentor Francesca Cervero offers support to help you feel more confident in your teaching and realistic strategy to help you find more clarity on your career path. This podcast is less about business and more about helping you become a better teacher (which will help you do better in business, hence I'm including it here!).
Favorite episodes: 22: 7 Ways to Be A More Confident Yoga Teacher, 23: The Support/Challenge Matrix of Private Yoga Lessons, and 16: Creating Truly Inclusive Yoga Spaces with Guest Teacher Amber Karnes
The Smart Yoga Teacher podcast
In The Smart Yoga Teacher podcast, Melissa Leger interviews yoga teachers, studio owners, consultants, and other yoga pros to talk the business of yoga. This show isn't making new episodes anymore but the archives have some gems that you should definitely listen to.  
Favorite episodes: 15: Crazy Sexy Taxes with Rachel Fisch, 14: Branding Basics for Yoga Pros with Danielle Joseph, and 11: Yoga Studio Revenue and Challenges with Michael Sheridan
The Connected Yoga Teacher podcast
This podcast is intended to close the gap many students feel after leaving their yoga teacher training. Most yoga teacher trainings don't cover much (or any) of the business of yoga, leaving students feeling confused about where to go and what to do after their training. The Connected Yoga Teacher podcast covers topics like online yoga studios, designing yoga teacher trainings, marketing for yoga businesses, and more.
Favorite episodes: 65: Create Your Ideal Yoga Schedule with Shannon Crow and Secrets of Successful Full-Time Yoga Teachers with Ashley Zuberi (May 6th)
Bonus Episodes
There are lots of incredible podcasts focused on the business of yoga. But I've also come across many amazing podcast episodes on non-yoga focused podcasts that can help you in your business, and I've put them together for you in this list:
What other business of yoga podcasts and episodes would you recommend? Comment below and share!
PS: Did you enjoy this article? Pin me!