As a Minnesota native with several years of dedicated craft beer drinking, I came up with my top 5 hometown beers. Not an easy task, with 74 breweries in the state – but hey, what a great problem to have.
To note: There are no NASCAR beers here and I'm not following the trend of "the hoppier the better." I love hops but I'm pretty annoyed with the pissing contest of who can make the hoppiest beers. Besides, balanced beers are much more difficult to make.
Surly – Coffee Bender (American Brown Ale) |  5.10% ABV
Since coffee and beer are my two favorite beverages this treat rains as one of my favorite beers of all time. Made with real coffee beans (Guatemalan Finca Vista Hermosa) and roasted by Minnesota's very own Coffee & Tea Ltd.
Where to get it: Hard to find on tap but it is available at some of the more adept gastro-pubs / liquor stores across the metro. Worst case scenario, The Four Firkins will have it for you.
Best enjoyed:  Next time you're at your favorite brunch spot, skip the Bloody Mary (and church) and try this on. Or make it your first beer of the day while tailgating.
Fulton – Sweet Child of Vine (IPA) | 6.4% ABV
Hop snobs will say this is lacking the bitter bite of a typical IPA, and they would be correct. The toffee malt comes in strong as well as a hint of pine and citrus. Overall, a well-balanced and VERY drinkable IPA that could easily pass for an EPA.
Where to get it: On tap all over the metro as well as at most decent liquor stores.
Best enjoyed: On Fulton's sunny patio right before heading to Target Field for a Minnesota Twins game. Keep your eyes out for the food truck found onsite.
Dangerous Man – Coconut Milk Stout (Stout) | 5.5% ABV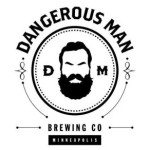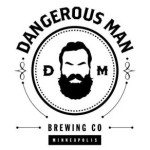 I love stouts and I love coconut. The beer gods smiled on me when they pumped out this little beauty. Made by combing their popular Chocolate Mile Stout with 35lbs of roasted coconut. There are definitely more full-flavored stouts out there (I'm looking at you, Buffalo Sweat by Tallgrass) but Dangerous Man crafted a unique stout with a very light and silky finish that keeps me coming back in for more!
Where to get it: ONLY found at Dangerous Man tap room. Get their early, it often fills up.
Best enjoyed: Rent a Nice Ride  bike and create your own NE Minneapolis pub crawl. Plan to hit 612 Brewing and Indeed Brewing as well – all 3 within a mile of each other. Don't miss Indeed's Daytripper (American Pale Ale).
Steel Toe – Size 7 (IPA) | 7.0% ABV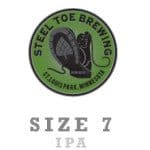 This IPA is the hoppiest beer on the list and definitely not for the faint of heart. Tropical fruit and pine flavors are noticed first with a long lasting bitter finish. Generously hopped and yet still manages to be relatively drinkable. Hands down favorite IPA made in Minnesota. Sorry, Surly Furious.
Where to get it: Check your favorite gastro-pubs if you want it on tap, otherwise for sure The Four Firkins sells 22oz bombers.
Best enjoyed: Crack a 22oz bomber after a Tuesday night workout. Take your time and wind down with a good book and this full flavored champion.
Summit – Extra Pale Ale (English Pale ale) | 5.30% ABV
Not much needs to be said about this award winning Pale Ale. If you live in Minnesota there is a 92% chance you have at least 1 in your fridge. Ok I made that up, but I bet as many Minnesotans are familiar. Moderately hopped but well balanced with a nutty caramel malt. My first 'craft beer' and has been a staple ever since.
Where to get it: Almost everywhere beer is sold in the Twin Cities metro.
Best enjoyed: Any time you get talked into going to a bar/restaurant without a good beer list. You can always count on EPA on tap.
Honorable mentions:
Brau Brothers – Moo Joos milk stout
Indeed – Daytripper
Surly – Furious
Final Thoughts:
I had a hard time creating this list and went back and forth many times. I ended up with these 5 hometown favorites because they were the ones I keep drinking with no end in sight.
PS: Here are my top restaurants in the Minneapolis Skyway!
What are your favorite hometown beers?
Brandon
PPS: Enter your first name and email address to gain instant access to our newsletter program!