What is Vasundhara Sarovar Premiere?
Vasundhara Sarovar Premiere is a 5 star resort in southern India. The resort is in the state of Kerala, about 60 km from the Nedumbassery International Airport in Cochin and only 6 km from the Cherthala railway station. Getting there is pretty simple.
60 rooms available ranging from an upscale hotel room, to a floating villa, to a modified traditional Indian home called the "Heritage room." Each room has a flat screen TV, mini bar, wi-fi, desk, full bathroom, and an outrageously comfortable bed.
Onsite you will find a swimming pool, ayurvedic spa, business facilities for corporate events, organic vegetable garden, fishing deck, workout facility, yoga classes, live music, loads of activities, and hammocks everywhere!
Food is available 24 hours per day and you can choose from 3 restaurants which each have their own flare.
Our story:
From the moment we enjoyed world class service.
We spent 3 days (2 nights) in the lovely Heritage Room. We ate 3 breakfasts, 2 lunches, and 2 dinners at the various restaurants onsite. Our favorite (besides the 6 course Kerala meal) was the dinner buffet at Mystic Spice.
For activities, we had an evening boat cruise, caught lots of fish, worked out, pampered ourselves in the spa, chilled out on a hammock, and swam in the pool.
After we checked out, we were handed a framed picture keepsake of Anne and I that was taken when we first arrived. The general manager also arranged a complimentary A/C car to drop us off at the train station.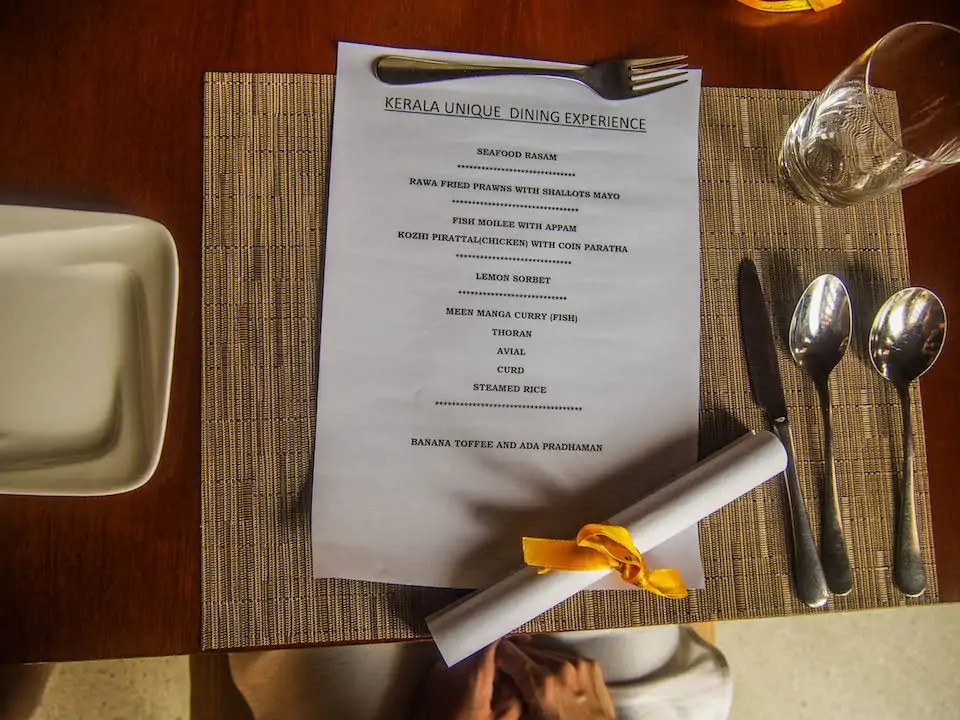 *Bonus: We enjoyed a special 6 course meal designed to showcase the cuisine of the lovely state of Kerala. One of the best meals we've ever had.


Vibe: (5/5)
The entire resort does a fantastic job incorporating the local traditions into our stay which added a great deal to the overall experience. As soon as you walk through the resort gate, you know you're somewhere special. We continuously had to remind ourselves that "this was real life."
Everywhere you look it's beautiful. A walking/bike path that circles the entire resort which is perfect for an evening stroll or a gentle bike ride. We loved lounging at the infinity pool which was formed with the freshwater pond surrounding the pool area.
Each night before dinner we would sit down for a live music performance showcasing traditional Kerala music.
Endless chill zones are scattered throughout the resort – gazebo type structures with patio furniture, hammocks, benches, a giant swing, beach lounge chairs, and a 2 story open-air pagoda (doubles as the yoga studio).
Value (5/5)
Staying at Vasundhara Sarovar Premiere is not inexpensive, but comes with incredible value. Comparing it to other 5 star resorts in India, the prices are similar but rarely do you see amenities and service like Sarovar. Prices range from 10,000 – 25,000 INR per night. Your stay comes with a whole host of free activates as well as an impressive breakfast buffet.
Here are a couple things that stood out:
Service

– some of the best we've ever received

All you can eat breakfast buffet

– included in the price, has over 30 options

Free backwater boat cruises in the evening

– untouched section of the backwaters

Free chai/coffee and snacks

– each day around 5PM

Amazing room

– bathroom, and our own patio

Free fishing

anytime you want you can catch small blackfish (similar to sunfish)

Free paddleboat rental

– in the onsite fish pond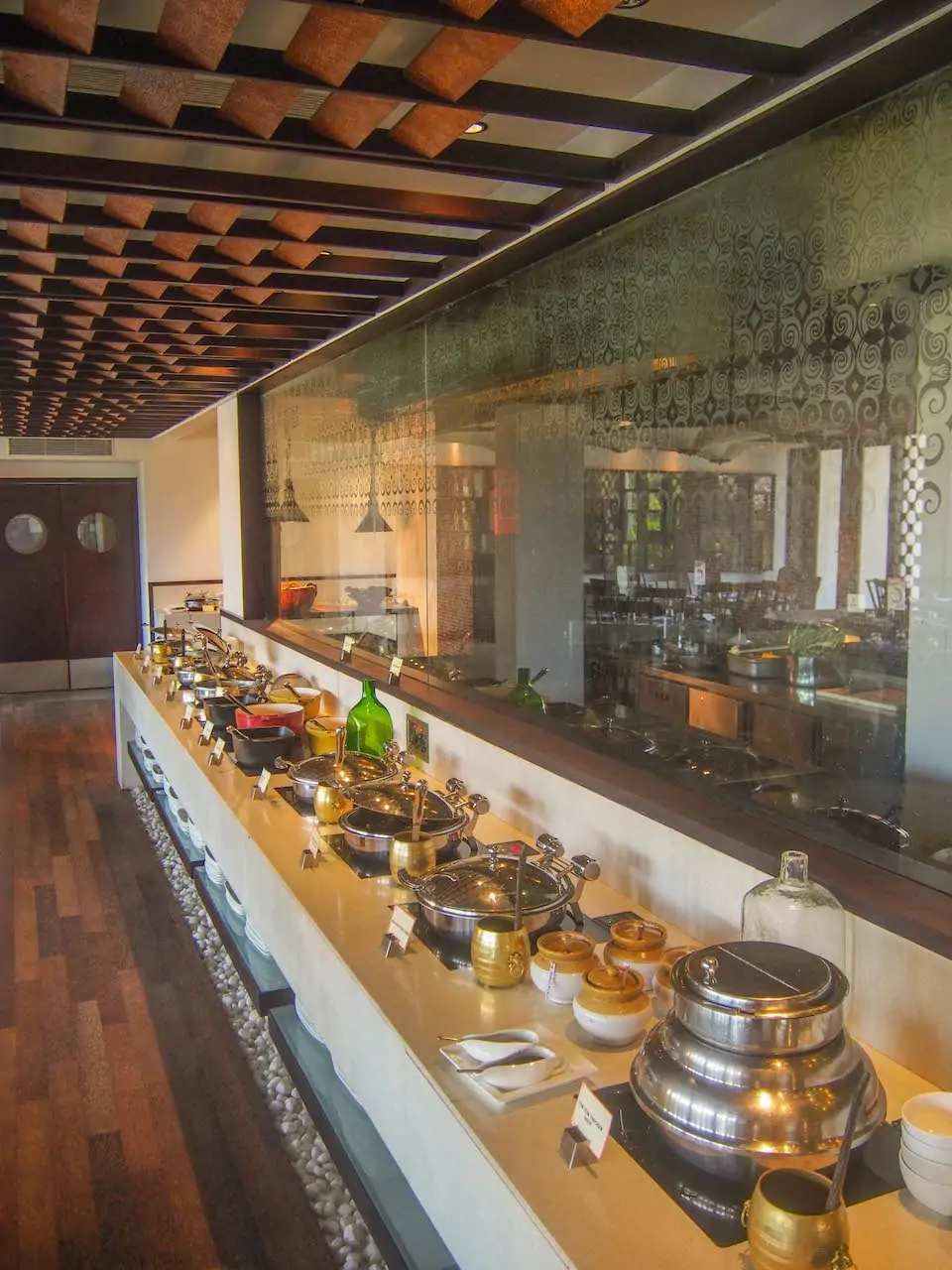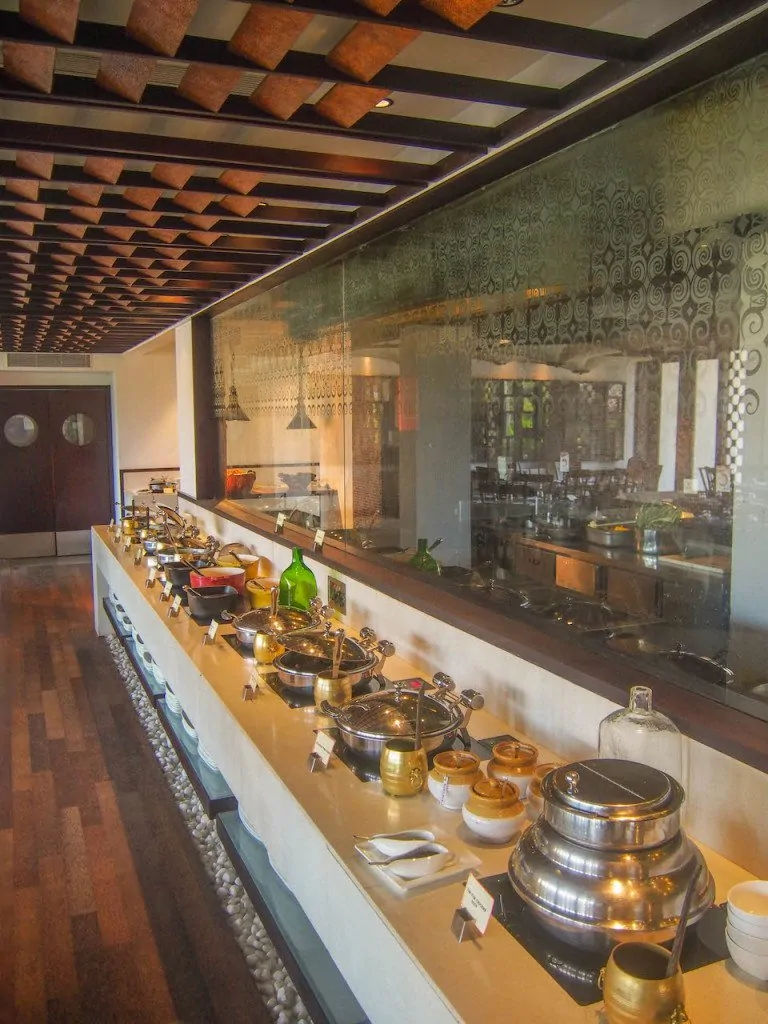 Location (4.5/5)
Vasundhara Sarovar Premiere is located in Souther India in town of Cherthala. You can easily arrive by bus or train as the resort is only 7 km form the bus and train station. Most guests will arrive from Cochin (60 km North) which hosts the main International airport in the area.
The resort is located on a very remote section of the backwaters. During our evening boat cruise – it was apparent how remote the destination really is. Of course we saw some Chinese fishing nets, endless palm tress, and some locals doing laundry from the village shore.
Amenities: (5/5)
Vasundhara Sarovar Premiere has so many amenities we won't even be able to cover them all here. Here is what stood out for us:
Delicious food
There are 3 onsite restaurants, each has their own specialty. Breakfast buffet at Mystic Spice is included with your stay.
Zephyer – Pool side service. Small bites, sandwiches, etc.
Mystic Spice – The main restaurant onsite, open 24/7. Lunch and Dinner buffets available daily as well as a full menu to order from. Beautiful setting with all many food choices and tasty flavored water.
Chemeen & Madira – Chemeen specializes in fresh locally caught seafood and is open from 7PM – 11PM. Madira is the open air bar next to Chemeen, open 11AM – 11PM. (We loved Mystic Spice so much we unfortunately never made it to Chemeen – next time!)
Outstanding Service from the moment you arrive
Immediately upon entering the resort we were greeted by smiling staff, received a bindi on our foreheads, were handed a delicious sweat tea, and a cold rag to cool down. The lobby had 30-foot ceilings, ornate decorations, statues, and a pond running through it. The lobby is so immaculate, I feel bad using the word "lobby" to describe it. After checking in we were given a tour of the resort on a golf cart and shown to our rooms.
The resort was not big enough to require a golf cart to get around, however if needed, I'm sure the staff would accommodate.
It was obvious that the staff takes great pride in their service. The general manager was seen interacting with guests multiple times each day. Nearly everyone on the resort grounds knew our names and where we were from. We had been budget traveling through India for 6 weeks prior, this level of service caught us off guard… but we quickly learned to deal with it ;).
Modern workout facility
Anne and I both enjoyed great workouts during our stay. Free weights, multi purpose exercise machines, and all the cardio trainers you can ask for. Great views of the resort while working out and a surprisingly powerful sound system make your workouts enjoyable.
The Spa
The Ayurvedic Spa is located on the second floor overlooking the entire resort. Upon arrival we were greeted with a tasty ayurvedic drink made from fresh picked ingredients grown onsite in the organic garden. There are many massage therapists onsite specializing in over 30 types of massage. The vibe in the spa is on another level. The whole place is open air, there is a small river running through and you must cross over the river via a wooden bridge to access each massage room.
Surprise couples massage
I surprised Anne with the couples massage which was a perfect end to a relaxing day. The couples massage room is especially unique as it has a private bathroom, steam room, shower, and hot tub. After our massage, enjoyed a sunset over backwaters from our private hot tub. Divine.
Rooms: (5/5)
We stayed both nights in the Heritage Room which is an updated traditional Keralan style home. Our room was originally built a few miles from the resort but has since been transplanted and updated.
In the center of the room is a recessed "garden" area which was consists of a small pond with floating lotus flowers. The cool water pond combined with open doors acts as the A/C unit for the traditional homes. (However, our room had a modern A/C unit)
The doorways were also very unique. When walking in you would have to duck your head in order to pay respects to your home and also step over a large step used to keep critters out during the rising waters of monsoon season.
Our bed was magical as was the super clean and spacious bathroom. Our bathroom contained all the vanity products imaginable (even fluoride-free toothpaste!!).
We had our own patio out back overlooking the backwaters which was great for sunsets!
Cool Factor: (4.5/5)
There were tons of details that made our experience one that we will never forget.
Fishing onsite
There is a small pond stocked with small fish and unlimited use of bamboo poles and bait. We caught a combined 15-20 fish in an hour.
*If you don't already know, I love fishing, a lot. I nearly decided to forgo college to pursue my bass fishing career professionally. That's a story for another day.
Free boat cruise
In the evening, the resort offers free boat cruises in the backwaters. We enjoyed our ride and thought seeing the untouched backwaters was pretty cool! Very different than our houseboat experience in Alleppey which was PACKED with hundreds of other houseboats.
Heritage rooms
Staying in the 200 year old heritage room was a great experience. It felt very "home-y" inside and we were glad to stay in such a unique room. If we didn't stay here we would have also loved the floating villas which come with their own Jacuzzi!
Fluoride-free toothpaste
Fluoride is toxic for people, yet it's still in most toothpastes in the US. We were glad to see the attention to detail here and happily took the remaining tube of toothpaste on the road with us.
6 course tasting meal
We were very fortunate to experience the diverse Kerala cuisine in a single meal. After spending 65 days in India, this was our most interesting and best tasting meal.
The Spa + Ayurvedic drinks
The Spa was outstanding as were the ayurvedic drinks. Don't skip on pampering yourself!
Zoo on our bed
It was 2PM and we stopped in the room for a few mins when heard a knock at the door. It was a young boy coming in to change out our towels. 20 minutes later, we had an entire circus of animals on our bed made out of towels. Complete with fresh flower petals.
House boats
Guests can also rent out a houseboat and cruise the backwaters in luxury. However, we didn't try this as we had already experienced a houseboat trip in Alleppey the week before.
Issues/Concerns
It's our duty to provide you with a fair and accurate review of our stay. Here is the only thing we think should be improved.
Only 30 minutes of free wi-fi per day
This was a very surprising part of our stay and we felt that it didn't match the impressive amenities found everywhere else. Guests can choose to pay for additional wi-fi but if you pay 10,000 INR or more per night, we felt that this should be included.
Contact Vasundhara Sarovar Premiere :
Final thoughts:
This was the best all around place Anne and I have ever stayed at. The service was top notch, the food was amazing, our room was super unique, and we felt there was plenty of free activities to keep us occupied.
The only concern was the 30 minutes of free internet which was very minor and did not take away from our experience.
We highly recommend Vasundhara Sarovar Premiere and would gladly return if we find ourselves in Southern India again.
Have you been to Vasundhara Sarovar Premiere ? What was your experience?
Browse more accommodation reviews
*Our stay was provided by Vasundhara Sarovar Premiere, however as always our opinions are our own*