What is Bean Me Up?
Bean Me Up is a super cool restaurant and full service guesthouse located in Goa, India. It's set in a jungle atmosphere and serves healthy vegetarian and vegan food. Attracts a diverse crowd and often plays live music. It feels like home. Bean Me Up is located on the border of the cities of Anjuna and Vagator in North Goa.
Our story:
After spending 5 days in Mumbai, we were ready for the peace and quiet!
We first heard about Bean Me Up from our friends at This World Rocks. They were raving about the cacao smoothies in their post about Anjuna. Since we were in Anjuna and both love smoothies – we HAD to go. As soon as we walked in we were in awe that this place even existed. We ordered some smoothies and a couple green salads. After eating hot and spicy Indian food for the past 10 days a fresh greens salad tasted like heaven.
Halfway through our meal we decided we loved the food and atmosphere so much that we wanted to stay here and booked 4 nights. Later we discovered our awesome server was Shawn, the owner of Bean Me Up who was filling in for one of his servers.
During our 5-day stay at Bean Me Up – we stayed in a private room with a shared bathroom. We ate dinner here every night, breakfast twice and lunch twice (clearly, we loved it). Each night we were there we met interesting people from all over the world. By the end of the week – we knew the servers by name and made friends with multiple regulars. We called it 'home' as it was a great oasis from the chaotic Anjuna.
Vibe: (5/5)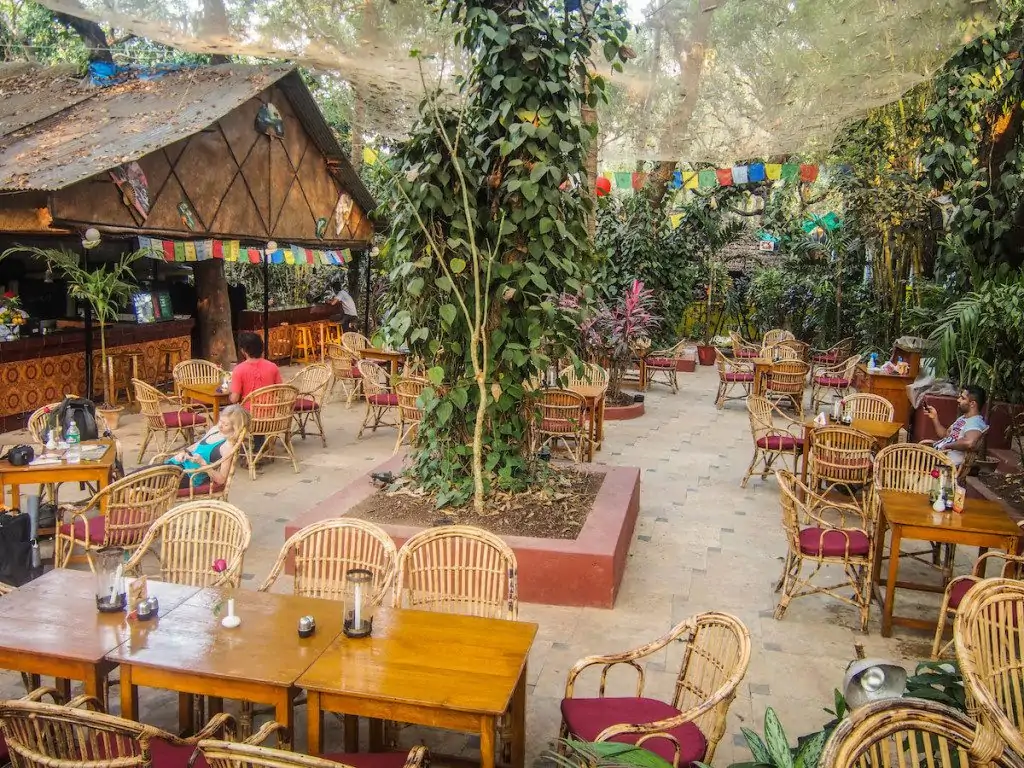 Bean Me Up is special. Imagine a large patio placed in the middle of a "jungle." Huge palm trees providing shade, tons of bamboo plants, and various flowers sprinkled about. Nepalese prayer flags, eastern art, and paper lanterns delicately placed. Chilled out electronica sets the mood perfectly. Friendly staff and clientele. The owner Shawn is usually seen hopping from table to table hanging out with the customers who he treats like friends.
Value: (4.5/5)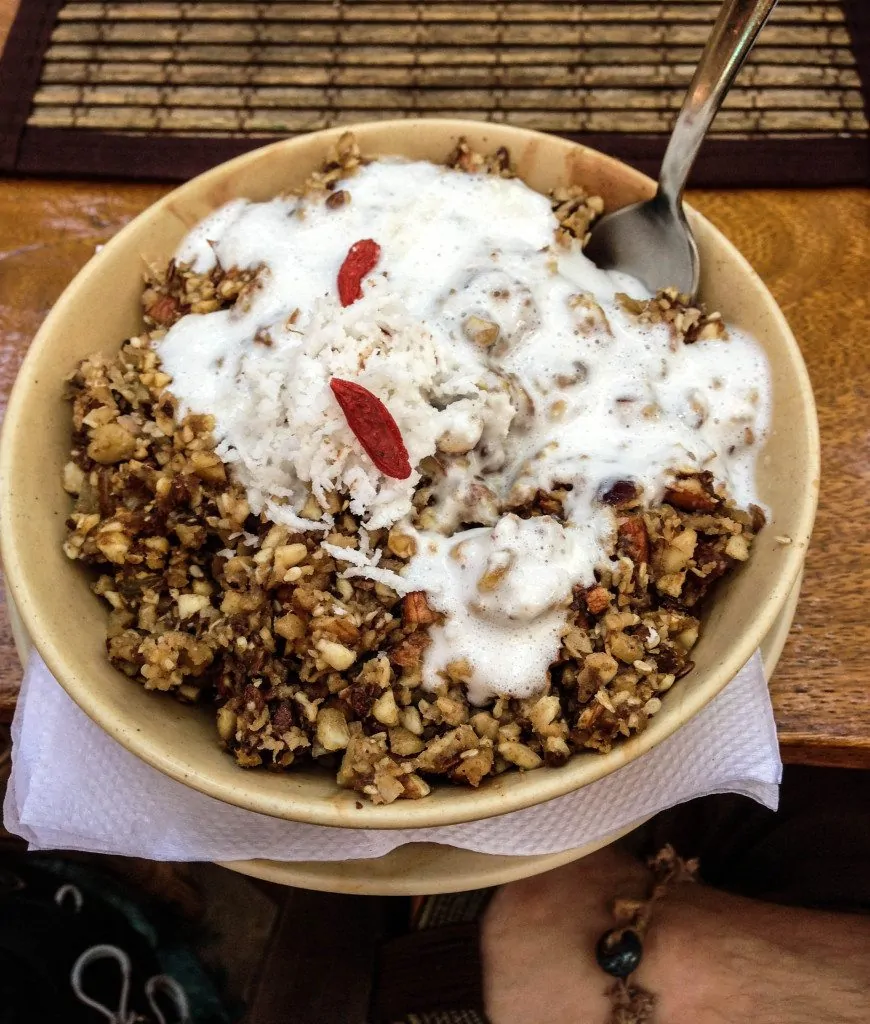 We thought Bean Me Up provided excellent value for the money. Rooms range between 900-1100 INR per night for 2 people (450-550 INR / person). [about $8 USD]
Built into the cost is free breakfast (250 INR per person) which brings down the total cost quite a bit. We loved starting our day with a big healthy breakfast. [about $4 USD per breakfast]
*Read more about the cost of living in Goa
Location: (4/5)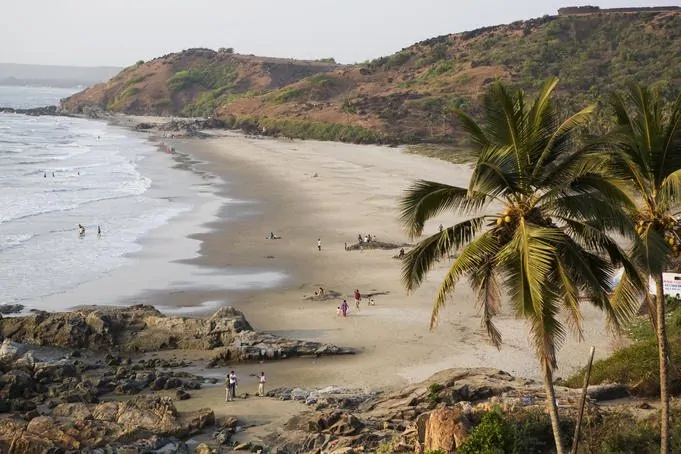 If you plan to rent a motor bike, you can get pretty much anywhere in Anjuna/Vagator in 5-10 minutes on the scooter – making location almost irrelevant.
If you don't want to rent a motor bike, Bean Me Up is still a good location but will require some walking.
5-10 mins walk to Vagator beach
20 mins walk to central Anjuna
40 mins walk to the famous Anjuna Flea Market / South Anjuna (goa trance party scene)
If you like hanging out at the more chilled out Vagator beach and the surrounding areas then Bean Me Up is perfect. If you are in Goa for strictly the party scene, it may make sense to stay near south Anjuna.
We walked 15 mins to and from Oceanic yoga each day and enjoyed the walk.
Amenities: (4/5)
Bean Me Up has above average amenities for it's price range.
Onsite vegetarian and vegan restaurant (fantastic)
Chill zone to relax on a hammock or read a book
Ensuite (11oo INR) and shared bathroom (900 INR) rooms available [$14-17 USD]
Daily morning yoga onsite (extra cost)
Free Wifi (doesn't reach every room, may have to use WIFI in restaurant area)
Scooters to rent
Laundry service
Sight seeing can be arranged
Ayurvedic treatment
Taxi Service
Lockers to keep important things safe
Onsite Boutique and Health Shop with health foods, souvenirs, clothes, etc
The Food is AMAZING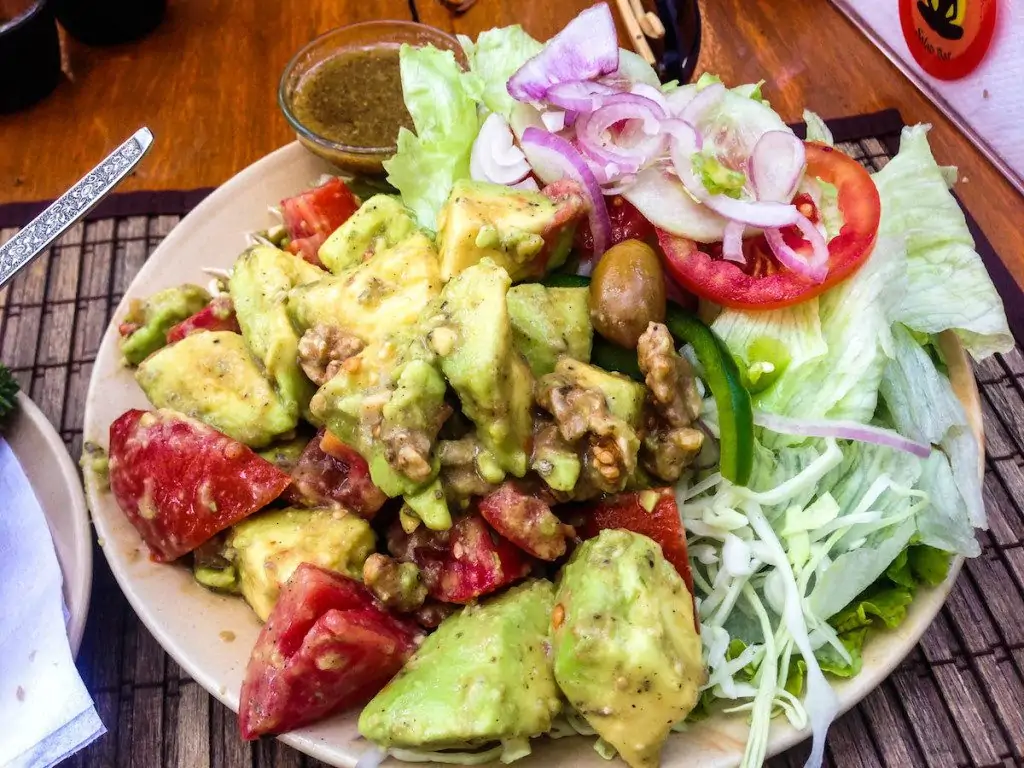 The food should be it's own post entirely. Everything on the menu is out of this world. Bean Me up specializes in Vegan and Vegetarian health foods from all over the world. They make most of their ingredients onsite. Extra TLC is put into preparation and presentation.
The menu is extensive and everything we had was amazing.
Our favorites:
Super-food green smoothie (avocado, goji berrries, chia seeds, flaxseeds, spirulina, wheatgrass, probiotics)
Chocolate Strawberry Smoothie (goji berries, strawberries, cacao, nut milk)
Homemade Granola Porridge (granola, fresh fruits, vegan yogurt, and shaved fresh coconut)
Gazpacho Soup (Spanish syle basil-tomato soup with veggies, served cold)
Every single salad
Tofulafel (Tofu falafels served with fahini, and hummus on a pita)
Smoked BBQ Tempeh Pizza (BBQ, tempeh, onion, peppers, parsley, cashew cheese)
pro-tip:
If you're staying in Anjuna you may hear about the German Bakery which tries for a similar vibe but comes with awful service and average food that is over-priced.
Great Service: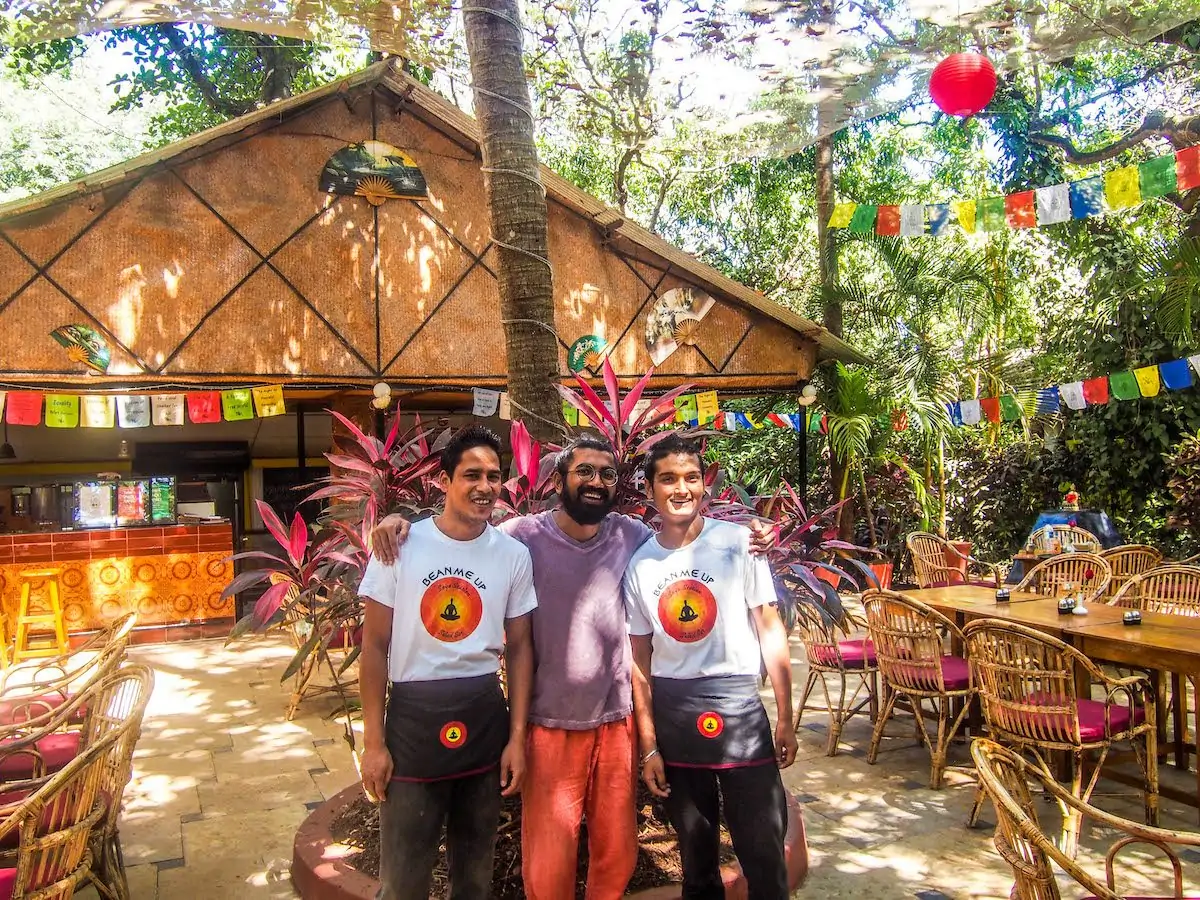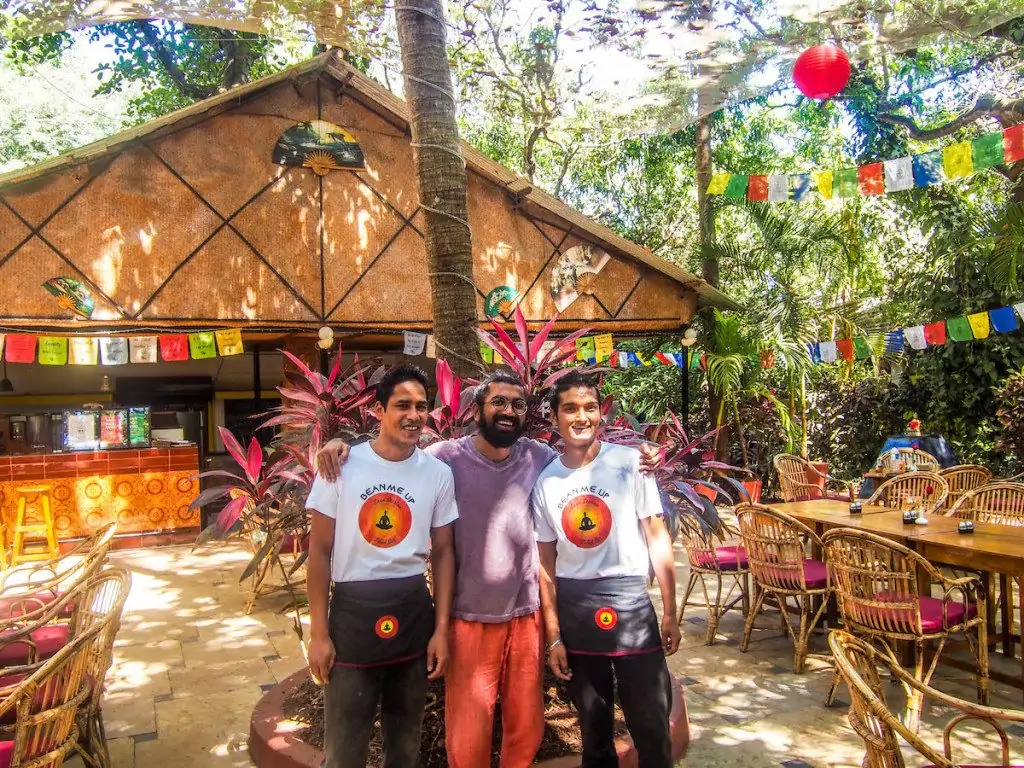 During our 8+ meals we had excellent service each time. Our servers were a group of friends from Nepal who come to Bean Me Up to work for the high season. They are funny, charismatic, and always smiling.
The owner (Shawn) is usually around to check on each table to hang out and make sure everything is up to par.
A dedicated attendant will be waiting at the front desk to check you in and book accommodation if you are planning to stay at Bean Me Up (which you should).
Rooms: (4/5)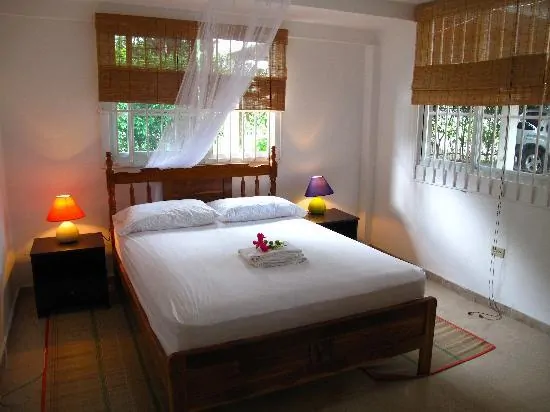 This was our most comfortable bed in India to date. Rooms are charming, simple, and clean – each one comes with it's own theme (Atlantis, Jungle, etc). Rooms often contain large wooden four post beds with a nice large mosquito net and fan.
You can choose between rooms with a shared bathroom (900 INR) or attached bathroom (1100 INR) for 2 people. [$14-17 USD] This includes an amazing breakfast valued of 250 INR per person. [$4 USD] We stayed in a shared bathroom room and didn't mind at all. The bathrooms were clean, shared with only 1 other room, and only 10 steps from our door.
Rooms come with mosquito nets, mirror, hangers, bedside tables, fan, lamps, and ample space.
Security:
Not once during our 5-day stay did we feel unsafe in any way. Each rooms has it's own lock. The restaurant patrons and the guests all seem liked wonderful people. We left our room open many times without any worries or consequences.
Cool Factor: (5/5)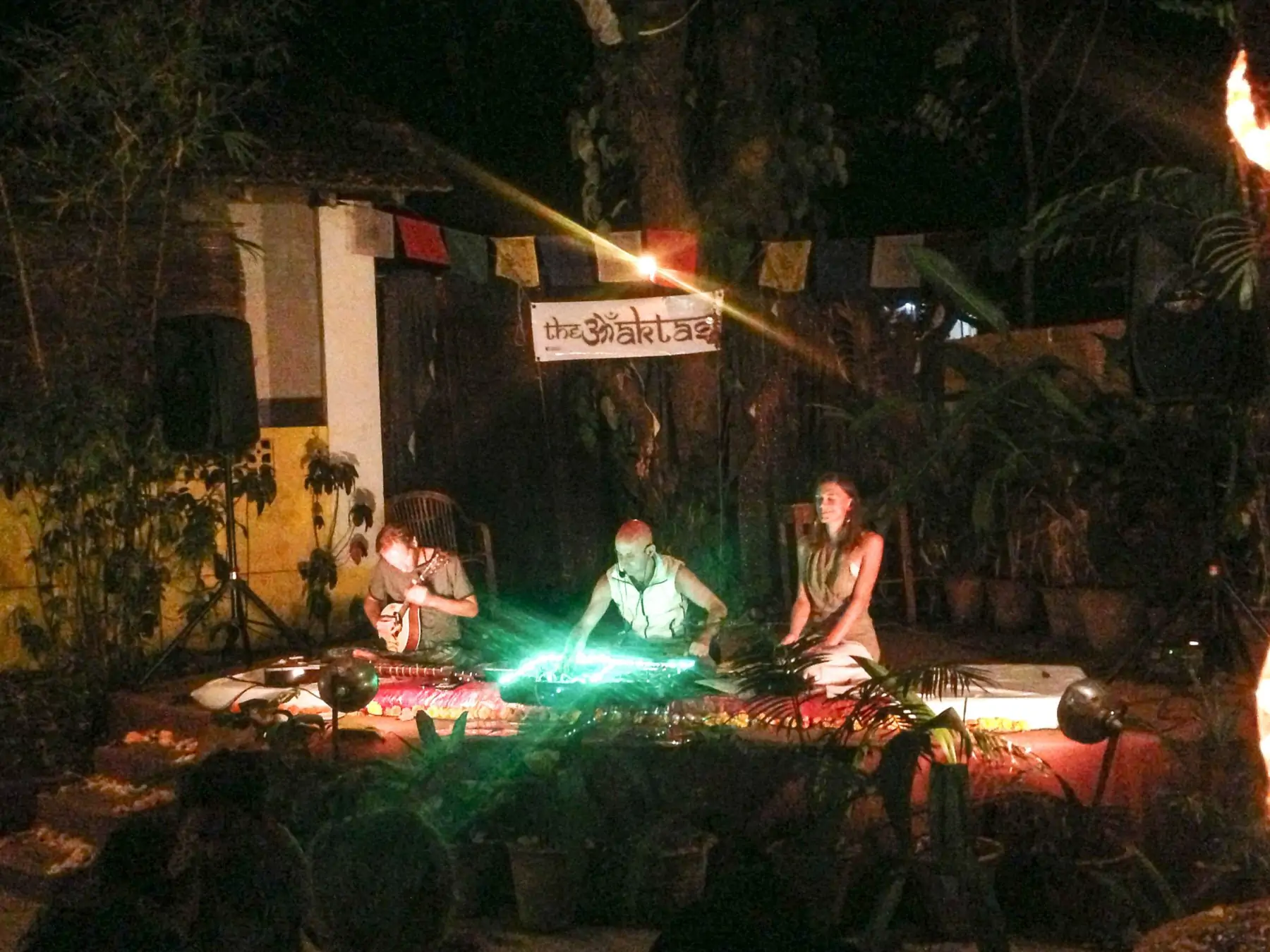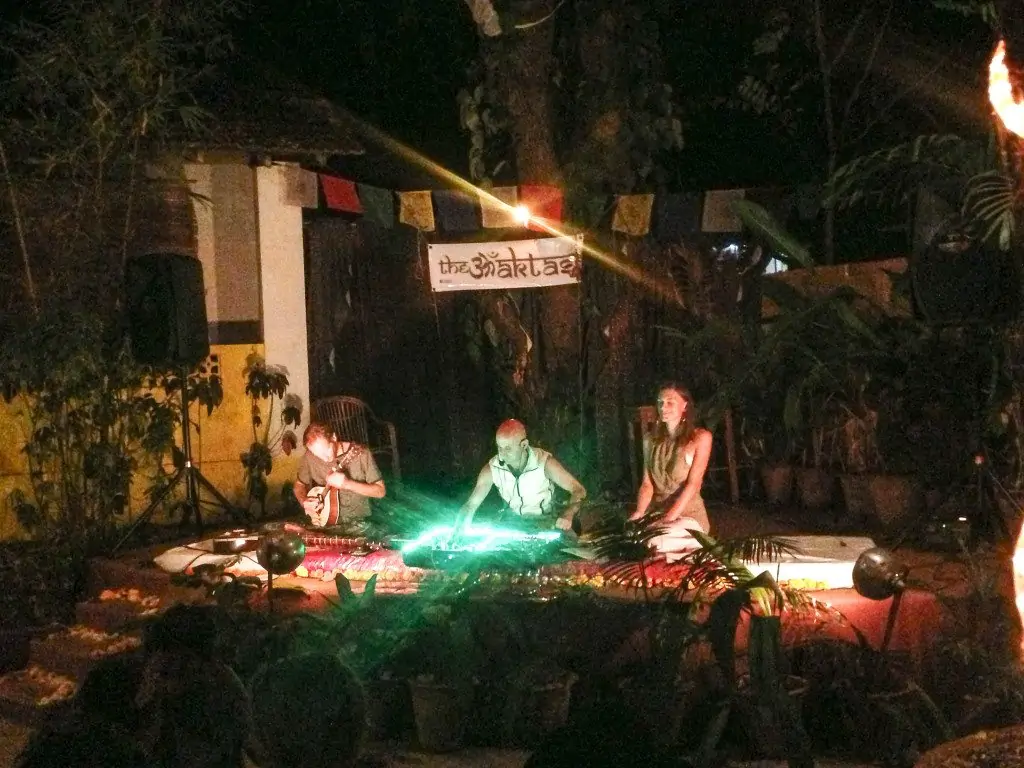 Right when you walk into Bean Me Up, you know this place is cool. Here are a couple things that really stood out for us.
The Owner (Shawn)
Shawn has a passion for healthy food and is vegan himself. Really cares about his guests/patrons and healthy food. Really cool dude who enjoys traveling during low season.
Great place to meet people
Each day we met interesting people from all around the world. Many of which we are still in contact with and hope to see again. We met a range of people from all walks of life: actors, artists, documentary producers, raw vegan foodies, dedicated yoga seekers, etc.
Chill Zone
Yoga every morning onsite in the "chill zone." When yoga is not in session the chill zone is a perfect place to relax on a hammock, read a books, etc.
Live Music
We were lucky to catch the Bhaktas perform a set at Bean Me Up. Fantastic live electronica with an ancient yoga spin. Beautiful music.
Clientele:
With an emphasis on healthy foods (especially vegan/vegetarian) – Bean Me Up attracts a healthy lifestyle crowd. Lots of artists, travelers, writers, and yoga enthusiasts.
During the day you people will come after a yoga class for a nice salad and raw juices or smoothies. At night Bean Me Up comes alive. Bean Me Up hosts local and traveling artists on their live music stage. Patrons are friendly and are frequently joining tables to share stories and enjoy the company of like-minded people.
Contact Bean Me Up:
Reminder: They are open seasonally (October – April)
Final thoughts:
We thoroughly enjoyed our time at Bean Me Up. It paired perfectly with our 5 day yoga and meditation course at Oceanic Yoga. If you're going to be in Anjuna and want a cool place to stay we highly recommend Bean Me Up. Comfortable rooms, great vibes, interesting people, superbly healthy food.
I dare you to try a super-food green smoothie and NOT come back 🙂
Have you been to Bean Me Up? What was your experience?
*Our stay was provided by Bean Me Up, however as always our opinions are our own*