This may come off as a bit of a rant. And that's because it is a rant.
However don't take this to mean we hated our 2 weeks in Goa.
Overall we had a good experience in Anjuna. Unfortunately, our experience comes with some annoyances that I would like to share.
What did we hate about Anjuna?
1) Food is expensive (and low quality)
Since the food options in Anjuna are almost exclusively for tourists the prices are extremely high. Most restaurants charged 150-200 INR ($2.50 USD) per meal for below average food. This came at quite a shock after eating delicious meals for 40 INR (60 cents USD) in Mumbai.
2) Constantly being hassled by shops and peddlers
Everywhere we went we were constantly harassed to buy something. Besides the Anjuna Flea Market (which was awesome) – all the shops sold the exact same things. Ali baba pants, tanks, pashmina scarves, wooden/metal carvings, etc.
Come and take a look my store madam
I make you very good price
Hey baba – looking is free
3) Taxi/Auto Rickshaw's are really expensive
The Taxi/Auto drivers just sit on the corner verbally assaulting anyone who walks buy. If you need a ride, prepare to pay 500% the usual prices as all the taxi/auto drivers work together to fix the prices.
Most people rent scooters in Anjuna which would make sense (although we got by just fine walking).
4) The roads are crazy
Roads in India are not for the faint of heart. They are too narrow, filled with potholes, and packed with crazy drivers. During 5 days in Mumbai we saw no accidents – in Anjuna it was a daily site. Even the locals had stories (and scars) of their frequent motorbike accidents.
Part of this could be the drinking and driving culture in Anjuna… no thank you.
How to survive Mumbai in 10 tips
5) Burning Garbage everywhere
To be fair, Goa in general is pretty green and pretty clean compared to the more densely populated areas of India. However don't let that fool you. We would spot several roadside piles of burning garbage each day. Complete with dogs, cows, and goats eating the burning garbage.
I guess I was hoping the "beautiful beaches of Goa" to have less burning garbage. My bad.
6) Indian men on "vacation" to stare at women in swim suits
Goa is a popular vacation destination for tourists and Indian's alike. Unfortunately this translated into younger Indian men with cameras gawking at women in swimsuits.
If you want to get a tan, be prepared to cover up when the unwanted attention appears.
7) Anjuna's beach looks like the surface of Mars
There ARE beautiful beaches in Goa. Anjuna is not one of them. It's called "rocky beach" because, well, it's full of rocks. When the tide is low the beach looks like the surface of Mars.
If you want a nice beach check out Gokarna – a beach community just south of Goa. Similar vibes but less people.
3 things we loved…
1) It is beautiful – but you have to know where to look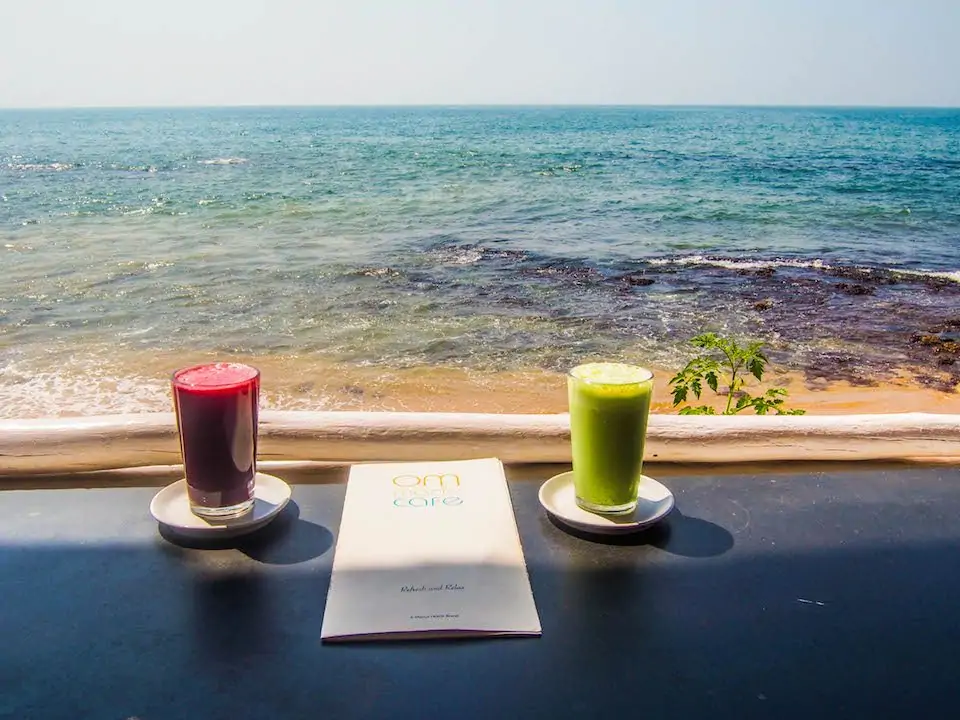 This is by no mean the Thai Islands but it has its moments of beauty. Each evening we witnessed a giant red sunset over the Arabian Sea.
Lots of lush green vegetation and when the tide is high the beach looks pretty good.
2) Cheap accommodation and plenty of free wifi
As nomadic entrepreneurs, we are always on the lookout for cheap accommodation and free wifi. Anjuna has it in spades. You can find a room for 200-400 INR without much trouble. Most guesthouses and nearly all restaurants have free Wi-fi.
3) Social atmosphere: great place to meet other travelers
The best part of Anjuna was the social atmosphere. It seemed like everywhere we went travelers were looking to meet new people. After a couple weeks in Anjuna we had made some good friends, making it hard to leave. Our favorite place in Anjuna was down Bean Me Up guesthouse and restaurant – amazing food, and vibes.
Check out our review of Bean Me Up – Restaurant and Guesthouse
Final Thoughts:
Go to Goa. Go to Anjuna. Or maybe not. But if you do go, know it's not all sand and sunshine.
Have you been to Anjuna? What was your experience?