Luang Prabang. An enchanting city nestled in at the confluence of the Mekong and Nam Khan rivers about 200 miles north of the Vientiane. This charming town of about 50,000 has just enough to keep you busy for 3-5 days. No wild nightlife like Vang Vieng in 2010 or natural beauty like Ha Long Bay here. Expect nice day trips, time to read a good book, and a chance to meet some friendly locals.
If you find yourself in Luang Prabang, here are some of my favorite things to do:
1) Explore the Kuang Si waterfalls: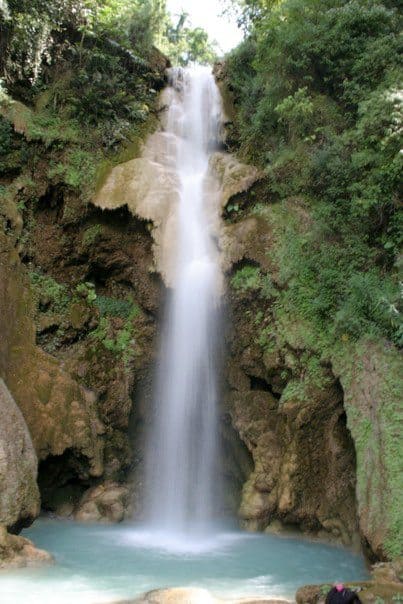 A half-day trip, well worth your time. Grab a couple friends and take a 45 min tuk-tuk ride to the waterfalls. You shouldn't pay more than a $1 USD per person for a round trip ride. Your driver will nap in his ride while you explore the area. Tourists and locals alike congregate next to the turquoise water pools and various waterfalls.
Don't forget to: Jump off the rope swing, hike to the top of the main waterfall for a sweet view, and grab a fresh fruit smoothie for your ride back to town.
2) Watch the sunset from the top of Phou Si Mountain:
I've heard it called the best sunset in SE Asia – although beautiful and not to be missed while in Luang Prabang, I feel that there are better sunsets to be had. Before dinner – take a casual 10-min stroll to the top of the 'mountain.' Don't expect alone time as everyone comes to see the sunset. You may have the option to release a "love bird" for a couple bucks.
Take a couple nice pictures and head down to Lao Lao Gardens for a BBQ dinner.
3) Feast on a traditional Lao BBQ: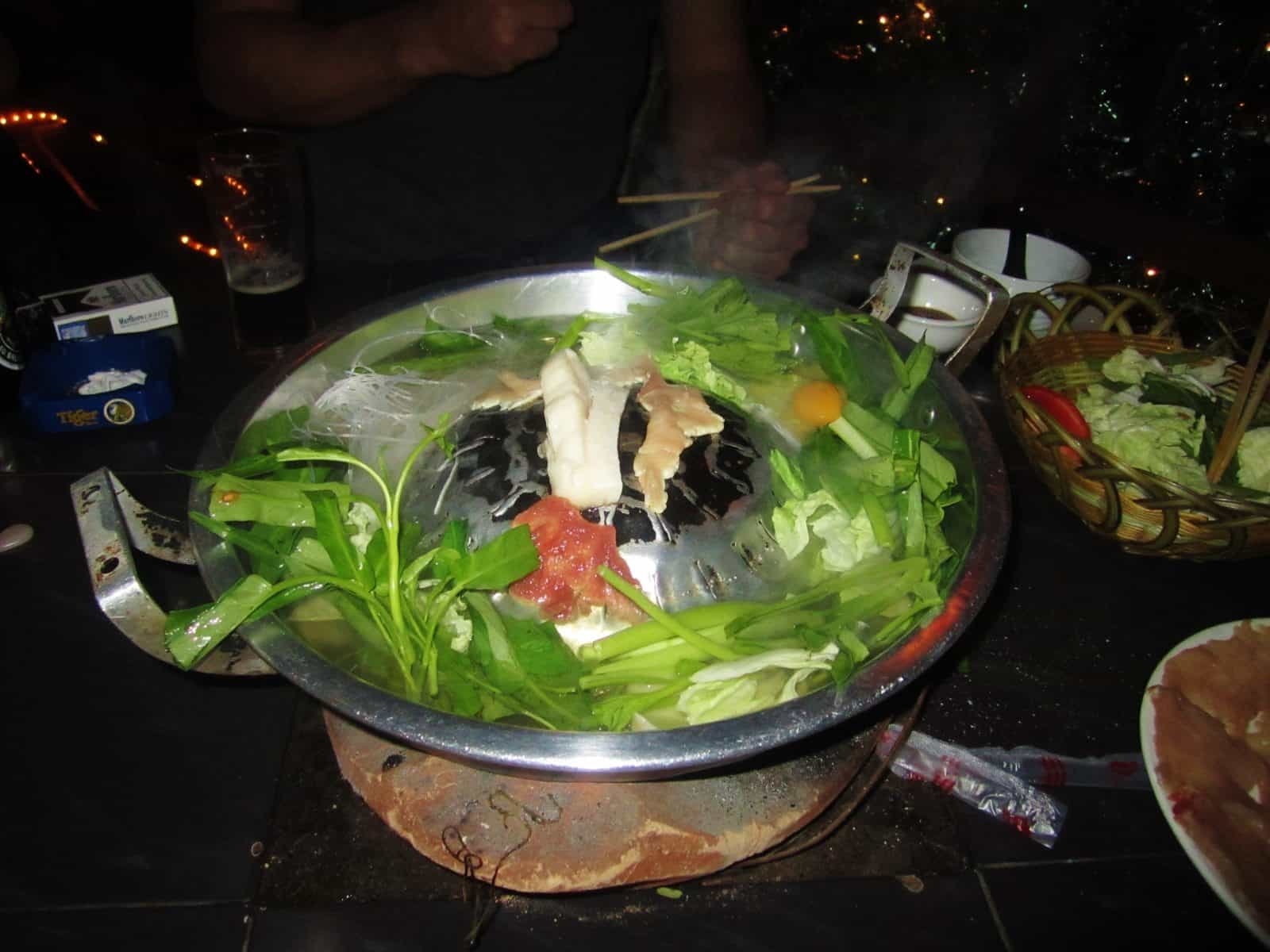 Photo source:
Adventurous Kate
A popular cultural experience in Lao which now caters to tourists but it's still worthwhile and a fun way to enjoy a meal. A glowing red coal will be placed in the center of your table. Next comes the metal dome that is placed on the coal and acts as your 'grill.' You'll be given soup, raw meats, veggies, eggs to grill at your table. Observe the locals to learn the ropes!
Side note: My Lao BBQ experience was very memorable… I went with one of the local guys who I played cards with earlier that day. Halfway through dinner, he started talking about how "handsome" I was and if i had a girlfriend. Turns out we had very different expectations that night – at least my meal was free!
4) Wonder through the night market: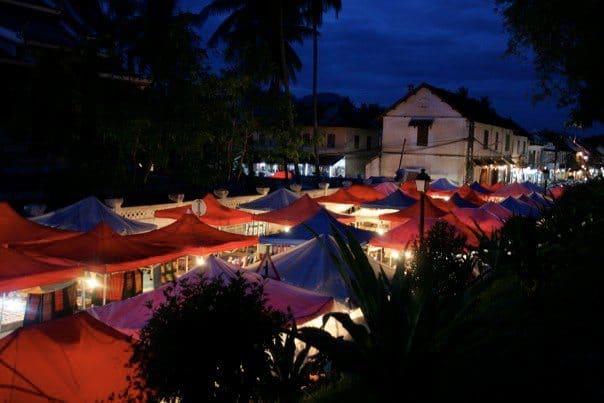 Strolling through the market is a perfect activity after you finished your giant meal at Lao Lao Gardens. This was one of my favorite markets in SE Asia – you'll find local arts and crafts and cheap food.
Bonus tip: Check out the day market which is geared towards locals and will give you a good perspective of the Laotion culture.
5) Get to know a local:
Although you can assume your new Laotion friend is part of the tourism industry (possibly studying it in school) – it doesn't mean you can't have a genuine experience.
Example 1:
I saw some 20-something local guys playing an afternoon game of cards at Lao Lao Gardens – a popular backpacker bar/restaurant in town. After watching them play for a while, they invited me to join in a game of "Gao" which was focused on betting small amounts of Kip and shouting when you win. Was invited to dinner with them later that night.
Example 2:
Our hostel worker(orange shirt above) was a fun loving 19 year old Lao boy studying tourism. He was beaming of pride for his city and showed us around eventually landing at a bar in town. After the bar closed (curfew was around 11:00 PM) he invited us to come check out a party outside of town. Although it felt like a bad idea, our new friend's smile was too big to disappoint. We had an exciting night to say the least – a fight broke out, the cops came, and we had to flee by motorbike, got home as the sun was coming up… Stay tuned for the full report.
6) Observe monks during their morning alms ritual: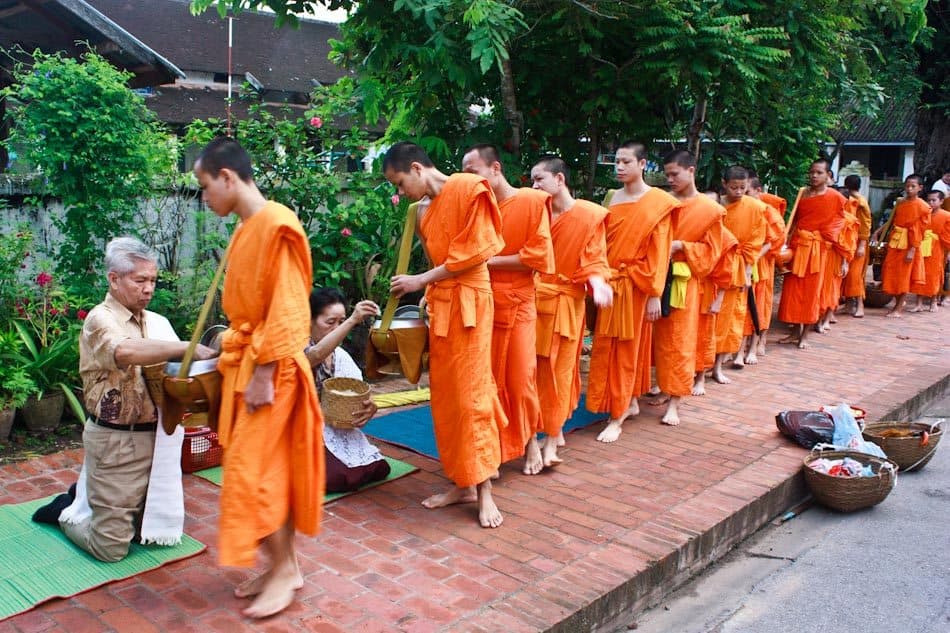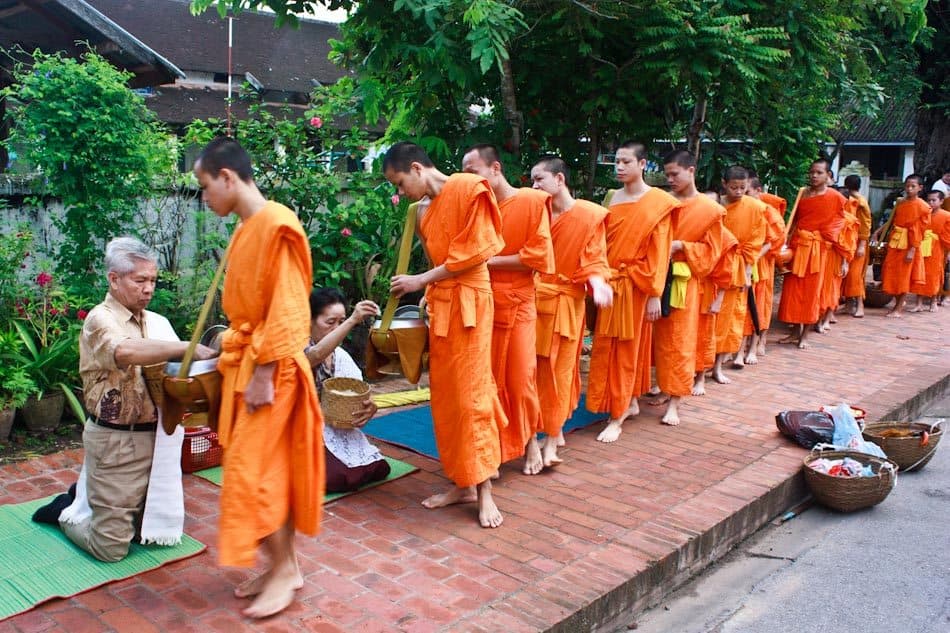 Photo source:
Johnny Vagabond
Wake up bright and early to see a parade of young monks in bright orange robes stroll through town. They migrate from the 30+ Buddhist temples nearby. Young monks ask for food donations from locals and tourists alike. Unfortunately, it's become a major tourist attraction and it feels as such. If you can, I recommend observing from a distance. Remember, respect their cultural by minimizing photography.
Honorable mentions:
Pak Ou caves, Temple hopping, Mekong River rides, Whiskey village visits, and Elephant tourism
Did I miss any of your favorite things to do in Luang Prabang?