The Annapurna Circuit is one of the most popular treks in the world; it's beauty will captivate you from day one. It will be challenging yet manageable for the average person. If you consider yourself of average fitness then training for Annapurna Circuit success is not necessary.
Trekking in the Himalayan mountains is usually a once in a lifetime experience. However, planning your trip is an overwhelming experience.
We completed the trek in 2014 and compiled 26 tips for trekking the Annapurna Circuit. If you've completed the AC already, please add your advice in the comments below.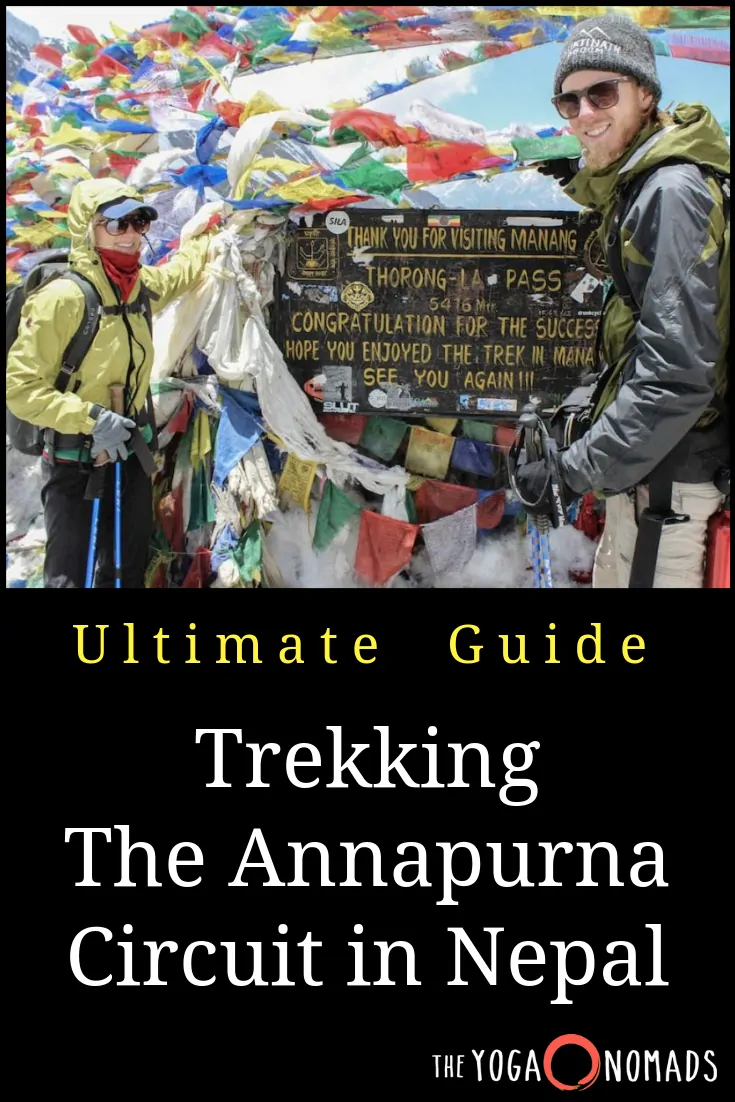 Pin me! Then keep reading 🙂
Our top 26 tips for the Annapurna Circuit trekking in Nepal!
1) Stay hydrated!
This might be the most important thing you do while hiking Annapurna. Your body will dehydrate quicker at such high altitudes, so you'll need to compensate by drinking more than you think you need. *Suggestion: Get boiled water before bed, place the bottle in your sleeping bag to keep you warm, and drink the cooled water in the morning with breakfast.
2) Choose the right backpack!
Backpack size for Annapurna Circuit: 40L – 70L
Make sure it has good sturdy hip straps and fits like a glove. It'll save you a lot of pain and complaining! We LOVE the Osprey Aether 60L (lifetime guarantee)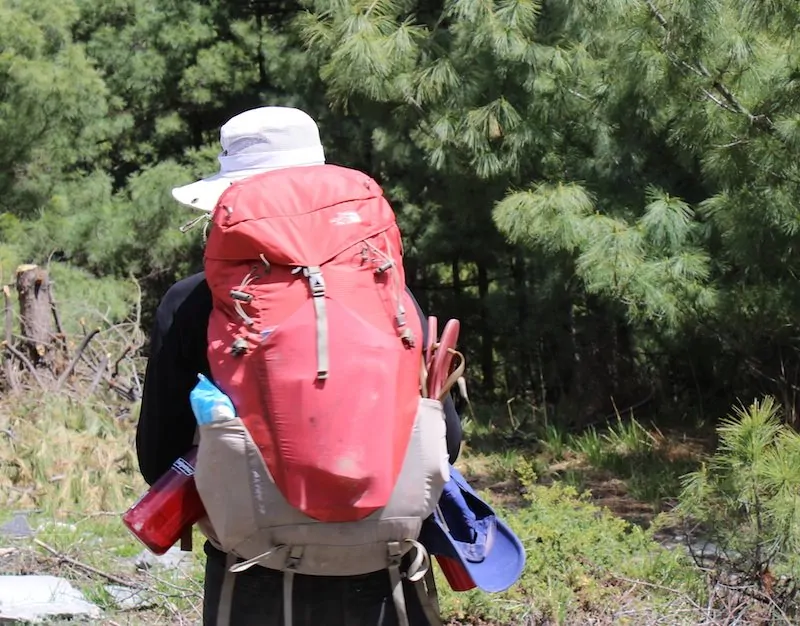 3) Bring good hiking boots and make sure to break them in
Even if it's just walking around Pokhara for a few days beforehand. Some people get by on trainers/running shoes but I recommend proper hiking boots with a sturdy sole. Also, don't forget bandaids/plasters in case you get blisters.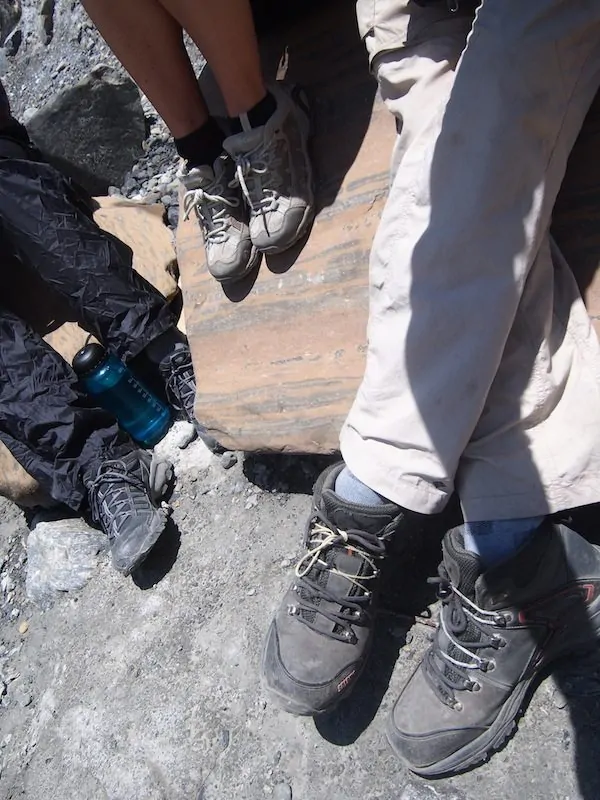 4) Wear the right Annapurna clothing!
Clothing choices will depend on the time of year you trek. Avoid cotton, stick to technical clothes. Cotton absorbs sweat, gets heavy, and never dries! We trekked in the middle of May and it was hot during the days and cool at night. Don't forget a warm hat for nighttime and high elevations.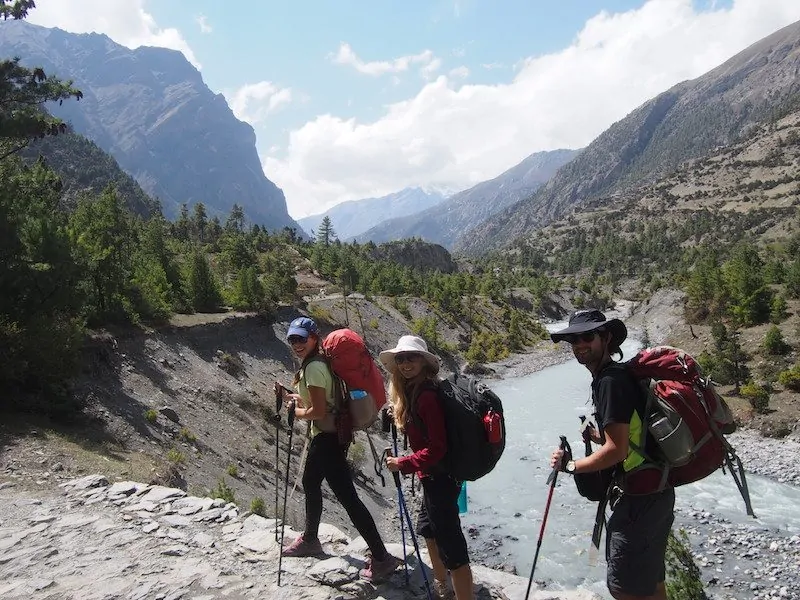 5) Go SOLO!
Meaning: guides and porters are not required as of 2014. Trek with friends though! We went with Keith and Sarah from One Adventure at a Time. Don't forget a guidebook! However when you hike the Annapurna circuit it's near impossible to get seriously lost as the trail is well marked.
Update: Since the tragic earthquake that hit Nepal, you are no longer able to trek alone. You will need a guide. However I've also heard of some trekking doing the full Annapurna circuit without needing guides/porters. Do you own research when you land in Nepal 🙂
6) Pack light.
Now, pack lighter. You'll be carrying everything on your back 😉 If your Aanapurna Circuit backpack size is less than 50L you'll be sitting pretty.
If we made a list of Nepal trekking tips, this would be #1.
Trekking the Annapurna Circuit is a serious endeavor. You need to do be prepared. What if you break your ankle, get altitude sickness, or fall off a cliff and get seriously hurt?! For roughly $50 USD you can be fully covered for an entire month in Nepal. In order words, travel insurance is a no brainer.
We have used World Nomads travel insurance for almost 2 straight years and recommend them to any traveler. We've had to file two claims and were fully reimbursed for both, totaling over $3,800 USD. Shockingly simple process to file the claim.
8) Trekking poles will save your knees.
Don't think twice! You will descend 3,800 meters the day of the pass – not easy!
Brandon loves the Black Diamond Trail Ergo Trekking poles.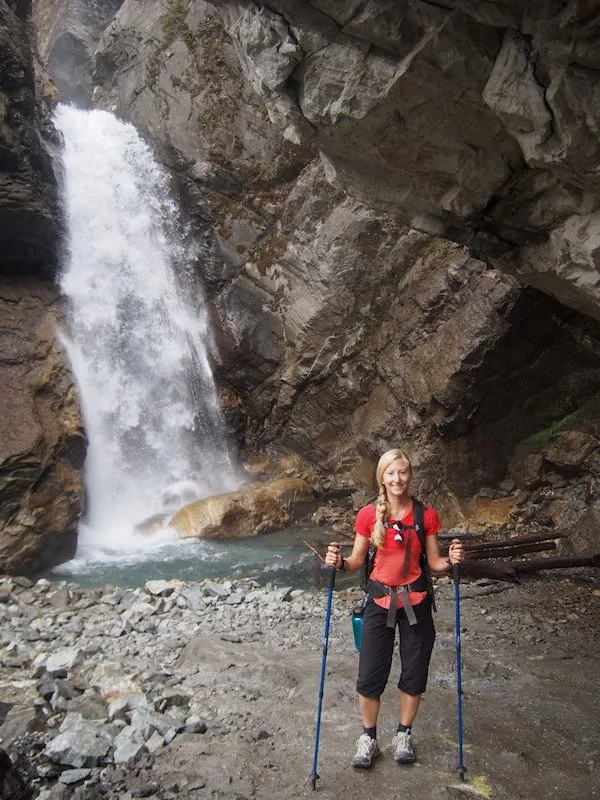 9) Accommodation costs are variable (controversial)
While on the trek, you will be staying in the famous Annapurna Circuit tea houses. These are essentially just basic guest houses with restaurants attached. Completing the AC is already quite affordable ($25-50/day), during low season you can get your accommodation for free if you make sure to eat all your meals at the teahouse.
This is controversial as most teahouses don't charge or earn very much (by western standards).
If you go this route, negotiate upfront with the guesthouse / teahouse owner. Something like: "If we eat dinner and breakfast here, can we have the room for free?"
10) The quality in guesthouses ranges
The earlier you arrive at your final destination of the day, the more options you have. So start your days early and spend a few minutes shopping around before committing.
One of the most rewarding parts of our trekking Annapurna Circuit experience was the quality time we spent with our hiking mates at the tea house. Downtime playing cards and waiting for our food was a bonding experience I'll never forget.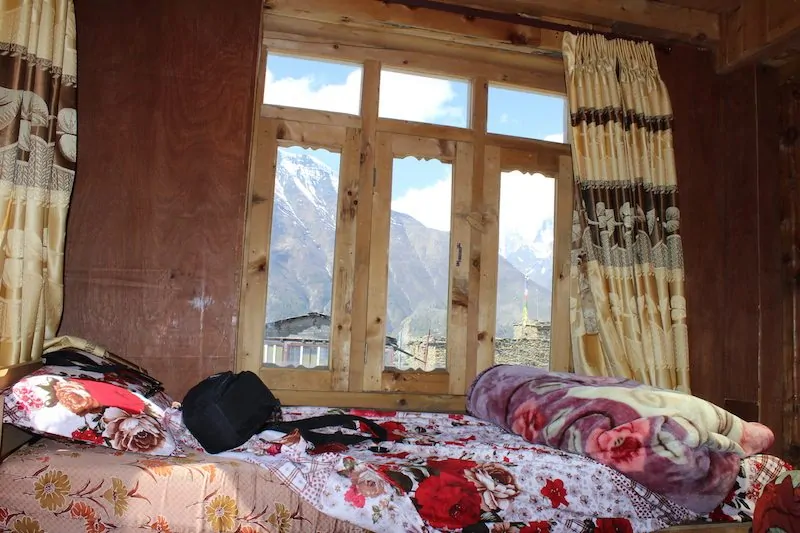 11) Diamox (acetazolamide) is your friend
Start taking this medication at 3,000m above sea level to help prevent AMS (Acute Mountain Sickness). Stock up in Pokhara or Kathmandu before you start the trek. Also, before putting any chemical in your body – do your own research!
12) Altitude Sickness (AMS) is no joke
I don't care how many triathlons you did last year, Annapurna Circuit fitness has little to do with your endurance. Altitude sickness can affect anyone.
The highest altitude you will reach is 5,416m at Thorong La pass. As soon as you get to around 3,500m, stay put and acclimatize for 2 nights minimum. Most people do this in Manang. As a general rule, once you are above 3,000m/10,000 feet, do not increase the altitude at which you sleep by more than 300-500m per night. If you start to feel AMS symptoms, take immediate action – people die from this every year.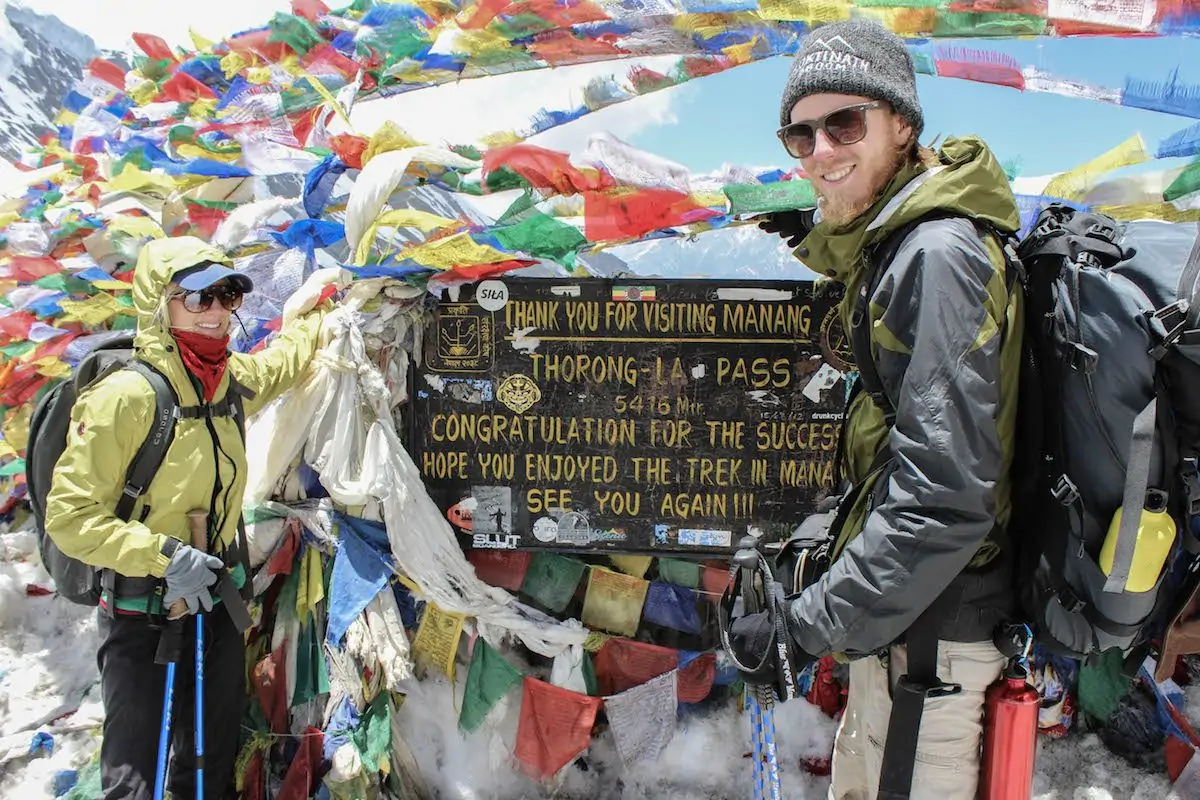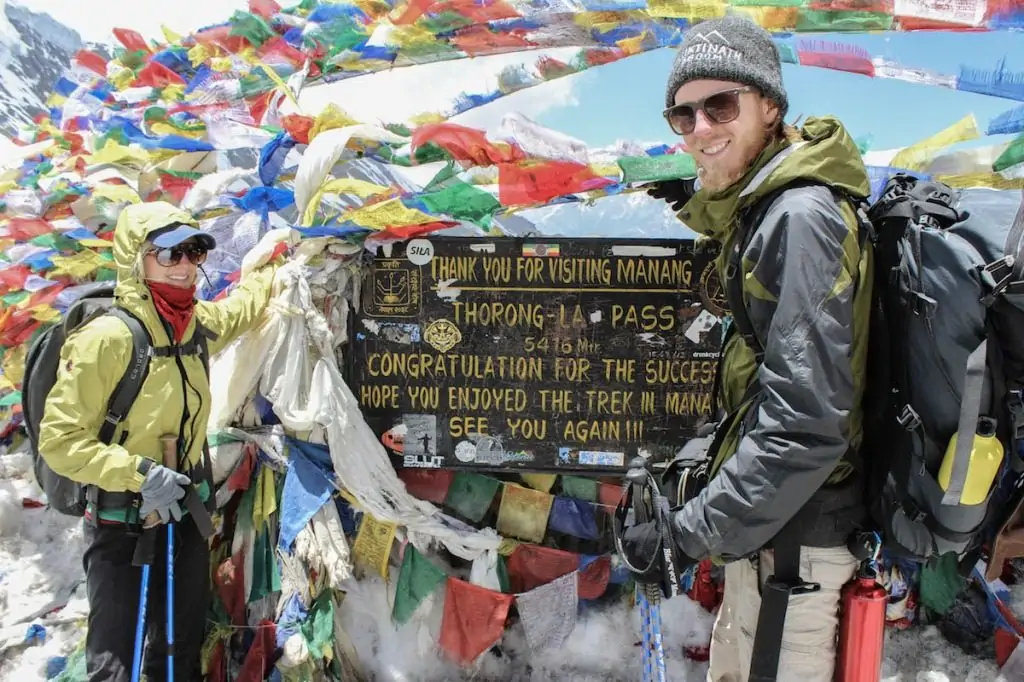 13) It's a marathon, not a sprint
Go slow, take breaks, and don't compare your pace to others. Acclimating to the low levels of oxygen takes time, so listen to your body!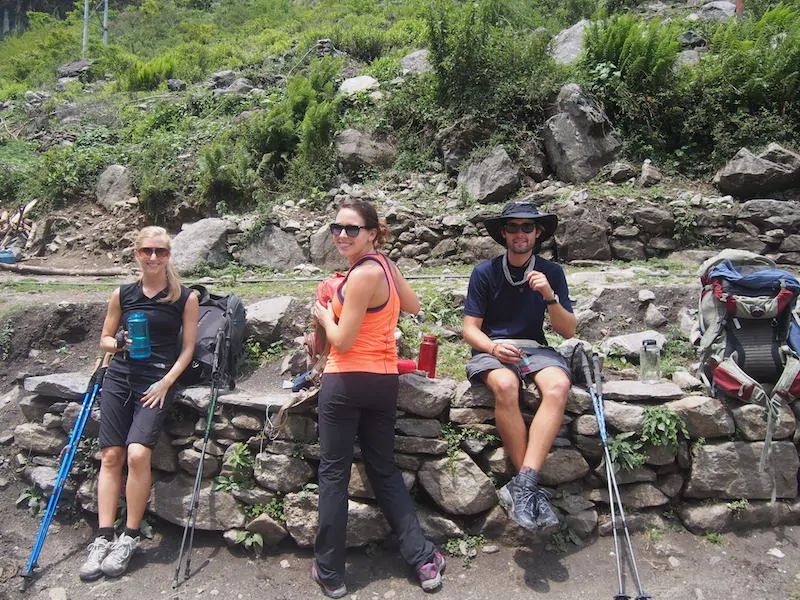 14) Start early
Avoid heat, rain and cloudy views. PLUS, you'll get a good room which is huge during high season.
15) Bring your camera
Many people talk about being unable to charge your camera battery, or that the trek is too strenuous for the extra weight. Charging is available nearly everywhere (although sometimes comes with a small price), and you do NOT want to miss capturing these memories. You probably packed too many shirts and pants, take one of those out.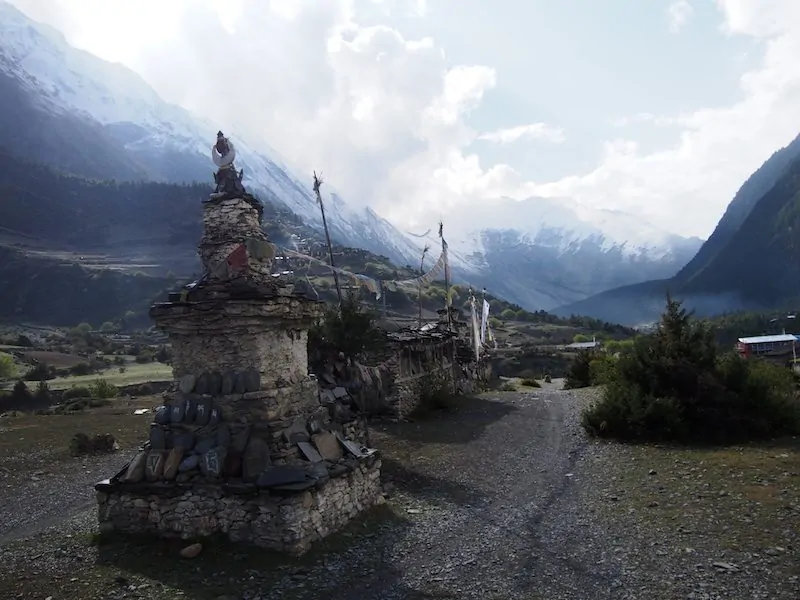 16) Pack some snacks from Pokhara/Kathmandu.
You will save money and there isn't much variety on the trail. Snickers bars cost $2-4 USD on the trail. You'll need little pick-me-ups every now and then throughout the trek! In addition, bringing your own tea bags/instant coffee to help your budget. 🙂
*Read why Brandon quite coffee cold turkey
17) Bring a deck of cards!
You'll have tons of downtime at the teahouses to relax and rest before the next days trek. Cards, tablets, a notebook and books are just a few ideas to keep you entertained. Here's the inside of an average Annapurna tea house…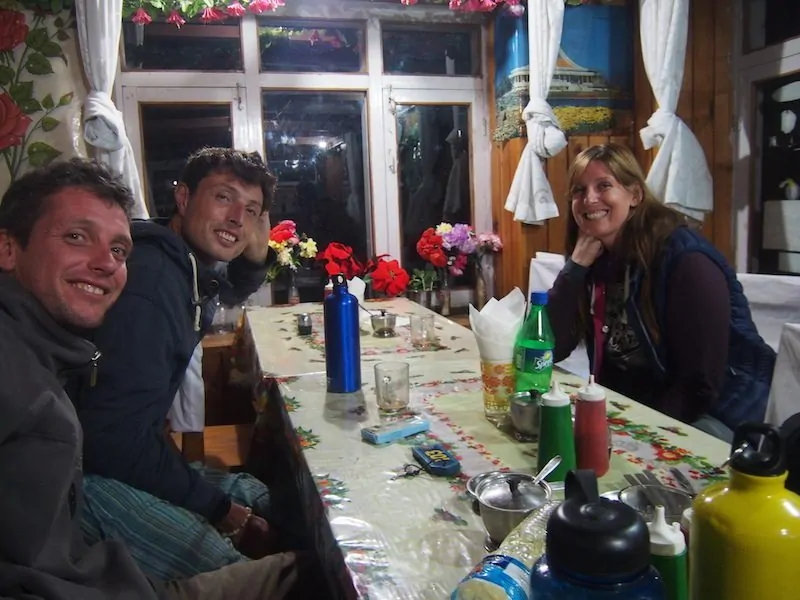 18) Don't forget wet wipes!
TP is available everywhere for purchase. Wet wipes are convenient shower replacements!
19) Don't underestimate the power of the sun!
Protect yourself from sun and wind by bringing plenty of sunscreen, Chapstick, a wide-brimmed hat and a bandana. At that elevation, you are more exposed to strong UVA/UVB rays.
20) Bring more than enough cash!
There aren't any ATM's on the trek until you are over the pass and in Jomson. Plan for between $15-20 USD per day minimum.
21) Don't drink too much (alcohol)
It's expensive, dehydrates you, and increases your chance for AMS symptoms. Trekking is hard enough without adding a hangover to the mix.
22) Dal Bhat Power.
This popular Nepalese dish is served everywhere and it's what all the porters and guides eat. It's by far the best value for food on the menu AND it's all you can eat! Dal Bhat is essentially a big plate of rice with a couple sides including dal, potatoes, and usually some sort of veggie.
While we enjoyed our Dal Bhat it doesn't hold a candle to the fresh and delicious Vietnamese food.
Other Annapurna circuit food staples include: pasta, pizza, soup, beer, coffee, and tea.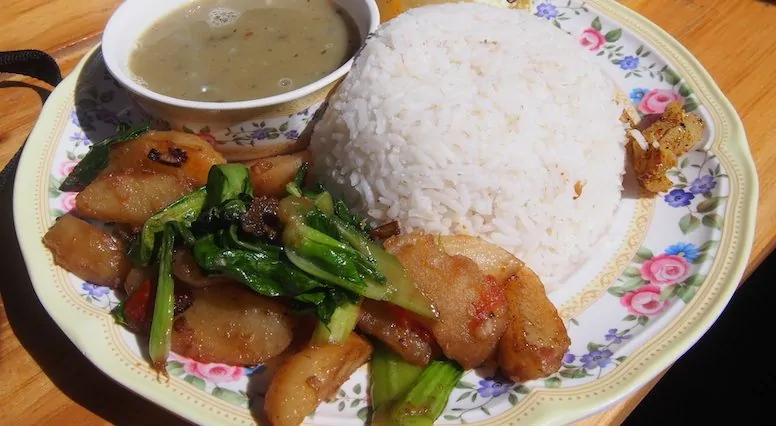 23) Food takes between 45-75 minutes to prepare.
Remember those Snickers bars you bought? Eat one to subside hunger. And those cards?? Play a few hands…
24) Take a rest day around Manang
Manang sits at approximately 11,500 feet above sea level. Most people spend 2 nights in Manang as their body acclimatizes. Use this time for rest by only doing a quick day hike. Manang also has "movie theaters" to entertain you, with popcorn and tea included! Plenty of shops and a clinic as well that hosts free lectures on recognizing the various altitude illnesses.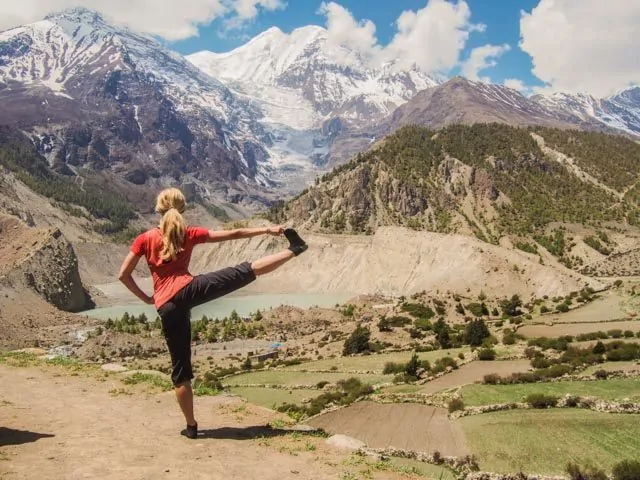 25) Check the weather
Be smart. Recently there was a devastating storm that killed and injured MANY trekkers.
26) Be present and soak it all in!
Take pictures and capture moments, but take time away from the lens, too. It will be a memory you'll never forget!
Now you're ready to trek through some of the largest mountains in the world while reaching 17,768 feet at the top of the pass!
Looking for more trekking tips?
Climbing Mt Rinjani in Lombok, Indonesia was an outstanding 3 day trek. Unbelievable beauty and more challenging than the Annapurna Circuit.
Climbing Adam's Peak (Sri Pada) in Sri Lanka provides an awesome view for sunrise while combing an interesting cultural experience with the local pilgrims.
Other treks in Nepal besides the AC – MoutainIQ.com has a great overview of trekking in Nepal and beyond.
Hiking the Annapurna Circuit was one of the most rewarding things I've ever done! Unfortunately this was the only Annapurna Circuit blog post we wrote, hopefully you found it useful!
Any tips we missed?
Anne

PS: Do you use Pinterest? Pin me! 🙂