In a few short weeks, thousands of wayward souls will converge on the Hummingbird Ranch for the 11th Sonic Bloom Festival.
With endless festivals to choose from, why does Sonic Bloom continually sell out?
Of course the music is good. Sonic Bloom, however, is much bigger than the music.
It's been labeled as a "conscious festival" and attendees proclaim the strong sense of community is what makes it so special.
In case you still don't already have your ticket, here are 10 reasons not to miss Sonic Bloom 2016!
1) Tribute to Nicholas "Pumpkin" Alvarado
Sonic Bloom is putting together a tribute show to commemorate an active member in the community who recently passed away. Pumpkin was known for his positive attitude and legendary DJ sets.
2) Camping in the mountains
What better way to enjoy Colorado than being surrounded with Alpine views all weekend! Higher altitudes mean cooler climates, bring warm clothes for the evenings 🙂
 
 photo credit: ThatDrop.com
3) Dave Tipper delivering 2 sets
One is rumored to be a "Journey Set" which is a hybrid of his downtempo and uptempo material. Guaranteed to be a standout set of the weekend. Do not miss Tipper.
Tipper is one of my top 10 artists to see at Sonic Bloom 2016.
4) Phadroid Performance
Legendary visual artist (Android Jones) projects images on top of a live dancer (Phaedrana Jones). Together, the pair creates a multi-dimensional display of art that you do not want to miss.
Here's a little taste:
5) It's powered by our Sun
A large portion of the Sonic Bloom is being powered by solar energy (thanks to SunPort). Hopefully this is the direction all festivals are heading in the future.
6) You can chill in the river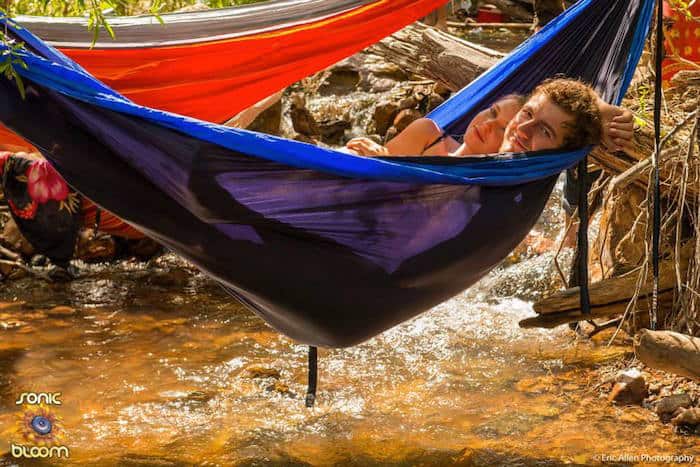 The hummingbird ranch has an onsite river for festival goers to escape from the daytime heat. Being surrounded by natural beauty is one of the things that makes Sonic Bloom unique.
7) Sonic Bloom Orchestra: One of a Kind Performance
The Sonic Bloom Orchestra is full of behemoths in the music game. I cannot believe all these legends will play together on one stage.
I mean, come on…
Sonic Bloom Orchestra which will be composed of Michael Travis and Jason Hann of The String Cheese Incident/EOTO, Dominic Lalli of Big Gigantic, Adam Deitch and Borahm Lee of Break Science, Jesus Coomes of Lettuce,Aaron Holstein of VibeSquaD, Jamie Janover of Zilla, Dave Watts, Joey Porter, Garrett Sayers and Dan Schwindt of The Motet, Russ Liquid, Lily Fangz, Govinda Music, CloZee, Vir McCoy of Hamsa Lila, reSUNator, Andrew Block and special guests.
8) Plethora of speakers and workshops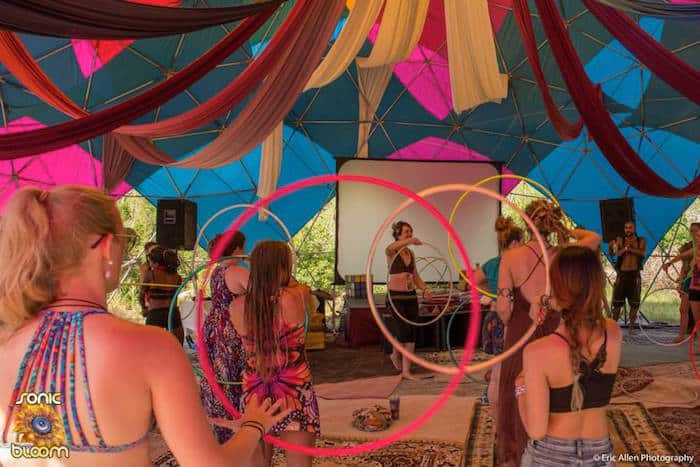 Not only is the music lineup stacked, but there are countless opportunities to fill your mind with cutting edge ideas. With so much knowledge onsite, it would be a shame to miss out. Check the speakers and workshops lineup to find the specific topics that will interest you.
9) It takes place around the Summer Solstice
Our fine earth tilts towards our lovely star (sun) at it's greatest angle of the year. Earthlings in the Northern Hemisphere enjoy the longest day of sunshine.
*To be fair, the festival doesn't technically fall on the Summer Solstice this year, but it's pretty close. [June 20th is the Summer Solstice in 2016]
10) Herbie Hancock Tribute Band
Made up of an all star lineup including Dominic Lalli of Big Gigantic. Bring on the jazz n funk!
Tickets will sell out… just like last year. Don't say I didn't warn you 🙂
Remaining tickets are available here.