February 2016 update: People keep asking us for yoga backpacks specifically designed to commute to and from the yoga studio. I added our top recommendations below, skip to yoga backpacks. I also added one new carry-on backpack for traveling, updated the Minaal info. 
—
So you're looking for a new backpack, eh?
But you're not looking for any old bag; you're looking for the backpack? I'm with you – and it's not an easy task. With 100's of options out there – where do you even start?!
After spending the past few months thinking obsessing about which backpack to choose, I narrowed it down to the top 5 backpacks.
What I was looking for:
Carry on sized
45L or less
Lie flat packing (Clam shell design)
While we're on the subject, stop reading and quickly write down the top 3-5 backpack features that fit your needs………… are you done? Good, this list will prevent you from getting overwhelmed later.
This guide was designed to make choosing the right backpack a breeze! (or at least give you a starting point)
I will share which pack Anne and I chose at the end, however you couldn't go wrong with any of these
Let's start with…
Carry on Backpack Comparison
| | Minaal Carry-on | Osprey Farpoint 40L | GORUCK GR2 | Tortuga v2 | Osprey Porter 46L |
| --- | --- | --- | --- | --- | --- |
| Size | 35L | 40L | 40L | 44L | 46L |
| Price (USD) | $229 | $149 | $395 | $199 | $99 |
| Weight (lbs) | 3.19lbs | 2.15lbs | 5.30lbs | 3.65lbs | 2.44lbs |
| Carry On Sized | √ | √ | √ | √ | √ |
| Hip Belt | √ | √ | no | √ | √ |
| Yoga Mat Ready | √ | no | √ | √ | no |
| Rain Cover | √ | no | no | no | no |
| Laptop Compartment | √ | √ | √ | √ | no |
| Zip Away Straps | √ | √ | no | √ | √ |
| | | | | | |
Alright lets move on to the individual reviews…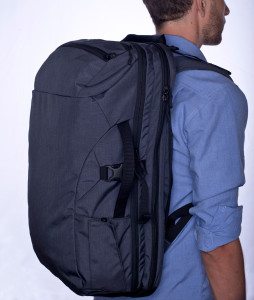 The smallest backpack on the list (35L) but don't let that fool you – you can fit a lot in this pack. Video to prove it.
There is a lot of buzz surrounding this company and backpack. Rightfully so, the "Brothers Minaal" just finished a record breaking Kickstarter Campaign. The Minaal is the only pack on the list that comes with a rain cover – while not a crucial feature, it will save you the hassle of finding a 3rd party rain cover (if that is important to you). This sexy backpack is feature rich and has the best overall design – if Steve Jobs was a 25 year old digital nomad, he would choose this pack.
2016 update: Minaal launched their carry on backpack 2.0 and a daypack on Kickstarter to the tune of $700k. They also expanded to include packing cubes, modular hip pads, and accessories. Minaal is here to stay. Full product line at Minaal.com
Potential downside: Since the Minaal is so new, long term durability is still unknown. Only one size available so if you're really tall/short – make sure to ask Jimmy or Doug to confirm the fit.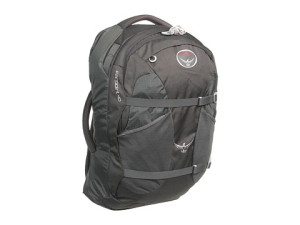 The Farpoint is sleek and the lightest pack on the list. Not a huge deal, but every ounce counts. The Farpoint 40 comes in two sizes: L for the guys (and girls over 5' 8") and S/M for everyone else. Osprey is my favorite brand on the list because time and time again they create awesome gear (been using their Aether 70L for back-country camping excursions for years). Note: If you're less than 5'3" – look no further, this IS your pack. Get the S/M size and you'll never look back.
Anne reviewed the Osprey Fairpoint 40L here. (hint hint: She loves it)
Potential downside: Without a side holster spot for a yoga mat, you'll have to get creative with your yoga mat.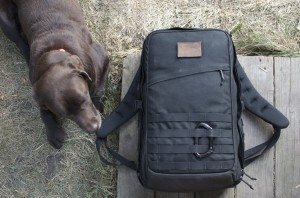 This is one bad-ass backpack. Originally designed for military use – anticipate a rugged designed build to last a lifetime (you can even get it in camo color). It looks great and is practically indestructible, but a few things held me back from purchasing. The GR2 is by far the most expensive backpack on the list and also the only one without hip pads or the option to zip away the back straps. Although an awesome backpack; probably not my first choice for digital nomads.
Potential downside: Price tag ($395) and lack of hip pads could make long walks to find your hostel miserable.
Fred and Jeremy were frustrated with the backpack market so they decided to create their own bag. If you ask me, they did a mighty fine job designing the Tortuga V2. In terms of size, it's the second largest on the list (44L) yet maintains its carry-on friendly status for most airlines. The Tortuga's hip belt has the best padding I've seen in this class of backpacks. The internal compression straps were a nice touch and will help you maximize space.
Potential downside: it only comes in one size, while it fit me great (6'3'') it was uncomfortable on Anne's smaller frame (5'2'')
You already know I love Osprey. The Porter is the largest pack on the list (46L), extremely light and also the cheapest. I personally do not like this design, but many people use it. If you want to save a few dollars, don't need an easy access laptop compartment or a padded hip belt, you found a winner!
Potential downside: Hip belt has no padding and there isn't a laptop compartment which to me is unacceptable for long term travel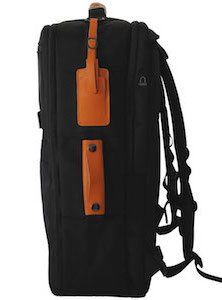 This Toronto based company is the new comer on the scene. After a successful Kickstarter Campaign, they moved into full production. I was fortunate enough to receive an early run of the product to test out. It has all the features we need – laptop compartment, clam shell design, enough space while staying carry-on compliant, and looks great too. As with all new products, durability is a question as no one has owned the bag long enough 🙂
Happy to say it's an excellent product and is contenting with the Tortuga V2 as my top choice for a carry on backpack for traveling.
After much consideration, here is what The Yoga Nomads selected…
 Additional Resources:
Update #1 (December 2014):  The Tortuga V2 and the Osprey Farpoint 40L made it through 11 months backpacking Asia. Only signs of the backpacks journey is minor wear and tear. 
Update #2 (May 2015): Readers asked about how we traveled with a yoga mat attached to the Tortuga V2. In my opinion, carrying a yoga mat attached to the Tortuga V2 was a breeze. Click here for our recommendations for traveling yoga mats. Also, the Tortuga and Osprey Farpoint have been going strong for 15 months. 
Update #3 (February 2016): Readers keep asking for recommendations for yoga backpacks to commute with. We added our top picks below. 
Top 5 Yoga Mat Bags (commuting to the studio)
There are many ways to carry your yoga gear to and from the studio. We've got backpacks with yoga mat holders, yoga mat totes, simple yoga carrying straps, and the list goes on. Here are the best 5 yoga mat bags on the market. Most links take you to Amazon which is where I do the majority of my shopping
.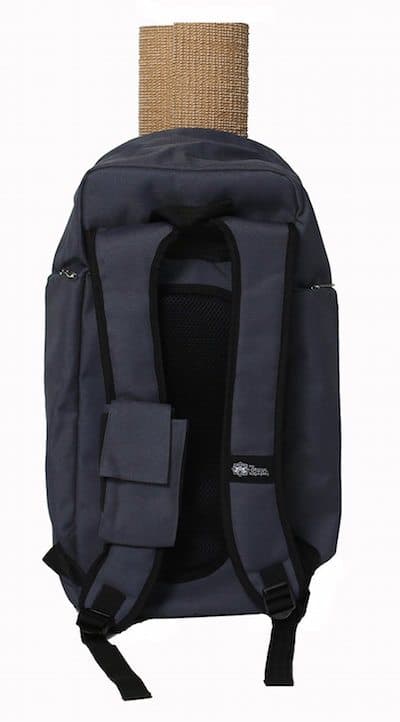 Yoga Sak is designed as a backpack with a central strap to secure your yoga mat. This makes commuting by bike very comfortable.There is plenty of space to carry the necessities but don't plan on fitting your entire home studio into the backpack. Nice looking design. Steel Grey and Navy are my favorite color options.
Yet again, our friends at Manduka nailed it with their bag. Great design, breathable fabric, multiple pockets to keep you organized, and padded strap. Can choose from two sizes, Small will work for most yoga mats and the large fits anything, including their Manduka Black Mat Pro. It only comes in one color, Black. Good thing that's my favorite color.
Hey ladies, I know you like tote bags! Aurorae makes the best yoga mat tote around. Looks great and has several little pockets to keep all your stuff organized. They use magnets to keep the bag shut. 4.8 stars on Amazon (top rated yoga bag we've seen). Chose your favorite color!
Another backpack style, except this time the yoga mat is attached vertically on the side of the backpack. Fits a ton of stuff while still maintaining a slim profile. The most purchased yoga backpack on Amazon with over 1,142 reviews and a 4.5 stars rating.

Yoga Rat has been making great yoga products at a very affordable price for quite awhile. Just like the beloved Yoga Rat Towel, the MatPak gets it done. Hybrid design so you can carry with one strap like a sling, or use two straps like a backpack. Plenty of space for your gear. Similar to the Manduka Yoga Sak but the MatPak has more room to pack your stuff.
feature photo credit: fashionstealer.com