Yoga.
A practice that has the ability to change lives. It can help heal, transform and inspire the masses.
Whether you've been on your mat for months or for years, the thought of becoming a certified yoga teacher has probably crossed your mind. It could be from the incessant training advertisements at the studio or on social media, or maybe it's the blissed-out post-training grad you've witnessed proclaiming how yoga teacher training has changed their life. (Which, it probably did).
With the massive surge of people becoming certified yoga teachers, it's hard not to be curious about what it entails.
If you're looking to deepen your own practice, learn more about yogic philosophy, or have a sincere desire to teach others, teacher training is for you.
With the influx of trainings offered all over the world, choosing a training can be a daunting task. As this experience is a serious investment financially and otherwise, it deserves mindful consideration and research before enrollment.
—
A quick word for the wise:
Yoga is one popular remedy for a generation of seekers. We find solace in the way it brings us back to center amidst a technology-driven, information-obsessed world. It comes as no surprise then that we want to dive in head first to learn more about the practice and its myriad of other benefits.
Yoga studios understand this. They also understand that programs (teacher trainings, etc) are the best way for yoga studios to earn money. Not blaming the studios, they deserve to earn a fair income!
That being said, some studios and yoga schools take shortcuts. We heard numerous horror stories.
Allowing inexperienced teachers to lead trainings (yikes)
Teaching half the course via Skype (does that even count?)
Training leads making unwanted sexual advances on their students
What's the point of bringing this up?
To make sure you're aware of the situation. So you fully understand the importance of doing your homework and carefully selecting the right training for you!
Alright let's get into it!
I've spent countless hours researching trainings and have personally completed two, 200-hour yoga teacher trainings. Here are my best tips for selecting the best training for you!
Choosing the Right Instructor(s)
200 hours, even spread out over the course of a year, is a lot of time to spend with someone. In addition to the time commitment, yoga teacher training can induce some pretty intense emotions and energy. You'll want to be certain you feel confident and comfortable in the guidance of your chosen instructor.
Is this someone you've learned and studied from previously? I highly encourage taking multiple classes from the teacher you're considering training with before making up your mind. Is their style something that resonates? How long have they been teaching? How many trainings have they run? Do you feel a strong connection to them? If you can answer these questions with raging positivity, then I think you have found your person. 🙂
How Many Students Will be in Your Class? 
Did I mentioned that 200 hours is a lot of time to spend with someone? 🙂 In your research, find out what the capacity is for the training. This can vary greatly from program to program. If you already know you prefer more intimate settings, this will naturally eliminate some trainings from your radar.
In my experience, my first training (10 weeks) was with 30 people and my second was with 10 people (4 weeks). If I were to change anything, I'd prefer a longer training (10+ weeks) with a smaller class size (8-12 people). I see benefits to both class sizes, but the smaller class size does allow for more personal guidance from the instructor(s). Smaller class sizes also allow for more intimate connections to your fellow teacher trainers.
Larger trainings offer the opportunity to connect with more like minded people.
Is your Training Certified by the Yoga Alliance?
Yoga Alliance provides a framework required for every Registered Yoga School (RYS) to follow to be able to lead 200-hour Yoga Teacher Trainings (YTT). It also provides insurance, resources and other benefits if you're a paying member.
Many studios require that you receive your certification from a Yoga Alliance RYS. Most programs will tell you straight away that they are part of Yoga Alliance, but confirm this before committing.
Yoga Alliance has the following requirements for 200-hour programs:
Asana/Alignment

Anatomy

Sequencing

Philosophy

Prop use and modifications

Hands-on adjustments

Teaching practice

Meditation
Where is it Located? What's the Schedule?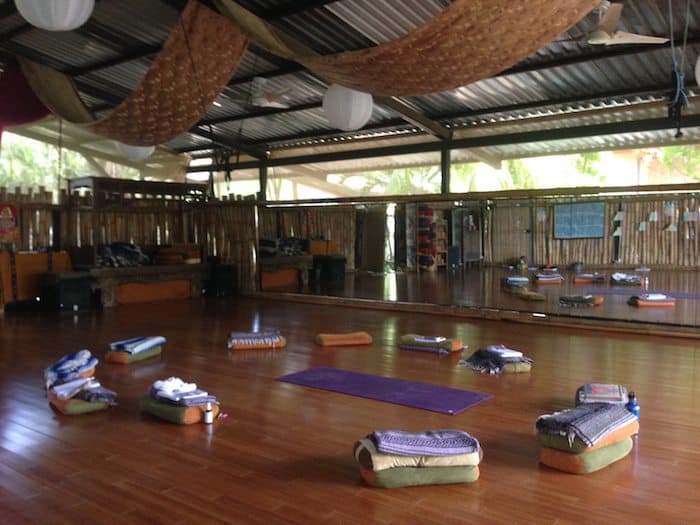 You training can be completed in as little 4 weeks (intensive) or extended over an entire year (created for working people). You can get certified at your neighborhood studio or fly to Bali.
To determine what's best for you, think about your current situation as it relates to work and your social life, and how YTT could affect that schedule. Training is indeed a commitment of time and energy (not to mention a ton of money) and it's often likened to taking on another job entirely. Take this into thoughtful consideration as you decide which program will work best for you. Remember, it's not just the class hours, but the hours of personal practice, teaching practice and other homework assignments.
Consider the "all-in" costs of the training:
If you decide to stay local, what are the complete YTT costs plus transportation? Be sure to check for hidden costs such as course materials or special workshops.
If you decide you'd like to travel, what are the complete YTT costs plus flights? Is accommodation included? Meals? What value do you place on a travel experience and what's that worth to you?
Training Hotspots around the world:
Ubud, Bali –> remember Eat, Pray, Love?
Costa Rica – Anne did her 2nd training at Danyasa, tons of other great options
India – definitely do you homework if you're considering India. We saw many 'fake yoga schools'
Mexico
United States
What is the Cost of your Training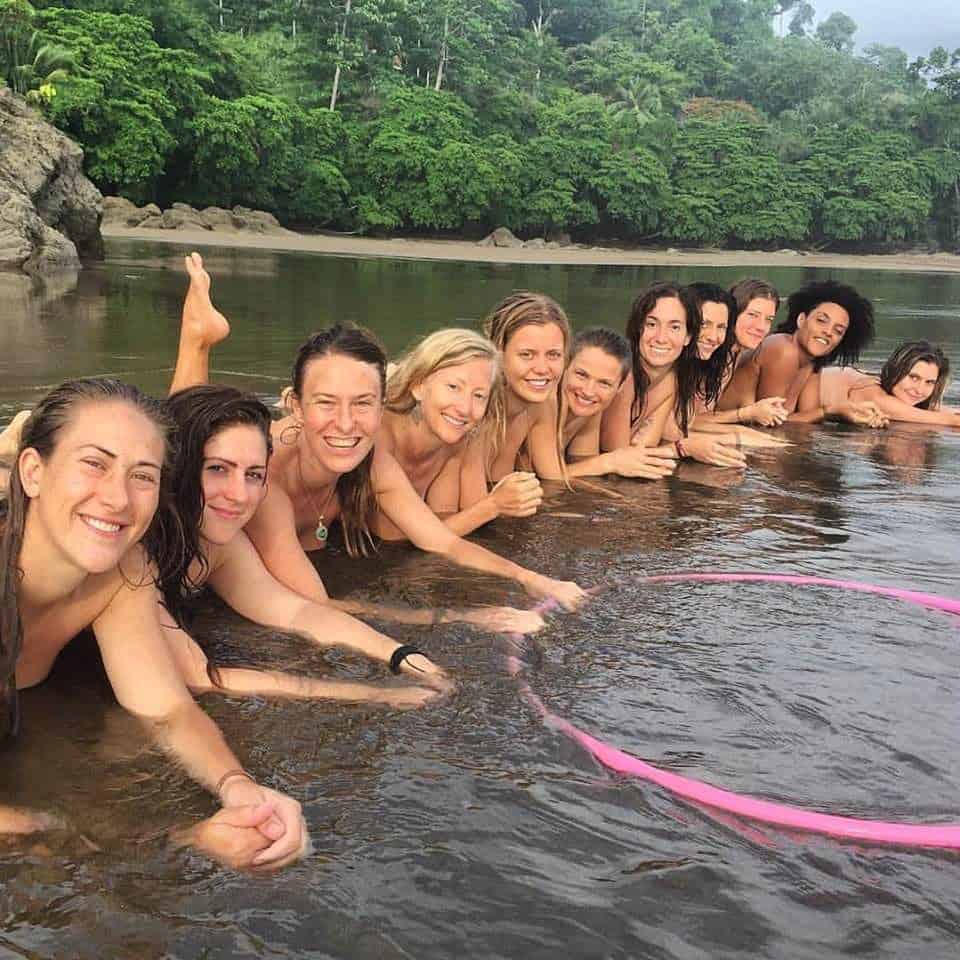 Yoga Teacher Training is not cheap. It doesn't matter how long or short the course is, it's still going to cost you. They can range from $2,000 – $5,000+, depending on many factors such as: on-site or off-site housing, meal plan, guest teachers, materials, special workshops, business of yoga training, etc.
If you're traveling for training, be sure you know exactly what's included (accommodation, meals, materials, etc.).
What do you place high value on? What exactly are you looking to extract from this experience? Will being at home or away help you get what you want?
TIP: Many programs offer payment plans if you need it! Just ask!
Reputable School?
If you're able to chat with graduates of the program, ask them about their experience. You'll learn first hand if it's a reputable program or not.
Is the studio well-established? How many locations? How many trainings have they done?
Trainings held at larger more corporate national studios with locations all over the nation provide a very different experience than the small independent studio. What speaks more to you?
What type of content are you looking for?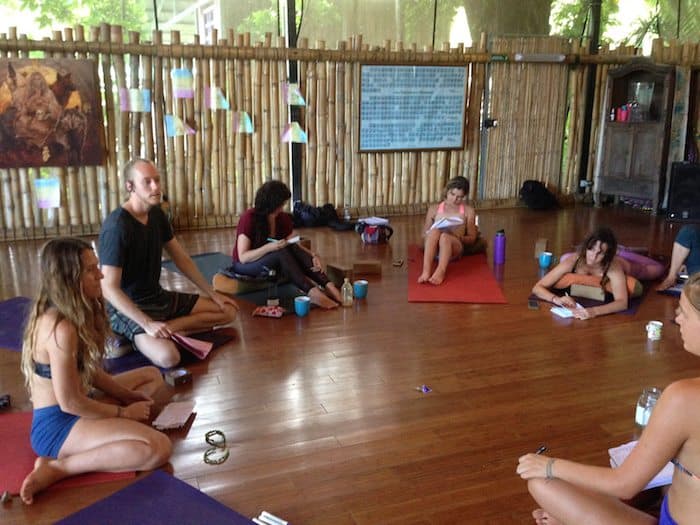 If you're researching a Yoga Alliance accredited school, your training requirements will be broken down into the following categories: Techniques, Training and Practice, Teaching Methodology, Anatomy & Physiology, Yoga Philosophy, Lifestyle and Ethics, Practicum, Remaining Contact and Elective Hours.
The school you choose may provide more emphasis within those categories to specific elements of yoga and yoga related topics. If you want to be certain you'll just be learning one specific style of yoga (Iyengar, Jivamukti, Yin, Vinyasa, etc.), be sure to select a training focused on that style. Or at ask the teacher training leads if that style will be covered. 
For reference, the more "corporate trainings" usually focus on getting you ready to teach (at their studio) as quickly as possible. This means you'll spend more time learning how to teach and less time on other topics such as: pranayama, philosophy, anatomy, etc. For many people this is the right approach. Bonus points for this style of YTT is you'll have a good chance at getting hired by them once you graduate.
On the other hand, some trainings have a heavier focus on philosophy (which may be unique to their specific style), and less on teaching. Are you looking to get a teaching job right away or simply want to understand more about philosophy? Knowing this will help guide your decision making process.
What is NOT included in Yoga Teacher Training?
A 200-hr training may sound like a long time, but in all reality it's incredibly short when you consider the demands of being a yoga teacher. Knowing time is limited, it's not surprising that certain key elements get glanced over or aren't covered at all.
The glaringly obvious one is The Business of Yoga!
Most trainings provide a single 2hr lecture to cover "the business of yoga." Obviously that is not nearly enough time to prepare students. New teachers get sent out to the wild to fend for themselves – often struggling to find a teaching job, or quickly burning themselves out.
What can you do about it?
Take control of your life. Understand you have some additional work to do if you want to be a successful yoga teacher. Find a mentor and seek out additional trainings or online courses to ensure you have a good grasp on the business side.
If you're reading to start learning, here are some of our top resources:
To be fair…not ALL trainings neglect the business of yoga, take for example: the Epic Academy 200-hr teacher training in Costa Rica. Students complete a Conscious Business Academy Training and get help creating their own website on top of their 200hr certification. We need more of this. Big ups to Amber and the team for creating a rockstar program!
—
Spend time reflecting on what you want and need in a training. What truly resonates and speaks to you deep within yourself? Take time meditating, practicing, even talking it out with teachers and friends. In the end, yoga teacher training is an incredible experience. It's (usually) well worth the investment and you won't regret it. 
What questions do you have about selecting a yoga teacher training program? I would love to hear your thoughts!
I've got your back,
Anne